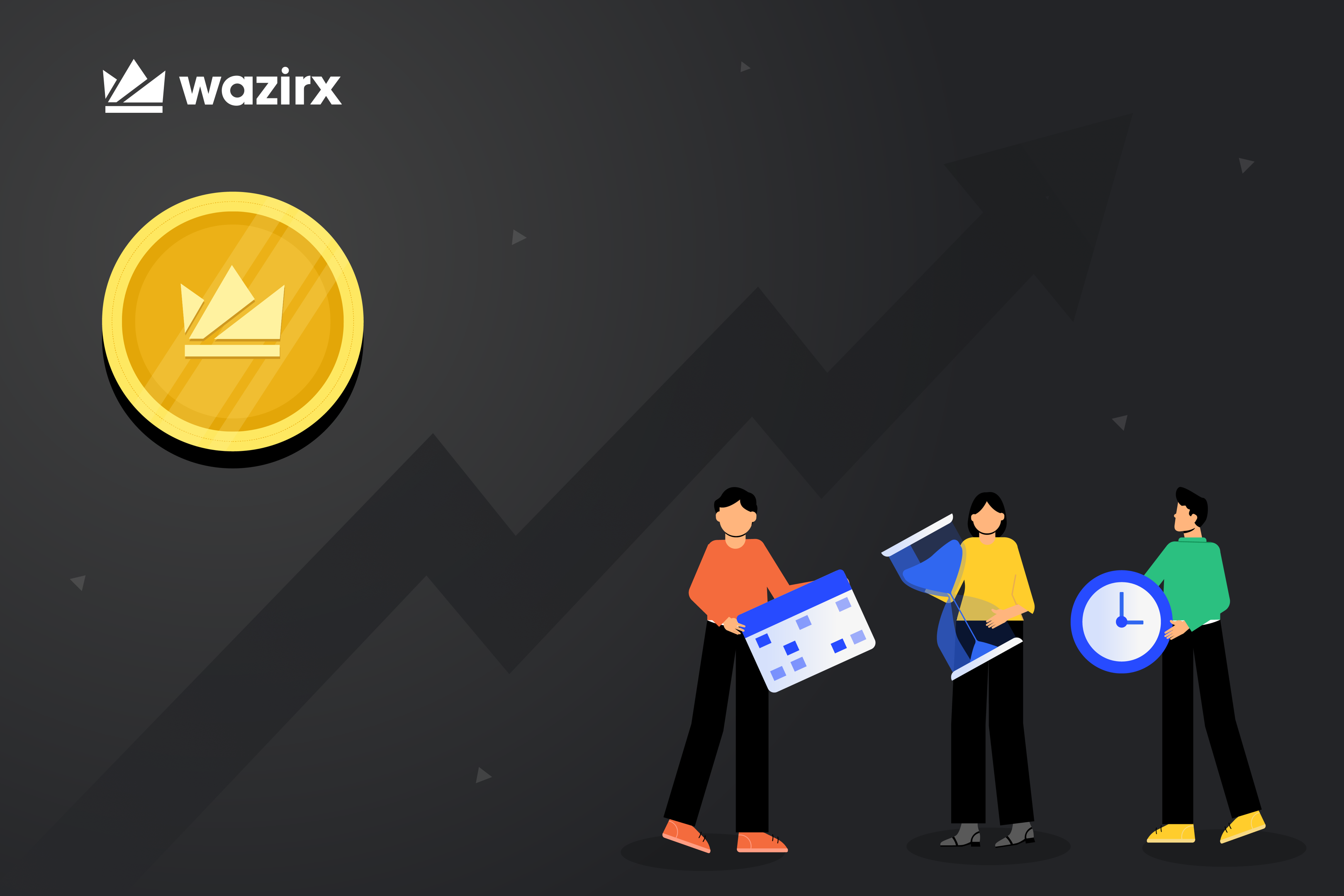 Nischal Shetty, the founder and CEO of WazirX, has been building products for the last 10 years. He started Bitcoin mining in 2009 and had been trying out Bitcoin wallets since 2012. It was around late 2017 when Nischal was completely sucked into the Blockchain rabbit hole, and he decided to build a cryptocurrency exchange for India. He realized how frustrating it was to use the existing crypto exchanges in India. Their opaque nature and insufficient sub-standard of the product pushed him further into building a new platform.
Thus, with the goal of providing the best powerful piece of cryptocurrency trading platform, WazirX was created. Previously having built Crowdfire, Nischal has established that the challenge of building a global product from India and scaling it to 19 Million users was something of an accomplishment, to say the least.
The next step – was to introduce to the same audience your own token in a crowded and competitive crypto market – the WRX token.
All about WRX
WRX is a native utility token of the WazirX exchange, launched in February 2020. It was launched to serve as a backbone to the entire WazirX ecosystem. And so far, it has more than delivered on its premise.
Just like Bitcoin, the WRX token is a digital asset. The token is based on the Binance Chain and Ethereum, and WazirX users can avail of a 50 percent discount on their trading fees by using WRX.
The trading fee discount was set to change every year. Over a period of 4 years, it trading fee discount would be:
Year 1: 50% discount on the trading fee (extended for 6 more months)
Year 2: 25% discount on the trading fee
Year 3: 12.5% discount on the trading fee
Year 4: 6.25% discount on the trading fee
Along with trading, WRX tokens can also be used for paying listing fees on the WazirX exchange, payment of fees on margin trades, etc. Users can acquire WRX tokens through mining, airdrops, and P2P trading.
Users from different countries can mine, unlock and earn WRX tokens through P2P trading.
When you get a listing on WazirX Exchange for being a WRX token holder, cryptocurrency exchanges agree to provide tokens to you. Based on the number of WRX tokens you hold, the tokens will be credited to your account.
Along with availing tokens, the WRX token holders will also have the right to vote in coin listings and make suggestions on what features need to be added to the Exchange.
Zero fee trading, dust conversion
Traders can participate in WRX pairs on the exchange to take advantage of zero trade fees. Plus, those annoying, tiny crypto dust balances we end up with over the course of our trades? WazirX allows you convert them all into WRX.
How to buy WRX tokens?
To buy WRX tokens, you first need to register yourself on the WazirX exchange platform and finish the KYC process:
By simply downloading the WazirX app or visiting the website, you can Sign Up and have your own account. Through a simple verification process, you will be able to complete the KYC registration process.
Next, you have to deposit INR funds to your WazirX account from your bank account through UPI, NEFT, IMPS, or RTGS. You just have to submit details such as your name, contact information, bank account number, and IFSC code to do the transfer.
You can also deposit cryptocurrencies into your WazirX account either from your wallet or from another exchange. Depositing from a different exchange comes with zero fees on all deposits.
By performing the above steps, you are now eligible and ready to buy WRX tokens through your deposited funds. You just have to Log in to the WazirX app or website and check the latest WRX/INR, WRX/USDT, and WRX/BTC prices. By entering the desired INR amount (It should be either less than or equal to the money present in your deposit), you can start buying WRX tokens.
All the WRX tokens bought will be added to your WazirX wallet.
Why should you buy WRX tokens?
WRX token is an integral part of the WazirX exchange. As WazirX grows in popularity in India, an investment in the WRX token can hold potential, as you may guess.
By purchasing the WRX tokens, you will have access to the core features of the WazirX exchange platform and even get an opportunity to reap higher profits when trading tokens.
There is also the inclusion of quarterly token burning. This process is made to ensure that its price doesn't slip.
How will burning help in the raise of WRX token value?
Every quarter, a few of the WRX tokens will be burned or destroyed, and this is based on the trading volume of the exchange. The process will continue until 10% of the tokens, i.e., 1,00,00,000 tokens, are burned. This will reduce the supply of WRX tokens, leading to an increase in demand. So far, WazirX has engaged in the following burn events:
Part 1: 833,333 WRX burned.
Part 2: 3,333,333 WRX burned.
Part 3: 6,533,333 WRX burned.
Part 4: 3,753,333 WRX burned.
WRX token has witnessed enormous growth since its launch, and it has so far given a whopping 300% gains to the investors. As of March 2021, it is standing around 0.82 USDT, and with the increasing adoption of crypto around the world, WRX definitely has a bright future.
Especially with WazirX being the go-to exchange in India, the WRX token will have a lot of potential to grow. It has a supply limit of 1 billion tokens, in which 30% is locked while 10% will be burned.
How to unlock the WRX tokens
You receive WRX tokens when you sign up on the WazirX exchange platform or when your friend signs up using your referral code, in which case you get 25 WRX tokens. You can unlock these tokens only when either you or your friend make a transaction worth 100 USDT. This scheme hasn't been in use since January 2020, but the WazirX exchange might resume it in the coming days.
Though currently inactive, users could previously also unlock WRX tokens by extensively trading on the WazirX exchange. The more you trade (Especially in USDT, BTC, and INR markets), the more WRX tokens you earn. Your WRX earning will be calculated based on your daily trade volumes.
Disclaimer: Cryptocurrency is not a legal tender and is currently unregulated. Kindly ensure that you undertake sufficient risk assessment when trading cryptocurrencies as they are often subject to high price volatility. The information provided in this section doesn't represent any investment advice or WazirX's official position. WazirX reserves the right in its sole discretion to amend or change this blog post at any time and for any reasons without prior notice.