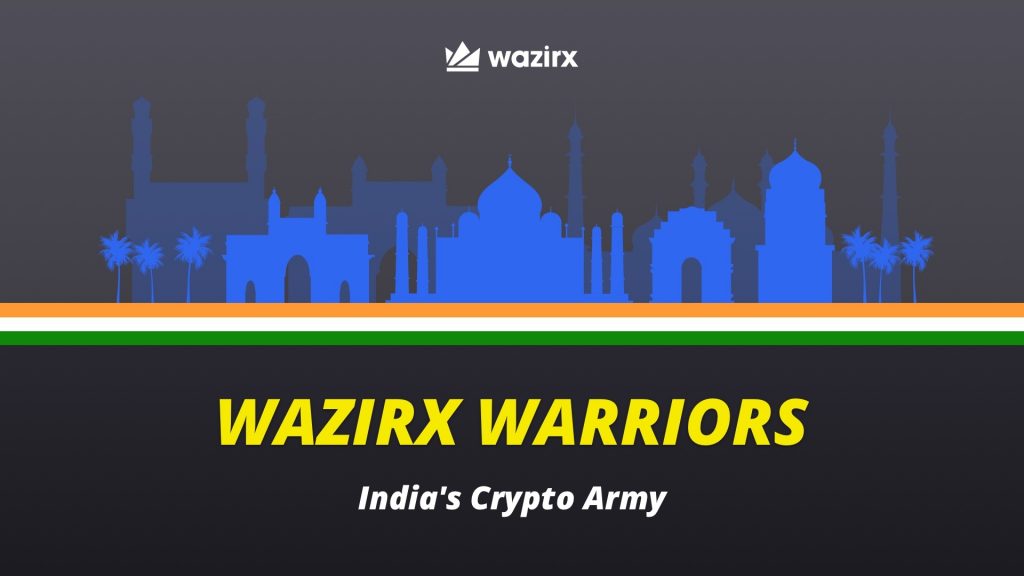 You know WazirX has been on a mission to make crypto accessible to Indian masses. We have been treading on this mission for over two years now, and we are grateful for the support that the Indian Crypto Community has given us.
You have taken our mission forward. Now we want to officially recognize you and we will work harder for the Indian Crypto community. Because we are just getting started.
Here is how we can do it.
Become a "WazirX Crypto Warrior" and be a part of the community that is making crypto accessible in India.
As a part of this program, here is what you would do:
Knowledge

First, understanding Bitcoin and Crypto is the most important thing. We will help you gain this knowledge. It is a vast subject and no one understands all of it.
Second, know WazirX well. Understand our values, know our mission, and our portal/apps/services well

Be a Crypto Educator for the people around you. This means:

Telling them facts. Not "selling" crypto to them
Protecting them from scams
Guiding them about safeguarding their funds
Spreading crypto awareness without selling them any token (no one does that, you know!)

Organize

Organize meetups in your city / town
Attend crypto/blockchain events (offline and online)
Organize webinars
Organize campus reach-outs

Online activity

Create content: Status updates, facts, memes, videos. Create content that people want
Be active on Twitter, Reddit, LinkedIn, Facebook, YouTube, Whatsapp groups, Telegram groups
Create memes. Memes are Education in 2020
Answer questions on Quora
Be a Warrior (show it off)
Create videos and explainers in your own language
Follow each other
Create more memes
Help each other out. Retweet, Like, Share. Work like a group
Help us connect with influencers for campaigns. You have direct access to the marketing team
Did I mention creating memes?
Spread the word in colleges around you
Organize contests
Reach out to Crypto / blockchain Education providers so we can support them
Show us the memes

Show off

Show how many people you helped, how many questions you answered
Take screenshots, click pictures, record videos when you explain Crypto to people
Send it to us, so we can showcase it to the world
Tell us how you introduced the world to Crypto
As a part of our army, this is what you will get:
Learn and enhance your understanding of Crypto from some of the best minds in the country
Get training and reading materials
Full access to Binance Academy
You will know of the developments at WazirX before anyone else
Direct access to the WazirX marketing team. Think creatively 😉
Be a leader in your city / town / area / campus / company
Get access to write articles on the WazirX blog (WazirX has a reach of 3 million impressions per month!)
Made a great video? We will post and/or share on WazirX channels
Your content + WazirX's social media reach. You get the gist!
Get special passes to our events
Get invited to our offline meets
WazirX Crypto merchandise 😀
Represent WazirX in events and conferences
Get trained to be a speaker/host for our events
Recognition on social media
Have an army of Warriors to support you
Most importantly, you will make history by being part of the team that brought Crypto to India: India's Crypto Army.
This initiative is beyond money. But here are some rewards to add to the fire:
Get Rewards ranging from $10 to $1000. Details will be disclosed after you join the program
Get Rewards for every meetup/webinar you organize
Every article/video/content that you create
Every connect to media/influencer
Every partnership lead that is closed
Every contest that you organize
Every "Education Partner" that you connect us to
The referral bonus for everyone who signs up through you (Referral scheme: https://wazirx.com/referral)
Many more rewards. Full details will be disclosed once you join the program 🙂
How's the josh?