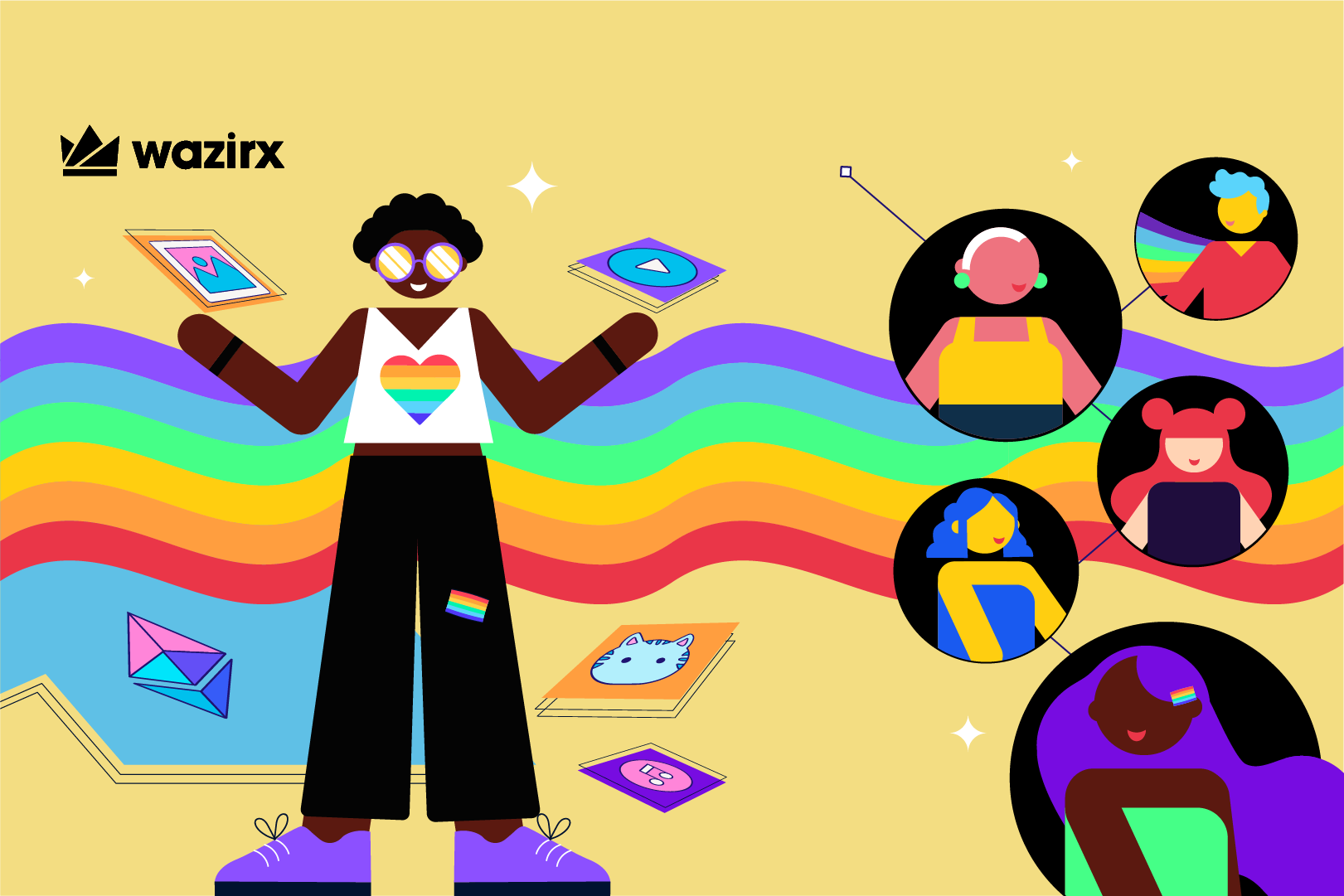 Pride month is about to get over; the NFT industry has not left a single stone unturned and emerged as an immense supporter of the LGBTQ+ community.
But, the question is: To support the LGBTQ+ NFT artists, do we really have to wait for the Pride month? Shouldn't we support them all through the year? Since it is pride month, we have gathered a list of a few LGBTQ+ NFT artists you can support. Let's have a look at them.
NFT Industry and LGBTQ+ Community
The NFT industry has won praise for its potential to provide an inclusive environment for artists from all backgrounds, including the LGBTQ+ community. Despite this, LGBTQ+ NFT artists are sadly underrepresented in the field. The industry certainly has a long way to go to shed its present boy's club image. The whole NFT community is responsible for supporting current LGBTQ+ artists and providing room for newcomers in the midst of this.
So, to get this party started, let's see who the 10 LGBTQ+ NFT artists of the Pride month you can support are.
Sam August Ng – TheyBalloons
Digital conceptual artist Sam August Ng, also known as TheyBalloons, identifies as non-binary. The London-based artist uses glitch arts, 3D, and vibrant hues to reinvent neo-expressionism in Web3.
The largest pride parade in the metaverse, Queer Frens, was co-founded by TheyBalloons. The 10,000 queer frogs in the collection, released in March 2022, were meant to encourage inclusion and diversity in the NFT community.
Zak Krevitt – Museum of Queer
Zak Krevitt is a long-time supporter of LGBTQ+ groups. He has been working with, supporting, and raising money for his gay community's diverse range of related issues for more than ten years. His art reflects his actual experiences—both public and private—and his love for gay advocacy.
Under the direction of Joseph Maida, Krevitt is a Professor at the School of Visual Arts Department of Photo and Video in New York City. He wants his students to develop a sense of action, adventure, community, and creative growth.
Talia Rosa Abreu
Talia Rosa Abreu is a graphic designer and digital artist specializing in creating 2D and 3D art and designs and brand identities. She is a trans-Latina artist and the Runic Glory NFT Project's art director. She is also the creator and founder of the Forest Heart Project, a community-driven online video game project.
Diana Sinclair – Her Story DAO
From NJ/NYC, Diana Sinclair is a Black queer photographer and artist who focuses on exploring and expressing identity. Diana is a great pioneer in the NFT industry in promoting diversity. Her advocacy has grown and impacted the world in tandem with her artistic career.
She has made an effort to include queer, trans, and Black Lives Matter in her artwork or to start other initiatives that support those issues because she is a firm supporter of those causes. Recently, she co-founded @herstorydao, a DAO with the mission of preserving, nurturing, and celebrating the art and culture of underrepresented voices in the metaverse.
Dr. Brittany Jones – Queer Friends NFT
The Queer Friends NFT project was developed, managed, and co-founded by Dr. Brittany Jones. Jones is a bisexual marine biologist who also plays sports and specializes in the study of dolphin communication. She previously taught young girls about science and STEAM (science, technology, engineering, the arts, and math) jobs via digital art.
PapiCandlez – The CryptoCandlez
PapiCandlez is a gay illustrator and animator located in Los Angeles. He just released the TheCryptoCandlez collection on OpenSea. A total of 103 candles in various charming avatars are included in the collection.
Jesse Soleil
Jesse Soleil is a 2D and 3D artist who has sold 17 unique NFTs in their career in crypto. Jesse calls what they do "digital therapy." We eagerly await what they have in mind for us because they have become a crucial part of the NFT community.
Stacie A Buhler – Ugly Berts & Bettys
Stacie A. Buhler is a Los Angeles-based fashion photographer and NFT artist who describes her work as "relaxed, joyful, friendly, and accessible to all." She founded Ugly NFTs, which has Ugly Bettys and Ugly Berts. Her personal experiences, in which both men and women informed her they didn't like the way she dressed, served as inspiration for the collection.
Each NFT in the series has also been digitally hand-painted by Stacie. The project's description states that
"This NFT collection is based on model diversity and LGTBQ+ rights and exposure within the fashion industry."
Katherina (Kate The Cursed) – aGENDAdao
Katherina "Kate The Cursed" Jesek is a transgender woman from New York who is 23 years old. Katherina is a visual artist who uses old cathode ray televisions and contemporary and historical digital art tools to produce a positive, nostalgic aesthetic for the future.
Vanshika Dhyani – The Desi Dulhan Club
Vanshika Dhyani is an Asian, bisexual, and neurodivergent artist. To bring attention to child marriages, dowry murders, honor killings, and female infanticides that have a place in South Asia, she established The Desi Dulhan Club NFT collection.
She started the initiative as a way to remember her grandmother, who was married off at the age of 13. In addition, the "Desi Dulhans" in the series lack lips to symbolize how women in South Asia are silenced. In contrast, the eyes have a "deer in headlights" appearance to convey a "frightened and uncertain" look.
According to Dhyani, this collection aims to inspire individuals to volunteer with UNICEF in South Asia to uplift, empower, and educate women.
Bottom line
The article showcases only a few NFT artists, and there are so many other amazing artists worldwide. In addition, you may support various LGBTQ+ NFT artists during this pride month and beyond. So don't wait for anything; go and show your love and support!

అస్వీకార ప్రకటన: క్రిప్టోకరెన్సీ చట్టపరమైన ద్రవ్య మారకం కాదు మరియు ప్రస్తుతం నియంత్రణలో లేదు. క్రిప్టోకరెన్సీలు తరచుగా అధిక ధరల అస్థిరతకు లోబడి ఉంటాయి కాబట్టి వాటిని ట్రేడింగ్ చేసేటప్పుడు మీరు తగినంత అపాయం నష్టాన్ని అంచనా వేశారని దయచేసి నిర్ధారించుకోండి. ఈ విభాగంలో అందించిన సమాచారం పెట్టుబడి సలహా లేదా WazirX యొక్క అధికారిక స్థితిని సూచించదు. ముందస్తు నోటీసు లేకుండా ఏ సమయంలోనైనా మరియు ఏవైనా కారణాల వల్ల ఈ బ్లాగ్ పోస్టును సవరించడానికి లేదా మార్చడానికి WazirX తన స్వంత అభీష్టానుసారం హక్కును కలిగి ఉంది.