Namaste Tribe! We had an amazing AMA session with Juan Otero, Co-Founder & CEO of Travala.com in WazirX Telegram group as part of Grand AVA Giveaway on Friday, 14th August 2020. Here's a quick summary of the session.
Hi Juan, could you introduce yourself & Travala.com to begin today's AMA session?
Hi everyone, my name is Juan Otero and I'm Co-Founder & CEO at Travala.com.
Previously, I worked at some of the largest tech companies in the world such as Oracle and Booking.com. I've also been an Advisor at several leading start-up accelerators such as Silicon Valley's Founder Institute, as well as at government organizations such as the European Institute of Innovation & Technology and the European Commission in Brussels.
At Travala.com I'm currently responsible for managing the long-term strategy and ensuring that Travala.com emerges as the world's leading web 3.0 OTA, powered by our native token AVA.
You can follow me on Twitter for exclusive news and promotions; https://twitter.com/joterovila
Founded in 2017, Travala.com is the leading cryptocurrency-friendly travel booking service with 2,200,000+ hotels and homes in 230 countries and 600 airlines globally. Backed by industry-giant Binance, Travala.com is a champion of cryptocurrency adoption, accepting over 30 leading cryptocurrencies in addition to traditional payment methods.
The Travala.com value proposition is bolstered by AVA. As the native cryptocurrency of the platform, AVA can be used for payments, receiving loyalty rewards, discounts and bonuses, among several other use cases which you can find here https://whitepaper.travala.com/#AVA
Our mission is to enhance the travel booking experience with blockchain technology.
AVA Token Details
Total supply: 61,383,832
Circulating Supply: 39,634,389
BEP2 asset on the Binance Chain
Q1. Due to Pandemic all hospitality industry has been shut down all over the world then what is your plan to revive this industry and what are the services you are providing which others not provide? Actually, what is the benefit of a customer to do bookings through Travala.com?
(by @Manishb28196643)
Covid-19 has been difficult for all of us. There were a couple of months where travel bookings really slowed down because of the travel restrictions. However, since June we have witnessed a really strong recovery. June and July have been incredible months for us and looking forward, we're confident that the growth traction will continue ?
Going forward, we are focusing on growth to increase users, increase bookings and organic demand for the AVA token.
Optimising and improving our existing products and prioritising new features that add real value to Travala.com and AVA ecosystems!
You can see our roadmap for Q3 2020 here https://blog.travala.com/travala-com-roadmap-for-q3-2020/
Q2. DeFi is one of the hottest topic in the blockchain space right now. Can you share your opinion about DeFi with us? Do you think that DeFi will disrupt the existing financial system? What is Travala.com's approach towards the DeFi sector?
(by @TrinhDucLuong9)
We're very interested in DeFi and, among other possible applications, we've been having a closer look at insurance and prediction markets and how they could fit into the Travala.com platform. At the moment it's still just exploring what's available in the market, but it's very likely that significant aspects of DeFi will fit into our mid/long-term roadmap.
Q3. Recently you've taken some serious steps forward with your roadmap, timeline and also made a huge deal of partnerships. What are the next objectives and milestones that you are focusing on for the Travala.com ecosystem?
(by @ZadeAkesh)
In the future, we plan to offer even more travel booking options such as car rentals and activities.
As we move closer to our vision for decentralized travel, Travala.com plans to implement further use cases to AVA as we continue to build the next generation of travel tech built on blockchain technology.
As we expand our decentralised platform, we will add reviews, direct bookings, hotel listing expansion, and more using a globally distributed salesforce with AVA incentivizing actions that benefit the project and will further increase the utility of AVA.
Our goal is to bring crypto mainstream. For many people, using Travala.com and receiving AVA for a successful booking will be their first experience with a blockchain-based token, making Travala.com a frictionless on-ramp into crypto.
Another goal ties in with our mission – to enhance the travel booking experience with blockchain technology. More about this on our White Paper: https://whitepaper.travala.com/
Q4. How do you perform cancellation, change and return transactions for travel and tourism reservations? How do you ensure the refund is in crypto when the payment is made with crypto?
(by @mirsiyanova)
In the travel and tourism industry, free cancellation or refundable bookings are standard. This is easy to manage with traditional online payment options like credit cards. In the cryptocurrency environment, however, this is not as simple because transactions cannot be reversed.
We have come up with an innovative solution to the cryptocurrency refund problem. Travala.com now uses BUSD as the payout currency for all refundable bookings.
If a traveller pays for their refundable booking with any cryptocurrency and they decide to cancel, they will be refunded the equivalent value of their booking in the BUSD stable coin directly to their Travala.com in-built platform wallet.
Q5. Travala.com offers to its users best price guarantee, how do you confirm that the sites customers find and send to you with lower prices are real and that they are not making them up to save some money what is your method to always have the best price?
(by @VeeMeyr)
Yes, we have the Best Price Guarantee powered by AVA for users who book on Travala.com and find a cheaper price on another website.
All users need to do is contact us with the proof of a cheaper price anywhere else. More details can be found here: https://www.travala.com/best-price-guarantee
Q6. If another travel booking platforms come with blockchain and they also come up with a great project like price, more destinations etc. then how will you compete with them? And how will you boost your project at that position? What will be the strategy?
(by @sushant693)
We are positioning Travala.com as the leading blockchain-based travel booking platform setting ourselves apart from the competition.
Our view is that we offer the world a crypto outlet to spend their money on travel. Most people booking on Travala.com use crypto. There are some good travel platforms in the market, but our benefits to travellers, our innovation and our user-centric approach are second to none.
So is the Travala.com and AVA Ecosystem – we just BUIDL, BUIDL, BUIDL ??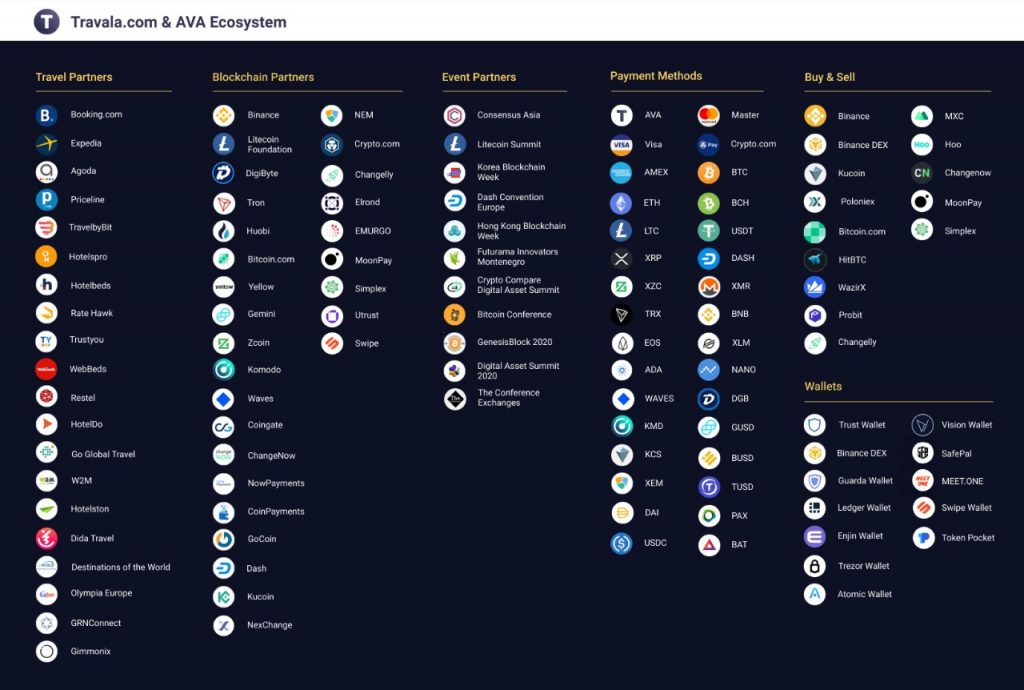 I'm sure we will see WRX there too soon ?
Q7. How are you going to differentiate yourself from the competition (Booking.com, Trivago, Kayak)? Why Travala.com and what are the incentives from using AVA?
(by @maison827)
We are more affordable, transparent and rewarding than any other travel booking website.
Other unique selling points of Travala.com are;
(1) Freedom of choice; Travala.com has over 2.2 million properties around the globe of all different types; hotels, villas, apartments, hostels and more. This is one of the world's largest network of accommodation options. We also have over 30 cryptocurrency and fiat payment options.
(2) Liquid loyalty rewards; customers earn rewards in our native cryptocurrency AVA. AVA can be used for payments, receiving and redeeming loyalty rewards, refunds, and as a store of value, among several other use cases.
(3) Full transparency; customers can access truly transparent pricing – no hidden fees at checkout, ever.
(4) Pricing; we are less expensive than major online travel agencies. With all discounts and rewards taken into account, we are on average 15% cheaper.
One of our most impressive use cases for AVA is our Smart Program that offers savings up to 10% on travel bookings and bonuses up to 12% per year based on the amount of locked AVA.
You can read more about it here: https://www.travala.com/smart
Just check out what people have to say about us on Trustpilot https://www.trustpilot.com/review/travala.com
Q8. What are the strategies to get people to use Travala.com after the pandemic is over? Will $AVA token later be used to pay for train or airplane tickets too?
(by @TututCurut)
We're fortunate to see our users coming back as soon as they have the opportunity to travel again, even if it is just locally or for short weekends nearby. The increase is mainly driven by domestic travel which is where we are focusing on at the moment.
You can already use AVA to book flights with over 600 airlines worldwide. This amazing new use case for AVA is just another one of the many new use cases to come that will make AVA the ultimate travel cryptocurrency!
Travala.com also added recently over 1,000,000+ Homes in 195 Countries Continuing to Boost Travel with Cryptocurrencies
Over 1 million houses, apartments, villas, cottages and alternative accommodations are now available for booking on Travala.com
https://blog.travala.com/travala-com-adds-1000000-homes-in-195-countries-continuing-to-boost-travel-with-cryptocurrencies/
Q9. Can you explain in detail the Travala.com Smart Program? Why should I join it and what's are its benefits?
(by @Firza17328744)
The Smart program is one of our most impressive use cases for AVA. It is based on a tiered rewards system; the higher the Smart level the greater your rewards.
For example, in the highest reward bracket Smart Level 5 (5,000 AVA), users receive up to 5% discount, as well as a 5% loyalty reward back on AVA, plus our unique Smart bonus rewards with up to 12% p.a. of your locked amount of AVA.
This gives our Smart members up to 10% savings on bookings and up to 12% per annum bonuses on your AVA with our Smart Bonus Rewards.
You can read more about it here: https://www.travala.com/smart
This is the best and most transparent loyalty and rewards program in the travel industry!
Q10. If I am a vendor who runs a small travel agency. What can I do to support Travala.com, are you open to help small startups in the travel sector?
(by @coldheatcrypto)
Of course, please contact us for more options or you can join our Affiliate Partner Program which gives a unique opportunity to partner and earn BTC, AVA.. with Travala.com while supporting crypto adoption. For more details please check here: https://blog.travala.com/earn-bitcoin-while-supporting-crypto-adoption/
Also, here are other ways you can best contribute to the success of AVA: https://blog.travala.com/supporting-the-ava-ecosystem/
Q11. Do you forsee the traditional OTAs or travel service providers utilising AVA in anyway in the future, if so, how?
Yes, the trend of mainstream companies entering the cryptocurrency space either with a partner like Travala.com or by themselves is going to accelerate. It is likely their cryptocurrency use cases are going to be more advanced than just accepting them as a form of payment. We are making sure that Travala.com is ahead of the curve by constantly experimenting with new technologies and cryptocurrency use cases.
Q12. Which types of Payments method are accepted by Travala Platform? Is only cryptocurrencies are accepted or Travala have any Fiat Option too?
https://www.travala.com/payment-options
Q13. What makes $AVA is better compared to other Crypto? Are there any unique mechanisms?
AVA's functionality makes it critical to the success of Travala.com. The interplay of AVA use-cases is designed to encourage loyalty to the Travala.com platform while increasing distribution and liquidity of the token.
? Payment Method
? Booking Giveback
? SMART Discounts
? SMART Loyalty
? SMART Staking
? Repurchasing Plan
? Best Price Guarantee
? INVITE Referrals
? Review Rewards (coming soon)
? Partner listing fees
? TravalAds (coming soon)
For more details on this please see our whitepaper https://whitepaper.travala.com/#AVA
Q14. How can you offer 15% cheaper on average price compared to others booking sites?
We work with over 15 of the leading hotel and accommodation suppliers including Booking.com, Expedia and Agoda.
The pricing innovation from Travala.com is that we will incorporate different types of rates and use room mapping technology to always offer the best available price among all travel suppliers, which is only done by a handful of other OTAs worldwide. Using this method we are able to maintain our on average 15% cheaper prices when discounts and all incentives are taken into account.
Q15. Explain your roadmap travala?
We want to continue to forge ahead with bridging the gap between the traditional booking experience and next-generation decentralised booking experiences.
Planned technology additions will expand our competitive edge as we use them to increase customer satisfaction along with revenue, proven utility of our native token AVA and profit margins.
The current focus is on growth to increase users, increase bookings and organic demand for the AVA token. Optimising and improving our existing products and prioritising new features that add real value to Travala.com and AVA ecosystems!
You can find more details here https://blog.travala.com/travala-com-roadmap-for-q3-2020/
Q16. Which countries does travala.com booking is available? And your major goals to achieve to expand travala.com in India? What are your plans to expand and gain more adoption?
The Travala.com platform currently offers over 2.2 million properties in 230 countries and territories. And we recently released over 1 million vacation rentals across 195 countries worldwide.
Q17. What you think of Community? How Community is important for Travala?
Our community is everything ?
Q18. Can you tell us the motivation and benefits for investors to hold the Travala.com for long term?
Among other reasons, we have plans for the short-term that include perks of using AVA as a form of payment for bookings, and some exciting additions to the Smart program. In the mid-to-long-term, AVA will feature front and centre in our new decentralised business models.
Q19. What is Travala doing to drive global adoption?
This explains in part our role in driving mass adoption: https://www.binance.com/en/blog/421499824684900835/Travalacom-Bringing-Crypto-Mainstream-Through-the-Travel-Industry
Q20. Why do you think $AVA Token is necessary for your project? What is the main role of $AVA in your Project?
The aspect of decentralization. Led by our initiatives, we imagine the travel industry will become more decentralized and participant focused. So, instead of centralized entities capturing the majority of value from platform participants (travellers and travel suppliers) like they do today, participants in decentralized platforms will be able to contribute to the platform's success and have a level of ownership in it, however small, through tokens.
Q21. In your opinion, what are the biggest differences and advantages Travala brings when compared to others?
We will become more important to each of our strategic partners as we expect significant increases in our booking volumes. Because of this, we expect greater perks, inventory availability, and much more. We are currently in the early phases of acting on some new collaboration opportunities with our partners and are excited to share these updates with the community in the coming weeks.
Disclaimer: Cryptocurrency is not a legal tender and is currently unregulated. Kindly ensure that you undertake sufficient risk assessment when trading cryptocurrencies as they are often subject to high price volatility. The information provided in this section doesn't represent any investment advice or WazirX's official position. WazirX reserves the right in its sole discretion to amend or change this blog post at any time and for any reasons without prior notice.