Namaste Tribe! We had an amazing AMA with Palash Jain, CMO at Frontier, in WazirX Telegram group as a part of Grand FRONT Giveaway on Tuesday, 8th December 2020. Here's a quick summary of the session.
Hi Palash, we are glad to have you here today! Could you please introduce yourself and Frontier?
Hey everyone my name is Palash Jain, and I am CMO @ Frontier, a chain-agnostic DeFi Aggregator. At Frontier, I oversee all aspects of Frontier's marketing, community, PR, and brand awareness, mainly the Product Side PR. Previously I have worked with projects and exchanges such as IOST, Lambda, and Bitmax on Marketing, community, and PR fronts.
Frontier is a Chain Agnostic DeFi Aggregation layer. Using Frontier, Users can Track and Manage DeFi positions, Stake Assets, Swap or Exchange Assets and explore more DeFi Applications in one single place. Frontier is also building Frontier chain, which is a Decentralised Key Management blockchain based on Cosmos SDK.
Q1. What is the main reason Frontier makes the DeFi aggregation layer chain-agnostic? What does it do and how does Frontier do it?
(by @ramprakashdevda)
Frontier supports DeFi across multiple chains and that's what makes us chain-agnostic. We are not only focused on ETH but also on exploring and DeFi protocols built on other chains such as Polkadot, Cosmos, Solana, Binance Smart chain. The aim is here to be one interface where users can access all of the DeFi no matter which Blockchain it is built on, giving users a choice to explore, compare, and explore.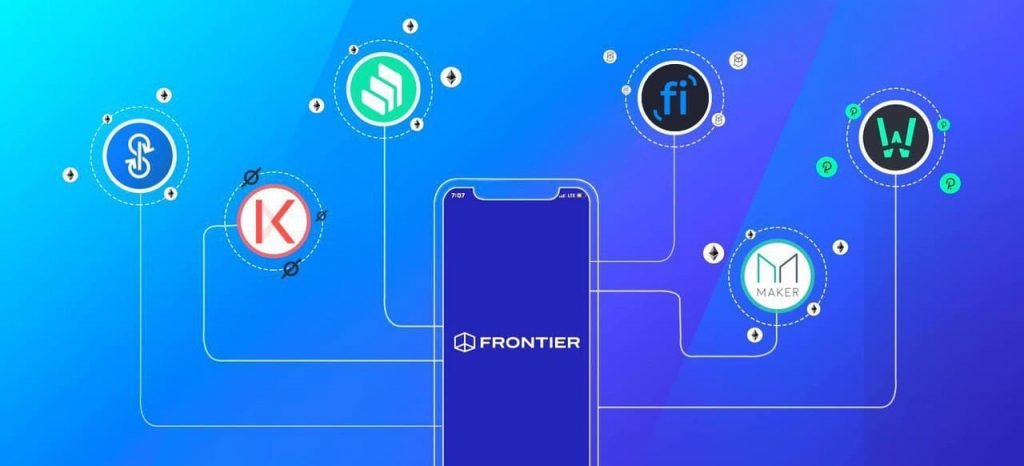 Some protocols such as Kava, yearn, maker, compound are live, others are in the works.
Q2. Can you share with us some of the unique features of Lending & Borrowing services? As I know, some lending platforms often use AI to calculate users' credit scores, I think it's great, do you have plans to build mechanisms like this?
(by @thihuyen93)
This is interesting, but we don't build these protocols which have lending and borrowing services. We have one Job, bring all of DeFi in one place to ease the user experience, and make asset management easy. We support AAVE, Compound, Yearn which are lending & Borrowing services / Money market protocols.
Q3. How is FRONT development going? Can you describe in detail current development efforts, market expansion plans, expected applications, and when will they become commercially available?
(by @DNihar3)
We have our Application live and working. Users can download from App store and play store. More protocol integrations are being worked on with partners, More staking integrations, and of course, polka DeFi ecosystem
Two exciting things which are coming are: Incentive protocol and gasless transaction with Smart wallet.
Q4. What is the difference between $gFRONT and $FRONT? What are the ways to get $gFRONT? Are these tokens complementary to the Frontier ecosystem?
(by @Winterkom)
It's a governance token to govern the main chain once launched and honestly has not a ton of bearing on the next 6–12 months of development. We need to run enough forecasts or study fallout from all of these current "governance" tokens to see if the model even works. Community input also matters a ton with regard to governance so it's nothing we're rushing. We might even use native $FRONT for it so it's all up in the air. Roadmap for $gFRONT will become clearer with time so I suspect things will change around how we manage it. Governance today will be different than what people expect from it in 2021. I'm sure of this. The job for us will be to find the best model that works for everyone when the time comes for it.
Q5. How flexible is the functionality and design of Frontier in the face of the rapidly changing market?
(by @danhtc1107)
We have a unified design across our Apps. So let's say, there's a new protocol in the market which we are looking to integrate. we don't have to sit and make a new design flow for all protocols. Having the same design scheme helps us to ship the integrations faster and also gives good UX.
On functionality, we faced some issues where we weren't able to add some functions and had to spend a lot of time to make a few things happen. We are working on a new App arch which makes this more seamless.
Q6. An important element when building financial instruments is accessible to everyone and not limited by technical barriers. How does Frontier break down technical barriers? How to accessible users?
(by @nhitran83149300)
We are a DeFi Interface / Aggregator on mobile. The target users are both existing users and new users (non-crypto and crypto folks who are yet to get into DeFi). DeFi space is more like a subspace within crypto.
So, let's take existing users, existing crypto users are already used to crypto wallets such as trust, metamask, coinbase wallet, imtoken, and more. Frontier won't be a DeFi Aggregator if it doesn't support all these wallets.
As we were building on Mobile, we faced the challenge of how do we connect mobile wallets? Wallet connects didn't support the feature it was more for Mobile to Desktop way of linking wallets. We want to link Mobile wallets to Frontier in the mobile. So, we build TxLink, which has the ability to connect Mobile wallets with Frontier.
This has helped us to connect to any ethereum wallets, users can use their existing wallets and access DeFi with Frontier.
We have an article which answers your question in a more detailed way: https://bit.ly/2DjK6yk
Q7. What plans does Frontier have to promote cooperation & develop cooperation in the community? If anyone has an idea that works well on Frontier, how can we get support?
(by @nguyen1093)
There's no single day where we haven't done some community events haha! Community building is a slow process with consistency. Rome wasn't built in a day, so are crypto communities. We are doing community events, AMA with partners and exchanges, community focused integrations which drives users and downloads to products. We are working on our angel program details coming soon.
Also, we launched three local communities — India, Korea, and Vietnam communities to connect and engage the community better.
https://t.me/FrontierDotXYZ/274
Q8. Does Front intend to create a fund to develop Dapp applications to attract more mobile app developers? Besides, with the products launched, will you have more bug bounty programs to attract developers?
(by @Levelnautvn)
This is a really good idea and initiative to boost the ecosystem and empower Developers to build on mobile. However, this is currently not immediate on the roadmap. we need to work on TxLink SDK for developers, Frontier smart wallet SDKs and then we can def roll out initiatives like these. Again, thank you for the suggestion!
Q9. Why do you choose to build FRONT Token on ERC20 instead of other blockchains such as BEP2, TRC20…or your own chain while ERC20 platform is less scalable and very slow?
(by @DNihar3)
We're actually building on multiple chains, not all chains. ERC20 is the "canonical" version of the Frontier Token (FRONT) before we have our own chain, however, we also have SPL versions (you can provide liquidity (https://t.me/FrontierDotXYZ/172) into Serum DEX with FRONT already) and also TRC21 versions also. We'll have more soon on other chains. We are also a cross-chain aggregator and are not too opinionated about one chain over another chain. Our job is to exist on all chains at once and try to capture value and give value to all ecosystems that we operate in.
Q10. All project's coins have their main utilities & real-life use! So, Can you tell us what is the main role of FRONT in your ecosystem?
(by @hoavouuy)
Sure, I will quickly brush over the utilities and use cases and this is no financial advice!
Staking on Frontier Chain — Frontier Chain is part of Frontier ecosystem, It is based on Cosmos SDK and is a Decentralised key management blockchain, we are not solving the scalability problem or promising a blockchain with 1M tps etc. We are solving one single problem, how do we make on-boarding easy for users outside crypto, that's all. That's the target userbase of Frontier chain, seamless wallet creations without ever having to take backups of seed/private keys. Keyless wallet where the keys are stored in a blockchain.
Gasless transactions — Everyone has got rekt on gas fees, you will never after we roll out gasless txn with smart wallet, users holding $FRONT get access to gasless txn details being worked out, this is coming pretty soon!
Governance — for the parameters of Frontier chain and ecosystem products
Liquidity provision — Use $FRONT to provide liquidity and earn rewards, farm other tokens. you can farm SRM, LUA and also earn LP fees by providing liquidity into farms/pools.
NFT creation and acquisition — We are pushing NFTs really hard and this is nothing yet. Frontier will allow content creators, blockchain companies, and other industry leaders to acquire and issue non-fungible tokens natively. $FRONT will be the preferred form of payment available for token issuance, transfer, and destruction.
More details all here: https://frontier.xyz/front/
Q11. You are now actively creating NFT, the question is: what is the functionality of all these NFT tokens? It was always interesting to know: how many people work for Frontier? How are you doing with the development of the Frontier Chain? What is the expected tps of Frontier Chain?
The NFTs which we have created are for our community and partners we engage with, and ofc this is related to $FRONT, we also added NFT support in our App. I can say, Frontier has the best mobile NFT experience where users can track both motion and audio NFTs.
We have something more coming to NFTs, I'd say stay tuned $FRONT.
We have a core team of 7 members, the total team is around 15 members including developers, designers, etc.
It is going perfectly fine. We'll share more details (testnet) right now focus is gasless relayer and smart wallet.
Frontier chain is based on cosmos sdk, the usecase is totally different, we build on top of L1 not complete with L1 chains.
Q12. BSC is very trendy these days, does FRONT have any plans to building in BSC?
We are working with a lot of projects across multiple chains. BSC has a lot of amazing products built and more coming. Frontier's chain agnostic approach is to aggregate all of the DeFi across chains in one single place. I'd say BSC is coming soon.
Q13. FRONT has a big volume considering it's a new project and not even on the 300 rankings, how much do you think it will impact the recent listing on WazirX in terms of putting frontier on the eyes of the audience?
Our on-chain metrics are great! Ranking is just optics. Check out our On-chain metrics on Nansen.ai. $FRONT is on various exchanges and we are in this space building much before the "DeFi" hype/trend.
Q14. Favorite Dragon Ball Z character?
Beerus samma
Q15. What are the staking rewards for FRONTIER and how can I stake FRONTIER token and also tell us the platform and tell the telegram group for the same?
We recently launched joint liquidity mining campaign with AllianceBlock.
300,000 FRONT + 900,000 ALBT rewards for 3 months ( approx 30k USDT rewards/month).
Read more here: https://t.me/FrontierDotXYZ/279
Q16. What are the recent major achievements of Frontier and also what are the future plans for its growth & development?
There's so many things we have rolled out in past months. We have been doubling down efforts every months. Let it be exchange listings, product releases, community events!
Last months highlights
Native Yearn Vaults
NFTs tracking and manage in App
Zil staking
Binance and FTX listings
Read it all here: https://t.me/FrontierDotXYZ/266
Disclaimer: Cryptocurrency is not a legal tender and is currently unregulated. Kindly ensure that you undertake sufficient risk assessment when trading cryptocurrencies as they are often subject to high price volatility. The information provided in this section doesn't represent any investment advice or WazirX's official position. WazirX reserves the right in its sole discretion to amend or change this blog post at any time and for any reasons without prior notice.