Namaste Tribe! We had an amazing AMA with Sebastien Borget, COO & Co-Founder of The Sandbox, in WazirX Telegram group as a part of Grand SAND Giveaway on Wednesday, 23rd September 2020. Here's a quick summary of the session.
Hi Sebastien, please introduce yourself and The Sandbox.
Hello, my name is Sébastien Borget, I am the COO, Co-founder of The Sandbox.
I am also the president of the Blockchain Game Alliance, a non-profit organization with 150+ members from the blockchain & gaming industry. I am an advocate for NFTs & blockchain in games.
Here's a Teaser about The Sandbox
The Sandbox virtual world lets you PLAY. CREATE. OWN. GOVERN. EARN. Welcome to the Metaverse!
Q1. What is SAND and what does it have to do with the game? Is it real and could it be useful from the point of view of today's economy?
(from @12_nasrun)
The Sandbox is a virtual world where players can build, own, and monetize their gaming experiences in the Ethereum blockchain using NFTs and $SAND, the platform's utility token.
We are combining user-generated content (UGC) with NFTs, enabling anyone to make its own NFTs using VoxEdit (our 3D Editor). Then you can own, trade and monetize these NFTs as you want.
You will be able to enter a virtual world where you can build, own and monetize games, next to gaming giants Atari, Square Enix and more!
We are thrilled to see the demand for $SAND and also want to confirm our long term vision on building a gaming metaverse. We have great achievements, fantastic team, partners, ips and more. You'll learn more about it today!
$SAND are now listed on WazirX, Binance and Huobi. We are among the Top 250-300 tokens on CoinGecko and CoinMarketCap and one of the very few Gaming tokens
$SAND will enable players to create, play, own, govern, trade and earn within The Sandbox virtual world gaming platform. It is the ERC-20 token that will be used all across The Sandbox metaverse.
$SAND tokens have the following utility on The Sandbox platform:
1/ Medium of exchange: Players can potentially collect SAND through gameplay, and subsequently spend $SAND to play games, purchase equipment, or customize Avatar characters. Creators can spend SAND to acquire ASSETS and LAND. Artists can spend SAND to upload ASSETS to the Marketplace and buy GEMs for defining item rarity.
2/ Governance: $SAND allows holders to participate in governance decisions. SAND owners can vote themselves or delegate voting rights to other players of their choice.
3/ Staking: Users can stake $SAND tokens to earn rewards, as well as GEMs and CATALYSTs for ASSETS creation.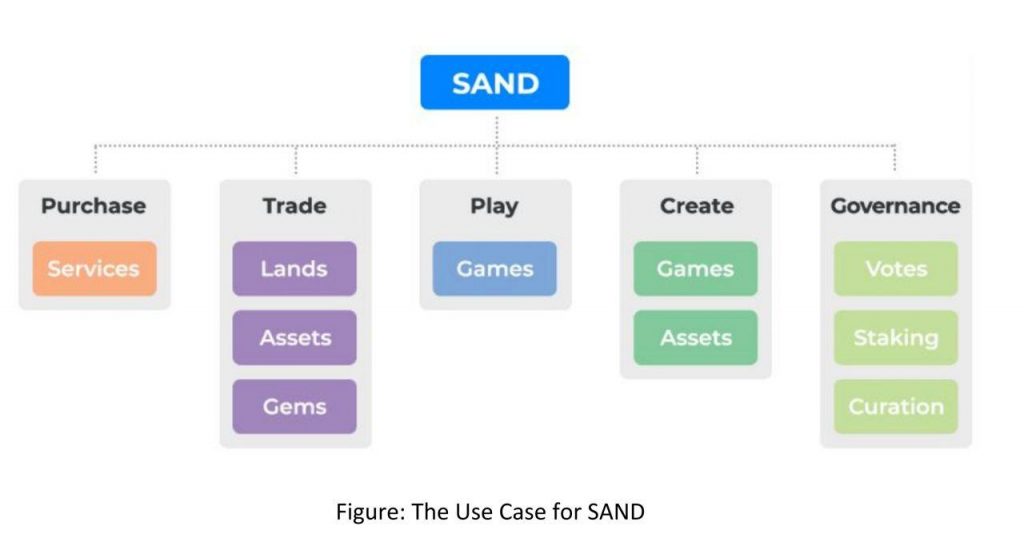 Also, our fee capture model is important, as a total of 26.5% of all SAND transaction volume goes back into the Foundation and for Staking Rewards
And of course, users can earn $SAND by participating in the platform. Every user contributes to value of our ecosystem.
$SAND can already be used within The Sandbox platform. Last week we did our first LAND presale in $SAND and we sold out in minutes for over $237,000 (5,000,000 SAND tokens) in just a few minutes.
This is really exciting!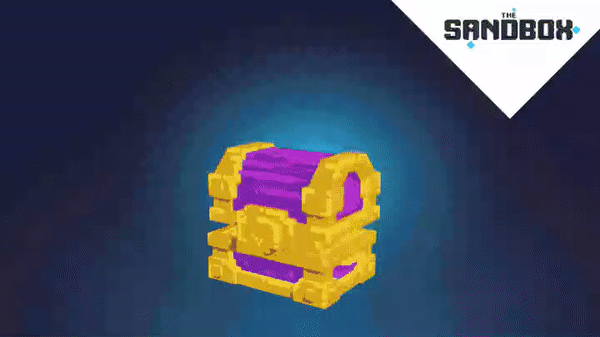 Q2. How can I build my new game? Can I monitor my game with myself?
(from @PraveenGandam)
At its core, The Sandbox is an ecosystem for Players and Creators, consisting of three main components: a Voxel Editor (named "VoxEdit"), a Marketplace, and the Game itself.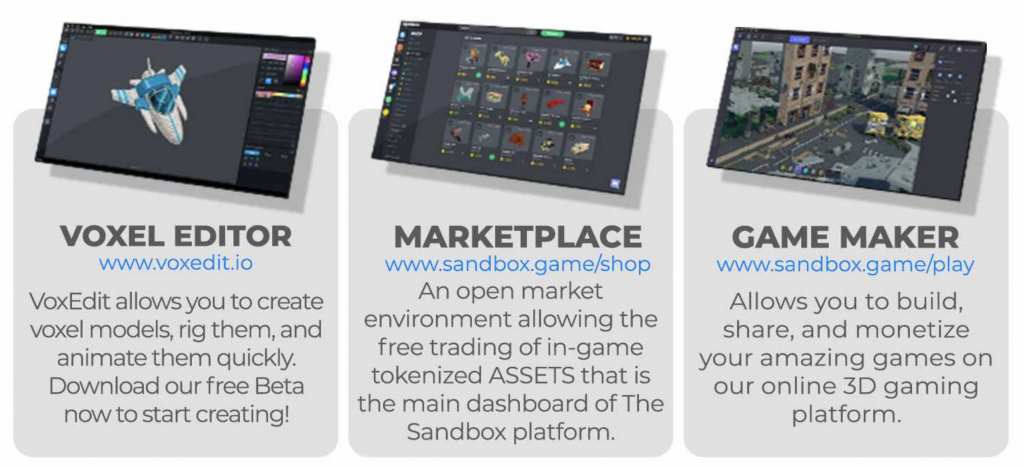 These 3 main components are:
First VOXEDIT: it is a 3D modeling and animating package that allows users to create and animate 3D objects such as people, animals, foliage, and tools.
Then the MARKETPLACE: it allows users to upload, publish, and sell their ASSETS made in VoxEdit, as Non-Fungible Tokens (Both ERC-721 and ERC-1155 tokens).
And finally the GAME MAKER: it allows players to build 3D games for free. With the help of pre-assigned behaviors and visual settings, no coding knowledge is required.
So you can create your own game by downloading the Game Maker (currently in alpha version) at http://gamemaker.sandbox.game
It is a nocode; drag and drop very accessible software that anyone can use.
We already have 100s of creators using it and over 15 projects supported by our Foundation, such as:
The Sandbox metaverse invites players and creators to
Make NFTs with VoxEdit #Voxels
Sell and Trade them on our #Marketplace
Create fun games with our #GameMaker
Play, Stake & Earn $SAND #Crypto
Play & Create with huge IPs and Brands
Here you can see the Game Maker in action:
Q3. At present are you planning on competing with mainstream online games. If not, how you see The Sandbox in coming 5 years?
(from @vikas5572)
Yes we aim to compete with traditional mainstream online games; MMO RPG for example.
We do believe millions of players are interested in exploring the benefits of decentralization, interoperability, and the creator's ecosystem. What will players be able to do? We are preparing a MMO-RPG inspired gameplay, where players will need to complete quests across the map (kill enemies, collect items etc), either in lands made by players or in procedurally generated lands.
You can access the project Roadmap here: https://www.sandbox.game/en/roadmap/
We are aiming to become one of the leading established key players in the space of virtual worlds with blockchain-based digital LANDS, reaching over 1,000,000 MAUs over the next five years. To achieve this, we will be working on:
Next 6 months:
Game Maker – Official Release 1.0 and major updates with more gaming packages, Behaviors and Visual Scripting
Partnerships – New IPs and Premium NFTs to be announced
Foundation – Launch of the Foundation DAO with SAND staking for voting on Creators Fund management
Next 1 year:
Multi-platforms – Availability of Game on smartphones and tablets devices
Multiplayer – First user-generated games with multiplayer modes
Next 3 years:
Game Maker – Co-Building Mode – creating games with Friends, Custom Scripting with programming 3rd layer and major updates with more gaming packages and Behaviors
Games Platform – Over 1,000 Games available by 2022
Game Maker – Major updates with more gaming packages and behaviors added
Events – Additional Seasons with big rewards to earn
We believe in building a long term game that will last more than 10 years and will work towards full decentralization, meaning players will be having 100% of SAND tokens within the next 5 years and we will keep developing services and updates for them.
Q4. What's the role of NFT in blockchain game items and transactional services?
(from @azyrmdhn)
The Sandbox is a pioneer in the space of blockchain gaming, NFTs and true digital ownership – we have been really pushing forward the industry and awareness in general.
I do think we are only surfacing the possibilities with NFTs. NFTs can be used in many ways, beyond Games, such as Art, Tickets, Proof of Ownership, Access system, and more.
But with games, it is easy to understand and visualize the benefits. Billions of gamers have been used to free-to-play model where they purchase virtual items, but they can't own; trade or monetize these.
Blockchain games are inherently community-driven, by putting their native tokens and #NFTs into the players hands.
We think the future for UGC games is 100% owned by players #NFTs
The community of players, creators, artists, landowners, $SAND holders are all stakeholders and they are directly being rewarded for their contribution to the growth of The Sandbox ecosystem. Their interests and our interests are aligned, and we are always thinking of users-first. This is a very community-driven approach.
In the current game market, the centralized ownership and control of user-generated content limits creator rights and ownership. Players and Creators cannot trade the virtual goods and digital assets they purchased or won in games.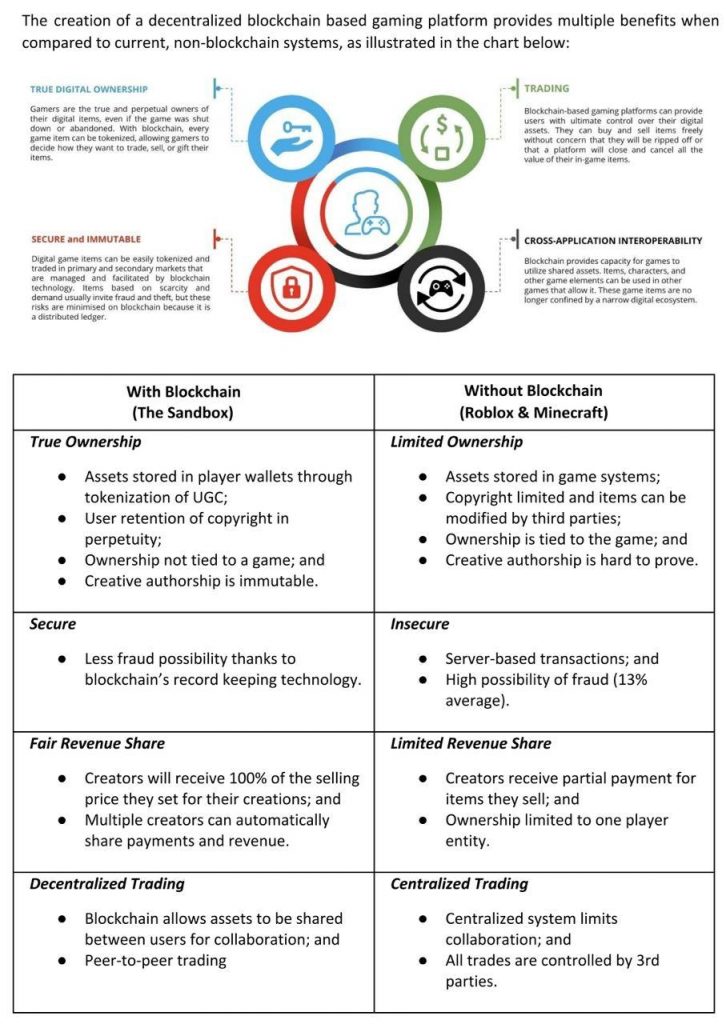 Q5. What is play-to-earn working? How can I monetize my time and activities with $SAND as a player?
(from @TututCurut)
The play-to-earn in The Sandbox is supported by a blockchain-powered circular economy. At its core is an idea that everything and everybody involved in the community of The Sandbox is being rewarded for their participation.
The Sandbox endeavors to build an ecosystem where interests are aligned between all the users—players, creators, land owners, curators, $SAND investors, etc.—who contribute to it.
In play-to-earn, anything players collect in the game is truly owned by players, they can trade it to other players (inside the marketplace or outside on other websites), transfer it to other players or even resell it through our currency $SAND.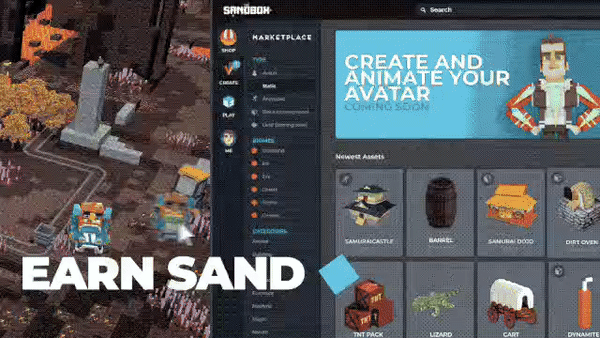 And of course, users can earn $SAND by participating in the platform. Every user contributes to value of our ecosystem.
How can you earn $SAND by creating and playing?
Selling ASSETS: Users can create and sell ASSETS as NFTs on the marketplace
Owning a LAND: Buy a LAND in one of the LAND sales. Players can then either rent them or populate them with content to increase the LAND's value.
Building Games on the Game Maker: Creators can build and monetize games using the Game Maker on the LANDs that are owned by players.
Playing and participating in the game: In the Game, not only can creators profit from their creations, players can play-to-earn by collecting resources, rewards, and tokens.
One more video showing some action / fights in a game made by one of our community creator:
Q6. How advanced do you see the future of SANDBOX's VR and motion-sensing technology? Anywhere near Ready Player One?
(from @philicrohit)
We are creating an appealing gaming metaverse that aims at attracting all types of people: young & old players, casual & pro gamers, newbie creators & professional artists.
Making a game that is fun, visually appealing and has good mechanics so you want to stay and keep playing it for a long time is our priority.
Players will not come for the technology, but for the fun and the experience. Then they can benefit from the advantages offered by our decentralized model, collecting tokens, earning rewards and being able to trade game items, their creations, lands etc.
It is important for us to build a GREAT gaming experience without VR or motion sensor; so that more people can play and enjoy creating on their PC or Mac and next year playing on mobile platforms as well.
So focusing first on the Game itself; the experience, the content. We just did announce today having Bertrand Levy; former Global VP of Partnerships at Universal Music; who is joining The Sandbox team as VP of Licensing and Brands Partnerships.
https://medium.com/sandbox-game/bertrand-levy-former-global-vp-of-universal-music-joins-the-sandbox-as-vp-of-licensing-brands-dce8f881926
We're getting one step closer to the Ready Player One famous scenes with all brands medley ?
Our vision has always been to build a gaming virtual world where any creator can make his own games with characters and elements from his favorite IPs, and publish these games next to them.
These creations exists as #NFTs on the blockchain and become part of the Metaverse and Bertrand will be instrumental to bring on board more and more brands and celebrities in The Sandbox!
Q7. What's the difference between $SAND vs LAND? What are the benefits that the user can get by owning a LAND?
(from @Artistskyler07)
Good question! The Sandbox virtual world metaverse utilises multiples tokens to enable creators and players to interact into our gaming platform.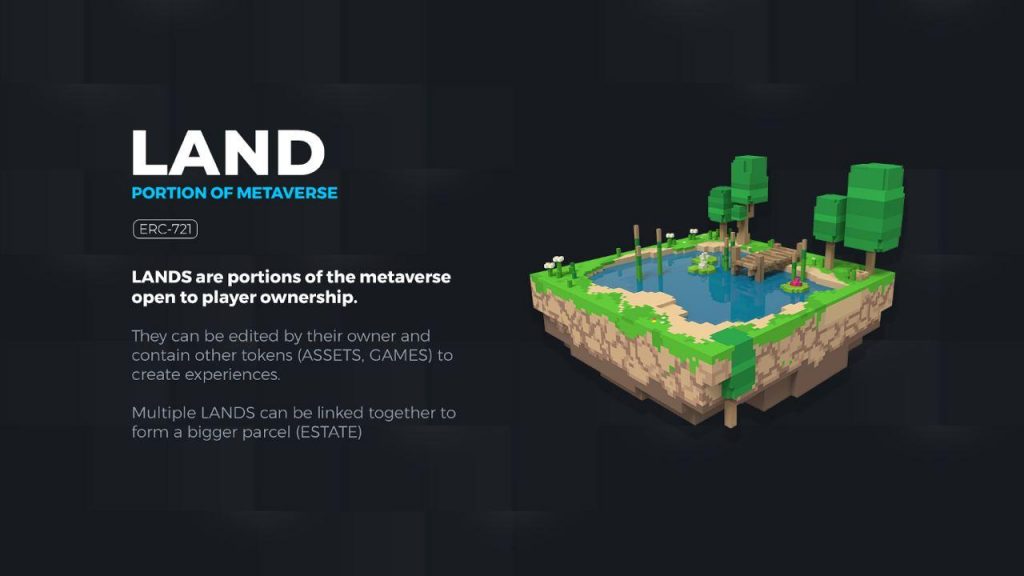 $SAND is a fungible (ERC-20) utility token that serves as the basis for all transactions within The Sandbox, plus governance and staking as mentioned right before.
LAND is a non-fungible (ERC-721) #NFT that represents a digital piece of real estate in The Sandbox metaverse. There is a limited number of LANDS, 166,464 in total, each with a unique location.
Players can own, create and publish game experiences on their LAND. The game can be accessed through a virtual map where the locations of LANDs and proximity to larger Estates and key positions will play a role in the gameplay, economy and visibility of games.
LAND will have the capability to be rented out to other players, and owners can invite other creators into their LAND to help create an experience collaboratively.
Players can combine LANDS into a larger shared space to create a richer, larger gaming or social experience.
Checkout the map here www.sandbox.game/map
Q8. Will players from different platforms (PC, Xbox, PlayStation, Android and iOS) be able to play your game on the same server at the same time?
(from @daphuyen)
Yes; the multiplayer will be platform agnostic. For creating games with the Game Maker, it will be on PC and Mac.
But for the social and play part; the game client will be available on multiple platforms. As we launch the first public beta by the end of this year in December 2020; it will be on PC and Mac first. But then in 2021 we are planning to enable playing on mobile and 2022 and after on consoles.
Q9. I read that ERC-20 is used for SAND tokens and ERC-721 is used for land trading. Why are different standards used and what is their advantage?
(from @rohitk2k18)

SAND is an ERC-20 fungible token for the medium of exchange; governance and staking.
LANDS are ERC-721 #NFTs for the unique locations on the map.
ASSETS; are the 3D game items created by the users. They use a new standard called ERC-1155 that is fungible with metadata. We are one of the main contributors to the ERC-1155 standard; together with Enjin and Horizon Games.
ERC-1155 are more efficient because millions of game items can be represented with a single token. While ERC-721 each token is unique so you need 1M ERC-721 tokens for 1M items. ERC-1155 is supported now by many wallets and marketplaces.
Q10. What are Sandbox's preparations for the mass adoption of Blockchain Technology into the Gaming World?
(from @mohit_10_)
The Sandbox is a pioneer in the space of blockchain gaming, NFTs and true digital ownership – we have been really pushing forward the industry and awareness in general. Let's talk about Decentralization first ?
$SAND adoption will be fostered differently according to the different stages of the project with different techniques for early adopters and loyal players.
Our goal within the next 5 years is that $SANd will be owned 100% by players, and us as the platform we will continue developing services for the community, while owning 0%.
Governance will progressively remove the Control from our Company towards the community based on token holding.The Community of $SAND holders will be able to participate to Governance decisions of the platform, using a DAO structure, where they can exercise voting rights on key elements.
$SAND owners will be allowed to vote themselves or delegate their voting rights to other players of their choice and it is an important point on governance.
In Year 1 (2021), we plan to achieve significant growth during the 1st year post-game launch bringing artists & players into the platform, with no awareness of tokens. We will supply an initial high-level of issuance to early adopters, key partnerships with gaming companies and renowned brands through the Creators Fund and through staking rewards to token holders
In Years 2 and 3, we will continue with a high-level of issuance to active players and creators through the Creators Fund, we plan to convert free to play players into active ones.
Then after Years 4 and beyond, we will retain loyal and players and increase the decentralization of $SAND circulation until the Company holds 0% of $SAND in reserve and 100% of the SAND is in the hands of the players
Then about main-stream adoption: We are creating an appealing gaming metaverse that aims at attracting all types of people: young & old players, casual & pro gamers, newbie creators & professional artists.
Once we have a game players want to play, we are working on making onboarding to the crypto as accessible as possible to mainstream users:
Having major Exchanges as a partner will help The Sandbox to bridge the gap and help onboarding the Roblox and Fortnite generation to a new gaming experience where they can own, earn and trade everything in the game.
Q11. What's your plans for global expansion, on building and developing or getting customer and user, or partnerships for SANDBOX projects?
Great question ! We are working hard to gros globally; through our partnership with Binance and also by being listed today on WazirX; we are expanding into India market
Korea and Japan came in the Top 5 countries for where our users are based. Italia is #3. We have a very global team in Argentina, France, Korea and Japan.
Q12. Why SAND choose to list on WazirX?
We believe that India is a huge market with many gamers and creators and we want to be as close as possible to our users
WazirX is one of the most dynamic; innovative and best team out there moving the ecosystem in India so it is very natural to work with them as partners.
Q13. What plans do you have to help drive demand and scarcity for the token?
Currently; we have only 17.5% of the total SAND tokens available (3,000,000,000) that are in circulation. We have already run a LAND presale last week and sold in minutes over $230,000 of LANDs; pin SAND generating a lot of demand for our tokens.
LAND sales, our marketplace, etc are natural demand sources. We also have staking and will soon announce something on the topic.
Q14. As I am also a Gamer, Why a gamer should dive into SANDBOX? Why do you think Blockchain Game is better than Non-blockchain Games?
You can participate in the alpha/beta of our products and enjoy everything without any blockchain or crypto involved, just trying out the value proposition and enjoying a game like mainstream MMO RPGs.
Q15. What makes your project different from other project platforms?
We are 100% focused on GAMING.
We think it is great to have many decentralized virtual worlds and even we share similarities, each one has its own specificities. The Sandbox is more focused on building a gaming virtual world, where players can socialize in lobbies or play adventure/MMO RPG like the type of games, with quests, fights, killing enemies, collecting items and rewards, etc.
We have been for 8 years already in the video game industry! The Sandbox project has been around since 2012 on mobile platforms and has gathered more than 40 million global installs on mobile.
Also, NFTs allow interoperability and users have the ability to use their NFTs across these multiple platforms. This is the beauty of the metaverse.
Q16. Atari is a big Gaming company as I know, My question is What is the advantage of Sandbox partnership with atari? What's the feature That Atari provides for SandBox?
We are offering a presence and creating game experiences with the most popular brands and IPs. Our vision is to become the ready player one of the gaming virtual worlds and we have already several IPs and partners on board with us.
Q17. DeFi is one of the hottest topics in crypto right now so What role does Sandbox want to play in the DeFi space?
Yes; as seen previously; we are very active in Play-to-Earn and DeFi.
Q18. How do you feel when AMA with WazirX Community today?
Awesome questions and chat. Strong community.
Disclaimer: Cryptocurrency is not a legal tender and is currently unregulated. Kindly ensure that you undertake sufficient risk assessment when trading cryptocurrencies as they are often subject to high price volatility. The information provided in this section doesn't represent any investment advice or WazirX's official position. WazirX reserves the right in its sole discretion to amend or change this blog post at any time and for any reasons without prior notice.