Namaste Tribe! We had an amazing AMA with Sergej Kunz, Co-Founder of 1inch Network, in WazirX Telegram group as a part of Grand 1inch Giveaway on Friday, 26th March 2021. Here's a quick summary of the session.
Hi Sergej, we are glad to have you here today! Could you introduce yourself and 1inch Network?
Hi there! My name is Sergej Kunz, I am co-founder of 1inch. I started to study programming while I was 14 and keep on doing it every day. From 2015 to 2019, I worked for Mimacom consultancy, running projects for major customers, such as Bosch, Siemens, and Porsche. After joining Porsche on a full-time basis, I gradually shifted towards cybersecurity.
I first entered crypto back in 2012. After mining Ethereum for years, I launched a YouTube channel, CryptoManiacs, in which I did live security audits of smart contracts.
Back in May 2019, together with my partner Anton Bukov we've started 1inch during the ETHGlobal hackathon in New York.
Q1. How does 1inch platform compare to Uniswap and DEX aggregators?
(via @Notblurryface17)
1inch Network is unique. It is a network of decentralized protocols such as the 1inch Aggregation and Liquidity Protocols with also unique instant governance system. The 1inch Aggregation Protocol incorporates 49 integrations of liquidity sources on Ethereum and 17 on Binance Smart Chain which gives 1inch users the best rates and the lowest transaction costs on the DEX market. Swapping on 1inch is 10% cheaper than swapping directly on Uniswap for smaller amounts. On higher amounts, the Pathfinder API finds the best routing among this huge amount of liquidity sources by taking into account gas costs and offering a partial fill functionality which is also unique on the market.
The 1inch Liquidity Protocol is a highly efficient automated market maker (AMM) which protects traders from sandwich front running attacks and cuts a huge amount of earnings from arbitrage traders letting liquidity providers earn much more than somewhere else.
Q2. Could you explain more about the Pathfinder API that 1inch uses for order routing?
(via @IshaanGoyal7)
Pathfinder uses a unique algorithm that was developed by our team and me. It finds the best combinations of splits and routes among different markets to offer the best price by taking into account gas costs.
Q3. We're already paying too much gas fee for swapping in some exchanges. How will 1inch aggregates and helps in the future to swap at a base gas fee? Are there any chances that 1inch comes with a solution to help crypto traders in terms of gas fee (ETH)?
(via @vijaygopalbala1)
The 1inch router is highly optimized and offers the lowest gas costs on the market for swapping tokens among different liquidity sources. The 1inch Network also expands to other blockchains, such as Binance Smart Chain, where gas costs are much lower. We are also waiting for L2 in the nearest future.
Q4. In decentralized exchanges, liquidity is a major concern how does 1inch deal with low liquidity?
(via @farziguy)
Our Pathfinder discovers the best swapping routes among the huge amount of liquidity sources. 1inch combines the whole liquidity on the market into a single pool to save time and money for users.
Q5. What is meant by pool governance and factory governance in 1INCH token?
(via @boneygeorge8)
1INCH token stakers vote for default settings in the 1inch Liquidity Protocol. Liquidity providers can vote in the liquidity pools, but don't have to. If they don't vote, they delegate their own voting right to the 1INCH token stakers.
Q6. Taking into consideration the Infinity Unlock feature, do you think that it compromises security while being cheaper and reducing transaction fees in the long run? Or does it offer the same amount of security as the basic unlock feature?
(via @crypto_sharma)
Our contracts are very well audited by a lot of security experts and auditor companies. Of course, it is better to use Infinity Unlock if it is supported by a particular token or the user can just approve the exact amount willing to swap.
Q7. Are there any plans on burning 1INCH tokens?
(via @Joseph_Mahone)
Right now we don't know about such plans, but the community can suggest proposals to Foundation for that.
Q8. In recent days, NFT has been a hot topic. Will we expect any NFTs of 1inch Network?
(via @mohit_shivaay)
Our team don't have this on the roadmap but any other team can contribute to support NFTs at 1inch Network.
Q9. Why this project named as 1inch?
(via @Utkarsh23070396)
The name was inspired by Bruce Lee's 'one inch punch' as a metaphor for the protocol's efficiency in DeFi.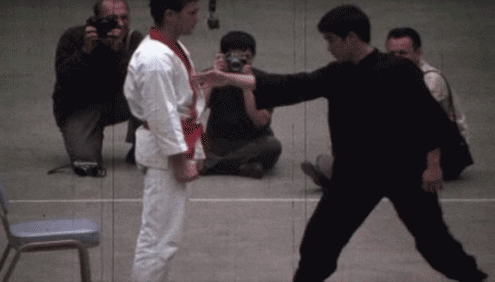 Q10. What is your long term goal regarding 1inch network's scope in India?
(via @sauravtwts)
We believe, that the Indian DeFi market has enormous opportunities for further growth. Therefore, we are doing our best to contribute to the entire DeFi space and make the 1inch Network as global and decentralized as possible.
Q11. Without proper marketing and capital infusion, the project dies, how do you convince us you have adequate marketing power and capital to push this project to the top project?
We have a great community that grows very well and they do a really great job. Of course from our team who is a core contributor in 1inch Network, we do our best to explain and to teach people about 1inch Network. The foundation has enough for grants to push the network to another dimension.
Q12. How do you distinguish 1inch with other DEX in terms of security? How secure 1inch is?
All audits are audited by a lot of security experts. As secure as as can be.
Q13. 1inch Exchange Built on top of the most advanced liquidity aggregator ever developed. Can you explain what a liquidity aggregator is like?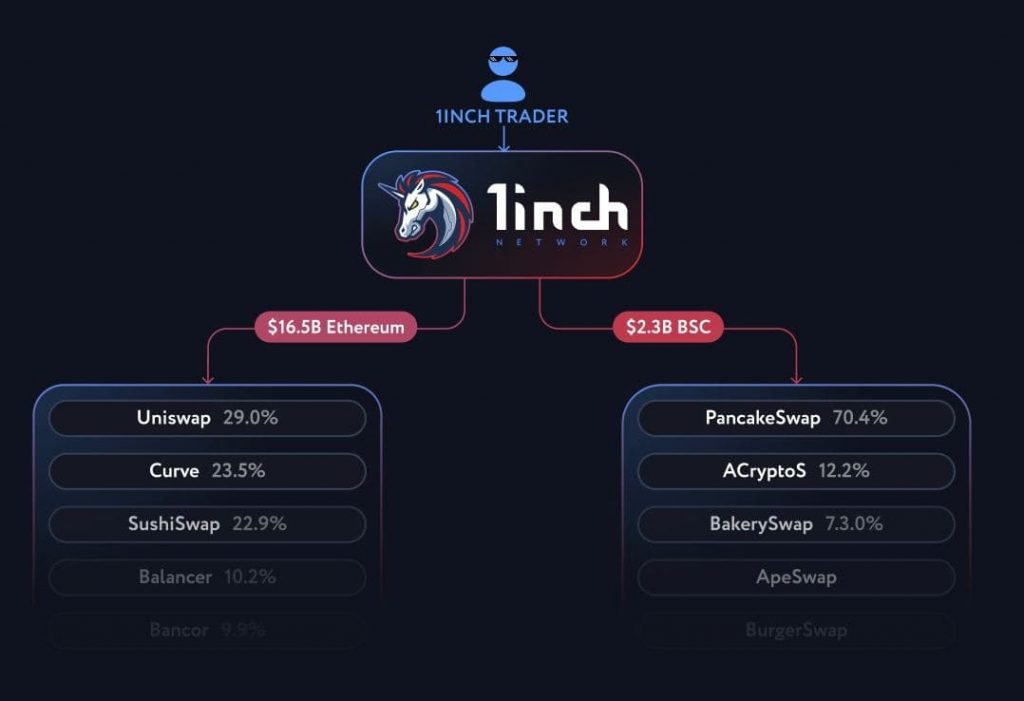 Q14. Can you share 1INCH opinion on DeFi? What steps are already being taken towards the future progress of 1INCH?
Our team is working right now on a couple of extensions for 1inch Network and how I know there is also another team planing to ship something.
Q15. You recently added Binance Smart Chain alongside Ethereum for DEX users. Can you tell us why?
Most recently, Binance Smart Chain has shown enormous activity, prompting the arrival of new promising DEXes. As we at 1inch are always on the lookout for the hottest DeFi projects, the addition of BSC-based DEXes to our aggregation protocol came as a natural step.
Q16. Why does 1inch exchange need to issue 1INCH token, its roles as well as benefits for holders in long term?
The 1INCH token is used to govern all 1inch Network protocols. We call it "instant governance", a new feature that allows the community to vote for specific protocol settings under the decentralized autonomous organization (DAO) model, in a transparent, user-friendly, and efficient way. For more info go here: https://1inch-exchange.medium.com/1inch-token-is-released-e69ad69cf3ee
Q17. What problem did you saw, that made you believe, that your 1inch project can solve and be a successful one?
We just solved our own problem by building 1inch aggregation first MVP over two nights without sleep on the ETHNewYork hackathon back in 2019. After that, we found out that it is useful also for a lot of people and we continued to expand the 1inch Network with more protocols.
Disclaimer: Cryptocurrency is not a legal tender and is currently unregulated. Kindly ensure that you undertake sufficient risk assessment when trading cryptocurrencies as they are often subject to high price volatility. The information provided in this section doesn't represent any investment advice or WazirX's official position. WazirX reserves the right in its sole discretion to amend or change this blog post at any time and for any reasons without prior notice.