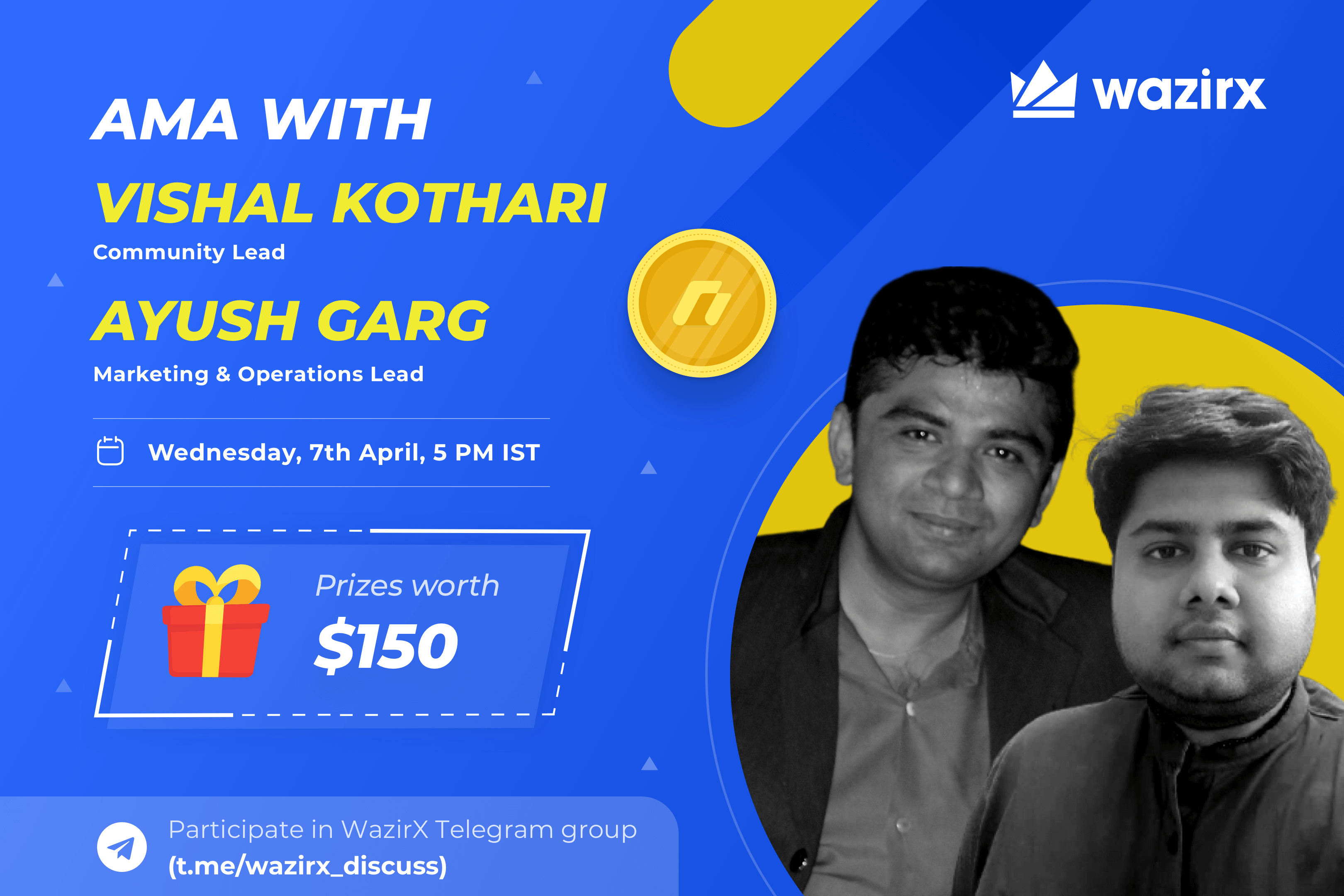 Namaste Tribe! We had an amazing AMA with Vishal Kothari (Community Lead) and Ayush Garg (Marketing & Operations Lead) in WazirX Telegram group as a part of Grand UFT Giveaway on Wednesday, 7th April 2021. Here's a quick summary of the session.
Hi Vishal & Ayush, we are glad to have you here today! Could you introduce yourselves and UniLend?
Vishal: Hey, I am Vishal Kothari – Community Lead at UniLend Finance. I have started my career in Computer Education in 1998 and exploring around various IT-related businesses and services finally realized the best thing technology has given us is Cryptocurrency as I was studying and researching cryptocurrencies since 2014. I have been guiding projects on the marketing front & community growth for more than a year & have been an early part of UniLend Team from the start of the project.
Ayush: I am from a Computer Science background with experience working at companies like Uber and Box8. I have been part of the Crypto space since early 2017. I have also worked with the startup Oasis — Initiated by IIM Ahmedabad and Rajasthan Government. I have been part of UniLend's team since the launch as a lead in Marketing and Operations.
Vishal: UniLend is a comprehensive DeFi protocol with the mission to unlock the true potential of decentralized finance. The concept for UniLend came from the simple idea of allowing every token to access DeFi. Essentially, UniLend Finance will offer every DeFi capability imaginable for any ERC20 asset, including the $29B+ of assets which are currently excluded from DeFi.
Q1. How does mirror protocol can be used to provide collaterals for borrowing between two individuals and is the dust rate calculated and regulated by any central body (which would be ironical) or is it set by individuals themselves?
(via @nithishkumar_29)
Ayush: Mirror has an innovative set of tokens and we have a partnership with them, where you can buy a $TSLA mirror and lend on UniLend. So basically, you can get cash by lending your m Assets and still get to hold them. Isn't it amazing that now you can HODL FANG stocks and other major derivates of gold and silver and oil with our partnership with Fantom? And while you hold by lending, you still have liquidity for active trading or any other need!
Q2. Currently, there is an option to utilize any ERC20 token which limits the users in terms of blockchain they want to use? More and more users are going away due to congestion and high fee issues on eth, what are the plans to implement other blockchain support?
(via @jtanwar_crypto)
Vishal: Haha.. isn't it a pain, but I believe Ethereum is a very strong chain. Fees are high, for mainly Ethereum prices are going up and congestion. We as a universal project already had a multichain promise. We are expanding to the second most popular chain currently that is BSC.
Q3. Will it be possible to list BSC tokens on UniLend Finance in future?
(via @DeepMaheshwari0)
Ayush: I believe that the users are not going away from ETH but many are looking for alternatives. All our stock of products, including staking and Flash Loans are going to be live on BSC.
https://t.me/UniLendAnnouncement/223
Now with this coming, We are a step closer to getting our product live on BSC and can assure you that soon you will get an update of major BSC projects partnering with UniLend. We are already being welcomed by the community and we are the 1st project who is coming up with Flash Loans on BSC.
Q4. Spot trading and lending/borrowing services already exist in the platforms like Uniswap and Compound finance. So how is UniLend better?
(via @mohit_shivaay)
Vishal: Yes, to clarify, we have the utmost respect for Uniswap and the other leading protocols for being trailblazers in the DeFi space. That said, we believe that our comprehensive DeFi functionality and permissionless listing model will facilitate the evolution of DeFi and bring the next wave of users into the DeFi space.
Our community has requested further clarification on UniLend's strengths as a DeFi protocol, which is why we launched our DeFi Dissected article series.
I would encourage everyone to follow us on our UniLend Medium to stay up to date on our collaborations and to take a look at the DeFi Dissected article series for themselves. Two of the most recent articles within this series were for comparing UniLend with Aave and Uniswap, here are the links to get you started:
Comparison with Uniswap: https://unilend.medium.com/defi-dissected-unilend-finance-taking-the-uniswap-defi-revolution-to-the-next-level-b576ce915350
Comparison with Aave: https://unilend.medium.com/defi-dissected-a-brief-comparison-of-unilend-and-aave-2e7726c1e7ee
Also please check our series on Youtube: https://youtu.be/F25PDIyk3Fk
Q5. Can you name two particular use cases of UFT token?
(via @maryper80575758)
Ayush: Before Vishal bhai answers this, let me just reiterate that UFT staking is live on our platform with over $2.3 million tokens locked, TVL approx $6 million.
You can stake your freshly bought UFT from WazirX, to gain 17% APR and airdrops!
Vishal: See as I already stated above we have started from where Uniswap and Aave left so our protocol would be a Complete DeFi suit for all without the limits of permission but yes there are major 2 use cases I can share right now is
Staking is available to have regular rewards on $UFT as well as 70% of the Fees will be distributed to the $UFT stakers
We will also make this fully decentralized will launch governance as you can see in our roadmap: https://unilend.medium.com/presenting-unilends-roadmap-gearing-up-for-alpha-launch-in-december-2020-89ff10805bcd
So the UFT holders will govern the major decision making part as well.
Q6. What are the different applications and use cases of permission-less Defi w.r.t. UFT? What is your partnership plans to scale up the network?
(via @Pragnendra)
Ayush:
Lending
Borrowing
Trading
Currently Live
Staking
Flash Loans
ASR(automated staking rewards)
Airdrop!
Did I miss any, oh yeah, with permissionless governance, our protocol is truly decentralised in all aspects.
Q7. Based on its permissionless nature, how can UniLend determine a token is reliable or not?
(via @Hello_Im_Shinko)
Ayush: We have a list of very comprehensive partnerships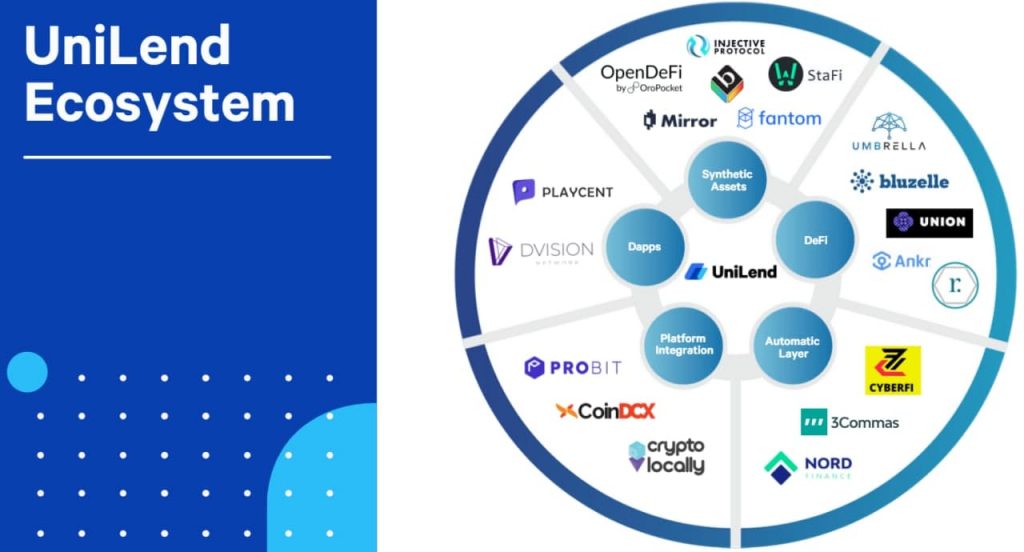 If a project is promising, has good team, visionary leadership, and good product, they will get recognised by market in terms of price and volume. So we are going to be the platform provider, anyone can list their token, which is the biggest block for growth of DeFi.
I believe a lot of folks here are holding MATIC, WRX, FRONT or many more, which they feel hold a great value for future but there are almost zero platforms where you can hold these coins and still get some liquidity. So our aim is simple, we want to enable each and every token and their holders to play an active role in DeFi which is limited to a handful of tokens.
Q8. How does UFT differ from and have an edge over other similar staking protocols like PancakeSwap or Sushi?
(via @kurapatiNagara7)
Vishal: See UniLend is a one roof solution for all DeFi needs and not only a mere staking protocol. You can have flash loans using UniLend and our flagship product Permission-Less Lending & Borrowing is also coming up soon. So there are many positive additions to the existing protocols that we are aiming to bring for the seamless DeFi experience for our users.
Ayush: To add to this, a lot of projects who offer staking rewards are burning through their pockets, we have a revenue-making product, Flash Loans, which will provide a 70% fee to the stakers. So eventually rewards won't have to come from project's or holders' pockets. Aave earned more than half of their revenue from Flash Loans. Imagine such a product being live on all the ERC20 and soon BEP20 tokens!
Q9. Do you have a plan to use your own mainnet besides Binance and Polygon?
(via @endro)
Vishal: Yes we are primarily focusing on the Ethereum network and our Flash Loans and Staking already live on the mainnet you can check at app.unilend.finance
Apart from the Ethereum network, we are also exploring multi-chain support to be given to our users so that users can have a cost-effective solution ready with the UniLend and for that, we have already kept things ready to be deployed on the Binance Smart Chain. But again for Polygon we can say we would love to give some surprises to our users so you can wait for one 😉
Q10. Apart from your Global channel, you have 3 regional channels, Vietnam, Nigeria and, Indonesia. But have you considered integrate or create an Indian version too? Or Spanish?
(via @TonyMon253)
Vishal: Yes we already announced our 3 regional communities
Indonesia ??: https://t.me/UniLend_Indonesia
Vietnam ??: https://t.me/UniLend_Vietnam
Nigeria ?? : https://t.me/UniLend_Nigeria
Also we are bringing more regional communities so the users from different geographic can have ease of communication with the team through the regional community.
And India ?? is our home so yes we can never left our own community.
Q11. What are the core values of UniLend Finance? What infrastructures would you like to provide to your community?
Ayush: Decentralized and permissionless is the core of our DNA. We want to break all the norms of the current Defi and bring all the tokens to active DeFi. We are coming up with a major grant for projects who want to BUIDL on top of UniLend. They can provide Flash Loans UI or make trading tools or bots, we are going to support them. If you have followed our journey, since our Alpha launch, we value community feedback to improve our product and offerings.
Q12. How is UniLend's FlashLoan are better than Aave? Gas prices will be the same for all ETH tokens. What makes UFT better than AAVE?
Ayush: To begin with, our FlashLoan product is much cheaper in terms of fee as we charge only 0.05% of the fees while Aave has 0.09% fee. Then our flash loans will be much more gas efficient. We did some testing and found it 3x cheaper than Aave. Please check the link: https://rb.gy/4ghyzy
Q13. To help us better understand UniLend, please explain what products it has built? What do they offer users?
Vishal: Our Flash Loans are live on the mainnet you can check at app.unilend.finance and also users can stake their UFT for the constant rewards as well as eligible for the 70% of the fees collected from the flash loans and if you are not aware let me tell you that our stakers got a huge airdrop as we have promised to them.
Checkout: https://t.me/UniLendAnnouncement/244
And our flagship product Permission-Less Lending and Borrowing is coming soon with integrated dex having a swap feature. So all-in-all we are bringing DeFi under a single roof.
Q14. Penalties, Slashing, and Freezing are the three biggest risks in the staking mechanism. How does UniLend platform with its technology and its innovation can solve those of the above problems?
Ayush: If you check our product, you will find that we have 0 locking times on staking, you can anytime redeem as many tokens as you want from your staked pool. All the rewards that you earn will also be added to your staked pool instantly and you can withdraw the whole amount. We have kept it very simple and straight forward, no complex operations.
And we have auto restaking, which means, all the rewards that we are providing are being restaked automatically, saving unnecessary hassle and gas war.
Q15. What's the Transactions speed per second?
Ayush: Depends on Ethereum currently.
Q16. Do you think the lending services through smart contracts will dent the existing and traditional lending systems?
Ayush: With TVL crossing $50 billion in DeFi, haven't it already made a dent. But it is nothing compared to the future, we aim to take the TVL to $100 billion.
Q17. Long-term keepers can be the benchmark in the ecosystem and better guide the development of the ecology. What is your plan to convince traders to hold tokens for the long term?
Ayush: We have our staking live with 17% APY and airdrops, that's why we have over 10% of our circulating supply is locked in our own staking program.
Q18. What are the things, that you're willing to add to the UFT to make it more impactful?
Vishal: I guess UFT is itself a powerful and most impactful token being used in staking and can be used in the governance in the future.
Q19. What are the plans to educate and raise awareness and adoption among the community to make more people understand the project easily?
Ayush: Yes, we have already released our Beginner's video for Flash Loans. We are working on more educational content in future and also launching our Gitbook.
Q20. Many DeFi smart contracts have bugs & prone to security breaches. How secured is yours in UniLend Finance? Did you ever audit your smart contract's code?
Vishal: Our Every contract is audited for sure you can checkout our flash loan Certik audited smart contract details at:
https://unilend.finance/docs/unilend_flashloan_audit_report.pdf
Disclaimer: Cryptocurrency is not a legal tender and is currently unregulated. Kindly ensure that you undertake sufficient risk assessment when trading cryptocurrencies as they are often subject to high price volatility. The information provided in this section doesn't represent any investment advice or WazirX's official position. WazirX reserves the right in its sole discretion to amend or change this blog post at any time and for any reasons without prior notice.