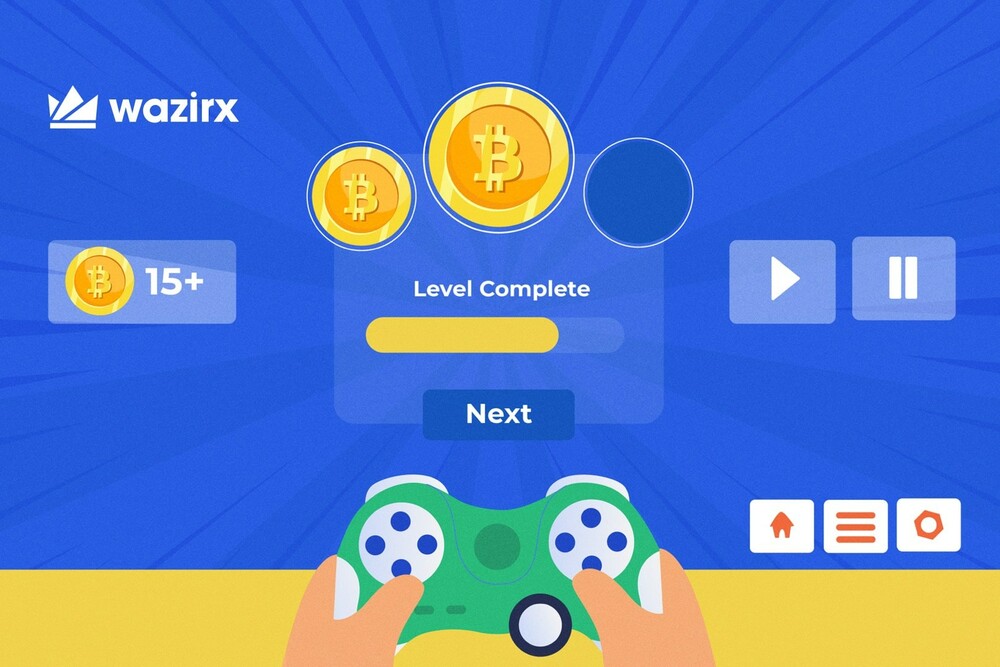 Gaming has been one of the most competitive, hypercharged industries in the last decade. Much like crypto, the industry is so vibrant; there is always a new trend to hop on. To ditch the constant FOMO on trends, a couple of stakeholders have gone a step ahead and integrated blockchain in the gaming industry.
So what does this mean?
Soon, you might be able to monetize all the time you spend playing video games! Yes, there is a strong possibility that your next big purchase might be backed by something sold off in a video game.
How, you ask?
The answer lies in blockchain gaming. Blockchain gaming has made it possible for users to earn cryptocurrency while playing video games. It is anticipated that the blockchain will revolutionize the gaming sector completely. This shift will impact the user experience of video games and how they are developed and managed.
If you, too, are a video game enthusiast or have plenty of time on and would like to get some benefit out of that. This article is for you. Tag along.
What Is Blockchain Gaming?
Before taking a deep dive into what blockchain gaming is, it is essential that we take a de-route to understand what the blockchain itself is. Even though the name is pretty self-explanatory, for the purpose of explanation, imagine a railway track. Each of its wooden sleepers represents a block. Like the track is a chain of wooden sleepers, a blockchain is a chain of data blocks on a network. This chain is completely transparent to all its users, and no one can tweak the data present there. To remove one block, you'd need to work on the entire chain.
In a blockchain-based game, players could own a certain number of collectibles with their ownership recorded in a common ledger. These could be digital assets called NFTs.
With the introduction of blockchain gaming, their ownership of assets would be changed like never before. Players who are used to having assets that are eternally stuck inside the game can now take it outside the game! This has brought some exciting developments to the industry. In other words – gamers can now hold gaming items without relying on the game itself and can send anything to anyone. They can perform simple transactions without having to run, dance, or jump through fires.
Blockchain gaming allows for a driven economy where companies don't have to worry about new releases or the whims and fancies of game developers. They can get tradable content and retain players. In the end, it is a win-win for both the players and the gaming companies. While the former gets to spend more money in the game without burning a hole in their pocket, the latter can bag more gaming hours in its name.
Advantages Of Blockchain Gaming
#1 Enhanced Gaming Experience
The gaming industry is quite global. It has a million players and companies involved. For such a vast industry, integration with payment gateways at a high cost is a problem we should've solved long ago. With the integration of blockchain technology in gaming, such extra costs can be practically effortlessly eliminated. Not only does this make it cheaper to transact on games, it, of course, adds to the overall user experience too.
#2 Enhanced Security
The gaming industry has long witnessed fraudulent practices and illicit activities, from malicious hacks to phishing attempts. It is, quite honestly, one of the most pressing challenges of the industry.
This is not surprising. Online gaming, after all, sees significant cash flow, making it one of the main targets of cybercriminals. These crimes can be of various kinds, from identity theft to account hacks and even fake virtual assets. Players are under the constant stress of being duped. With blockchain's integration, such criminal practices can take a back seat since the assets would remain on the blockchain that no one can tweak.
#3 Decentralized Ownership
The ownership of virtual assets has given rise to multiple cold wars in the gaming industry between developers and players. With the coming of blockchain gaming into the picture, a revolution may be on the horizon.
As many argue, it is the players that spend hours on games, making them who they are. So it'll come as good relief that they can finally own the items they acquired in their gaming session. And thanks to the properties of the blockchain, the assets will be immutable.
#4 A New Gaming Economy
Blockchain gaming may be responsible for introducing a whole new level of decentralized gaming, which will witness a real-world application of virtual assets.
For instance, you could consider the Ejinn coin provided in a game called Age of Rust. Spacepirate developed the game with virtual currency based on ETH chain. As a result of its corporate partnerships, now a player can later get the credit for Ejinn coins in gift cards or even Uber credits.
Some Promising Blockchain Gaming Options To Get You Started.
1. Spinterlands
Spinterlands is a collectible card game. It offers rewards in the form of NFT and cryptocurrency to its users.
At present, the game has seen the most number of users documented for a blockchain-based game. It has a daily user count of 283,950. This user count is even higher than that reported by most exchange platforms in the country.
2. Axie Infinity
Axis Infinity is a trading and battling game, one that reported a growth of one million users in August 2021. This is more than 33x the 30,000 users it served until April. Axis allows players to breed, trade, raise and battle creatures called Axies. The game rewards its users in its Ethereum based currency – AXS.
What Lies Ahead for Blockchain Gaming?
Gaming is generally used as a good indicator of trends, consumer spending, and even technology by several industries. In gaming, with the integration of blockchain, vast amounts of real money is at stake now and is perhaps a sign of things to come. Yes, these developments are still wrapped with the virtual gaming world, giving it an appropriate environment to test for the first mass adoption of blockchain.
But now, with our virtual and real worlds converging, gaming is where the action will begin. Who knows where we head after this?
Disclaimer: Cryptocurrency is not a legal tender and is currently unregulated. Kindly ensure that you undertake sufficient risk assessment when trading cryptocurrencies as they are often subject to high price volatility. The information provided in this section doesn't represent any investment advice or WazirX's official position. WazirX reserves the right in its sole discretion to amend or change this blog post at any time and for any reasons without prior notice.