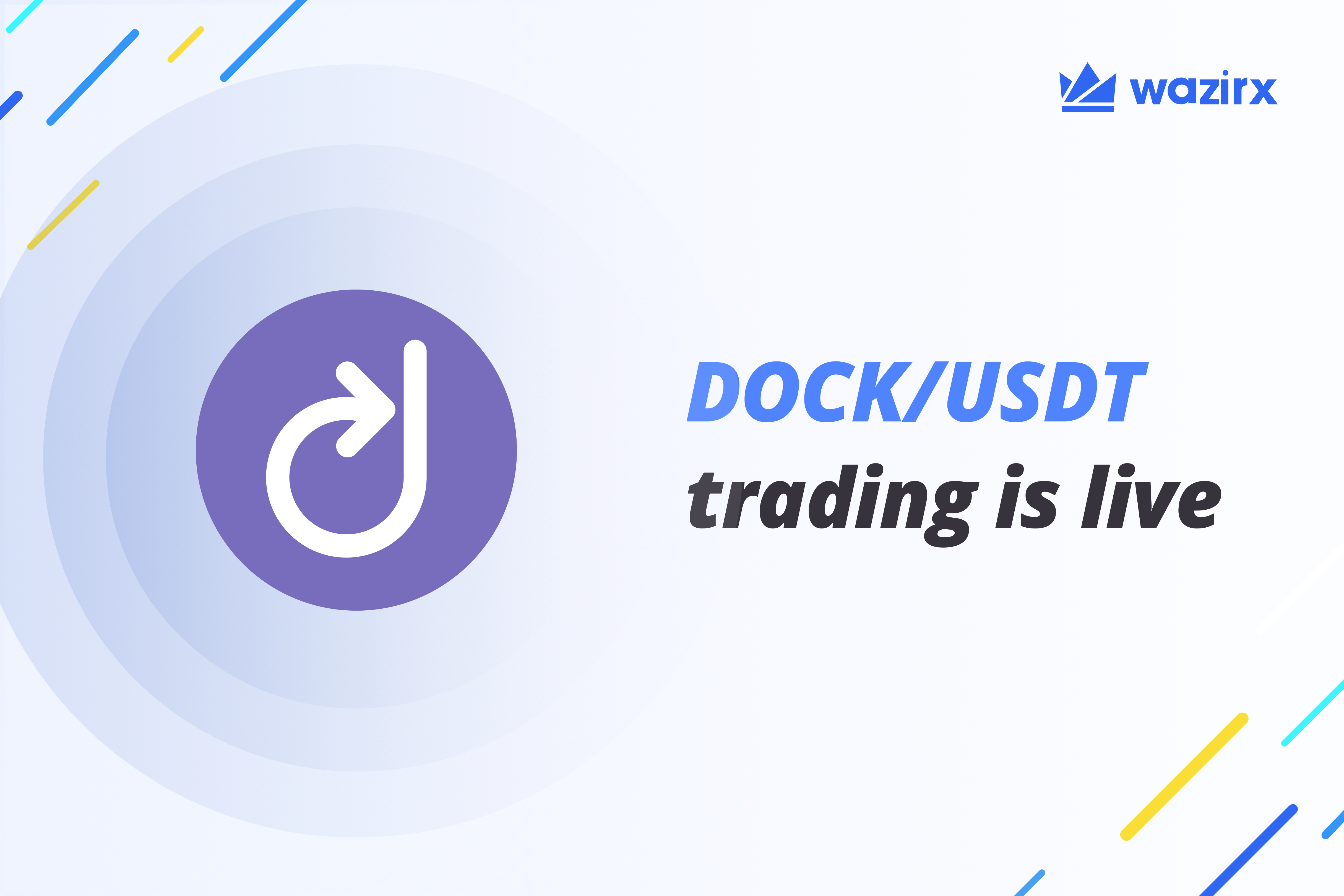 Namaste Tribe! DOCK is listed on WazirX and you can buy, sell, trade DOCK in our USDT market.
What about DOCK Deposits & Withdrawals?
DOCK is a part of our Rapid Listing Initiative. Hence, we will start DOCK trading without enabling its deposits and withdrawals. What does it mean for you?
Deposits — You won't be able to deposit DOCK from another wallet to WazirX
Trading — You will be able to buy, sell, trade DOCK in our USDT market. When you buy DOCK, it will appear in your "Funds"
Withdrawals — You won't be able to withdraw DOCK from your WazirX wallet. You can, however, sell it in the USDT market
Don't worry, you'll be able to deposit/withdraw DOCK on WazirX very soon. Read more about the Rapid Listing Initiative here.
About DOCK
Dock was founded with a mission to solve universal problems with existing data solutions: data silos and gatekeepers, untrusted and inaccurate information, incompatibilities across platforms, inefficiencies with verifying data, and lack of control and privacy for users.
Trading price (past 24 hrs): $0.009144 USD
Global Market Cap (past 24 hrs): $5,637,155 USD
Global Trading Volume (past 24 hrs): $1,702,068 USD
Circulating Supply: 616,475,743 DOCK
Total Supply: 1,000,000,000 DOCK
Happy Trading!
Disclaimer: Cryptocurrency is not a legal tender and is currently unregulated. Kindly ensure that you undertake sufficient risk assessment when trading cryptocurrencies as they are often subject to high price volatility. The information provided in this section doesn't represent any investment advice or WazirX's official position. WazirX reserves the right in its sole discretion to amend or change this blog post at any time and for any reasons without prior notice.