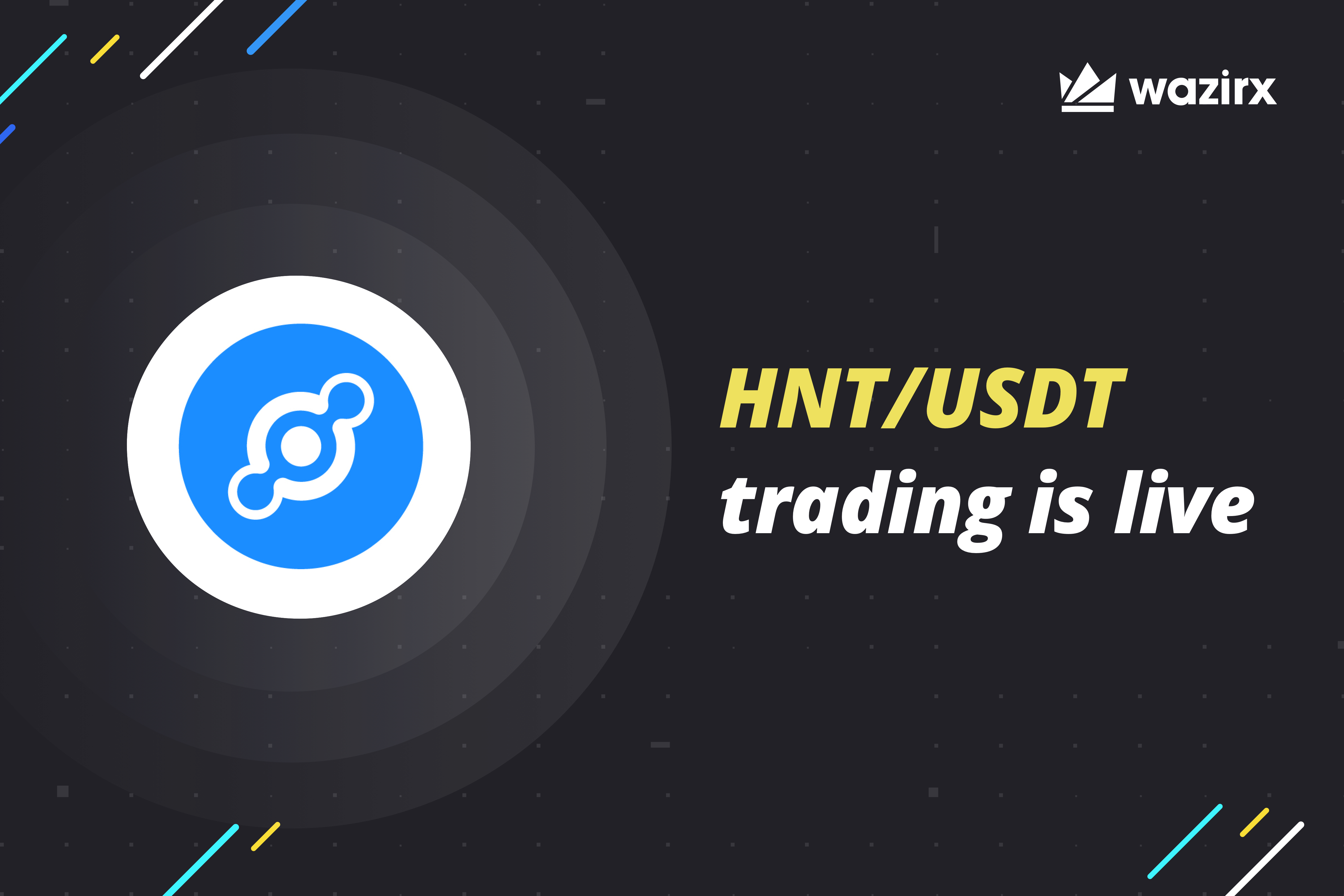 Namaste Tribe! Helium (HNT) is listed on WazirX and you can buy, sell, trade HNT in our USDT market.
What about HNT Deposits & Withdrawals?
HNT is a part of our Rapid Listing Initiative. Hence, we will start HNT trading without enabling its deposits and withdrawals. What does it mean for you?
Deposits — You won't be able to deposit HNT from another wallet to WazirX
Trading — You will be able to buy, sell, trade HNT in our USDT market. When you buy HNT, it will appear in your "Funds"
Withdrawals — You won't be able to withdraw HNT from your WazirX wallet. You can, however, sell it in the USDT market
Don't worry, you'll be able to deposit/withdraw HNT on WazirX very soon. Read more about the Rapid Listing Initiative here.
About HNT
Helium (HNT) is a decentralized blockchain-powered network for Internet of Things (IoT) devices. Launched in July 2019, the Helium mainnet allows low-powered wireless devices to communicate with each other and send data across its network of nodes.Nodes come in the form of so-called Hotspots, which are a combination of a wireless gateway and a blockchain mining device. Users who operate nodes thus mine and earn rewards in Helium's native cryptocurrency token, HNT.
Helium's goal is to prepare IoT communication for the future, identifying inadequacies in current infrastructure from its birth in 2013.
Trading price (past 24 hrs): $1.02 USD
Global Market Cap (past 24 hrs): $52,998,650 USD
Global Trading Volume (past 24 hrs): $467,438 USD
Circulating Supply: 52,115,923 HNT
Total Supply: 57,252,994 HNT
Happy Trading!
Disclaimer: Cryptocurrency is not a legal tender and is currently unregulated. Kindly ensure that you undertake sufficient risk assessment when trading cryptocurrencies as they are often subject to high price volatility. The information provided in this section doesn't represent any investment advice or WazirX's official position. WazirX reserves the right in its sole discretion to amend or change this blog post at any time and for any reasons without prior notice.