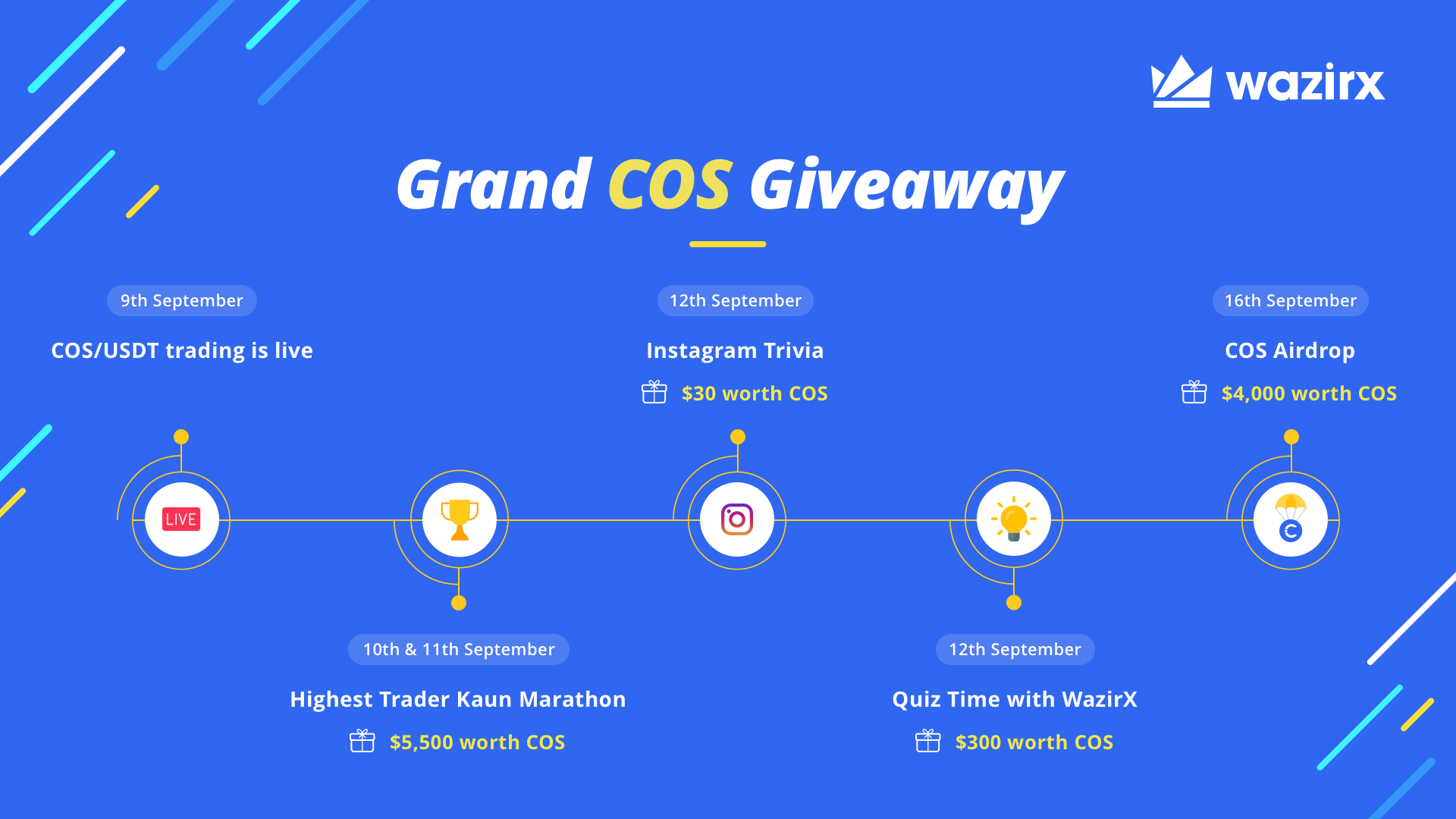 Namaste Tribe! Contentos (COS) is listing on WazirX on Wednesday, 9th September at 12 PM IST and you will be able to buy, sell, trade COS in our USDT market. We are also running a Grand COS Giveaway for you via a host of activities.
What about COS Deposits & Withdrawals?
COS is a part of our Rapid Listing Initiative. Hence, we have started COS trading without enabling its deposits and withdrawals. What does it mean for you?
Deposits — You won't be able to deposit COS from another wallet to WazirX
Trading — You will be able to buy, sell, trade COS in our USDT market. When you buy COS, it will appear in your "Funds"
Withdrawals — You won't be able to withdraw COS from your WazirX wallet. You can, however, sell it in the USDT market
Don't worry, you'll be able to deposit/withdraw COS on WazirX very soon. Read more about the Rapid Listing Initiative here.
COS Giveaway Schedule
Highest Trader Kaun Marathon: COS/USDT
Thursday, 10th September: 9 AM — 9 PM IST
Friday, 11th September: 9 AM — 9 PM IST
How can I participate in the contest and win?
Winners will be decided on the basis of the volume of COS traded in our USDT market.
Here's how to qualify:
Minimum trade volume of ₹5,000 worth of COS
Minimum 50 trades
You can participate and win on both days.
What's the bounty?
On each day:
| | | |
| --- | --- | --- |
| Trader Rank | Prizes per person (COS) | INR worth |
| 1 | 68,965 | 40,000 |
| 2 | 46,551 | 27,000 |
| 3 | 32,758 | 19,000 |
| 4 | 22,413 | 13,000 |
| 5 | 15,517 | 9,000 |
| 6-10 | 10,344 | 6,000 |
| 11-15 | 7,068 | 4,100 |
| 16-20 | 4,827 | 2,800 |
| 21-25 | 3,448 | 2,000 |
| 26-30 | 2,413 | 1,400 |
| 31-40 | 1,724 | 1,000 |
| 41-55 | 1,379 | 800 |
Each day, 5 lucky traders selected from top 70 traders will win 1,379 COS (worth ₹800) each!
Instagram Trivia Contest
Participate in COS Trivia contest on Instagram and win prizes for every correct answer!
When: Saturday, 12th September, 12 PM IST
Where: instagram.com/wazirx
How to participate?
Follow us on Instagram: instagram.com/wazirx
We'll share 3 questions on Instagram Story, each at an interval of 3 mins
Choose the correct answer
For every question, one lucky winner from all the correct answers will win 1,351 COS each
Quiz Time with WazirX: COS
We are hosting a fun quiz session about COS. Show off your COS knowledge & win prizes.
When: Saturday, 12th September, 6 PM IST
Where: http://t.me/wazirx_discuss
Quiz guidelines:
You must join our group: t.me/wazirx_discuss
There will be a total of 10 questions. We'll share each question with a google form link at an interval of 3 mins
You have to enter your answer along with your WazirX email & Telegram username in the google form for each question
The first 3 correct answers for every question will win 1,351 COS each
Reading resources:
COS Airdrop
COS worth $4,000 will be airdropped to the top 400 WRX holders on WazirX for always supporting us!
About Contentos
The vision of Contentos is to build a "decentralized digital content community that allows content to be freely produced, distributed, rewarded, and traded, while protecting author rights". Contentos strives to incentivize content creation and global diversity and return the rights and value of content to users.
Note: For the entire giveaway, COS price will be considered at $0.0074, i.e., ₹0.58.
Happy Trading!
Disclaimer: Cryptocurrency is not a legal tender and is currently unregulated. Kindly ensure that you undertake sufficient risk assessment when trading cryptocurrencies as they are often subject to high price volatility. The information provided in this section doesn't represent any investment advice or WazirX's official position. WazirX reserves the right in its sole discretion to amend or change this blog post at any time and for any reasons without prior notice.