Bitcoin's market oscillators continue to indicate a Neutral sentiment. However, overall outflows in Crypto went up in the last few days, reducing the market cap to 1.1 trillion.
This is largely being seen as an opportunity for traders to buy more assets. Bitcoin's price movement however does not ignite optimism among experts.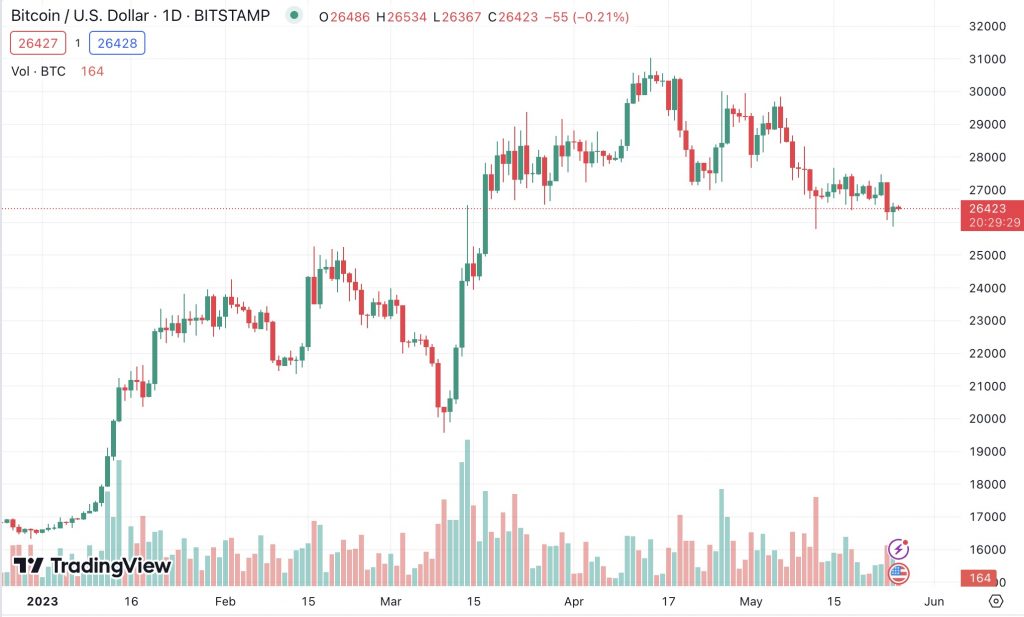 The Exponential Moving Average for 10-day EMA indicates "Buy" at 26789 and 200-day EMA indicates "Buy" at 25007. The Simple Moving Average for 10-day SMA indicates "Buy" at 26830 and 200-day SMA indicates "Buy" at 22734.
The Ichimoku Base Line, valued at 27826, continues to be neutral. The Hull Moving Average indicates "Buy" at 26426. The Volume Weighted Moving Average indicates "Sell" at 27101.
Major market oscillators point to a neutral sentiment. The Relative Strength Index (14) sits at 40, with a neutral outlook. The Stochastic %K (14, 3, 3) at 32 and the Average Directional Index (14) at 27 indicate a Neutral outlook as well.
The MACD Level (12, 26), at −444, indicates "Sell". The Stochastic RSI Fast (3, 3, 14, 14) is "Neutral" at 23 and William's Percentage is "Neutral" at −69 as well.
As of 10:00 AM, 26th May 2023, on WazirX, Bitcoin's price is ₹23,30,003, with an almost 0% change in the last hour. There was a 0.94% decrease in its price in the last 24 hours. In the past 7 days, Bitcoin was down by 1.18%.
Ethereum (ETH) is trading at ₹1,62,403. There was an increase of 0.94% in the last 24 hours. The 7-day ETH is up by 2.59%.
The top gainers on WazirX include MOBOX (MBOX), Standard Tokenization Protocol (STPT), and COCOS-BCX (COCOS), with a price increase of 18.34%, 14.18%, and 9.26%, respectively.
However, the tokens that underperformed comprised Kyber Network Crystal v2 (KNC), Phala Network (PHA), and pNetwork (PNT), with a price decrease of 5.79%, 5.4%, and 5.33%, respectively.
Shiba Inu (SHIB) saw a price decrease of 2.47% and is now priced at ₹0.000755. Dogecoin (DOGE) saw an increase of 1.3% and is now priced at ₹6.30.
Disclaimer: Cryptocurrency is not a legal tender and is currently unregulated. Kindly ensure that you undertake sufficient risk assessment when trading cryptocurrencies as they are often subject to high price volatility. The information provided in this section doesn't represent any investment advice or WazirX's official position. WazirX reserves the right in its sole discretion to amend or change this blog post at any time and for any reasons without prior notice.