Crypto market sentiments show extreme volatility as Bitcoin's price decreases soon after its 7% increase. This came as an aftermath of an appeals court overturning the SEC's decision to block Grayscale's ETF proposal.
Markets in Asia started in red as the enthusiasm around the ETF verdict started diminishing. The downtrend that had been there in the last few weeks seems to be looming again. This can only be countered if Bitcoin breaks out of the $30k levels.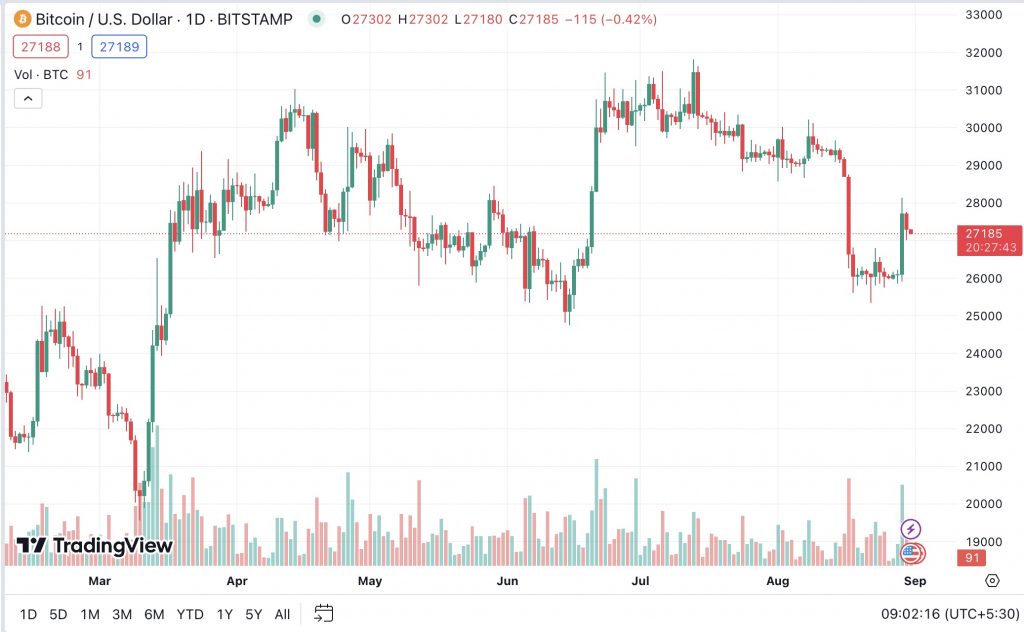 The Exponential Moving Average for 10-day EMA indicates "Buy" at 26841 and 200-day EMA indicates "Buy" at 27180. The Simple Moving Average for 10-day SMA indicates "Buy" at 26512 and 200-day SMA indicates "Sell" at 27528.
The Ichimoku Base Line, valued at 27780, continues to be neutral. The Hull Moving Average indicates "Sell" at 27143. The Volume Weighted Moving Average indicates "Buy" at 26967.
Major market oscillators point to a "Sell" sentiment. The Relative Strength Index (14) sits at 47, with a neutral outlook. The Stochastic %K (14, 3, 3) at 7 and the Average Directional Index (14) at 28 indicate a Neutral outlook.
The MACD Level (12, 26), at -545, indicates "Sell". The Stochastic RSI Fast (3, 3, 14, 14) is "Neutral" at 89 and William's Percentage indicates a "Neutral" sentiment at -34.
As of 10:00 AM, 31st August 2023, on WazirX, Bitcoin's current price is ₹23,56,637. There was a 0.69% decrease in its price in the last 24 hours. In the past 7 days, Bitcoin was up by 1.89%.
Ethereum (ETH) is trading at ₹1,48,500, with a decrease of 0.33% in the last 24 hours. The 7-day ETH is up by 1.09%.
The top gainers on WazirX include Contentos (COS), DFI.Money (YFII), and Pendle (PENDLE), with price increases of 8.93%, 6.83%, and 6.71%, respectively.
However, the tokens that underperformed comprised Bitcoin Cash (BCH), Komodo (KMD), and Tomochain (TOMO), with a price decrease of 8.32%, 8.32%, and 8.31%, respectively.
Shiba Inu (SHIB) saw a price decrease of 2.06% and is now priced at ₹0.000710. Dogecoin (DOGE) saw a decrease of 0.81% and is now priced at ₹5.65.
Disclaimer: Cryptocurrency is not a legal tender and is currently unregulated. Kindly ensure that you undertake sufficient risk assessment when trading cryptocurrencies as they are often subject to high price volatility. The information provided in this section doesn't represent any investment advice or WazirX's official position. WazirX reserves the right in its sole discretion to amend or change this blog post at any time and for any reasons without prior notice.