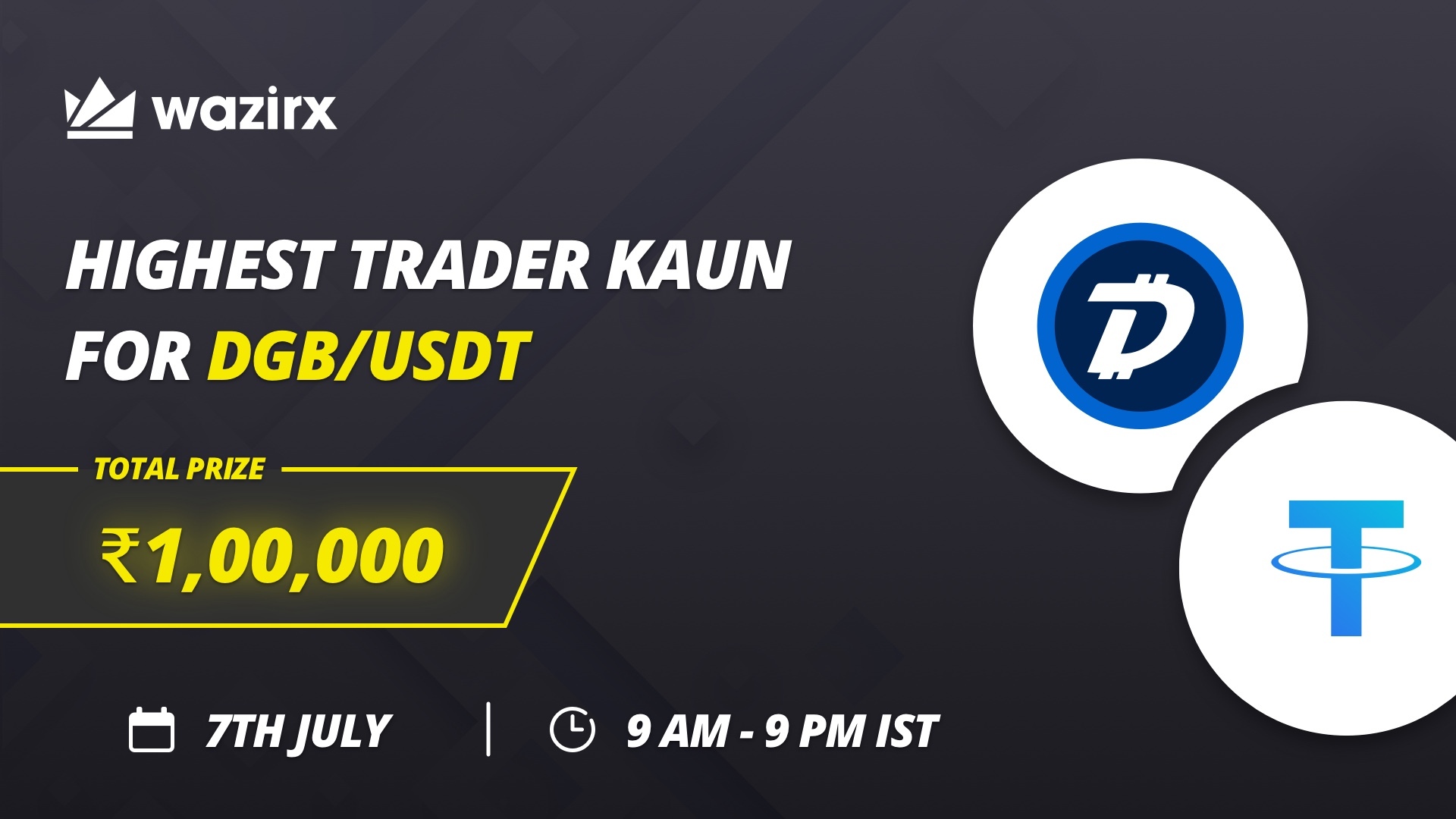 Namaste Tribe! DigiByte (DGB) is listed on WazirX, and you can buy, sell, trade DGB in our USDT market. We're also running a Highest Trader Kaun tomorrow, 7th July 2020.
What about DGB Deposits & Withdrawals?
DGB is a part of our Rapid Listing Initiative. Hence, we have started DGB trading without enabling its deposits and withdrawals. What does it mean for you?
Deposits — You won't be able to deposit DGB from another wallet to WazirX
Trading — You will be able to buy, sell, trade DGB in our USDT market. When you buy DGB, it will appear in your "Funds"
Withdrawals — You won't be able to withdraw DGB from your WazirX wallet. You can, however, sell it in the USDT market
Don't worry, you'll be able to deposit/withdraw DGB on WazirX very soon. Read more about the Rapid Listing Initiative here.
How can I participate in the contest and win?
Winners will be decided on the basis of the volume and number of DGB traded in our USDT market. Here's how to qualify:
For volume of trades: Minimum trade volume of ₹5,000 worth of DGB
For number of trades: Minimum 50 trades
When is the contest?
Tuesday, 7th July: 9 AM — 9 PM IST
What's the bounty?
For volume of trades:
For the highest volume of trades: 16265 DGB (worth ₹25,000)
For the 2nd highest volume of trades: 10409 DGB (worth ₹16,000)
For the 3rd highest volume of trades: 7807 DGB (worth ₹12,000)
For each of the next top 17 highest volume of trades: 650 DGB (worth ₹1,000)
For the number of trades:
For the highest number of trades: 5855 DGB (worth ₹9,000)
For the 2nd highest number of trades: 3253 DGB (worth ₹5,000)
For the 3rd highest number of trades: 1561 DGB (worth ₹2,400)
For each of the next top 17 highest number of trades: 520 DGB (worth ₹800)
Note: You can qualify for only one category of bounty (volume or number) whichever has a higher value. For example, if you're the 2nd highest trader in terms of number, and 2nd highest in terms of volume, then you'll get bounty for the "volume". Also, self-trading is not allowed.
DGB Trivia
DigiByte is an over 6 years proven battle hardened globally distributed proof of work UTXO blockchain and crypto currency. DigiByte is secure, fast, truly decentralized and 100% permissionless! It is spread over hundreds of thousands of nodes and wallets and the global DigiByte community is rapidly growing. The main use-cases of DigiByte are build on 4 pillars: First: DigiByte is the ultimate merchant coin: you can actually use it at the point of sale, because its so fast and cheap to use. While still maintaining the utmost security possible.
Second: Authentication: Digi-ID is a very secure method of Authentication. It uses the same cryptographic signing methods as used for securing the DigiByte transactions. The beauty of it is that you don't need any usernames and passwords. So they are also not stored on any server. So they cannot be exposed when a third party is hacked as we have seen so often, leaving all usernames and passwords exposed! See: https://www.digi-id.io/
Third: Proof of Authenticity: proof of authenticity of electronic content. You can use the DigiByte blockchain to put a checksum of any electronic content on it to proof that is is the original.Fourth: DigiAssets. The DigiAssets innovation has just left the station and we can expect great things of that. With DigiAssets, you can tokenize any real world asset on the secure DigiByte blockchain. The use cases for DigiAssets are just starting to show and will amaze us in the future!
Trading price (past 24 hrs): $0.020110 USD
Global Market Cap (past 24 hrs): $267,775,197 USD
Global Trading Volume (past 24 hrs): $11,862,005 USD
Circulating Supply: 13,315,367,244 DGB
Total Supply: 21,000,000,000 DGB
Happy Trading!
Disclaimer: Cryptocurrency is not a legal tender and is currently unregulated. Kindly ensure that you undertake sufficient risk assessment when trading cryptocurrencies as they are often subject to high price volatility. The information provided in this section doesn't represent any investment advice or WazirX's official position. WazirX reserves the right in its sole discretion to amend or change this blog post at any time and for any reasons without prior notice.