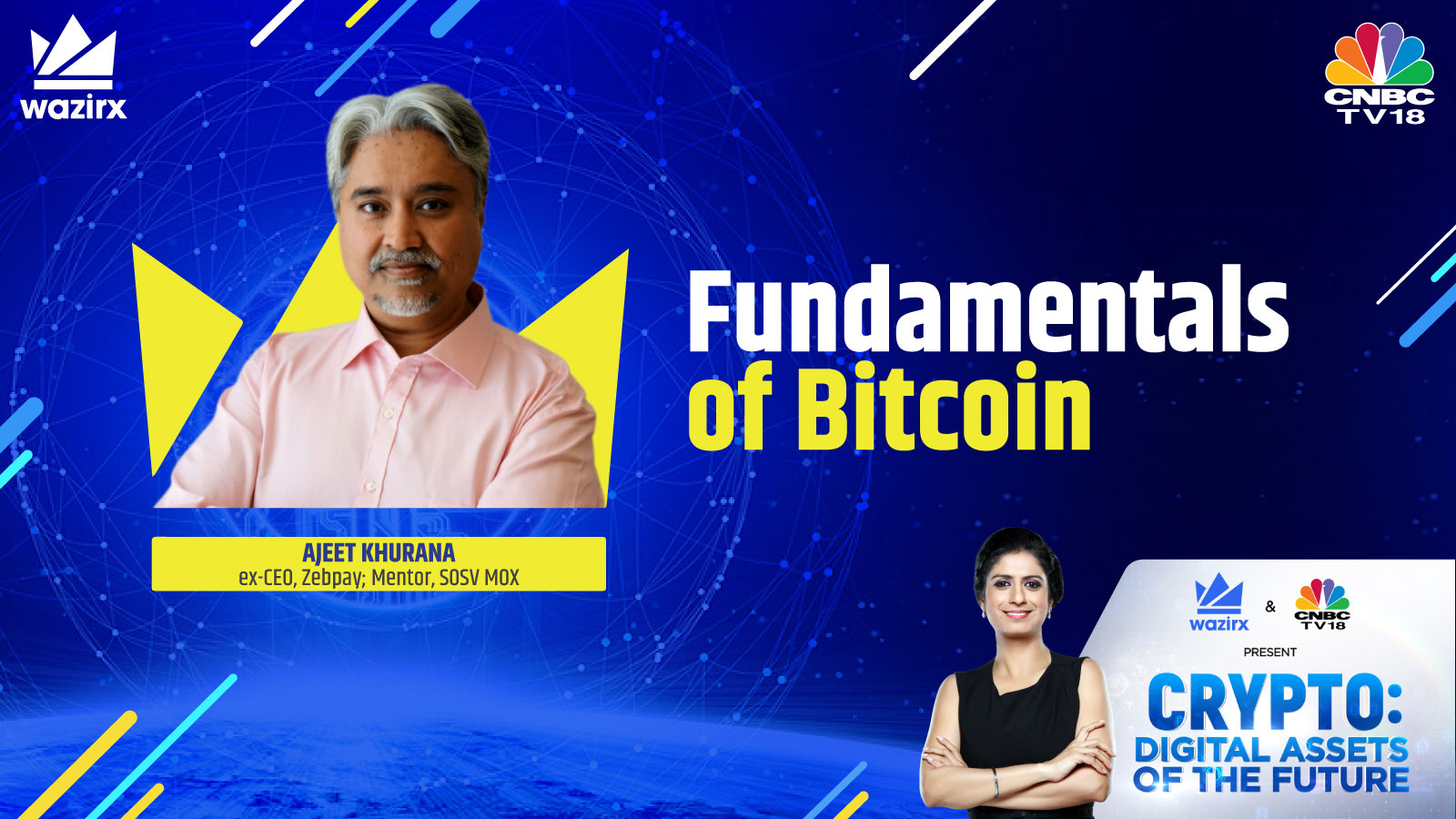 CNBC-TV18 in conversation with Ajeet Khurana
Wikipedia defines Bitcoin as "A cryptocurrency invented in 2008. Bitcoin is a decentralized digital currency, without a central bank or single administrator, that can be sent from user to user on the peer-to-peer bitcoin network without the need for intermediaries."
Interestingly, Bitcoin is one of the first in the crypto asset class to use peer-to-peer technology to facilitate instant payments. Currently. It is the largest crypto class (on the lines of market capitalization). If we consider the stats and volatility of Bitcoins, in 2017, a single Bitcoin was traded for USD 20,000. Though it dropped to half in 2018, the current valuation is around a whooping USD 50,000.
There are so many nuances around the concept of Bitcoins that needed an answer. That is why, in the second episode of 'Digital Assets Of The Future – Crypto', our speaker Ajeet Khurana has acknowledged those common yet important questions around the 'Fundamentals of Bitcoin.'
In this episode, you can get answers to questions like:
What is Bitcoin?
How is Bitcoin mined? What is the cost involved here, and have Indians explored mining yet?
Money or Asset class? – What is that the masses believe while referring to Bitcoins?
How is the value of Bitcoin decided? Without an intrinsic value, what is its market value?
How can one buy and store Bitcoin? What should be the proportion of investment?
What are the risks and disadvantages associated with investments in Bitcoins? In this market, how common are regulatory and insurance frauds?
What are the advantages of regulating/supporting Bitcoins from the country/world perspective?
Bitcoins vis-à-vis other coins – A brief analysis.
What is the possible future of the Bitcoin market?
With no arguments, we can say that Bitcoin is number one in the crypto asset class today, and hence global names are considering it. However, it is crucial to understand one's risk appetite before venturing out here. This video is an eye-opener for folks who are up to take a calculated risk for a brighter future. It is important to remember that – Turbulence is in price and not in the technology!
Caution: In case you find something 'too good to be true,' act wisely!
Disclaimer: Cryptocurrency is not a legal tender and is currently unregulated. Kindly ensure that you undertake sufficient risk assessment when trading cryptocurrencies as they are often subject to high price volatility. The information provided in this section doesn't represent any investment advice or WazirX's official position. WazirX reserves the right in its sole discretion to amend or change this blog post at any time and for any reasons without prior notice.