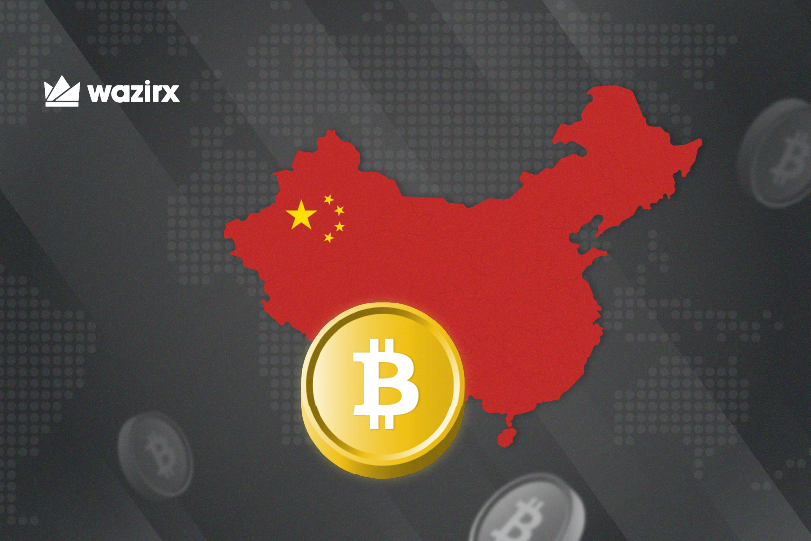 China and Crypto
The People's Bank of China (PBOC) issued a ruling that all crypto transactions and mining will be banned (exempting existing possession) on the 24th of September 2021. The restriction on trading and mining cryptocurrencies in China is likely to enhance India's cryptocurrency market, provided that the Government of India issues favourable legislation to encourage the adoption of this new technology.
According to Coingecko, most cryptocurrencies fell in response to the news in September, with Bitcoin plunging as low as $41,018.41. Altcoins took a far worse hit, with ETH approaching the $2,700 level.
The drop in crypto prices was not astonishing. Like any other big news, the ban spread a feeling of fear and uncertainty as almost 20% of the global population lost access to cryptocurrency. Although experts have not taken this seriously and expect the ripple effect to fade out eventually, such a harsh approach is not beneficial for traders.
Interestingly, the complete embargo of crypto in China has shifted crypto mining to the US, making mining more decentralized. China suffered a significant loss due to the loss of employment and investment (caused by blockchain technology). At the same time, the US has benefited – it is safe to assume that one country's loss can be another country's gain.
What can India do?
Only by being progressive India can possibly gain from China's crypto crackdown. Encouragement of crypto transactions, mining, NFT adoption, and even ICOs will be critical in fueling the country's crypto enthusiasm.
Despite China's tough stance on cryptocurrency, the market is working handsomely for Indian and international investors. Things have never been more positive, with prominent crypto-players setting fresh ATHs. When China's ban came into reality, Bitcoin and altcoins saw massive selloffs. But this was only temporary, and the market went on to set new highs in November. A continuation of this is highly anticipated in the coming months and is expected to play an essential role in elevating the Indian crypto market.
The basic set of advantages is far more pronounced and necessitates planning. China's restriction on digital assets has already caused several miners to relocate to other nations (like the US). With big crypto exchanges such as Huobi being forced to remove Chinese consumers, the Asian crypto bandwagon will inadvertently move towards India.
Consequently, there might be an inflow of crypto-enthusiasts and big players into the Indian market if the country relaxes its attitude on crypto and becomes more accommodative towards miners.
Nischal Shetty, CEO of WazirX, hopes that India would take a beneficial approach– "Countries around the world are working towards crypto positive regulations, and I'm confident that India will not take a regressive approach that could push us behind by decades. Crypto has great potential to create more opportunities and contribute to our $5-trillion economy vision."
With this new move from China as the primary forerunner for growth, employment, and financial prospects, India has the potential to be a cryptocurrency hotspot. Despite this, given the volatility of crypto in general, along with added decentralization, India could do well with oversight and regulation to guide the market. Integration of crypto with platforms like India Stack will be highly beneficial for Indian investors, MSMEs, and all consumers of digital assets alike. It is safe to argue that China's ban on cryptocurrencies will unlock India's lucrative future with the proper inventive infrastructure, but only if leveraged.
Conclusion
Regulation and ban on cryptocurrencies cannot be executed thoroughly, given the coins' global outreach and decentralized nature. With the internet establishing itself as a platform for crypto, declaring a prohibition on the trade and/or mining of coins is not possible.
However, if Indian exchanges were available, the potential for expansion would be more significant, as they cannot limit crypto to their boundaries alone. The most important thing to remember about China's restrictions is that, despite prohibiting cryptocurrency, its popularity is spreading like wildfire around the world.
To read more informative blogs and exchange cryptocurrencies, visit WazirX.

Disclaimer: Cryptocurrency is not a legal tender and is currently unregulated. Kindly ensure that you undertake sufficient risk assessment when trading cryptocurrencies as they are often subject to high price volatility. The information provided in this section doesn't represent any investment advice or WazirX's official position. WazirX reserves the right in its sole discretion to amend or change this blog post at any time and for any reasons without prior notice.