What is The Sandbox?
The Sandbox was founded in 2011 to capitalize on the evergreen video game industry. The aim was to form a virtual universe where gamers can create and share assets based on blockchain technology. The metaverse is one of the top blockchain trends in 2022, and each day, more global companies are joining the metaverse bandwagon. The Sandbox has gained immense popularity both as a metaverse virtual world and a blockchain game.
The Sandbox is a virtual world based on the Ethereum blockchain. It allows its users to buy, sell, create and trade their digital assets. It offers its players absolute control over the in-game experience and the opportunity to monetize their gaming experience with its sandbox cryptocurrency. The Sandbox token (SAND) lays the foundation for monetizing in-game assets in The Sandbox.
The Sandbox began its journey as a 2D pixel mobile game. It allowed its players to take on the roles of Digital avatars. The game was widely popular amongst the masses, with millions of downloads since its launch. The players could create their own virtual universe by using the various game elements.
After two of its big launches, The Sandbox (2011) and The Sandbox Evolution (2016), which hit over 40 million downloads combined across iOS and Android, the developer Pixowl wanted to bring its popular user-generated content gaming IP and its entire community of creators over the blockchain. This happened in the year 2018.
How does The Sandbox work?
This blockchain gaming arena comprises three integrated products that lay the foundation of a comprehensive experience for UGC (user-generated content) production: These three products are namely Voxel Editor, Marketplace, and Game Maker:
Voxel Editor: It is easy to use yet highly potent 3D voxel modeling and an NFT creation package that allows its users to voxel their models, rig them and animate them speedily. After the objects have been built, they can be exported from the VoxEdit application to The Sandbox marketplace to become NFT (non-fungible tokens) assets.
Marketplace: It is an open marketplace that allows the free trading of in-game assets as NFTs. These NFT creations can be uploaded, published, and sold on the marketplace.
Game Maker: This powerful application allows users to build stunning 3D games for free. Thanks to accessible visual scripting tools, no coding is required to create amazing 3D games.
The Sandbox game is available in 3D form with livelier lighting and shading today. Sandbox launched its alpha version in November 2021, and the user base has been expanding since then, especially in the NFT region.
Why Buy SAND coin?
The SAND coin fuels the entire Sandbox economy, as it is the native ERC-20 used in the video game. SAND is useful for both staking and governance and has a total supply of 3 billion with an existing circulating supply of 1.23 billion. As of January 2022, more than 900,000 people possessed SAND tokens. It serves as in-game currency and can also be exchanged for fiat currency.
The increasing popularity of the metaverse has led to an increase in the valuation of SAND. It has attracted some distinguished names, including Adidas and Snoop Dogg. It has also gained investments from prominent names like Kingsway Capital, Polygon Studios, and Capital. Over the past year, the Sandbox coin price went up to more than 11,600%, indicating promise in its investment.
How to Buy Sandbox Coins in India?
If you are wondering how to buy Sandbox coin in India, then WazirX can be your best choice. You can buy Sandbox coin in India via WazirX, India's most trusted cryptocurrency exchange, by following the few simple steps listed below:
#1 Sign Up on WazirX
To begin with, create an account on WazirX by clicking here.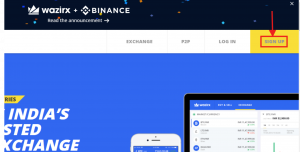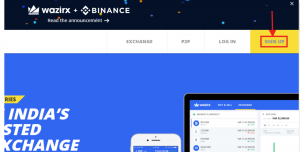 #2 Fill in the Required Details
Put in your email address and choose a secure password.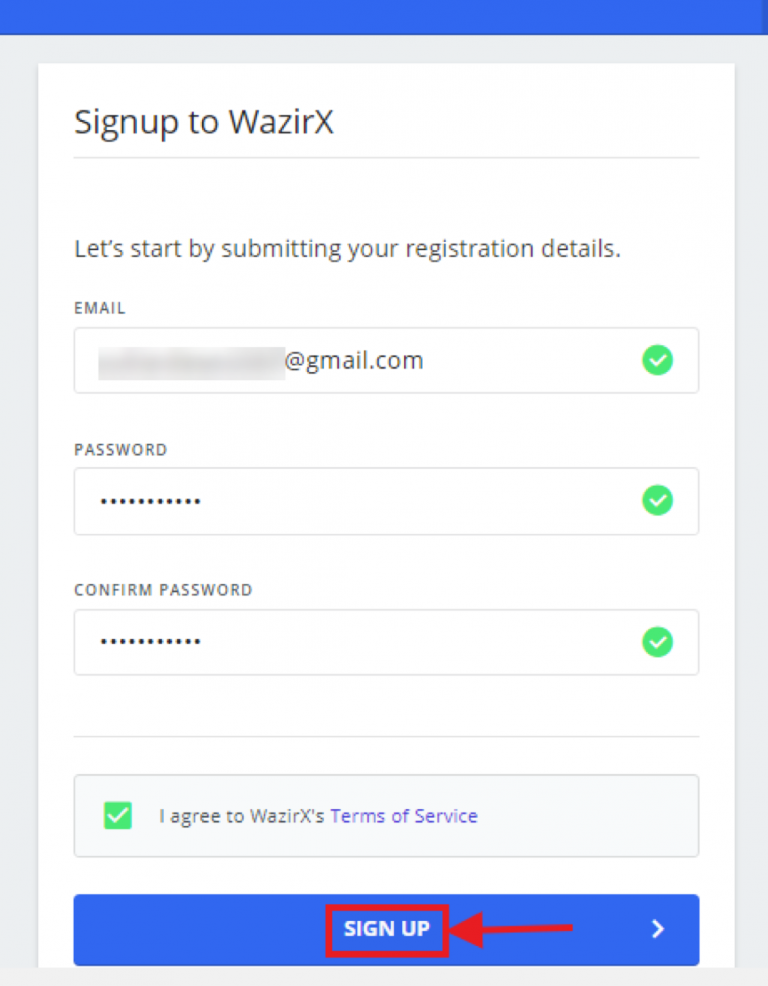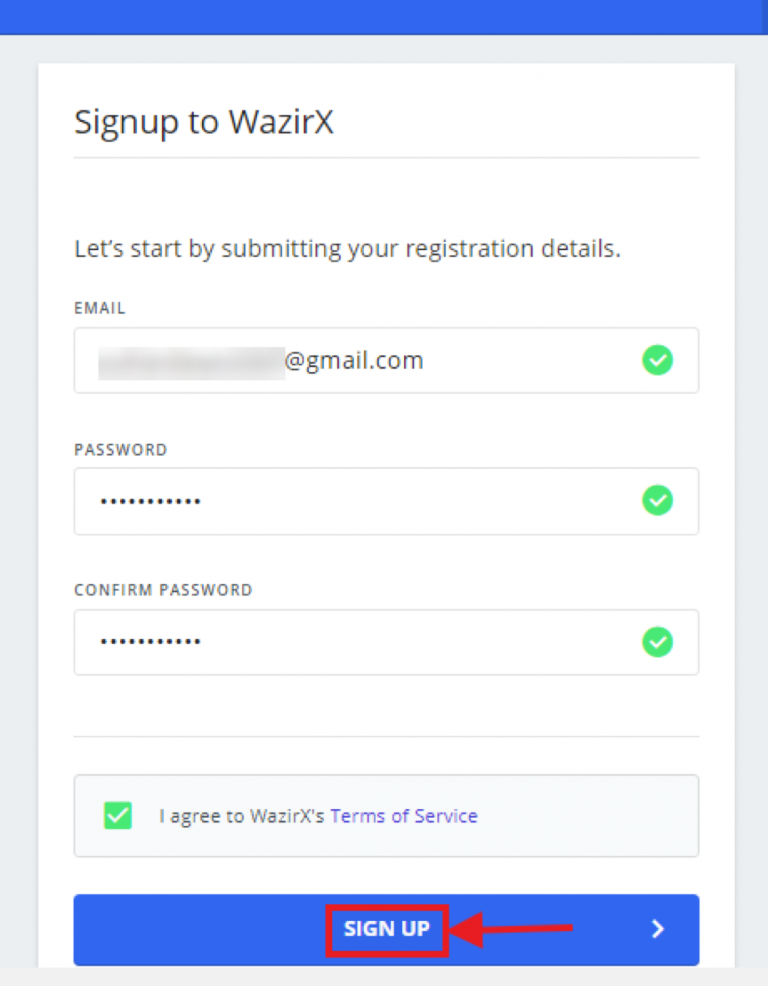 #3 Email Verification and Account Security Setup
Next, verify the email address by clicking on the verification link you received in your inbox. Following that, you have two options to ensure the security of your account – the authenticator app and mobile SMS.
Remember that the authenticator app is more secure than mobile SMS because there is a risk of delayed reception or SIM card hacking.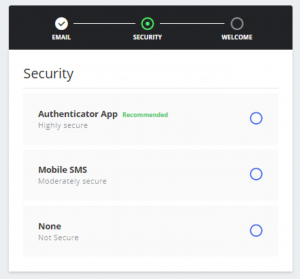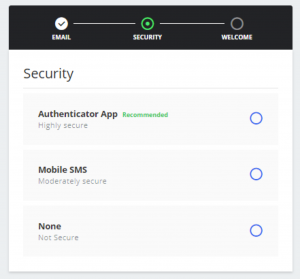 #4 Choose Your Country and Complete KYC
After selecting your country, complete the KYC process. Without completing your KYC, you can not trade peer-to-peer or withdraw funds on the WazirX app.
To complete your KYC, you need to submit the following details:
Your full name as it appears on your Aadhaar or any other ID proof
Your birth date as stated on your Aadhaar or any other ID proof
Your address as it appears on your Aadhaar any other ID proof
A scanned copy of the document
A selfie of yours to finish the procedure
And you are done creating your account! Within 24 to 48 hours, the account is usually validated.
Buy Sandbox on WazirX
WazirX allows you to check the Sandbox coin price in India before you proceed to buy Sandbox crypto via WazirX. Check Sandbox coin price in INR on WazirX here. You can buy Sandbox using USDT.
To buy USDT, you can use the WazirX P2P route. This is fast, secure and free. Follow these simple steps to buy USDT and then your Sandbox crypto:
Log in to your WazirX account on the web/mobile app and select "P2P" from the "exchange" option.
Next, click on the 'Convert INR into USDT' option.
Add the INR price at which you want to purchase USDT. Next, add the number of USDT tokens you want to purchase and click on "BUY". Here, the minimum purchase should be 14.5 USDT.
Once you click on the buy button, WazirX will match you with sellers. However, if you wish to purchase the USDT from a specific seller, you can add the XID of that person and complete the transaction.
You need to select a preferred mode of payment next. UPI and IMPS mode are the two options available. Please note that IMPS linking is mandatory on the WazirX platform; however, UPI linking is optional.
Once you confirm and click on the message "YES, I WILL PAY', you will get 60 additional minutes to complete your payment. In case of non-payment, once confirmed, a minimum penalty of 10 USDT or 1.2% of trade will be levied. False confirmations can also cause your account to get locked.
Complete the payment as per the payment details on the screen (seller's bank/UPI details). Once the payment is complete, upload the payment proof and click on the checkbox "I HAVE PAID".
Once the seller confirms the receipt of payment, your order will be marked complete, and the USDT purchase will be reflected in your "funds".
Now you can use this newly acquired USDT balance to purchase Sandbox crypto on WazirX exchange. Go to the "exchange" option on the web/mobile app and select Sandbox crypto from the list of the tokens available in the USDT market. All price charts, order book data, and an order input form are visible on the right side of the screen.
Fill out the buy order form and click on buy Sandbox. Wait for some time. It will only be a short while before your order is executed. Once it's done, you will receive the Sandbox coins you purchased in your WazirX wallet.
Learn how to buy crypto safely and securely via WazirX P2P:
What is the future of The Sandbox?
Facebook's announcement of its joining the metaverse was the most important event in The Sandbox history, as right after this, the SAND token's price soared. The Sandbox has attracted users from all over the globe and has become a fantastic investment. The game faces competition from other metaverse-themed games like Decentraland, Roblox, which are a bit more basic and may attract the average person. The variable determiner of whether or not The Sandbox will be a major player in metaverse games will depend on whether it will continue to attract gamers with better features and consistent upgrades and development. Compared to its other competitors, it remains a better bet. However, like almost all altcoins, this investment also involves its risks. If the game is unable to bring in users and investors, the price of SAND will decline.
Want to know the current Sandbox price in India? Or any other cryptocurrency? Head over to WazirX to meet all your crypto needs.

Disclaimer: Cryptocurrency is not a legal tender and is currently unregulated. Kindly ensure that you undertake sufficient risk assessment when trading cryptocurrencies as they are often subject to high price volatility. The information provided in this section doesn't represent any investment advice or WazirX's official position. WazirX reserves the right in its sole discretion to amend or change this blog post at any time and for any reasons without prior notice.