India has been at the forefront of the crypto revolution, and with the lifting of the two-year-old RBI prohibition on banking support for cryptocurrencies in March 2020, new and improved peer-to-peer exchanges have emerged swiftly. Local crypto trading, especially on P2P cryptocurrency exchanges in India has spiked as more and more Indians are eager to sell and buy cryptocurrency in India and earn massive profits.
Cryptocurrencies, which were earlier viewed with suspicion and a means for tech enthusiasts to make quick money, are now being seen as a secure medium of exchange and as a suitable pathway into the digital financial world.
Some even claim that crypto is the best product in the entire fintech space at the moment. If you are considering trading cryptocurrency to put your hard-earned money to good use with viable returns, here's how you can sell or buy cryptocurrency in India in INR through WazirX!
Create your account on WazirX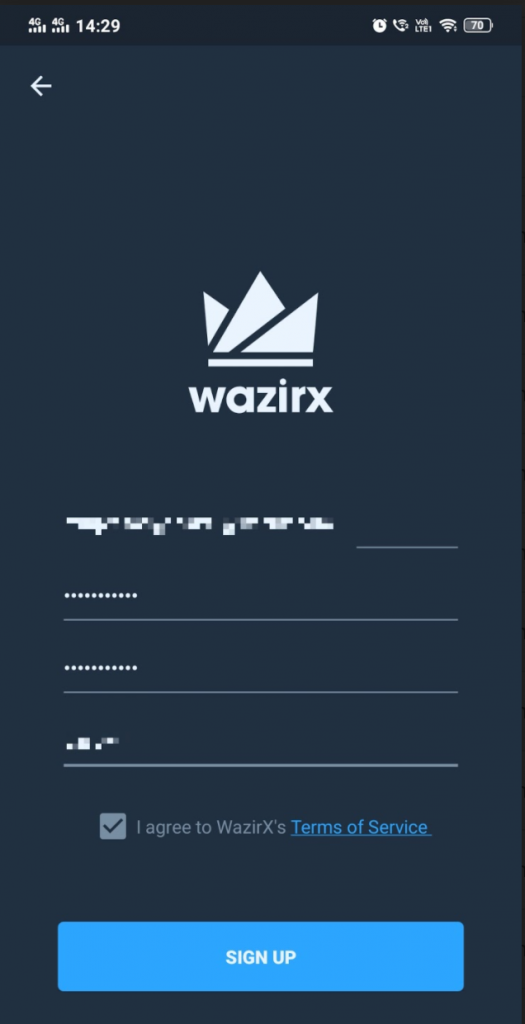 Visit WazirX, sign up using a few simple steps to create your free WazirX account. Or download the WazirX app for Android or iOS. Once you have been redirected to this page, fill in your desired email with a strong password.
Before clicking on the 'Sign Up' button, make sure you go through the Terms and Conditions thoroughly and then tick the box that says 'I agree to WazirX's Terms of Service.'
Click on 'Sign Up' to complete the account creation process.
You will have to verify your email address to proceed and access your free WazirX account. Check your email for the verification mail, and click on 'Verify Mail' to complete the process. In case you do not receive it on the first try, you can check your 'Spam' folder or click on the 'Resend here' option to send it again on your email.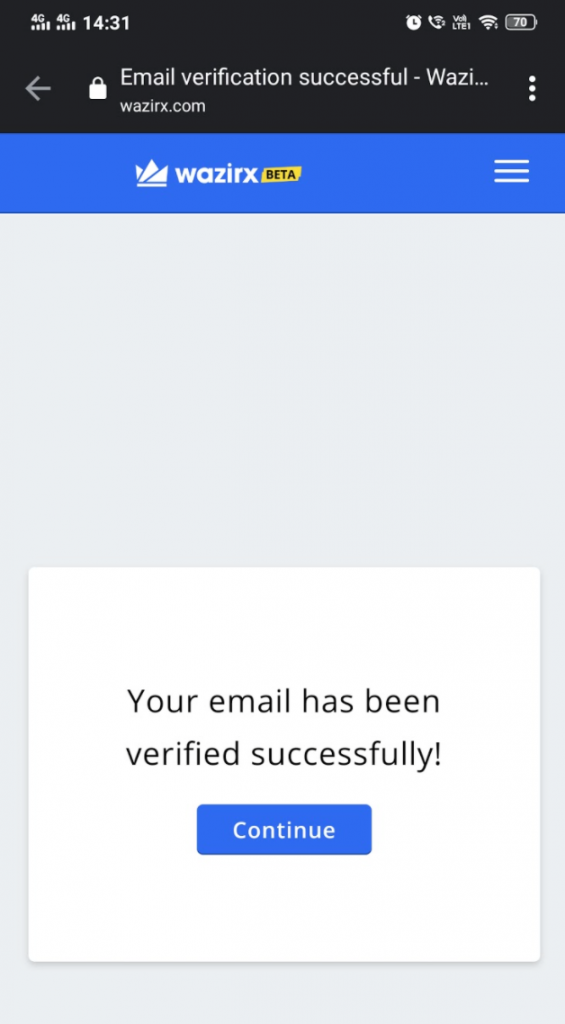 Once you have successfully verified your email, you will see this message.
KYC Verification
This is the last step that needs to be completed for you to access and operate your free WazirX account.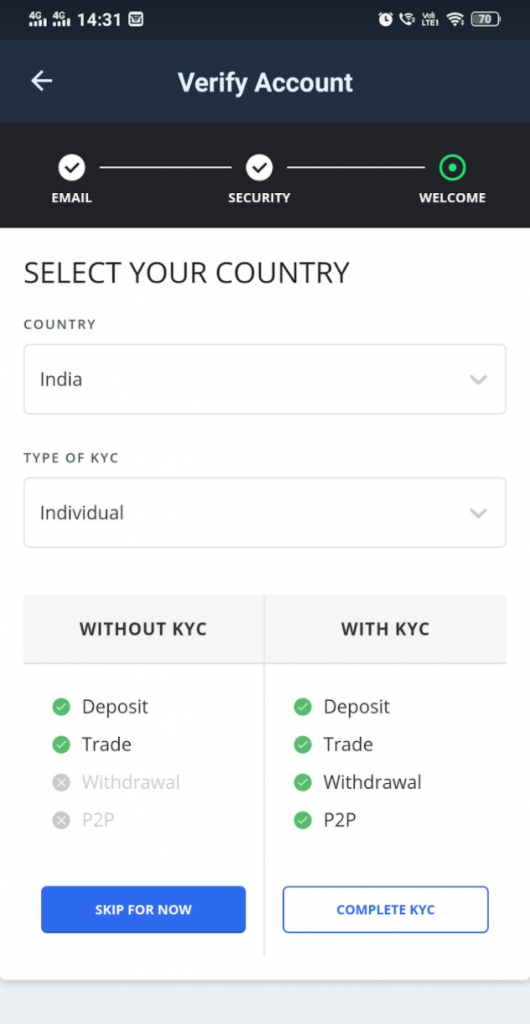 Select your country from the drop-down menu. You will then be asked for KYC verification.
That's it! Once you have completed the KYC verification, you will have a functional account to trade crypto easily on WazirX.
Deposit funds into your WazirX account
There are two ways through which you can go about the deposition process for your WazirX account:
It is important to note that your KYC verification should be completed before you decide to deposit funds in your WazirX account.
To deposit INR on WazirX, you can use methods such as UPI/IMPS/NEFT/RTGS. For verification purposes, you will need to submit your transaction details to WazirX.
Depositing cryptocurrency on WazirX
WazirX, a top cryptocurrency exchange in India, enables its users to deposit cryptocurrencies into their WazirX account. This process has been made effortless and you only can deposit or transfer your desired crypto from other wallets or cryptocurrency exchanges in India to your WazirX account. The best part? This process is completely free with no fee on any deposits!
You can start with obtaining your 'deposit address' from your free WazirX account. Once you've done this, share the deposit address with your holding wallet and easily transfer your choice of crypto to your WazirX wallet.
Buy cryptocurrency in India
Once you have deposited your funds, either in INR or in the crypto of your liking, into your Wazir wallet, you can either sell or buy cryptocurrency in India through a hassle-free method. As an example, let us look at how you can buy Bitcoin through WazirX.
Visit the WazirX exchange to see the latest Bitcoin prices in INR.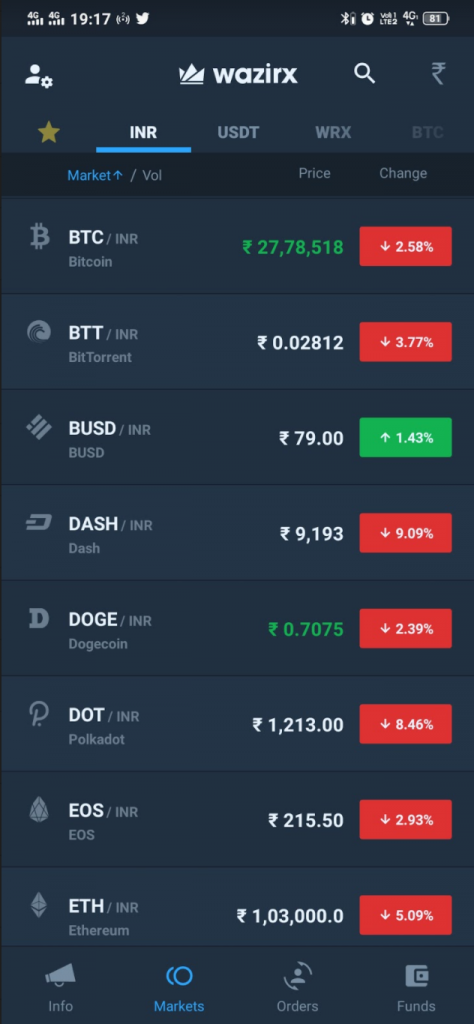 You can then scroll down to see 'Buy' and 'Sell' options on your dashboard. Simply enter your desired INR price and the amount of Bitcoin you want to buy to proceed with the purchase.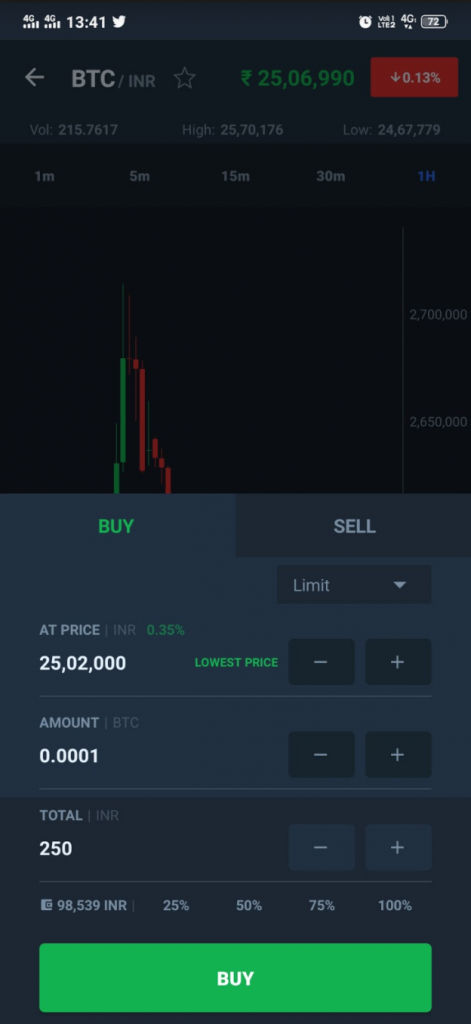 Click on 'Place Buy Order' and wait for the execution of the transaction. Once the order has been executed, you can find the BTC in your WazirX wallet.
Why should you choose WazirX to trade cryptocurrency in INR?
WazirX is a top cryptocurrency exchange in India as it promises its users lightning-fast deposits and withdrawals in INR. Here are a few compelling reasons why you should choose WazirX to sell or buy cryptocurrency in India:
WazirX is one of the most trusted cryptocurrency exchanges in India and is highly secured to ensure that every transaction that is carried out is safe and verified, by carrying out regular safety audits to uphold the highest standards of security for its users.
WazirX is a popular cryptocurrency exchange in India especially when you are looking to sell or buy cryptocurrency in India due to its great accessibility across various platforms. It offers its users a unique trading experience across various platforms such as web, mobile and has applications that are compatible with both Android and iOS.
WazirX's advanced trading interface enables and facilitates instant transactions for both first time crypto investors and professional and experienced traders.
WazirX users also get a whopping 50% commission on referrals on the application to encourage existing users to get their friends, colleagues, and families to delve into the world of crypto and be a part of the exciting blockchain revolution.
Minute by minute price tracking
Finally, when you opt for WazirX, the #1 cryptocurrency exchange in India, you also get access to exclusive charts that enable minute-by-minute price tracking for a range of cryptocurrencies. Additionally, the simple and seamless user interface ensures that users have a hassle-free and smooth trading experience on the platform.

Disclaimer: Cryptocurrency is not a legal tender and is currently unregulated. Kindly ensure that you undertake sufficient risk assessment when trading cryptocurrencies as they are often subject to high price volatility. The information provided in this section doesn't represent any investment advice or WazirX's official position. WazirX reserves the right in its sole discretion to amend or change this blog post at any time and for any reasons without prior notice.