Bitcoin hit $35,200 levels starting this week, keeping up with the historic trend of price surge in the month of October. 'Uptober', as popularly known by the Crypto industry, has been usually favorable for the market since token prices are seen to increase. This year was no different as Bitcoin hit surprising peaks alongside tokens such as Ethereum, Solana, and Ripple, among others.
While various factors have played a role in the price rally of key tokens, we identified how users on WazirX interacted with tokens in the month of October.
Top Tokens
The tokens on the exchange in descending order of volume were BTC, XRP, WRX, SHIB, ETH, TRX, LOOM, FLOKI, and GALA. The tokens that had the most traders were SHIB, BTC, and USDT.
State wise engagement
Haryana was the highest contributor in volume for top tokens, accounting for 16.20% of volume share. This was followed by Karnataka, West Bengal, Tamil Nadu, and Maharashtra, which had 14.40%, 8.30%, 6.30%, and 6.10%, respectively. 

However, the highest number of traders were from Uttar Pradesh, Maharashtra, Tamil Nadu, Rajasthan, and Delhi. This indicates that traders from these states engaged in low ticket transactions even though they were more in number compared to the highest contributing states.
Demography
The highest number of traders were in the age group of 26-35, accounting for 44.91% of the total volume. This was followed by traders in the age group of 36-45 with 24.28%, and 18-25 with 20.86%.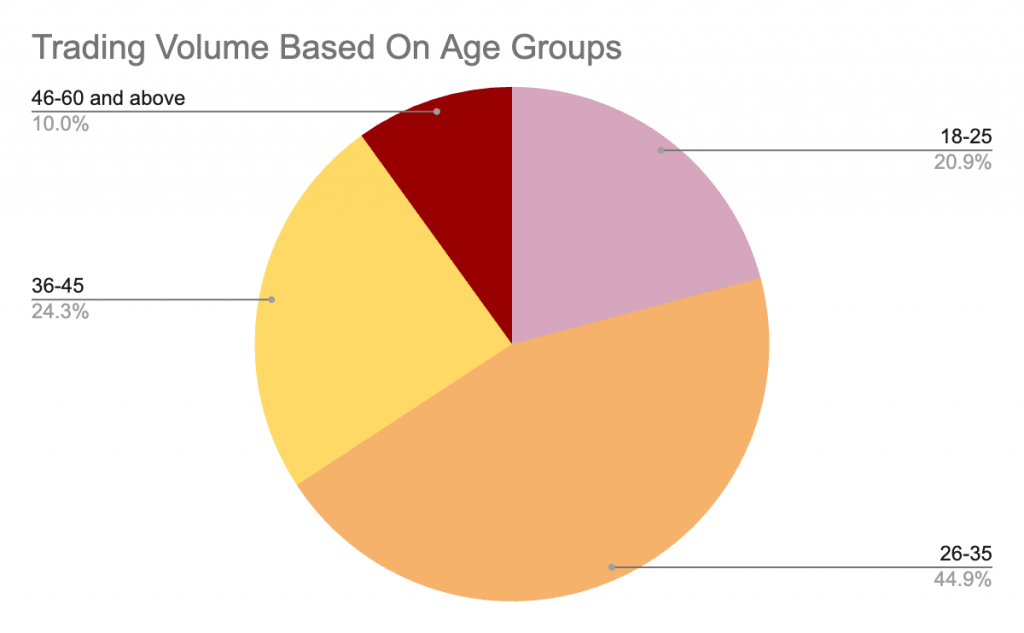 The highest number of female investors were in the age group of 26-35, accounting for 43% of the volume from all female investors across age groups.
However, male investors were higher in number, accounting for 80% of all trades for the month. 

Disclaimer: Cryptocurrency is not a legal tender and is currently unregulated. Kindly ensure that you undertake sufficient risk assessment when trading cryptocurrencies as they are often subject to high price volatility. The information provided in this section doesn't represent any investment advice or WazirX's official position. WazirX reserves the right in its sole discretion to amend or change this blog post at any time and for any reasons without prior notice.