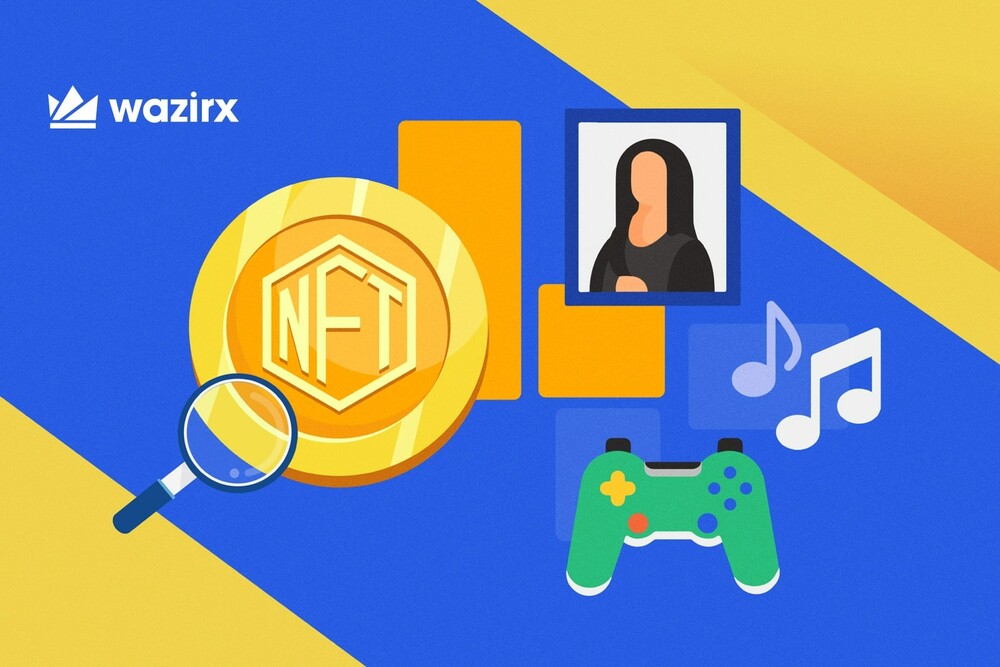 In a very short time, cryptocurrencies have captivated our attention and transformed how we view and use money. As cryptocurrency has gained popularity, game developers have begun to take notes and have created games that use blockchain technology.
Although it is still in its early stage, the crypto gaming sector has attracted a devoted following. Decentralized gaming aims to give players a level of independence that is unattainable in conventional gaming environments. Let's analyze how this crypto game functions and whether it is worthwhile to play.
Before we move forward to learn about what crypto gaming is, let's have a look at Blockchain from a gaming point of view.
What is Blockchain?
Blockchain is used by games that are based on crypto gaming technology. A blockchain, at its heart, is a database or ledge that shares information among a network of computers to store data. The network is highly secure because once a piece of information is put into the Blockchain, it cannot be changed or erased. To further ensure that there is no central control of information, the database is also accessible to all linked computers.
What is crypto gaming?
Although the concept of digital game currency is not new, the development of blockchain technology has given crypto gaming developers the possibility to integrate real-world economics into their games.
By taking part and winning a game, crypto players can earn Non-Fungible Tokens (NFTs) or cryptocurrency, which become the player's private property.
On both centralized and decentralized crypto exchanges, it is possible to transform in-game virtual tokens into stablecoins or altcoins. These virtual assets can be immediately converted to fiat money or sold or exchanged on online exchanges.
The idea behind crypto gaming
Many of the elements that are present in crypto alternatives are already there in conventional games. In-game currency can be purchased with fiat money, and players can also level up their avatars and gather things. So, then what draws both gamers and investors to crypto gaming?
Ownership is considered one of the leading drivers of the growth of crypto gaming. In contrast to traditional games, those that use blockchain technology provide their players tenure over the elements they earn. In-game elements can be owned by players, traded, or even sold.
Players are attracted to gaming because it can be profitable. Pay-to-play templates, where players have to spend money to get the most out of a game, have brought criticism in the past for several games. Prior to crypto gaming, spending money would just enhance your experience, allowing you to level up more quickly, for example. The play-to-earn approach of crypto gaming does the exact opposite; it will enable users to make a profit from their opening investment in the form of crypto game coins.
Basic things you need for crypto games
It's very simple to get initiated with crypto gaming. You only need:
A crypto wallet
A profile on any gaming platform that accepts cryptocurrency
A device that provides a gaming platform, such as a computer, tablet, or smartphone
For an experienced web user, setting up the wallet and the gaming account is easy and straightforward. There are several videos available online to assist you. Your choice of gaming device can provide the only difficulty because some games require powerful computers to function efficiently. In addition, your excellent gaming experience can be compromised if your smartphone is older than a year or two.
Types of games available in the Crypto space
Since crypto games are still in their infancy, it is challenging to categorize them. However, here are a few examples to give you a sense of what's available.
Collectible Games
The core of the blockchain and crypto gaming industries is collectible games. The most well-known game in this genre is CryptoKitties. In this game, users nurture, collect, and exchange digital pets in a virtual environment. It's similar to Pokemon, except with CryptoKitties.
Role-Playing Games (RPGs)
Players in these games directly command characters as they engage in on-screen battles. The gameplay is similar to the shooter or hack-and-slash games. Playing these games will earn you NFTs and cryptocurrency rewards. Although, there aren't many blockchain-based RPG games available.
Open World Games
Explorable environments created with crypto-based assets are what open-world crypto games are all about. In these games, you can invest real money in purchasing land parcels and customizing them with animals, flora, buildings, and more. Even selling your land for cash to others is an option.
Bottom line: Is it worth playing crypto games? Can you make money from it?
Crypto gaming is a kind of decentralized gaming in which players can possess special in-game items and trade them with anybody who is interested in real-world money. To put it another way, digital assets can be exchanged for cryptocurrencies, which can then be used to buy things in the real world. Blockchain technology is used to create crypto games by storing data on exclusive assets that players fully own. Users actually profit from crypto gaming in this way.
What are your thoughts on crypto gaming? Are you a player who is interested in play-to-earn games?

Disclaimer: Cryptocurrency is not a legal tender and is currently unregulated. Kindly ensure that you undertake sufficient risk assessment when trading cryptocurrencies as they are often subject to high price volatility. The information provided in this section doesn't represent any investment advice or WazirX's official position. WazirX reserves the right in its sole discretion to amend or change this blog post at any time and for any reasons without prior notice.