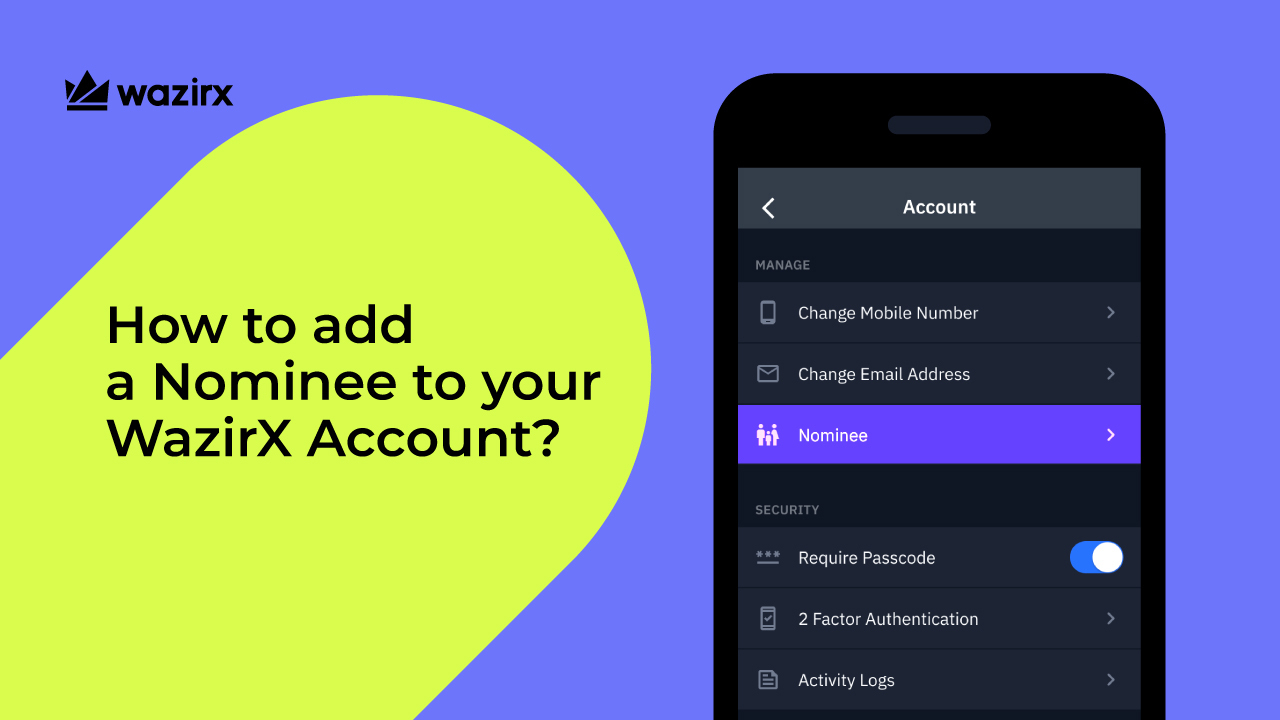 Dear Tribe!
We understand that life is unpredictable and can be harsh sometimes. An untimely demise could change the course of life of many near and dear ones. During these tough times, it is important that the assets of the deceased are handed over to the entitled person in time. To tackle this situation, we brainstormed and came up with the idea of launching a feature where an investor can add their Nominee themselves on WazirX.
Let's understand this feature in detail and the ins and outs of it.
About WazirX's Nominee feature
In the case of the untimely death of a WazirX user, the person selected as a Nominee will gain custody of the assets/ fiat balances present in the user's account. This provision is similar to that which is already present in other investment avenues like stocks or mutual funds.
But who can be a Nominee?
A Nominee can be your:
Parents
Grandparents
Parents-In-law
Children
Grandchildren
Spouse, or
Siblings.
NOTE: Your selected Nominee can be a minor too. To appoint a minor as a Nominee, you will have to add details of their guardian (someone other than you).
Key points to note
This feature will be a part of the user's 'Account Management' setting.
To add a Nominee, the user (account holder) should be KYC-verified.
In the first phase, up to 1 Nominee can be added.
After adding a Nominee, you cannot edit/modify the data. However, you can delete it.
List of information needed to add a Nominee
Nominee's full name
His/her email address
His/her phone number (optional)
His/her date of birth
His/her Government ID proof, and
Your relationship with them.
Note: All the information should match the data present on any of the National Informatics Centre (NIC) documents like the Aadhar, PAN, driving license, or passport.
How can you add a Nominee on WazirX?
Step 1: Sign in to your WazirX account on the web
Step 2: Go to ' Account Settings'
Step 3: Then click on 'Account Management'
Step 4: You can see the 'Add/Delete Nominee' option; click on that and enter the details asked.
NOTE: You can add or delete a Nominee whenever you want, as long as your account is active.
Walking with us for so long, you must be aware that the security of our users is our foremost concern. With the introduction of this feature, we have also enabled 2 Factor Authentication (2FA). Whether you are adding or deleting the Nominee, you must go through the 2FA steps.
How can the Nominee withdraw the funds on WazirX?
We have simplified the process of withdrawing funds (by the Nominee after the demise of the WazirX user).
The assigned Nominee has to raise a request for the transfer of the virtual digital assets and balances by sending an email to [email protected]
These documents need to be submitted to process the claim:
PAN & Aadhaar of the deceased
PAN & Aadhaar of the Nominee/ beneficiary
Death certificate of the deceased
Document showing/ establishing a relationship between the deceased & beneficiary, viz. Marriage Certificate, legal heir certificate, passport
Probated will, if any, and
Affidavit
NOTE: The claim team reserves the right to ask for additional documents.
We hope that this feature will let you invest without a second thought. Our teams are working tirelessly to help you trade smoothly and easily. Do keep supporting us like you always do.
Happy Trading!

Disclaimer: Cryptocurrency is not a legal tender and is currently unregulated. Kindly ensure that you undertake sufficient risk assessment when trading cryptocurrencies as they are often subject to high price volatility. The information provided in this section doesn't represent any investment advice or WazirX's official position. WazirX reserves the right in its sole discretion to amend or change this blog post at any time and for any reasons without prior notice.