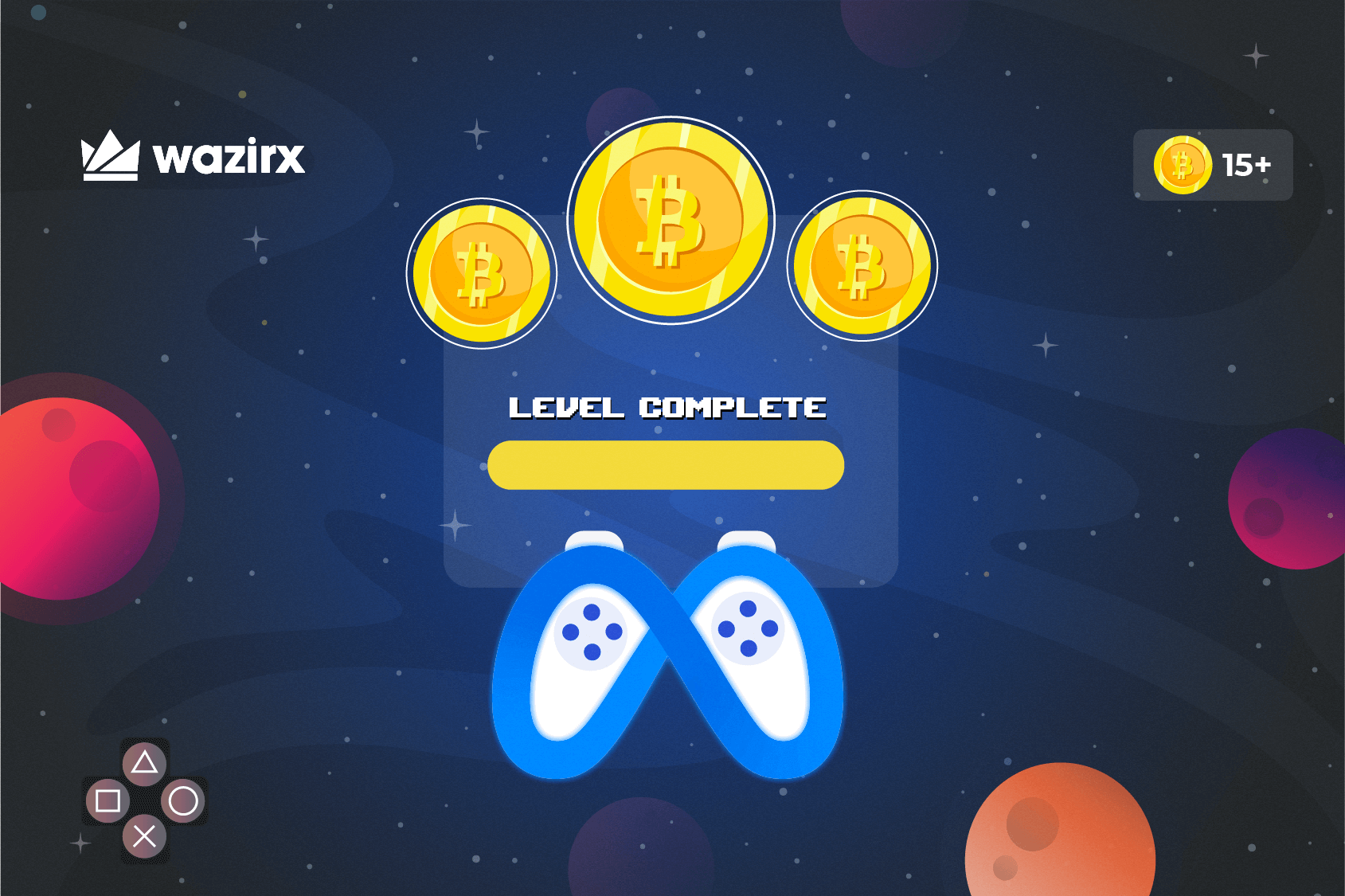 Before we dive into the world of the metaverse and its subsequent impact on crypto gaming, let us first understand the basics.
The idea of the metaverse can be thought of as an animated version of the internet or, at the very least, a three-dimensional representation of it. According to Zuckerberg, it's a "virtual habitat" that you can enter rather than stare at on a screen. It's a realm of endless, interconnected virtual communities where people can meet, work, and play using VR headsets, AR glasses, smartphone apps, and other technology.
"It's the next evolution of connectivity where all of those things start to come together in a seamless, doppelganger universe, so you're living your virtual life the same way you're living your physical life."

Victoria Petrock, a technology analyst,
Crypto Gaming
The concept surrounding Crypto Gaming is fairly simple to understand. In traditional gameplay, one used to purchase a game or invest money in a free-to-play title. Now, the game would pay you to play it, with built-in incentives to reward your time and, in some cases, a modest financial share in the company that created it.
With the gaming industry surpassing targets during the pandemic, research shows that in 2020, £1.6bn ($2.2bn) more was spent on video games in the UK compared to the previous year. 
Research from InvestGame shows how in the gaming sector, cryptocurrency is proving to be a winning combo. One of the most popular crypto games, Axie Infinity, has surpassed an astounding $1 billion in earnings.
Investors are clamouring to be a part of the gaming revolution. According to InvestGame, the number of investment deals has quadrupled year over year, with the current amount exceeding $450 million in 2021.
Crypto Gaming and Metaverse
Metaverse was first described in Neal Stephenson's science-fiction novel Snow Crash, published in 1992.
Users worldwide will be able to meet, communicate, work, and play games in this virtual world in the three-dimensional realm. Players with their digital avatars will enter the Metaverse powered by Augmented Reality (AR) and Virtual Reality (VR).
Now, even if such a world does not exist (yet), the building blocks are slowly settling in. Axie Infinity, Decentraland, and SecondLive are examples of blockchain-based metaverse-like programs. These online games allow players to play to make money, purchase and sell virtual land, and more.
These games, along with other popular virtual world-based apps like Fortnite and Roblox, now provide the closest metaverse experience.
Roblox participants, for example, are not obligated to follow a predetermined plot. Instead, they can attend or organize meetups and other social gatherings. According to sources, people spent approximately 1.3 billion hours playing Roblox in the first quarter of 2021, with over 202 million active users.
According to DappRadar, the majority of the dapp industry's activity is presently centred on blockchain-powered gaming. In October, 1.19 million unique active wallets (UAW) were connected to game dapps, accounting for 55% of the total, continuing the category's dominance that began in September. Axie Infinity and Splinterlands, both NFT-infused games, are leading the charge, while other new contenders that debuted on Polygon and BSC began to gain traction in the genre.
In October, the dapp business saw more than 2 million daily unique active wallets, up by 21% from the previous month and 626 percent year over year. The floor market cap for the top 100 Ethereum NFT collections and NBA Top shot was $16.72 billion, up by 18% from September. (Data taken from October 2021 Report, DappRadar)
Crypto gaming is also attracting many investors who want to be a part of it with increased popularity. Sky Mavis raised $7.5 million in its first fundraising round, thanks to Mark Cuban's investment. Bitkraft Ventures, a venture capital firm, has announced a $75 million fund to invest in cryptocurrency gaming applications.
Both Solana and Polygon have begun investing in early-stage blockchain games that include decentralized finance (DeFi) into their platforms to get on board. Solana bills itself as a full-featured blockchain; according to sources, it topped $12 billion in DeFi, went up 50% from September in TVL, and it recorded $240 million in NFT trades, in addition to a diverse list of forthcoming games.
"The Metaverse has become the newest macro-goal for many of the world's tech giants. It is the express goal of Epic Games, maker of the Unreal Engine and Fortnite. It is also the driver behind Facebook's purchase of Oculus VR and its newly announced Horizon virtual world/meeting space, among many other projects, such as AR glasses and brain-to-machine interfaces and communication,"

By Matthew Ball, Managing Partner at EpyllionCo and Venture Partner at Makers Fund, in his blog about the Metaverse.
Metaverse-like platforms are slowly transforming into digital economies with various utility tokens and collectibles due to their open-world character.
Irrespective of tech giants showing deep interest in this virtual world, it is quite improbable that these digital behemoths will enable one of them to administer and control a shared metaverse.
As a result, a decentralized, blockchain-based governance model is emerging, in which a group of users, participants, and community members work together to build and maintain the metaverse network. This is because the blockchain may record user-created virtual locales, digital asset transfers, and financial transactions.
All such transactions are secure, public, and permanent thanks to the properties of blockchain, which facilitates control in the hands of the 'players' rather than centralized organizations with private access to transaction history.
Conclusion
Facebook's recent rebranding to "Meta" has fueled the growth of metaverse games. Decentraland and The Sandbox have seen their native tokens rise in value, while trading volumes for in-game land parcel NFTs on OpenSea have skyrocketed. 
Other blockchains aim to establish their gaming ecosystems as crypto games demonstrate their capacity to draw consumers. Solana Ventures, Lightspeed Venture Partners, and FTX have announced a $100 million joint venture to develop gaming on the Solana network, claiming that the network's high-speed, low-cost capabilities will enable crypto gaming to thrive. 
The future of crypto gaming in the Metaverse is quite exciting for all Meta-enthusiasts out there!

Disclaimer: Cryptocurrency is not a legal tender and is currently unregulated. Kindly ensure that you undertake sufficient risk assessment when trading cryptocurrencies as they are often subject to high price volatility. The information provided in this section doesn't represent any investment advice or WazirX's official position. WazirX reserves the right in its sole discretion to amend or change this blog post at any time and for any reasons without prior notice.