Update: Bitcoin's Taproot upgrade finally gets locked in, as 90% of the miners signal supported this, and he next phase of activation is basically a 5-month waiting period, where the miners and nodes need to update their software to Bitcoin Core 0.21.1
Did you come across 'Taproot' recently?
And not bothered to delve deeper because it's too technical?
Many of us, did the same, but honestly speaking, it's not that difficult to comprehend, as it involves technological innovation.
Let me break it down to the simplest form for you, as it is the most awaited Bitcoin event of the year.
In order to understand Taproot, we must understand what mining is!
Bitcoin, the largest crypto asset in the world, is created by mining, i.e., wherein one Bitcoin is created by solving complex computational problems by a miner (innumerable miners try to solve it, but only one of them cracks the algorithm and gets rewarded with 1 BTC). One of the most important jobs of the miners is to keep a check on double-spending, apart from verifying the transactions.

Now, since Bitcoin is decentralized, all the key stakeholders (especially miners) need to be onboarded with any upgrades or changes proposed in the Bitcoin technology ecosystem. And, the upcoming Taproot upgrade aims to make the Bitcoin ecosystem more user-friendly as well as secure.
So, What is this Taproot Upgrade? What is it all About?
Taproot is going to be the most significant upgrade to Bitcoin's network since 2017's SegWit or block size increase. Taproot is primarily a privacy improvement for complex spending conditions on Bitcoin like multisig transactions, which aims to enhance the overall usability by making transactions cheaper, faster, and easier to deploy. Not only that but it also eventually will allow for the deployment of smart contracts.
Let's elaborate its benefits:
Increase in Transactions Privacy
Taproot will make complicated transactions (such as those requiring multiple signatures or those with a delayed release) indistinguishable from the simple transactions in terms of on-chain footprint – thanks to Schnorr signatures. For example, a transaction might be executed immediately if all the four multisig signers agree, or it might take certain amount of time to pass before funds are unlocked if only three out of four signers are available. Normally, an external party is able to identify every possible condition, but with Taproot they will see only the actual one that was eventually triggered.
The size of the transaction data will be reduced, leading to lower transaction costs.
Joel Edgerton, chief operating officer of cryptocurrency exchange bitFlyer USA, and Lior Yaffe, CEO of blockchain software company firm Jelurida told Coin Telegraph that this upgrade would lead to lesser transaction costs and settlement times. Yaffe added this would keep Bitcoin and its ecosystem as a relevant internet era payment method.
Easier and Cheaper, which means more flexibility
Taproot will remove the complications revolving around the type of signature, which will enhance smart contract functionality of Bitcoin like discreet log contracts (DLC), making it more data-efficient.
The Lightning Network is a Layer 2 solution which enables faster and more scalable payments. Taproot will make transactions on the lightning network cheaper and scalable, eventually offering security.
What is Stopping From Executing the Taproot Upgrade?
As per the lead developer for Taproot, Pieter Wuille, the Bitcoin Improvement Proposals, 340 through 342 were merged into the Bitcoin codebase on October 2020, signaling that the anticipated Taproot upgrade is ready, but there's a bottleneck here – the consensus mechanism.
As per the activation rules by Speedy Trial, which started on May 1, 2021, the Taproot activation will only be given the green light if 90% out of the 2,016 mined blocks in a difficulty epoch (cycle) include an activation signal.
As per Taproot.watch, created by Hampus Sjöberg, a Bitcoin developer, it showed that Taproot signaling accounted for about 44% of the total Bitcoin hashing power as of May 4, 2021 and 90% seemed like a long way to go.
The earliest supporters were AntPool and F2Pool (the largest mining pools), followed by Slush Pool and recently joined by BTC.Top (at a block height of 683,945).
On May 7, the "no" votes issued by these miners currently account for 30% of the 2,016 blocks in the current difficulty window.

Even the largest crypto exchange, Binance, tweeted on May 17, saying that Binance Pool had begun signaling for Taproot at a block height of 683,878.
Taproot.watch's latest report shows there have been many occasions where at least 10 successive blocks with Taproot signals occurred during the current difficulty epoch.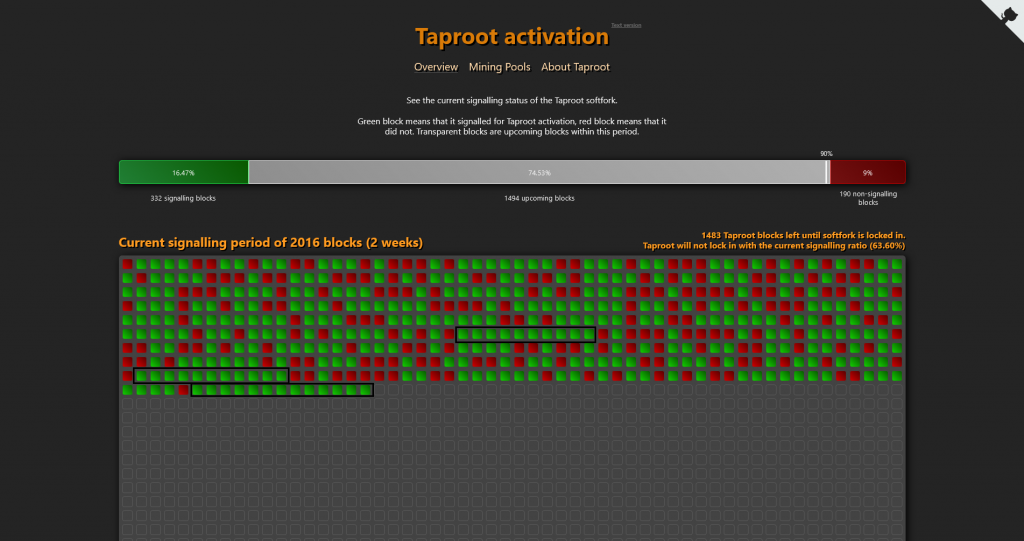 The latest report, on May 20, shows that mining pools that represent 94% of Bitcoin's hashrate have now included the Taproot "signal bit" to show their support for the upgrade.
Bitcoin's next difficulty adjustment is in approximately 9 days. This next adjustment will mark the third of six possible signaling periods under Taproot's Speedy Trial activation process, which began on May 1.
Taproot activation must be locked in before Aug. 11 for the network upgrade to get executed in November. If 90% signaling has not been achieved by that date, Taproot goes back to the drawing board.
It's time that we don't ignore the technological benefit, which is Bitcoin's core characteristics, which seems to have gotten lost somewhere in the prevailing market-driven narratives of late.
Disclaimer: Cryptocurrency is not a legal tender and is currently unregulated. Kindly ensure that you undertake sufficient risk assessment when trading cryptocurrencies as they are often subject to high price volatility. The information provided in this section doesn't represent any investment advice or WazirX's official position. WazirX reserves the right in its sole discretion to amend or change this blog post at any time and for any reasons without prior notice.