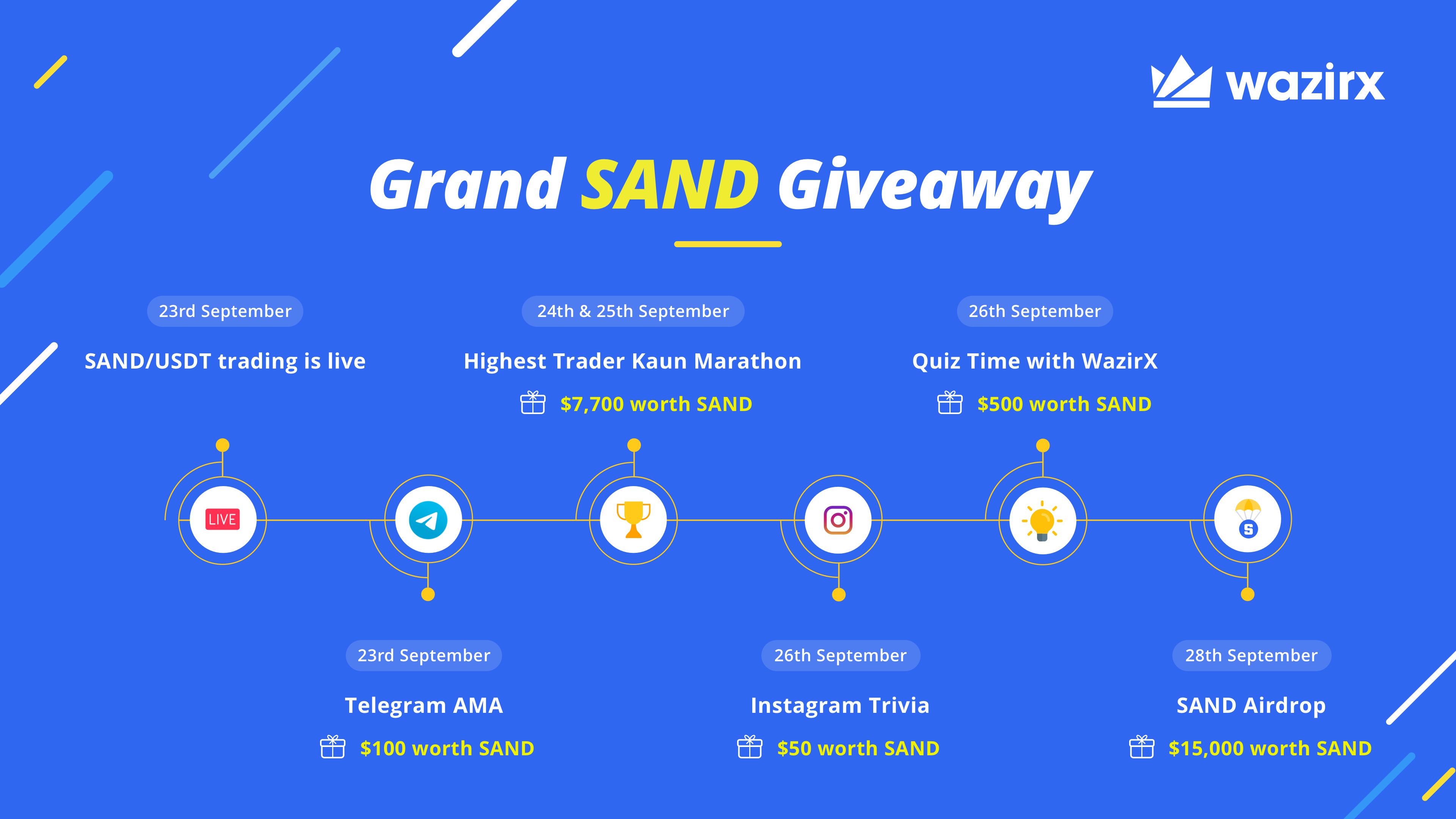 Namaste Tribe! The Sandbox (SAND) is listing on WazirX on Wednesday, 23rd September at 12 PM IST and you will be able to buy, sell, trade SAND in our USDT market. We are also running a Grand SAND Giveaway for you via a host of activities.
SAND Listing Schedule
Deposits — You will be able to deposit SAND from another wallet to WazirX
Trading — You will be able to buy, sell, trade SAND in our USDT market
Withdrawals — You will be able to withdraw SAND from your WazirX wallet
SAND Giveaway Schedule
AMA with Sebastien Borget
Participate in a live AMA Session with Sebastien Borget, COO & Co-Founder of The Sandbox, to learn everything about SAND. Prizes of $100 worth SAND for the top 10 questions.
When: Wednesday, 23rd September, 5 PM IST
Where: http://t.me/wazirx_discuss
AMA Guidelines:
Part 1: We will ask Sebastien Borget 10 questions (crowdsourced from our Twitter followers) about SAND
Part 2: At the end, we will unmute the group for 10 minutes where you can ask your questions live to Sebastien. He'll try to answer as many as he can.
Giveaway:
$100 worth SAND will be distributed to the top 10 questions selected from Twitter. After the AMA, we'll announce the winners on Twitter.
Highest Trader Kaun Marathon: SAND/USDT
Thursday, 24th September: 9 AM — 9 PM IST
Friday, 25th September: 9 AM — 9 PM IST
How can I participate in the contest and win?
Winners will be decided on the basis of the volume of SAND traded in our USDT market.
Here's how to qualify:
Minimum trade volume of ₹5,000 worth of SAND
Minimum 50 trades
What's the bounty?
For volume of trades on each day:
| | | |
| --- | --- | --- |
| Trader Rank | Prizes per person (SAND) | INR worth |
| 1 | 13,665 | 46,000 |
| 2 | 9,506 | 32,000 |
| 3 | 6,832 | 23,000 |
| 4 | 4,753 | 16,000 |
| 5 | 3,268 | 11,000 |
| 6-10 | 2,466 | 8,300 |
| 11-15 | 1,842 | 6,200 |
| 16-20 | 1,396 | 4,700 |
| 21-25 | 1,040 | 3,500 |
| 26-30 | 772 | 2,600 |
| 31-35 | 594 | 2,000 |
| 36-40 | 446 | 1,500 |
| 41-45 | 327 | 1,100 |
| 46-55 | 238 | 800 |
| 56-70 | 178 | 600 |
Each day, 5 lucky traders selected from top 55 traders will win 238 SAND (worth ₹800) each!
Instagram Trivia Contest
Participate in SAND Trivia contest on Instagram and win prizes for every correct answer!
When: Saturday, 26th September, 12 PM IST
Where: instagram.com/wazirx
How to participate?
Follow us on Instagram: instagram.com/wazirx
We'll share 5 questions on Instagram Story, each at an interval of 3 mins
Choose the correct answer
For every question, one lucky winner from all the correct answers will win 230.28 SAND each
Quiz Time with WazirX: SAND
We are hosting a fun quiz session about SAND. Show off your SAND knowledge & win prizes.
When: Saturday, 26th September, 6 PM IST
Where: http://t.me/wazirx_discuss
Reading resources:
Quiz guidelines:
You must join our group: t.me/wazirx_discuss
There will be a total of 10 questions. We'll share each question with a google form link at an interval of 3 mins
You have to enter your answer along with your WazirX email & Telegram username in the google form for each question
The first 5 correct answers for every question will win 230.28 SAND each
SAND Airdrop
SAND worth $15,000 will be airdropped to the top 1500 WRX holders on WazirX for always supporting us!
About SAND
The Sandbox claims to be a virtual world where players can build, own, and monetize their gaming experiences in the Ethereum blockchain using SAND, the platform's utility token. It is claimed that players can create digital assets (Non-Fungible Tokens, aka NFTs), upload them to the marketplace, and drag-and-drop them to create game experiences with The Sandbox Game Maker. It is further claimed that The Sandbox has secured over 50 partnerships including Atari, Crypto Kitties, and Shaun the Sheep to build a fun, creative "play-to-earn" Gaming platform, owned and made by players. The Sandbox aims to bring blockchain into mainstream gaming, attracting both crypto and non-crypto game enthusiasts by offering the advantages of true-ownership, digital scarcity, monetization capabilities, and interoperability.
Note: For the entire giveaway, SAND price will be considered at $0.043425, i.e., ₹3.36630
Happy Trading!
Disclaimer: Cryptocurrency is not a legal tender and is currently unregulated. Kindly ensure that you undertake sufficient risk assessment when trading cryptocurrencies as they are often subject to high price volatility. The information provided in this section doesn't represent any investment advice or WazirX's official position. WazirX reserves the right in its sole discretion to amend or change this blog post at any time and for any reasons without prior notice.