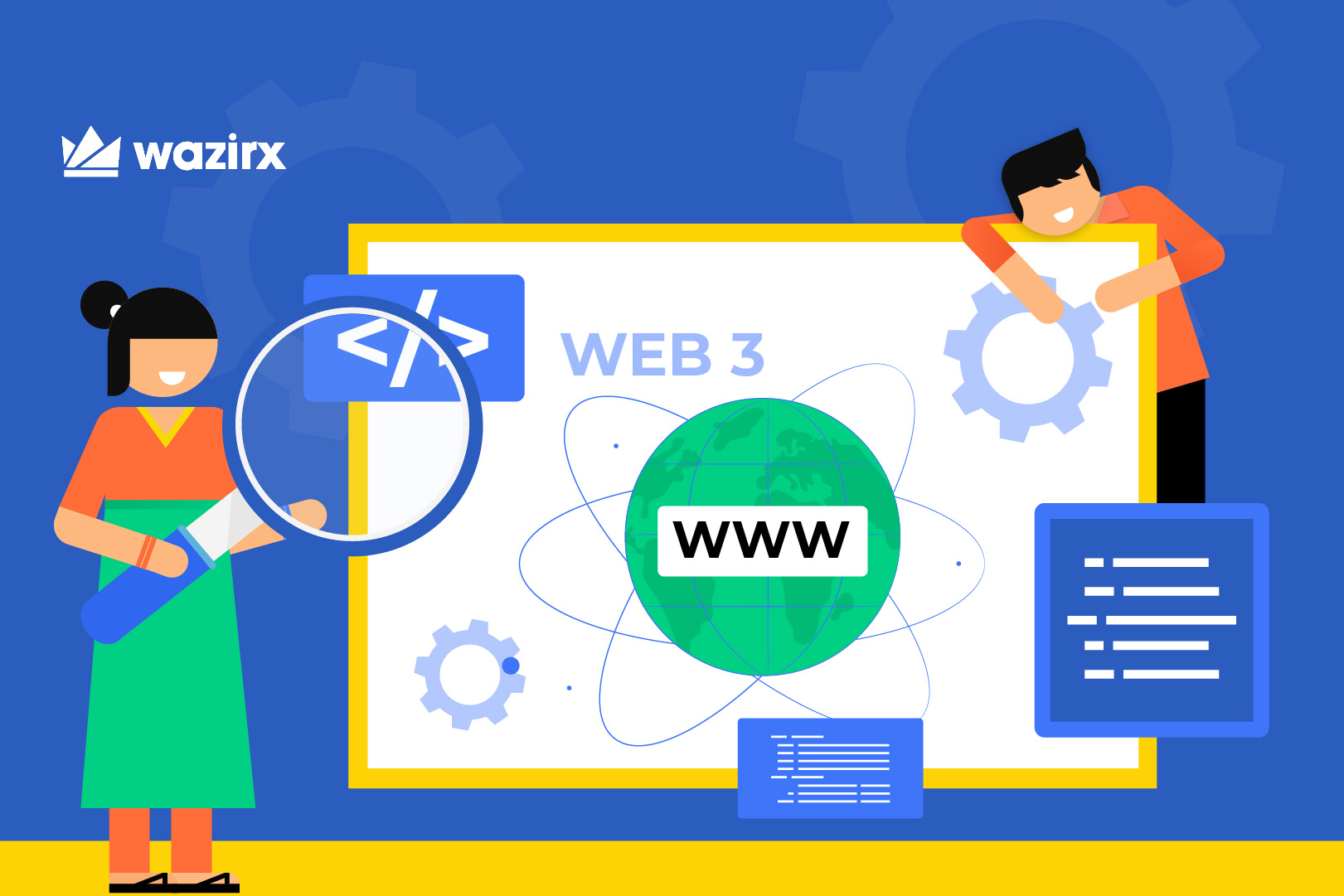 A revolutionary internet era where content is no longer accessed via 2D screens but intuitive 3D environments has evolved, thanks to the development of robust 5G networks, innovative XR gadgets, and appealing metaverse apps. But what part do Web 3.0 and blockchain play in this revolution? Check out this blog to learn more about it.
Before we learn more about the 5G and Web 3.0 revolution, let's see what Web 3.0 is.
What is Web 3.0?
Web 3.0 is altogether a third iteration of the internet, combining a variety of disruptive technologies such as blockchain, Augmented Reality (AR), Virtual Reality (VR), cloud computing, edge computing, the internet of things (IoT), geolocation technology, 5G, and an AI-based analytics stack powers it for data-driven insights.
The fundamental blockchain technology facilitates trust through smart contracts and mathematical proofs. This makes it possible to build a network with little managerial constraints, enabling people to drive the developing internet economy independently rather than surrendering to the centralized control of powerful tech companies.
A cognitive, autonomous, linked, and open internet is what Web 3.0 aims to build.
The digital ecosystem is expected to have access to new growth and exploration opportunities thanks to 5G telecommunications. It has the potential to provide a seamless link between the physical and digital worlds.
The release of 5G network services, the so-called "real" wireless network that offers 100x greater speeds than 4G, is a crucial infrastructural catalyst accelerating the development of Web 3.0, the Metaverse, and Blockchain. But first, let's look at some latest Web 3.0 trends.
5G and the latest Web 3.0 trends
The Semantic Web
A semantic web or Web 3.0 will bring the transition from a "readable" machine network to an "understandable" intelligent network. In a decentralized world, data control will instead reside with its true owner, and web 3.0 will make sure platform guardians owning and monetizing public data will no longer necessarily be able to do that.
Its XR now, a combination of VR and AR
Merging Virtual Reality (VR) and Augmented Reality (AR) is a concept known as eXtended Reality (XR) (AR). Metaverse relies heavily on XR, which ultimately provides a virtual world experience.
Virtual Reality (VR) tech makes it viable to replicate the real world in an immersive, real-time interactive setting on a computer. But with AR technology, individuals can virtually experience an upgraded and the unified real-virtual world by creating virtual pictures of "objects" and "places" that don't actually exist in the real world and properly placing them there. A world where people may transition from the virtual to the actual world and vice versa will be brought about through XR.
The brand-new Social Networking Spaces
Imagine attending a football game with a group of strangers who are also your neighbors without disclosing your true identity. Thanks to Metaworld, these virtual social networks are now a reality. User-generated and owned content that can only be shared within the selected network can be added to a disguised identity.
A completely decentralized social media platform powered by web 3.0 and blockchain technology is the next reality, where users control the shared material rather than the platform. Quick access to these decentralized social media networks available through NFTs will be made possible by the processing capability of 5G networks.
BaaS – Blockchain as a Service(BaaS)
Businesses are now more prepared to integrate blockchain-enabled services and create new revenue streams as blockchain technologies have shown to be more than just hype. Global firms, particularly those in the financial services sector, are investing more money annually in Blockchain technologies as a result of the technology's advancement and expansion beyond cryptos.
The introduction of 5G will improve connectivity between all linked devices, opening the door for an increasing number of blockchain-based applications.
Edge Computing
Because of the ubiquity of data made possible by 5G, everyone and any device can access the internet, not only computers and mobile devices. This is made feasible by the Internet of Things (IoT) technology, and it is a prerequisite for Metaverse & web3.0 to thrive.
The introduction of 5G has enhanced the prices of a few Web 3.0 crypto; the following is the list of the top 5 web 3.0 crypto.
Top 5 Web 3.0 Crypto
Helium (HNT): Helium is a blockchain-based decentralized network that uses the proof-of-coverage mechanism to connect Internet of Things (IoT) devices.
Chainlink (LINK): Chainlink is an Ethereum-based decentralized network that enables the development of smart contracts based on actual data.
Filecoin (FIL): Users of Filecoin can earn the platform's token by renting out space on their computers' hard drives. Filecoin is a decentralized P2P storage network.
Theta (THETA): A decentralized blockchain network called Theta was created exclusively for streaming video. Theta is a P2P network that uses enterprise validator nodes from Sony, Google, Samsung, and other businesses to make it easier for users to access the video.
The Graph (GRT): Blockchain data can be indexed using The Graph, after which it can be further filtered and searched by members.
Bottom line
Although we are still determining when the technologies that will power Web 3.0 will mature, the trendline is obvious. The transformation of businesses and organizations that arise, especially with new blockchain networks, will be increasingly distributed and automated when Web 2.0 gives way to Web 3.0 and 5G is launched. Even though changes can be complex, people eventually adapt and thrive.

Disclaimer: Cryptocurrency is not a legal tender and is currently unregulated. Kindly ensure that you undertake sufficient risk assessment when trading cryptocurrencies as they are often subject to high price volatility. The information provided in this section doesn't represent any investment advice or WazirX's official position. WazirX reserves the right in its sole discretion to amend or change this blog post at any time and for any reasons without prior notice.