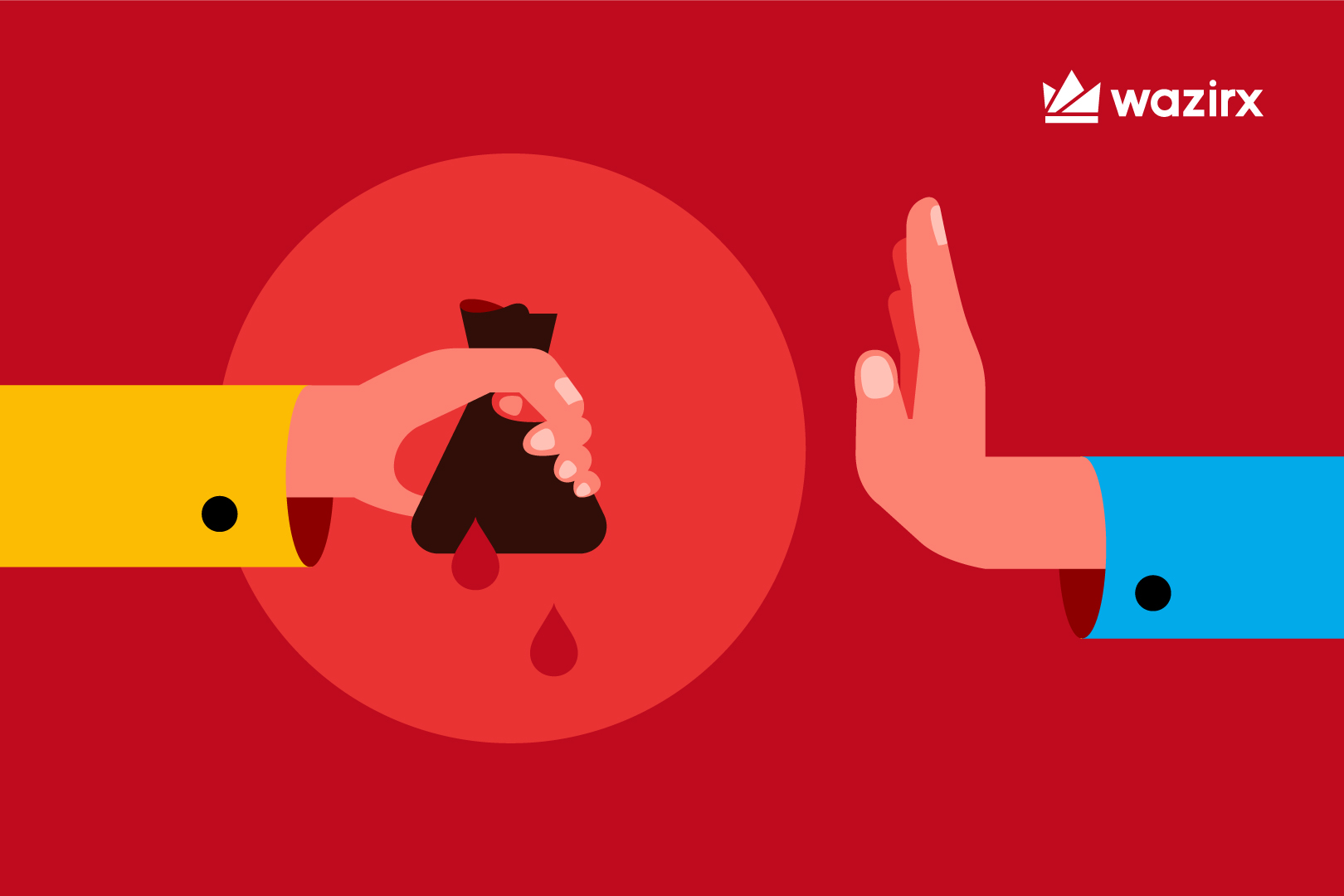 WazirX is an India-based Crypto exchange platform that allows users to buy, sell, and trade various crypto-assets. By volume, WazirX is India's largest Crypto Exchange and has over 15 million users. Founded by Nischal Shetty in 2018, WazirX is on a mission to bring financial equality via crypto.
Why Crypto?
Crypto is a rapidly growing asset class globally with a $1 trillion market capitalization (peak market cap was at $3 trillion +). It is preferred by many today as the transaction cost is very low compared to other classes of assets. Furthermore, it can be used as a hedge against inflation, and also it works great for building a more inclusive financial ecosystem.
Crypto And Money Laundering
VDAs have value, and anything that has value has the potential to be misused. But it is important to understand the context and background. According to Chainalysis, a blockchain analysis company that specializes in crypto and blockchain analysis, of all transactions made with cryptocurrencies in 2021, 0.15% were associated with some type of illicit activity.  On the other hand, the UN estimates that between 2% to 5% of traditional fiat (cash), that's about $800 billion to $2 trillion in current US dollars, was associated with some type of illicit activity. In other words, this crypto industry is a faction of the problem that happens in cash.
It is important to understand that crypto is the worst tool for laundering money. One, KYC is stringent in the industry. Two, large sums of money cannot be moved into crypto without getting noticed, and three, it is trackable. Unlike cash, which is impossible to track, Blockchain has proven to be one of the most powerful tools for law enforcement. The immutable, public nature of the blockchain makes crypto a poor choice for money laundering because it allows law enforcement to uncover and trace money laundering far easier than cash transactions.
WazirX's Anti-Money Laundering Measures
With the uptick in illicit transactions worldwide, exchanges like WazirX have imposed self-initiated checks and precautionary measures. WazirX, in particular, has a no-tolerance policy towards any illegal activities done using its platform.
Since its inception, WazirX has been proactive in ensuring that the law of the land is adhered to. WazirX conducts diligent KYC verification as per the RBI's blanket guidelines. As a self-initiated measure, WazirX also conducts Anti Money Laundering (AML) checks. 
These AML checks are based on the inputs received from various LEA and experiences. Furthermore, WazirX has collaborated with TRM Labs, a leading blockchain analytics provider, to enhance the anti-money laundering and anti-fraud measures via transaction monitoring, wallet screening, and risk management. This collaboration has helped bolster the security of the platform and scale compliance initiatives.
How Does TRM Labs Help WazirX Curb Money Laundering?
WazirX believes in 'Continuous Transaction Monitoring'. When a transaction is executed, the transaction hash is passed to TRM's API, and aspects of the transaction, including the sender and recipient addresses, are screened for indicators of risk. If the risk is detected, an alert is triggered and logged in the alerts portal, where it is reviewed and assigned to an investigator if necessary. Here, the compliance investigators use the Forensics tool to investigate the alert in more detail, finding the source and destination of funds in a transaction, the address's transaction history, and any off-chain affiliations of note.
WazirX leverages this transaction monitoring system and the data generated by TRM Labs to aid in reporting to regulatory authorities and assisting law enforcement agencies. With this, WazirX has established a procedure of implementing a strong monitoring system while simultaneously deriving these benefits:
Payments fraud intelligence
Audit Trail Maintenance
Improving the TAT for compliance personnel
Improve data quality and architecture
Knowledge Sharing
WazirX and Law Enforcement Agencies (LEA)
WazirX has been pushing for structured regulations since day one, as it will be inevitable once there is mass adoption. For this, WazirX is in constant touch with various national and international Law Enforcement Agencies (LEA). The teams at WazirX fully cooperate and assist as and when required. For example, in the recent investigations conducted by the Enforcement Directorate (ED), WazirX has cooperated and responded to all their queries duly. Due to this active cooperation extended by WazirX, ED has unfrozen its bank accounts.
During the period from October 2021 to March 2022, WazirX received 952 requests from Indian law enforcement agencies and 71 requests from Foreign Law enforcement agencies for transactional and user information. WazirX has successfully responded to them and complied with all of the requests. All these requests were related to inquiries that were criminal in nature.
WazirX Says NO To Illegal Activities
As mentioned above and at multiple other places, WazirX has a robust KYC & AML verification policy that is followed to self-regulate in the absence of regulatory guidelines. When there is a violation of these policies, false KYC has been submitted, or if it is noticed that the WazirX platform is being used for illegal activities, WazirX blacklists the user immediately. Here, large suspicious transactions, multiple accounts with the same IP address, etc., are also considered.
Closing Remarks
WazirX is doing its bit to make crypto accessible to the masses in the best possible manner. Here, regulation seems to be the key!
While tackling misinformation and busting misconceptions around crypto is just one of the ways to help users make informed investment decisions, support from the regulators, counterparts, and the community as a whole can make a more substantial impact.

Disclaimer: Cryptocurrency is not a legal tender and is currently unregulated. Kindly ensure that you undertake sufficient risk assessment when trading cryptocurrencies as they are often subject to high price volatility. The information provided in this section doesn't represent any investment advice or WazirX's official position. WazirX reserves the right in its sole discretion to amend or change this blog post at any time and for any reasons without prior notice.