Namaste Tribe!
Do you have friends and family members who are *this* close to buying their first crypto, but get terrified by technical charts, markets, and order books? Let them know that WazirX has got you covered! ?
Say ? to "QuickBuy" option which allows you to buy your favourite crypto instantly with just a tap! Wait there's more… you can start buying crypto with as little as Rs. 50 on WazirX!
How to buy your favorite crypto via QuickBuy?
Step 1: Log into WazirX Android app
Step 2: Tap on the crypto you want to buy
Step 3: Preview and place the order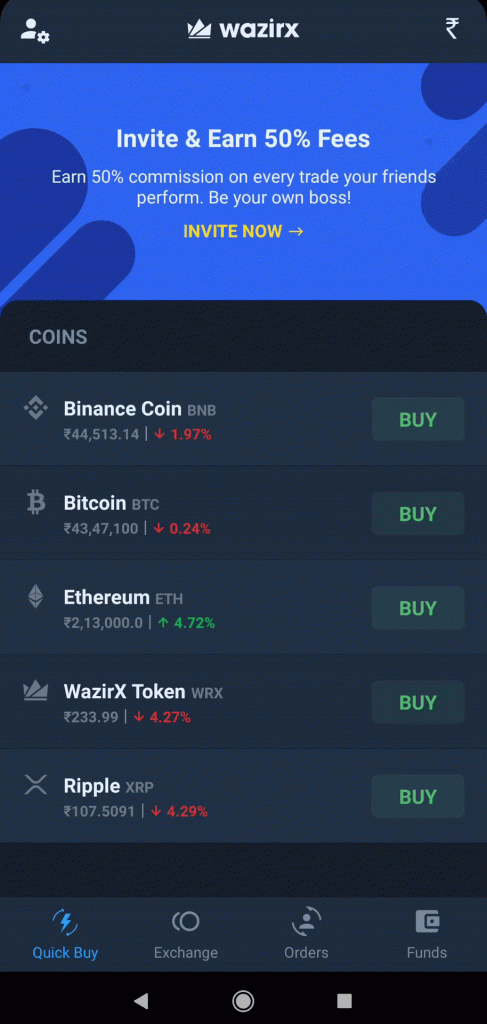 At WazirX, our mission has been to make crypto accessible to everyone in India. And we realized that to in order to involve the masses into crypto, we must bring in an easier and faster way for them to participate in crypto!
QuickBuy option allows Indians to buy crypto not only in the fastest manner but also in the cheapest manner without any hidden charges. Why? Because QuickBuy directly buys crypto from WazirX order book every time an investor uses QuickBuy to buy crypto. Plus, WazirX has not only the highest trading volume but also the highest liquidity in INR (fiat) market in India. This mechanism ensures that QuickBuy will always offer the cheapest price for crypto buy orders in India.
A feature like QuickBuy is the need of the hour and it will help us bridge the gap between crypto adoption and the masses.
Happy trading!
Disclaimer: Cryptocurrency is not a legal tender and is currently unregulated. Kindly ensure that you undertake sufficient risk assessment when trading cryptocurrencies as they are often subject to high price volatility. The information provided in this section doesn't represent any investment advice or WazirX's official position. WazirX reserves the right in its sole discretion to amend or change this blog post at any time and for any reasons without prior notice.