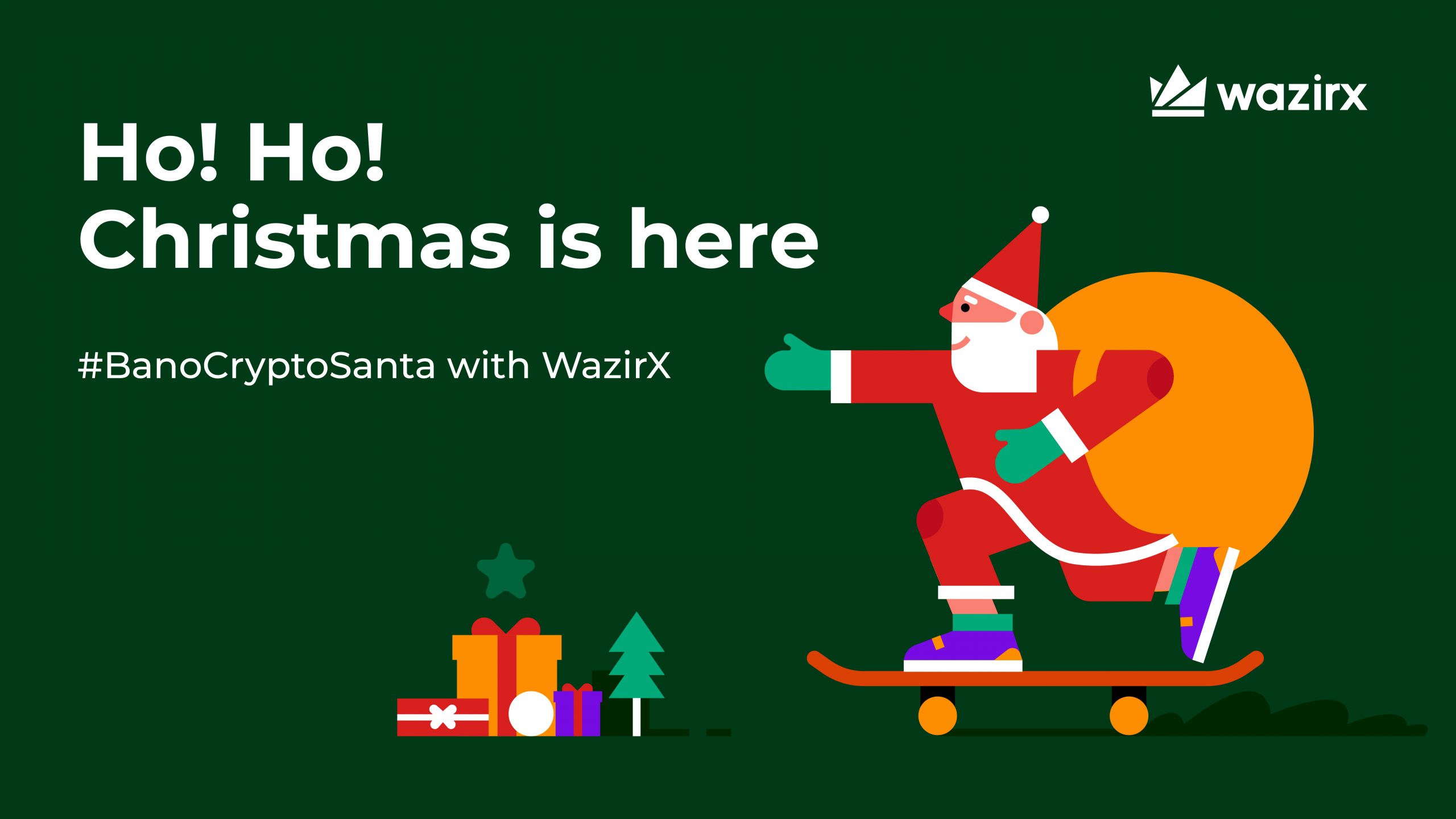 Namaste Tribe!
We know, you know, the most wonderful time of the year is around the corner. The chills of the winter have spread all over the place; we hope you're sipping your hot chocolate! 😉 By the way, for this Christmas and New Year season, we have whispers from Secret Santa about his special plans for the WazirX users.
Want to find out more about it? Hang on with us.
The drill is pretty simple! All you need to do is send WazirX Crypto Gift Cards of a minimum of Rs. 50 to your loved ones, and wait for the gift from our Secret Santa. This is your chance to introduce your friends and family to the Crypto space by gifting them exciting WazirX Gift Cards and making them a part of the WazirX family. 🤝
Secret Santa has also spilled the beans regarding the amount he'll be gifting. A total of 8,000 WRX tokens will be distributed among 1000 users. (Yep, that's true!)
Take out your WazirX app and send Christmas-themed Gift Cards to your friends and family today!
Secret Santa's gift
The gift by Secret Santa will be distributed in WRX tokens (whose value will be decided through a lucky draw basis) to the random 1000 users who'll be sending Gift Cards via WazirX. Read the T&C given below for a better understanding. #BanoCryptoSanta this year.
T&C to get your Secret Santa gift
The Secret Santa Campaign period is from 23rd December, 4:00 PM IST, to 31st December 2022, 11:59 PM IST.
Only Indian KYC-verified users are eligible to receive a gift from our Secret Santa.
This gifting feature is available only for Indian KYC-verified users. You're not allowed to send gifts to foreign residents.
To be eligible to receive a gift from Santa, the minimum value of the gift card should be INR 50 (Rupees Fifty only).
Random 1000 users sending Gift Cards via WazirX will be eligible to receive a gift from Santa in WRX token(s). Santa will distribute gifts based on a lucky draw.
The sender will only receive the gift if the recipient is a new user who signs up on WazirX and accepts the gift.
The sender can win multiple gifts during the offer period if multiple new users sign up via Gift Cards.
As a sender, you will receive notification emails when your gift is sent and claimed. Please check the sender's email address before clicking on any link.
For general terms and conditions related to Gift Cards, read here.
Prizes will be distributed by 10th January 2023.
WazirX has the right to reverse the funds in case any suspicious activity is detected/suspected without any prior notice.
Rewards are void if restricted or prohibited by law.
WazirX reserves the right in its sole discretion to amend or cancel the giveaway rules and announcement at any time and for any reason without prior notice.
On behalf of the WazirX team, we wish you a Merry Christmas and a Happy New Year.
Happy Holidays!

Disclaimer: Cryptocurrency is not a legal tender and is currently unregulated. Kindly ensure that you undertake sufficient risk assessment when trading cryptocurrencies as they are often subject to high price volatility. The information provided in this section doesn't represent any investment advice or WazirX's official position. WazirX reserves the right in its sole discretion to amend or change this blog post at any time and for any reasons without prior notice.