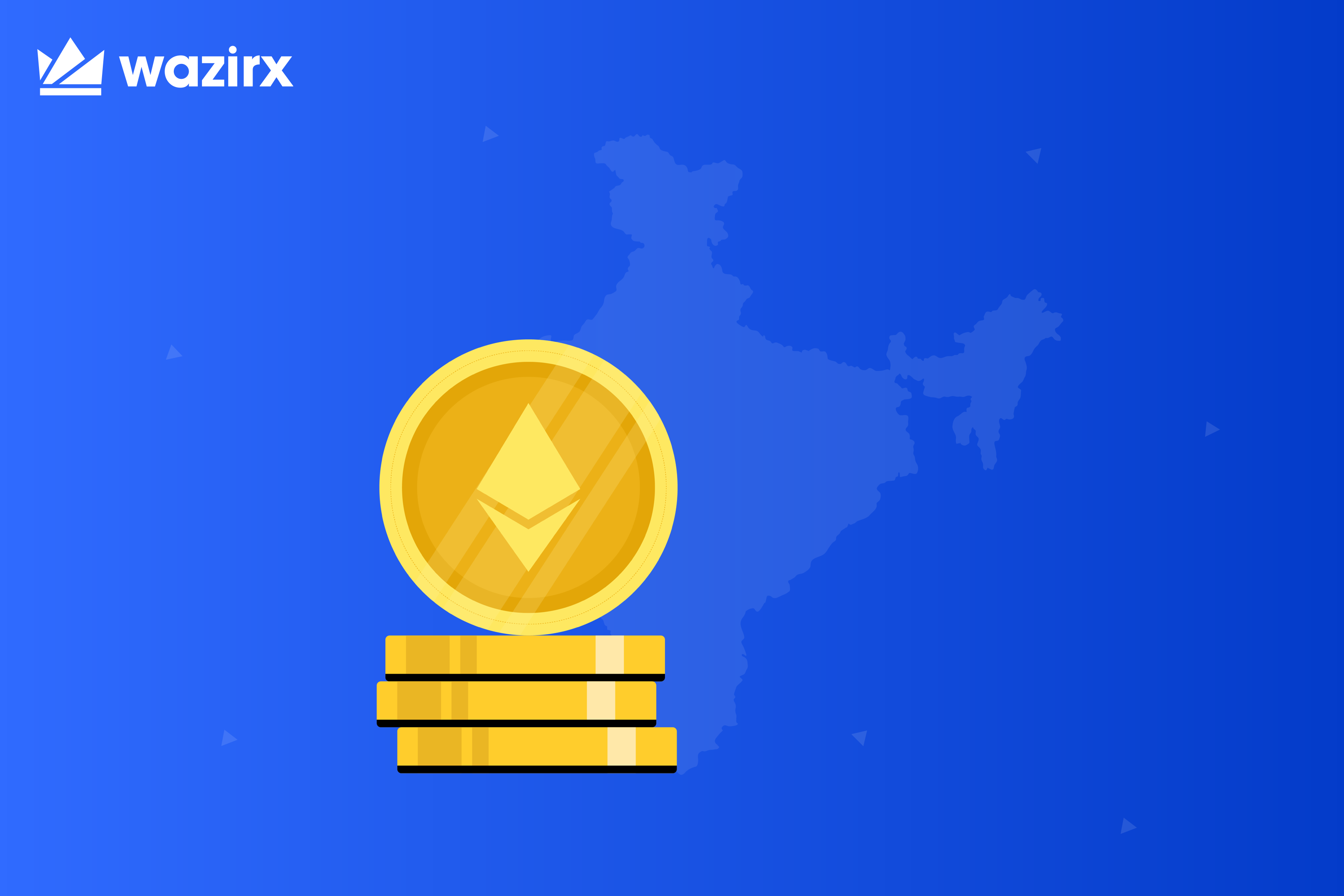 Can we make quick and easy profits effortlessly today? If you're a skeptic, the growth of cryptocurrency over recent years would like to prove you otherwise. These digital assets that can be bought near-instantly have sparked popularity in India and all over the world.
But wait, how did they get popular?
You can thank the big guns of the crypto world – such as Bitcoin and Ethereum. With some of the biggest market capitalizations today, these two cryptocurrencies have gripped everyone's attention via their utility. But in the words of Uncle Ben – With great power comes great responsibility; these massive digital assets have to keep upgrading constantly, and guess what? Ethereum is already on the move with Ethereum 2.0.
Let us show you how!
A Primer on Ethereum
Before we explore the future of Ethereum 2.0, allow us to brush up your memory on what Ethereum itself is.
Founded in 2015, Ethereum is an open-source blockchain. People often confuse Ethereum with Ether- but we'll make it simple for you. Ethereum is used as a term for the whole blockchain, while Ether (ETH) is its crypto coin. Investing in Ether isn't hard either; if you use a popular crypto exchange like WazirX, it's only a matter of minutes until you can call yourself an ETH holder with Ether in your crypto wallet.
Now, you might think to yourself – what makes Ethereum different from others then? Don't I just buy and sell Ether like most new crypto coins?
You see, that's exactly where Ethereum stands out. Ethereum was created for organizations to utilize new tech like smart contracts and enabled the existence of thousands of other cryptocurrencies on its blockchain. These crypto-assets run on the Ethereum blockchain and derive value from its infrastructure. Smart contracts can automate most complex tasks – such as escrows and insurance – with no third parties involved. Thanks to the boom of the blockchain revolution, Ethereum in India, has its share of attention.
If you wish to remember it quickly, think of the Ethereum blockchain as a programmable network, serving as a common platform for conducting transactions with Ether (as their currency) safely, free of fraud.
Ethereum's Current state in India
Ether appears to be the most probable competitor that can overtake Bitcoin. At present, it is the second-largest digital currency by market capitalization after Bitcoin. Last year, the prices of digital tokens soared all around the world, which resulted in a 30% volume increase in cryptocurrency transactions in India.
According to The Hindu Business Line, several cryptocurrency prices surged, with Bitcoin increasing by approximately 445% from March 1st, 2020, and February 28th, 2021. Ethereum similarly proliferated by 578% along with other tokens.
Further, India contains around 10 million cryptocurrency users, on an estimate, and its popularity seems to only increase.
According to the data of the blockchain analysis company Chainalysis, Indians are investing in cryptocurrencies in hordes. While 2020's investments amounted to $200 million, the figures as of July 2021, in just the middle of the year, have escalated to $40 billion.
Current adoption of Ethereum
Looking at the popularity of Ethereum in India, we might be moving towards massive adoption. This increase is emerging due to various reasons, such as the introduction of Ethereum 2.0, enhancing its Proof of Work model by moving to a Proof of Stake model. Indians are now getting familiar with cryptocurrency and better automation services such as smart contracts, thanks to Ethereum.
Problems with the current Ethereum network
The growth of Ethereum's market, in particular, is soaring, yet some flaws necessitate an upgrade to the current system. Millions of Ethereum users trade through their devices like- smartphones, laptops, computers daily, and this number is bound to increase more. This creates multiple problems for the network.
Such as scalability. The number of users on the platform exhibits a heavy load, causing a surge in transaction fees and transaction times.
Every device connected to a blockchain is called a node. Nodes are linked together and constantly exchange data. However, the constant and massive volume of consumer data is beyond what current nodes can handle, causing the network to "jam", so to speak, fairly frequently.
Of course, more transactions mean more usage. And more usage requires tons of computing power. The current usage rate of the Ethereum network causes these computers to emit large amounts of greenhouse gases.
How Ethereum 2.0 can solve these issues
Now down to what Ethereum 2.0 has in store for us. Let's look at some potential game-changer updates in Ethereum 2.0 we all are anticipating for.
Increasing Scalability
Scalability is a big and significant development of Ethereum 2.0.
To tackle the current issue of network congestion, Ethereum is switching to a different and scalable processing technique. It's been given the name "Sharding" which involves distributing the nodes into small chunks that can increase data storage. These smaller units have more capacity to hold and transfer data; however, implementing the entire thing itself requires more brainpower than usual.
Hold on… why don't they just increase the node size then? Wouldn't that be much easier?
Yeah, we wish it was.
Programmers in the past have tried this but eventually came to a dead end as nodes reached their limit. You could look at Sharding as the common solution that all could agree on. The complexity of the technique might also need more time to establish. This may cause Sharding to be brought out at the last phase.
Better TPS (Transaction per Second)
The immense increase in exchanging data on the Ethereum network causes transactions per second to be delayed. Ethereum 2.0 tackles the issue of slow TPS and promises to deliver 100,000 TPS! That's what you call an update. As compared to Ethereum's previous TPS rate of around 15-45.
Efficiency
As mentioned earlier, environmental concerns have leaped due to Ethereum's mining process.
However, Ethereum 2.0 brings a better solution for the world. According to projections, the total energy consumption on Ethereum 2 will be 99% lower than Ethereum. Honestly, this opens new doors and introduces environmentally friendly options in the crypto space.
Other new update(s)
Another big change that Ethereum will go through is switching from a proof of work system (POW) to a proof of stake (POS) mechanism. This will support the seamless working of the network.
Ethereum 2.0's update called phase 0 is already live and running! Their new upgrades will be launched in phases and are planning to be completely open soon.
How can you buy Ether?
If you've made it this far, chances are, you want to buy Ether yourself. Now hold your horses before you search up a crypto exchange after reading because we have just the thing you need.
You mean a good crypto exchange?
Yes, exactly that.
WazirX is India's most trustworthy cryptocurrency exchange, providing you with the best crypto platform to buy now, along with the lowest transaction fees. The platform's simple and to the point:
You get in
You buy/invest
You sell
Not hard at all, right? The platform itself is also backed up by high-level security with instant KYC approvals to top it all off.
If you're interested, you can visit the website and:
Go to the Signup option and fill in your details.
Get your email and KYC approved.
Select your country to deposit.
And Voilá, you can buy Ethereum in India!
Conclusion
To wrap it up, the foreseeable future of Ethereum 2.0 in India is a threat for other cryptocurrencies with enhanced services and better vitality. Make sure to let us know below if you agree with us on the points mentioned and any more possible upgrades you would like to see yourself! Also, don't forget to visit us at WazirX!

Disclaimer: Cryptocurrency is not a legal tender and is currently unregulated. Kindly ensure that you undertake sufficient risk assessment when trading cryptocurrencies as they are often subject to high price volatility. The information provided in this section doesn't represent any investment advice or WazirX's official position. WazirX reserves the right in its sole discretion to amend or change this blog post at any time and for any reasons without prior notice.