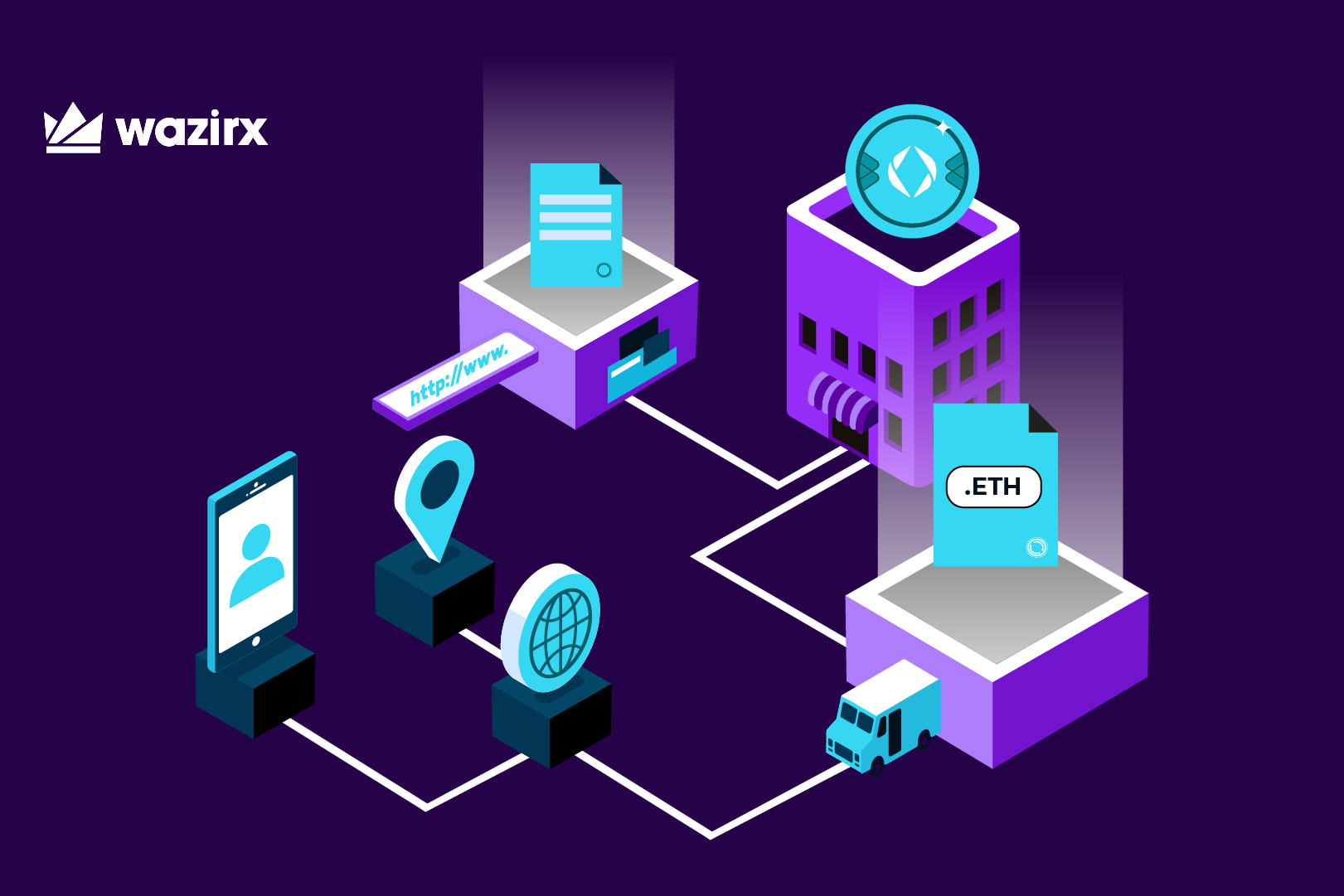 If you've been surfing the internet for a while, you've likely stumbled upon the word "NFT" and are not sure of what it means. NFTs, or non-fungible tokens, are distinctive digital assets that can be traded and owned. Digital artwork, video game goods, avatars, and collectibles are a few examples.
Every NFT is different and is managed on a blockchain in a manner similar to how cryptos work. In fact, a lot of NFTs are traded with cryptos, especially Ethereum. Despite the fact that digital art and collectibles are among the more well-known NFT types, only some people have already realized that website domains can be tokenized and traded. Yes, we are talking about the NFT Domains.
In this article, we'll explain what an NFT Domain and some of its famous use cases are. Let's begin!
What are NFT Domains?
NFT Domains are used to build decentralized websites and to convert complicated crypto addresses into readable Web3 usernames. The only difference between Web3 domain names and conventional top-level domains (TLD) ending in .com is the usage of suffixes like .crypto and .eth. NFT Domains differ in another aspect; they can be traded as tokens on the blockchain. Crypto wallet addresses are simpler to remember and recognize, thanks to Web3 domains.
Benefits of having an NFT Domain
One benefit of an NFT Domain is that it is entirely yours and that you can independently host websites apart from the conventional internet. Additionally, you can use the domain to sign in to other Decentralized Apps (also known as DApps) and convert your crypto wallet address into an easy-to-remember URL. Instead of a complex string, you can then buy and sell using your NFT Domain.
Unlike conventional domains, which have an annual price, NFT Domains only need to be registered once, and the only cost you incur is the one-time registration fee. With an NFT Domain, you own it for life and pay no additional costs.
Quick features of having an NFT Domain
You can streamline your crypto transfers by replacing all of your complex crypto wallet addresses with your domain name as your username.
You can receive 275+ coins and tokens across several blockchain networks using your domain.
You can use your domain name as your universal Web3 login to sign in to apps.
Own and manage your domain entirely, unlike conventional domains. Once purchased, a product is yours forever!
Create and host websites quickly, ranging from NFT galleries to personal websites.
Can you trade with NFT Domains?
NFT Domains can be a profitable trading opportunity, much like other NFTs. In the early days of the internet, people purchased and sold DNS domains, but today they make money by selling highly-demanded NFT Domain names. For instance, someone named Peter might be ready to pay more if you minted the popular Web3 domain name peter.eth. As a result, the market for short and memorable NFT Domain names is expanding quickly, and their perceived value is driving the market at high speed for the best Web3 domains.
Renting out NFT Domains to anyone who might use them as their wallet address or a link to a decentralized website is another option to generate money with NFT Domains. Subdomains, a feature of ENS domains, let you register a prefix to your current domain in order to create new domains. Owners can maximize the value of their ENS domain by using these subdomains to put up various IPFS websites and wallet addresses in their records. It's great to have subdomains because they let you rent out your domain to more people.
Use cases related to NFT Domain
Content Creation
NFT Domain enables content creators to reclaim ownership and control over their digital identity. Content creators are no longer required to host their content on social media thanks to NFT Marketplace Development. Instead, they can host digital content on the decentralized network using blockchain technology. The data and analytics can belong to the content creators whose work is being hosted on Domain NFT Development.
Professional Websites
Instead of using traditional servers, businesses can start hosting their websites on NFT Domains. The NFT Domains reduce several risks associated with carrying out business online, including having to pay recurring hosting fees, abiding by platform terms and conditions, and domain owners reclaiming the website.
Communities and Forums
NFT Domains redefine how people communicate with one another in online forums and communities. These groups and forums can profit from open and unrestricted debates on decentralized websites without relying on centralized services.
Wrap up
Do you intend to purchase an NFT Domain? This article should have clarified the NFT Domain for you. However, keep in mind that once you purchase an NFT Domain, you are the sole owner of it. The steps to do so are simple. You have the option to sell or keep the domain if you don't want to rent it from a hosting company. Your NFT Domain also functions as a crypto wallet address, allowing you to accept payments through the address, which may represent a significant advancement for Web3 in the future.

Disclaimer: Cryptocurrency is not a legal tender and is currently unregulated. Kindly ensure that you undertake sufficient risk assessment when trading cryptocurrencies as they are often subject to high price volatility. The information provided in this section doesn't represent any investment advice or WazirX's official position. WazirX reserves the right in its sole discretion to amend or change this blog post at any time and for any reasons without prior notice.