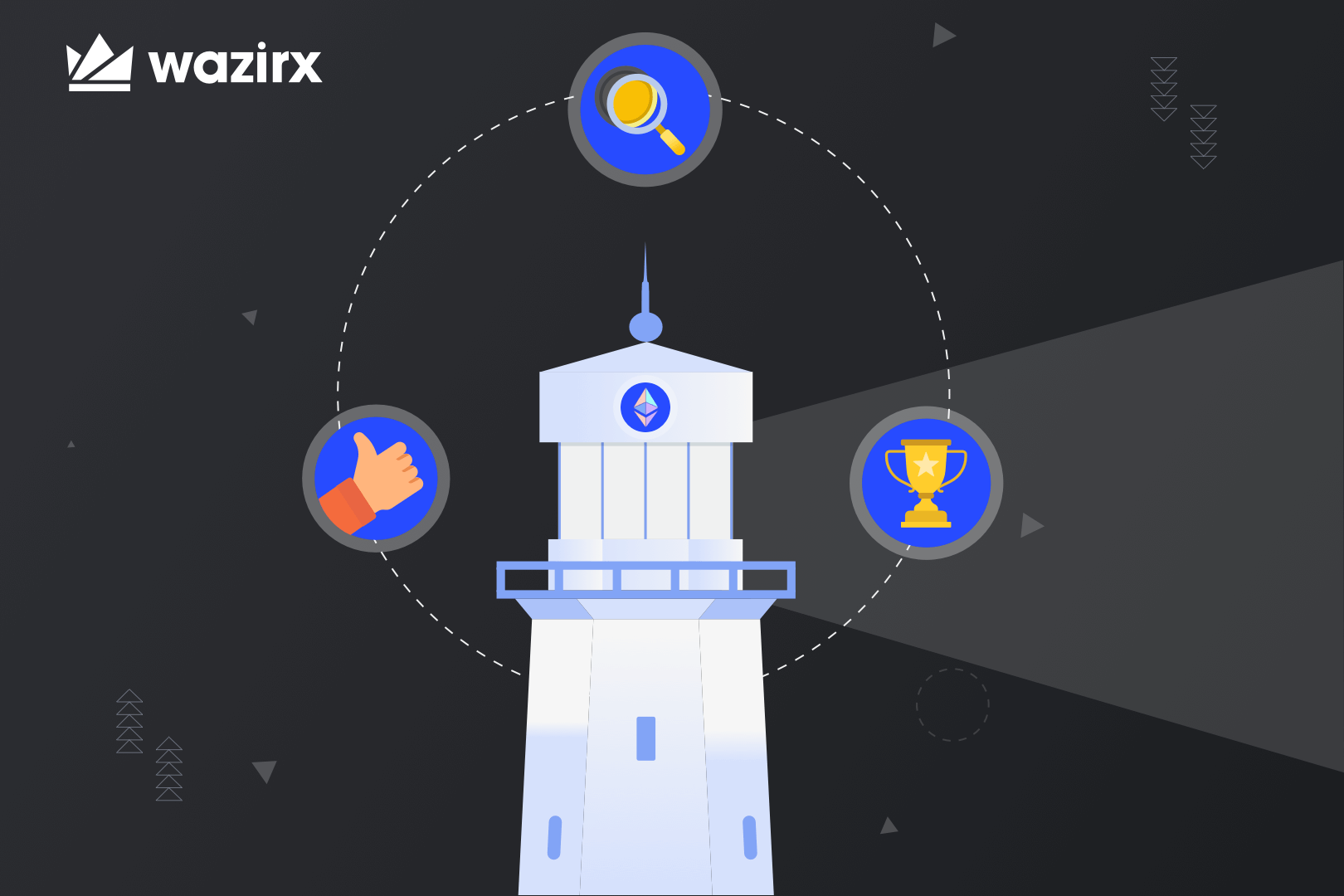 After the successful execution of the Ethereum Merge on Sept 15, 2022, the Crypto space is all zealous about what's next for Ethereum. According to Vitalik Buterin, the schedule for post-Merge was supposed to go like this – Surge, Verge, Prge, and Splurge. But, the team decided to take a detour from the initially planned roadmap and decided to launch the Ethereum Shanghai Upgrade. This upgrade will include various Ethereum Improvement Proposals (EIPs), but the central focus will be on the EIP-4895.
Want to know more about the EIP-4895 and the Shanghai Upgrade? Hang on with us and keep reading.
The main focus of the Shanghai Upgrade is to implement the EIP-4895. So, first, let's understand the Ethereum Improvement Proposal and then jump onto EIP-4895.
What is Ethereum Improvement Proposals (EIPs)?
EIPs are improvements or upgrades to the Ethereum network's functioning. By adhering to the submission procedure, anyone can build an EIP and submit it for consideration by the community and a board of developers. An EIP's technical modifications must be approved before being included in an update. EIPs follow a preset numbering system, and the Shanghai Upgrade is named EIP-4895.
What is EIP-4895?
Shanghai's major highlight is EIP-4895, which will enable validators to withdraw the 16 million ETH they have so far "staked" to support network security.
In its most recent significant upgrade, known as the Merge, Ethereum switched from Proof-of-Work (PoW) to Proof-of-Stake (PoS), and the network started employing validators rather than miners to add blocks to the blockchain. To take part in the block validation process, validators must stake 32 ETH with the chain. Every staked ETH functions as a sort of lottery win: the more ETH a validator stakes, the more likely it is that they will be chosen to "propose" the following block of Ethereum transactions and get more network rewards.
Before the validators agreed to participate on the PoS blockchain, they were informed that their staked ETH and any accrued rewards would stay locked up until a further update to the chain. Since December 2020, when Ethereum unveiled its PoS "Beacon Chain" as its first step toward the Merge, validators have been staking ETH and earning rewards. These validators can now finally cash out their stake.
Coming to the center of attraction, i.e., what is the Ethereum Shanghai Upgrade?
Introduction to Ethereum Shanghai Upgrade
Before implementing upgrades relating to the Surge, core developers have chosen to focus on the Ethereum Shanghai network upgrade, which will be the next significant upgrade for the Ethereum network. The Shanghai Upgrade will ensure that there are fewer delays and problems as they get ready for the Surge upgrade, which is an upgrade path that increases the blockchain's maximum Transaction Per Second (TPS).
Although many EIPs are included in the Ethereum Shanghai Upgrade, EIP-4895: Beacon Chain Push Withdrawals as Operations will be the main advancement. Basically, the proposal gives validators access to staked ETH that has been deposited into the Beacon Chain since December 2020, when the Beacon Chain was first announced. In the end, EIP-4895 aims to provide extra liquidity to HODLers and long-term ETH stakers by allowing them to eventually withdraw their ETH with minimal gas fees after more than two years of staking.
Apart from EIP-4895, various other EIPs will be implemented, which are mentioned below.
List of other EIPs to be implemented
EIP-3860: Limit and Meter Initcode
The proposal limits the maximum size of the initcode to 49152 and adds two gas for each chunk of the initcode which is 32 bytes in size. In short, this fixes Ethereum out-of-gas exceptions.
EIP-3855: PUSH0 Instruction
With the help of this EIP, the EVM will receive a new command that will enable smart contracts to become smaller and the contract code more optimized.
This proposal, which should not be confused with the centralized crypto exchange of the same name, lowers the cost of block building and permits builder-proposer separation. As a result, network users will pay less in gas fees, and traders who use builders to carry out complex trades will no longer be responsible for failed transactions.
Importance of implementing the Shanghai Upgrade
Reduced gas fees: Reducing gas fees for layer-2 solutions like Polygon, Optimism, and similar ones that run on top of Ethereum is one of the main changes that the Ethereum Shanghai Upgrade is anticipated to bring about. Using Ethereum is now quicker and less expensive thanks to these L2 solutions, and this improvement might even lower the cost of transactions on the Ethereum blockchain.
Withdrawal of staked ETH tokens: Before the Ethereum Merge, anyone who was interested in joining the new PoS Ethereum Beacon chain as a validator was required to stake a particular amount of ETH into a deposit smart contract, which remained locked in with the contract even after the Merge. However, with the Shanghai Upgrade, we might witness the release of the lock-in and allow people who have staked their ETH tokens to unstake them.
Updates to smart contract facilities: This is another significant change that will result from the Shanghai Upgrade. The largest blockchain network that supports smart contracts, Ethereum, will continue to advance in terms of development.
How will the Shanghai Upgrade impact the investors?
Stakeholders of ETH will be able to remove their staked funds from validators thanks to the Ethereum Shanghai Upgrade, especially EIP-4895. This is crucial because, at the time of the launch of the Proof-of-Stake Beacon chain in December 2020, Ethereum network users who wished to participate in Ethereum 2.0 as validators had to stake a minimum of 32 ETH tokens, which were essentially going to be locked up for an infinite duration. These validators weren't able to withdraw their money at any time after they had staked the 32 ETH tokens.
You might have a question – What impact will this act have on you? That really relies on your situation or, more precisely, the type of participant you are on the Ethereum network. If you are simply a validator on the Ethereum PoS chain, you can now withdraw your staked ETH tokens and sell them if you want to.
Conclusion
An essential function for Ethereum stakers or those who are considering staking is enabled by the Shanghai update. It's one of the most eagerly awaited features for those who have waited patiently for a fully functional Proof-of-Stake system, along with Ethereum's Merge. Anyone who has access to ETH would benefit from understanding the upgrade and what it offers, even though its possible impacts on the market remain unpredictable.

Disclaimer: Cryptocurrency is not a legal tender and is currently unregulated. Kindly ensure that you undertake sufficient risk assessment when trading cryptocurrencies as they are often subject to high price volatility. The information provided in this section doesn't represent any investment advice or WazirX's official position. WazirX reserves the right in its sole discretion to amend or change this blog post at any time and for any reasons without prior notice.