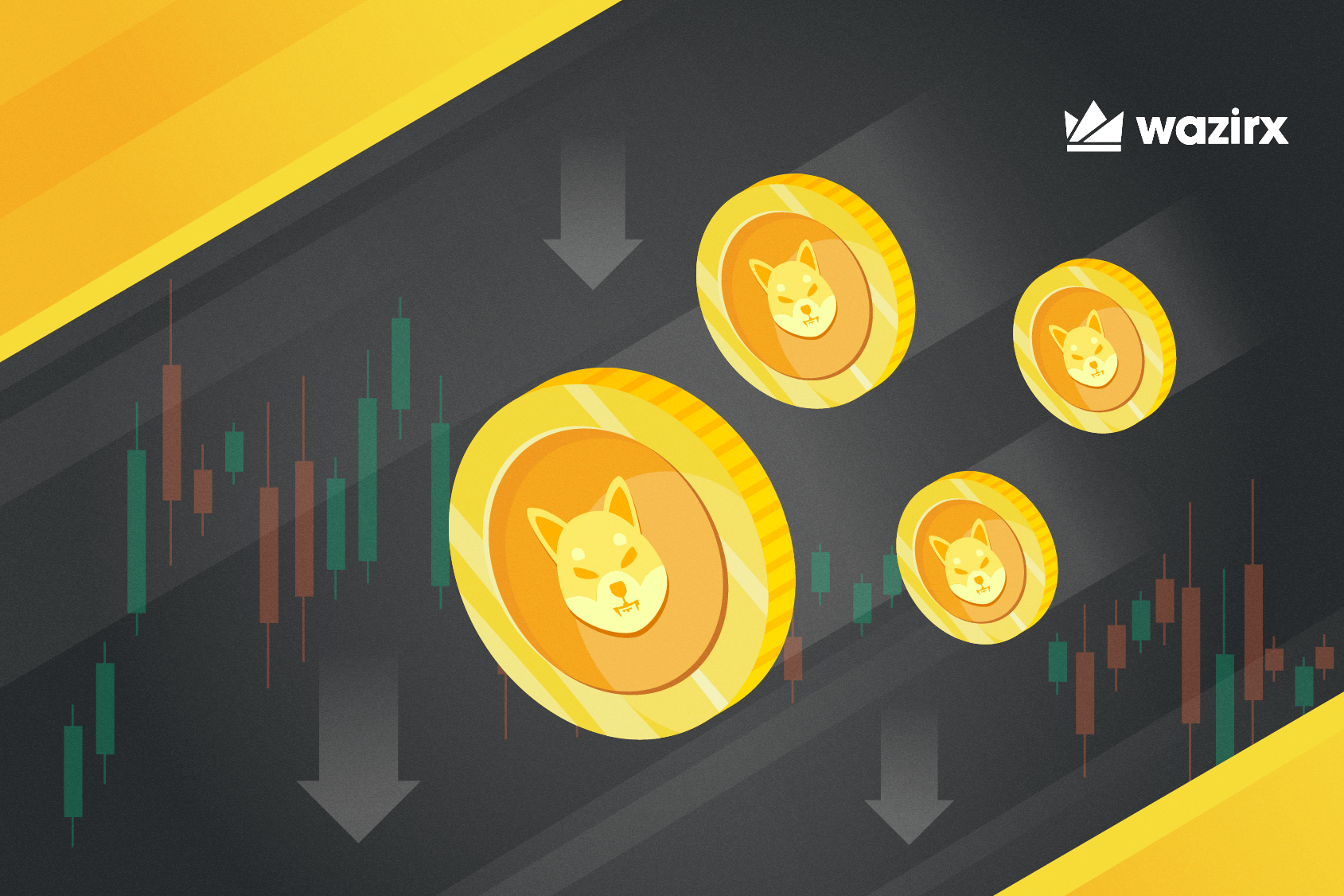 Shiba Inu – the second most famous meme coin, has perhaps been the most trending crypto in October. The reason for this has mainly been its market capitalization reaching $51 billion, overtaking Dogecoin. It achieved this with a 777% gain in the month of October. 
However, there's one rule that applies to every investment; nothing is ever guaranteed. This is exactly what we're witnessing right now with this Dogecoin Killer.
After reaching a new all-time high ($0.00005478) in October, Shiba Inu price has seen constant drops ever since. While history has shown the same pattern for many coins, other issues might also be the cause of the latest Shiba Inu dip.
What is Shiba Inu?
Before getting into the details, let's get a hold of what Shiba Inu is.
Shiba Inu (SHIB) is a decentralized Ethereum-based cryptocurrency invented in August of 2020 by a pseudonymous creator(s) named 'Ryoshi". Interestingly, the Shiba Inu dog is a featured mascot for Dogecoin (DOGE), the most prominent meme coin. SHIB aspires to be an alternative to Dogecoin and is also titled as being the "Dogecoin Killer".
Unlike Bitcoin, Shiba Inu is simply a meme coin, meaning – it doesn't have any real purpose other than being inspired by a joke or meme (we'll go over this in more detail later).
Speaking of SHIB and Bitcoin, both crypto coins are quite distinctive concerning their supply. Bitcoin is scarce in supply with a hard cap of 21 million coins, whereas SHIB has a massive circulating supply of one quadrillion coins.
Memecoins in the World of Crypto
Now, down to understanding what category of cryptocurrency Shiba Inu falls into. The Shiba Inu coins are known as meme coins. Meme coins have been established purely from them being a joke or meme and necessarily do not serve any major purpose as a cryptocurrency. 
In addition, these digital assets can also be created by anyone. After the massive hype of Dogecoin, several such meme coins have jumped onto the bandwagon in an attempt to get fast profits.
Why are meme coins famous?
With a market cap of $35 Billion in October 2021, Shiba Inu price gained good numbers after Elon Musk tweeted a photo of his new pet called Floki- a Shiba Inu (a breed of dog in Japan) puppy. This was the driving force of the price surge of the altcoin. As of now, Shiba Inu is at a market cap of $25.63 Billion.
Generally, such assets are made popular by celebrities or influential people who promote them, increasing their value and elevating their prices in the market.
This is also the reason meme coins are considered extremely volatile and a high-risk investment since there's no definitive utility concerning blockchain technology. However, these coins are welcomed in the crypto space. 
Apart from this, meme coins are not guaranteed to last long since their popularity can fade with time, and different trends in the future can make people lose interest in them. There's no definite time estimate as to how long a meme coin can exist in a dynamic market of cryptocurrency. 
However, despite this, meme coins report tremendous growth trends in their prices as they are brought into the spotlight by big shots of leading industries or companies.
As of now, according to the website- Coinmarketcap, there are about 124 meme coins introduced and circulating in the cryptocurrency market (including Shiba Inu). 
Why is Shiba Inu's price falling?
Down to our main topic, the drop of Shiba Inu price is largely attributed to the actions of a whale. We'll quickly run you through the term 'Whale' to better understand the situation.
Shiba Inu whales:
A Shiba Inu whale refers to an investor that holds massive amounts of the Shiba Inu coin in the crypto market.
Whales' manoeuvres are quite powerful and can directly impact the price of a particular cryptocurrency and are also sometimes responsible for intense price fluctuations.
One of the common tactics of whales includes selling off several cryptocurrencies below the market price to drag their value. Consecutively, whales take advantage of this and buy high volumes of these digital assets, which in turn again results in a price surge.
Hence, whales are quite significant as they can manipulate the market price accordingly and make them more volatile.
The Drop of Shiba Inu
The drop of Shiba Inu price is the cause of a whale wallet, possessing billions of dollars worth of SHIB tokens. The matter right now is quite perplexing since no one can make an exact claim as to who it is that has caused this.
However, if we look at reports, one of the long-running whale accounts (holding over 25% of all Shiba Inu coins) has taken out almost $3 billion worth of Shiba Inu tokens from its original wallet. It is stated that there were about four transactions made to different accounts, each of $695 million.
The four transactions total up to $2.78 billion. In addition, Ethereum's founder, Vitalik Buterin, also received more than half of all Shiba Inu tokens from the token's anonymous creator. Vitalik further sent the coins he received to a burned wallet (a wallet that no one has access to). These coins weighed more than $5 billion and have been taken out of circulation forever by Vitalik, also causing more bottlenecks in Shiba Inu price.
Conclusion
In a nutshell, Shiba Inu price seems to be falling due to the activities of a whale and possibly other common factors. However, as compared to Dogecoin, Shibu's valuation isn't that much.
In any case, It is always recommended that you do your research before investing in any cryptocurrency. Do you think Shiba Inu is a good investment? Share your thoughts below in the comments!

Disclaimer: Cryptocurrency is not a legal tender and is currently unregulated. Kindly ensure that you undertake sufficient risk assessment when trading cryptocurrencies as they are often subject to high price volatility. The information provided in this section doesn't represent any investment advice or WazirX's official position. WazirX reserves the right in its sole discretion to amend or change this blog post at any time and for any reasons without prior notice.