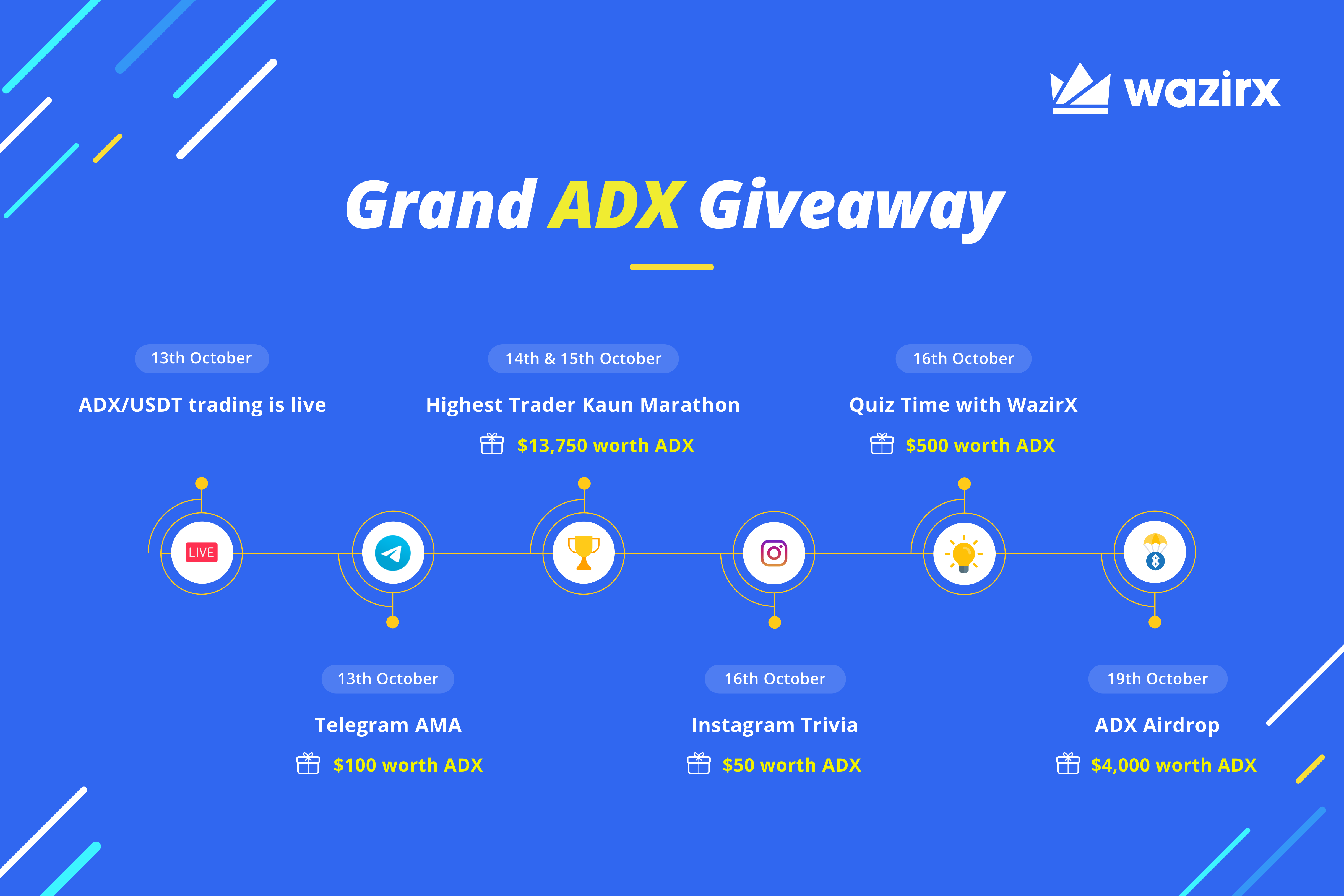 Namaste Tribe! AdEx Network (ADX) is listed on WazirX and you can buy, sell, trade ADX in our USDT market. We are also running a Grand ADX Giveaway for you via a host of activities.
ADX Listing Schedule
Deposits — You can deposit ADX from another wallet to WazirX
Trading — You can buy, sell, trade ADX in our USDT market
Withdrawals — You can withdraw ADX from your WazirX wallet
ADX Giveaway Schedule
AMA with Ivan Manchev
Participate in a live AMA with Ivan Manchev, Communications Specialist at AdEx Network, to learn everything about ADX. Prizes of $100 worth ADX for the top 10 questions.
When: Tuesday, 13th October, 5 PM IST
Where: http://t.me/wazirx_discuss
AMA Guidelines:
Part 1: We will ask Ivan Manchev 10 questions (crowdsourced from our Twitter followers) about ADX
Part 2: At the end, we will unmute the group for 10 minutes where you can ask your questions live to Ivan. He'll try to answer as many as he can.
Giveaway:
$100 worth ADX will be distributed to the top 10 questions selected from Twitter. After the AMA, we'll announce the winners on Twitter.
Highest Trader Kaun Marathon: ADX/USDT
Get ready for a new format of Highest Trader Kaun Marathon with more prizes and more chances to win!
What's new in the contest?
The trading contest will start on Wednesday, 14th October at 9 AM IST and will continue non-stop till Thursday, 15th October 9 PM IST!
Yes, you can participate in the contest any time between Wednesday and Thursday, trade hard, and win!
Total prize of ₹10,45,000 (~ $13,750 USD) worth ADX. You can win prizes based on your trading performance for the entire 36-hour long trading contest marathon!
Contest timing: Wednesday, 14th October, 9 AM — Thursday, 15th October, 9 PM IST (non-stop)
How can I participate in the contest and win?
Winners will be decided on the basis of the volume of ADX traded in our USDT market.
How to qualify: Trade at least a minimum volume of 359 ADX (worth ~₹5,000 INR)
What are the prizes?
We have prizes for two kinds of traders:
Prizes for top 20 traders by volume
Prize pool for 100 lucky traders who perform at least the minimum volume of ADX/USDT trades
Prizes for volume of trades:
| | | |
| --- | --- | --- |
| Trader Rank | Prizes (ADX) | INR worth |
| 1 | 14,939 | 2,09,000 |
| 2 | 9,337 | 1,30,625 |
| 3 | 5,229 | 73,150 |
| 4-10 | 2,988 | 41,800 |
| 11-15 | 1,942 | 27,170 |
| 16-20 | 822 | 11,495 |
Prizes for 100 lucky traders:
100 lucky traders selected from all the qualifying ADX/USDT traders will win 104.57 ADX (worth ₹1,463) each! You can only qualify for one prize at a time. For example, if you qualify for prizes for top 20 traders, you won't be eligible for a lucky trader prize.
Instagram Trivia Contest
Participate in ADX Trivia contest on Instagram and win prizes for every correct answer!
When: Friday, 16th October, 12 PM IST
Where: instagram.com/wazirx
How to participate?
Follow us on Instagram: instagram.com/wazirx
We'll share 5 questions on Instagram Story, each at an interval of 3 mins
Choose the correct answer
For every question, one lucky winner from all the correct answers will win 54 ADX each
Quiz Time with WazirX: ADX
We are hosting a fun quiz session about ADX. Show off your ADX knowledge & win prizes.
When: Friday, 16th October, 6 PM IST
Where: http://t.me/wazirx_discuss
Reading resources:
ADX Airdrop
ADX worth $4,000 will be airdropped to the top 400 WRX holders on WazirX for always supporting us!
About ADX
AdEx Network is a new-generation decentralized ad network aiming to address and correct some of the most prominent inefficiencies of the online advertising industry.
AdEx originated as a decentralized ad exchange and subsequently evolved into a protocol for decentralized digital advertising. The protocol facilitates the trading of advertising space/time, as well as the subsequent verification and proof of ad delivery. It covers all interactions between publishers, advertisers, and end-users. The protocol combines traditional peer-to-peer technology, cryptography, and blockchain.
The AdEx team also develops an open-source platform built on top of the Ethereum implementation of the protocol, available at (platform.adex.network). With its in-house developed OUTPACE payment channels and the ability to process micropayments for each individual impression, AdEx claims to have become the largest payment channels network on Ethereum. It is currently processing an average of 70 million transactions per month.
Global Market Cap (past 24 hrs): $19,620,294 USD
Global Trading Volume (past 24 hrs): $1,128,777 USD
Circulating Supply: 101,853,298 ADX
Total Supply: 113,995,775 ADX
Max Supply: 150,000,000 ADX
Note: For the entire giveaway, ADX price will be considered at $0.183965, i.e., ₹13.99
Happy Trading!
Disclaimer: Cryptocurrency is not a legal tender and is currently unregulated. Kindly ensure that you undertake sufficient risk assessment when trading cryptocurrencies as they are often subject to high price volatility. The information provided in this section doesn't represent any investment advice or WazirX's official position. WazirX reserves the right in its sole discretion to amend or change this blog post at any time and for any reasons without prior notice.