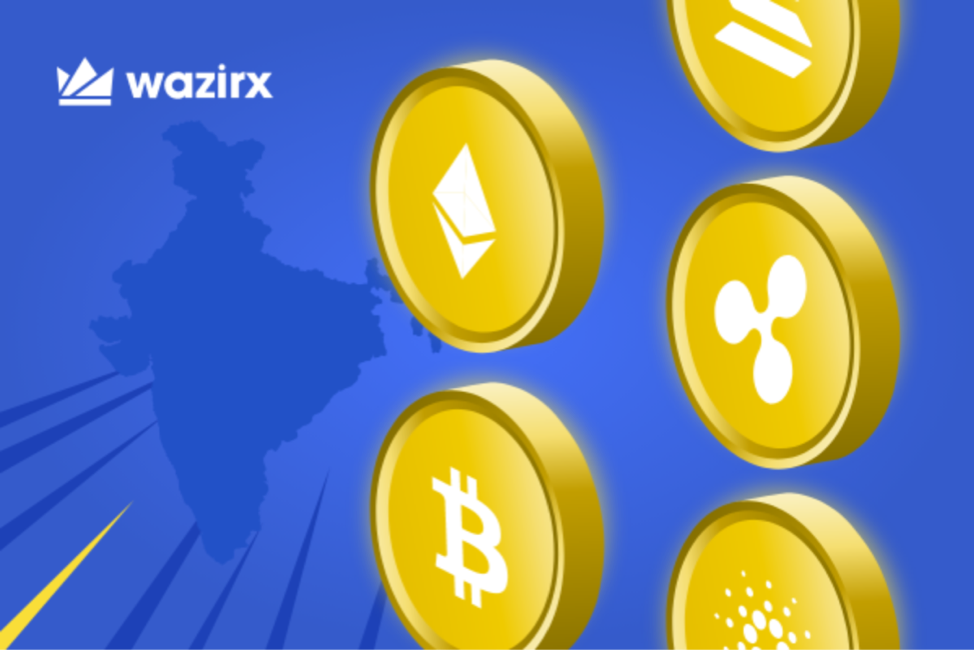 Hedera (HBAR) is a Crypto that works on Hashgraph, a type of blockchain. The Hedera Hashgraph is responsible for Cryptos, smart contracts, and distributed apps. Hedera uses a different version of the Proof-of-Stake (PoS) consensus technique compared to other Cryptos. It offers quicker transaction speeds, fewer fees, and less energy consumption. It is also owned and backed by some of the largest companies in the world.
In this blog, let's learn more about Hedera Crypto and how you can buy Hedera Coins in India.
What is Hedera Crypto?
Hedera is a public network & governing body for creating and deploying Decentralized Applications (DApps), and it is entirely open source and uses a Proof-of-Stake (PoS) consensus mechanism. It has important implications for public and private distributed ledger system use cases, including Crypto and dApps, due to its:
Lightning-fast throughput
Asynchronous Byzantine Fault Tolerance backed by mathematical proofs
Hedera intends to be faster, more energy-efficient, and less expensive than competing solutions while also being more secure and scalable. It promotes itself as a third-generation public ledger, claiming to enhance the concepts and methods of earlier systems while also adding new features.
Pros and cons of Hedera Crypto
Pros
Compared to Bitcoin & Ethereum, the speed of transactions per second is quick, and the cost of transaction fees is relatively low.
It is a unique, the first of its type, secure, and scalable network.
Excellent for the business sector that focuses on energy efficiency.
Cons
The network can only support ten transactions per second invoking smart contracts (similar to Ethereum).
Still a moderately small project compared to some of the sector's giants.
Because of its no-fork policy, Hedera Hashgraph's development is centralized.
Some famous use cases of Hedera Crypto
Payments on Hedera
Organizations have the chance to adopt innovative public distributive ledgers for payments using $HBAR in a secure and legal manner. This would involve facilitating settlement and supplying liquidity to emerging markets.
Fraud mitigation
Hedera allows high-throughput, verifiable tracking of business transactions for every new or existing application and decentralized identifiers that follow the W3C Decentralized Identifier (DID) standards. This guarantees the trustworthiness of all participants and provides associated systems with a real-time view of transactions for predictive analysis and the identification of illicit practices.
Data compliance
By giving a publicly auditable log of actions taken and giving users the ability to audit their data, Hedera hopes to increase consumer confidence in data compliance. In addition, this would remove third-party intermediaries and streamline auditing.
Tokenized assets
Without the need to set up a smart contract, the Hedera Token Service makes it simple to configure, create, and manage fungible and non-fungible tokens on Hedera. Custom tokens have a transfer fee of less than USD$0.01 and are just as quick, fair, and secure as HBAR.
How to buy Hedera (HBAR) Coins in India?
Below are a few simple steps you can follow and buy the HBAR token in India with WazirX, India's most trusted and widely used Crypto exchange.
The best way to buy HBAR tokens is using P2P trade. To get answers to all your queries related to the P2P trade, click here!
Step 1 – Sign-Up on the WazirX platform
To begin buying and selling HBAR Crypto, you are required to create an account on the WazirX platform by signing up. Also, you can directly Log-in if you have an account already on the platform.
For your reference, here's how you can open an account on WazirX.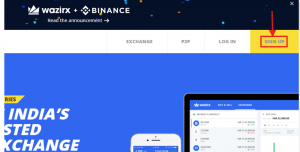 Step 2 – Set up your account security by verifying your email address.
This step is about verifying your email address. After you sign up on the WazirX platform, you'll get a verification link on your registered email. By clicking on that link, you'll get two options to ensure the security of your account – the authenticator app and mobile SMS.
Note: The authenticator app is a more secure way to stay safe when compared to mobile SMS because there's a risk of delayed reception or SIM card hacking.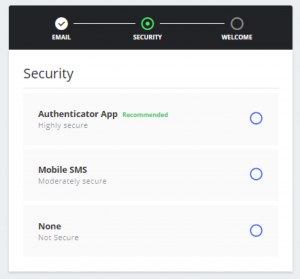 Step 3 – Complete the KYC process.
After choosing your country, you can proceed with completing the KYC process. Click here for a detailed overview.
Note: You must complete your KYC to be able to trade P2P or withdraw funds on the WazirX app.
Step 4 – Add funds to your WazirX account using P2P.
After integrating your bank account into your WazirX account, you can buy USDT through P2P to the WazirX wallet. The USDT will act as funds to help you buy your favorite Cryptos.
Step 5 – Finally, buy HBAR on WazirX.
You can now easily purchase HBAR tokens using P2P trade on the platform. Check the HBAR to INR rate from here and HBAR to USDT here.
After logging in to your WazirX account, you can choose USDT from the "Exchange" tab. You can also check all the price charts, order book data, and an order input form on the right side of the screen.
Click "Buy" after entering the amount and checking the total USDT amount to be paid.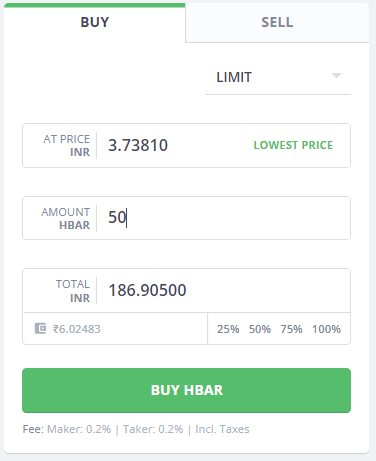 Your order will be placed according to the price you have input. A seller willing to sell at a price will be notified, and then you can exchange the tokens using P2P.
It might take a few minutes for the order to be completed, but as soon as it is executed, you will receive the HBAR Coins you purchased in your WazirX wallet.
Happy Trading!

Disclaimer: Cryptocurrency is not a legal tender and is currently unregulated. Kindly ensure that you undertake sufficient risk assessment when trading cryptocurrencies as they are often subject to high price volatility. The information provided in this section doesn't represent any investment advice or WazirX's official position. WazirX reserves the right in its sole discretion to amend or change this blog post at any time and for any reasons without prior notice.