Namaste Tribe! We had an amazing AMA with Ankitt Gaur, Founder & CEO of EasyFi Network, in WazirX Telegram group as a part of Grand EASY Giveaway on Wednesday, 27th January 2021. Here's a quick summary of the session.
Hi Ankitt, we are glad to have you here today! Could you introduce yourself and EasyFi Network?
Well, to introduce myself, I have been working in the technology space for the last 17 years and in Blockchain for the last 3.5 years to be precise. Wrote Book on Blockchain for explaining Blockchain to CXO level people in a more non-tech manner with an objective of fuelling the adoption of Blockchain as always it's the CXO layer that drives the mainstream adoption of any tech. I started Koinfox in 2018 and was then joined by other two partners Anshul (Who is also a co-founder here in EasyFi) and Opinder.
After running Koinfox successfully for 1.5–2 years we decided to go deeper into this tech revolution, hence decided to do some ground-level work. Hence started EasyFi a Lending Protocol with Anshul Dhir as Co-Founder and announced the project in August.
Q1. Every project's coins have their main Utilities & real-life use! So, Can you tell us what the main role of EASY is in your ecosystem? Explain its Utilities & Real-Life use cases?
(via @starcryptofi)
We have many utilities which are listed on our whitepaper. Some of them are as follows: Governance, Protocol Incentivization, Staking Rewards, Cross Market Interaction, Cross Chain Settlement.
Q2. Can you explain "Dual Farming with Native Staking" features of EasyFi Network? How does it work?
(via @azyrmdhn)
Our Dual Farming Program is a new variant of yield farming or liquidity mining whereby EasyFi will partner with different projects, and allocate a portion of the partner project's native token (say XYZ) towards incentivizing yield farmers. It is a staking method that will allow users to earn a partner token by staking $EASY tokens.
We are continuously adding new partners to this program – We started with Matic and then now BoringDAO – EASY stakeholders shall have more options to choose from as reward token while they stake EASY.
Q3. Can you briefly explain the Micro Lending features in EasyFi Network? What are the pros and cons? What are the qualifications and requirements needed to be eligible for this feature?
(via @Shabbir30260554)
We have seen a surge in P2P finance in the crypto and tokenized digital assets markets while also witnessing new technologies in this sector. We are confident that one of the major use cases of P2P finance is microlending – this has not been explored at all in the Defi space. We believe that Microlending will enable real-world use cases such as trade-financing, working capital loans, education loans, and pay-day loans – this deployment of funds will derive better economic values for DeFi.
EasyFi will bring together lenders who are willing to offer such under & uncollateralized micro-loans with borrowers who are seeking these loans. However, in order for that to function well, it is imperative that we have creditworthiness checks built into it. The eligibility will be managed and monitored using our TrustScore based Credit rating generation system.
Read more about it here: https://medium.com/easify-network/easyfi-integrates-multi-chain-credit-rating-system-87b01865f985
Q4. What will be the interest percentage that the person or institution that wants to access a loan from EasyFi will have to pay, and what is the risk or consequences of not paying it, in the stipulated time?
(via @KeilaHe42517487)
Currently, all loans on EasyFi are collateral-based hence there is the only risk of liquidations and losing your collateral in case the loan is unpaid and collateral's value goes below the defined levels of risk. For interest percentages, you can refer to the interest models detailed in the protocol. In brief, I would like to mention these interest rates are decided by the protocol as a function of available liquidity in the protocol and are completely decentralized.
Q5. How does the Meta transactions work that EasyFi aims to use to make Gasless Transactions?
(via @MachanCrypto)
Meta transactions in general operate in form of postpaid mobile collection. Where you pay after you use in the sense that first dapp pay for the transactions and then can settle with the user's payouts later. However, in the current version of meta transactions implementation, it's the dapps that bear the gas cost. Financially that's not a long-term sustainable model. We will bring the use first pay later options in times to come.
Q6. How can EasyFi Network enable atomic level fast plasma exits? This will absolutely be a game-changer.
(via @FarmanSait46)
Ha Ha ha. I can completely understand the need, have discussed the same on various global panels. Unfortunately, this is not a DeFi. protocol function, this is rather an underlying blockchain function. I am sure, in near future, there will be better and more secure possibilities available for the same.
Q7. Flexibility of a product helps in its dominance, the question is: EasyFi only uses Metamask, so in order to make the app flexible when will other wallets be integrated into it?
(via @FORTUNATEJS)
We are already working towards the expansion of the ecosystem and deeper integrations with multiple wallet systems across the globe. We have also referred to this as one of our major milestones in our Q1 roadmap. You can read about it here: https://medium.com/easify-network/easyfi-q1-2021-roadmap-80e5dda0ab35
Q8. As we all know that, Ethereum is very jammed for now, but EasyFi chose Ethereum to deploy contracts. With the increase of trading volume, what plans do you have in terms of scalability?
(via @hoavouuy)
Core functionality of Easy is on Matic network and is the main genesis of EasyFi's existence. We are running staking and farming programs as of now on ETH since most tokens are on Ethereum main chain. We are going to start staking and yield farming possibilities on Matic network and other blockchains as we reach multi-chain deployment.
Q9. EasyFi is being built on Layer 2 Chain Matic (also India based product), so do you intend to cater any special services to Indian customers?
(via @Fantaaj)
I cannot say "special services" but surely interesting for our users from India. Our Indian community has been very supportive of our project from the very beginning and we really would like to give them back in our own way.
Q10. What are the main achievements that EasyFi has achieved in 2020 and what are EasyFi's 2021 goals?
(via @Xu207)
Our journey started in Q4 2020 after we went live on mainnet with our protocol and app on Matic Network. We are happy to say that we completed all deliverables we listed for Q4. Some of the major achievements are as follows:
Achieved a TVL of $40Mill+ within 36hrs of launch
Had an exclusive listing on BitMax followed by our completely organic listing on Binance. Since then we have been listed on CoinDCX, ProBit, HotBit, Bilaxy, and today on WazirX.
We integrated some first-in-class technologies for a Layer 2 lending protocol – e.g. Chainlink price feed oracles, Liquidation modules, Credit rating generation system.
We started a unique farming model called Dual Farming and conducted them with Matic, Bor.
We expanded our local community networks to Vietnam, Korea, and now Turkey and Japan as well.
All of the above lead to our 2021 roadmap deliverables. This time we have a vision of giving wings to your digital asset with our #DoMoreWithDeFi initiative… get more from your cryptos and other forms of tokenized digital assets. You will see many new initiatives this quarter.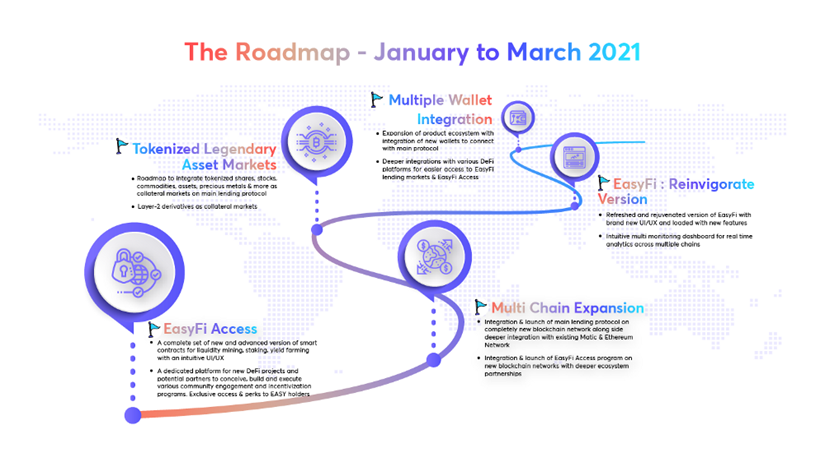 We launched a unique program called EasyFi Access – a dedicated platform for new DeFi projects to conceive, build, & execute various staking, farming & incentivization programs with EasyFi. Read more about our Access with Router Protocol here: https://medium.com/easify-network/easyfi-access-637a336b5ebf
We have partnered with BoringDAO to bring NonERC20 Assets as wrapped ERC20 tokens to our layer 2 DeFi protocol. We will soon have oBTC (BoringDAO BTC) and oLTC (BoringDAO LTC) tokens as collaterals on our lending platform.
There are several new initiatives we are taking.
You must also refer to our 2021 roadmap that has been detailed on our blog: https://medium.com/easify-network/easyfi-q1-2021-roadmap-80e5dda0ab35
Q11. How does EasyFi help ordinary people to use loans at this stage and how does it protect them from inflated interest rates?
We are coming up with more efficient options for loans with newer collateralization options. for example, if someone holds ETH and wants a loan can use easyFi. similarly, recently we partnered with BoringDAO to bring non-erc communities to DeFi for lending. so if you hold LTC or BCH you will be able to take loans by putting those also as collateral.
Q12. What's the focus of the EasyFi now? Build and develop products, win customers and users or partnerships? Are there any plans to burn or block unsold $ Easyfi tokens? control flexibility, cost and security?
We focussed on building products in tandem with defi ecosystem projects across multiple chains. There are no plans in near future to burn any tokens.
Q13. EasyFi has a unique model that encompasses Staking/Lending/Governance as well as offering cross-chain interoperability — so how does your team maintain all of them at their best?
We have a quite experienced team from tech and financial background who are in love with this tech. Hence this is more fun than work for the team. We are working on some very interesting options for common users. as our mission is to easyfying decentralized loans for regular consumption and going to touching many areas of inefficiencies in lending space.
Q14. EasyFi offers financial products that have an immediate impact on users' real lives. Can you give an example of what kind of product has a direct impact on the user?
I will give you a recent example, a user had invested 500 USD in ETH when it was 275. he wants to get 300 USD for some medical emergency. Hence he took a loan of 300 USD by putting his eth as collateral instead of selling it. now he did repay his loan and released his collateral. Worth of his assets is not close to 2000 USD. Instead, if he would have sold his eth at that point, he would have missed these potential gains. hope this demonstrates the value significantly
Q15. Why did you choose the project called EasyFi? Where do you get inspiration from?
We wanted to simplify the usage of decentralized finance. hence EasyFi
Q16. Are you a global project or a local project? Can anybody anywhere use Your project without any restrictions?
Yes
Q17. Can you briefly describe what is Easyfi in 3-5 sentences? And what are your Mission and Vision?
EasyFi is a lending protocol, focussed on the borrowing side of lending as there is enough supply of capital on DeFi layer. but the deployment of capital in various avenues is something important.
Q18. EasyFi is built on Matic Network. Why did you choose their blockchain? What are the unique features of Matic that fit the vision of EasyFi?
EasyFi is focused on simplifying finance, hence a fast efficient, and neat eth compliant blockchain was needed. and there was no better blockchain available at the time when we started which was production-ready.
Q19. What is the strongest advantage that you think will make your team leading the market? In contrast, what is your weakness and How do you plan to overcome it?
Strongest advantage of our team is to have an in-depth understanding of the financial as well as the technical side of the business which makes us enablers and buidlers for the product. Weakness is the acceptability as we belong to an Asian country. however, this is going away over time and is being more and more accepted and welcome in global markets. I will take two more two more questions before we call this session and END as I have another meeting scheduled.
Q20. Governance is one of the topics most paid attention to by the communities, how does EasyFi plan to exploit this topic?
We are going to open protocol for user governance for various protocol decisions. And those will be decided by the $EASY token holders in the long run.
Q21. Explain how EasyFi runs in Collaborative Compliant Ecosystem? What is its operation principle? How to comply with regulatory authorities in terms of KYC, DD, and AML???
We have already partnered with some on-chain identity solution companies for this very purpose, the same is to be announced in the next couple of days with a very innovative multi-pillar approach. Stay tuned.
Disclaimer: Cryptocurrency is not a legal tender and is currently unregulated. Kindly ensure that you undertake sufficient risk assessment when trading cryptocurrencies as they are often subject to high price volatility. The information provided in this section doesn't represent any investment advice or WazirX's official position. WazirX reserves the right in its sole discretion to amend or change this blog post at any time and for any reasons without prior notice.