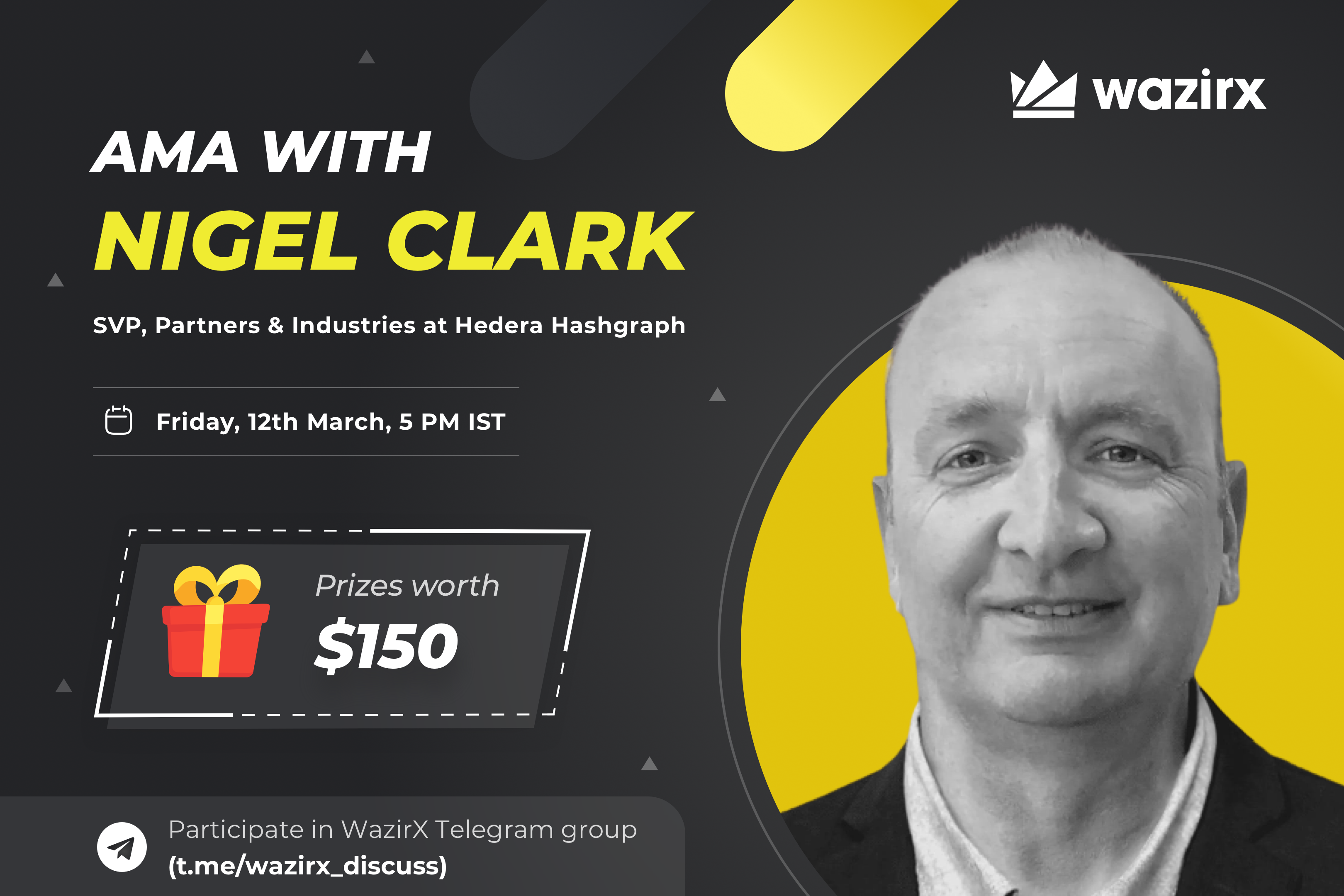 Namaste Tribe! We had an amazing AMA with Nigel Clark, SVP – Partners & Industries at Hedera Hashgraph, in WazirX Telegram group as a part of Grand HBAR Giveaway on Friday, 12th March 2021. Here's a quick summary of the session.
Hi Nigel, we are glad to have you here today! Could you introduce yourself and Hedera Hashgraph?
Hi all, I am Nigel Clark, SVP of Partners and Industries at Hedera Hashgraph. Excited to be here today at this important time.
Hedera is a global public network. We are owned governed by some of the world's leading organizations. We have 6.5m transactions per day for consumer and business applications. And growing fast around the world!
Q1. Read many articles where Hedera was mentioned in the fight against Covid-19, what challenges were faced by the team when many hospitals were using it? Before and after difference any?
(by @vikas55722)
This is a great question, and it was particularly pleasing to see Hedera being used by the UK National Health Service. Actually, this use case was ideal for Hedera due to the speed, finality and low cost of transactions on Hedera. In this example, the Hedera Consensus Service is used to notarize the temperature of vaccines and blood samples in refrigerators. Using the trust of the Hedera network, regulators and health professionals are able to prove that a vaccine or blood sample is compliant. The record cannot be altered by the hospital or a health professional and therefore we have increased trust and transparency of data. Here is a link to a great new video with the team working on the project:
Q2. As a developer, What kind of benefits Hedera can provide?
(by @muratgunes_mg)
Hedera's core services are open source and all the tools and documentation are freely available to make it quick and easy to build on Hedera. We have an extremely passionate and active developer community and our developer advocates are there to assist and answer questions when needed. And of course, there is the Hedera Improvement Process – HIP – that we would encourage you to contribute to if you have great ideas to improve the network! Join us on the Hedera Discord developer channel at hedera.com/discord to learn more about developing distributed applications on Hedera.
Q3. What is your plan to strengthen and develop Hedera community to increase more people to look at the product instead of price?
(by @thihuyen93)
Hedera has never focused on price. The only focus is on building the most decentralized and utilized public network for the world. We have a long-term view that aligns with Leemon and Mance's goal of creating a 100-year network and we set ourselves out very clearly right from the start. The awareness of Hedera is growing day by day and as more and more projects come online, the network will continue to grow. It's an exciting time and our recent Token Service hackathon had 600+ developers!
Q4. Products in a project are important. What products does Hedera Hashgraph have that can compete with competitors?
(by @nhi35022657)
Since open access, Hedera has grown to become one of the most utilized public networks in the market. With more than 6m transactions per day and an average time to consensus of 3-4 seconds (with finality!), Hedera has more than proved itself for projects at scale. Our consensus services are unique in the market to enable fair ordering, timestamping and notarization of events – from any application or service or indeed any other network. Examples of great projects include the Coupon Bureau tackling coupon fraud where we see the need for huge computational volume or Adsdax working with Zee Entertainment or SUKU focusing on supply chain tokenization.
Q5. What is hashgraph consensus?
(by @boneygeorge8)
It is the core consensus engine for the hashgraph network. An alternative to Blockchain but it works very differently. First of all it is proof of stake, but more than that it is unique in the market in that it offers the highest level of security possible – ABFT – which together with Leemon's innovations around Virtual Voting, Gossip about Gossip and fair timestamps ensure the highest possible level of performance and time to finality – with no leader. Our two core services – HTS and HCS directly benefit from these security, performance, and finality characteristics. Here is a link to Dr. Leemon Baird explaining the Hashgraph Consensus algorithm:
Q6. As far as I can see, NFT and BSC are the next trends of new projects. As I know there are a lot of very good development projects on this platform, what do you think about this development?
(by @MMoonhihihi14)
The interest in BSC goes to show that if a network can provide higher levels of performance and low transaction costs that users will migrate over to that solution in large numbers alongside the assets and liquidity that comes with that. Hedera offers the highest levels of performance and incredibly low cost per transaction but also brings the stability and governance of one of the only enterprise governance models in the market. We will see the trend of activity migrating from the first movers in the market and this will even accelerate greatly. In terms of NFTs, you can easily and quickly deploy NFTs on Hedera at a cost that is 1% of that of Ethereum and we have real projects today such as SUKU deploying NFTs on the Hedera network for this very reason. We strongly believe that we will be at the forefront of activity around NFTs as a result of the launch of the Hedera Token Service.
Here are some links to the Hedera Token Service whitepaper and webinar:
https://hedera.com/hh_tokenization-whitepaper_v2_20210101.pdf
Q7. Are other applications already live on hedera and how good is that? Is that enough to ditch the old method?
(by @kshivam123)
There are many applications live on Hedera and even more, being built as we speak. What is interesting is that as a global public network we are probably only aware of a fraction of those applications. We love the work that people have done with the core line of business capabilities like Entrust around supply chain product provenance and cross-border tax compliance, but we are equally as excited by the gaming applications and the various causes for good. At the end of the day, Hedera has been designed from the ground up by Dr. Leemon Baird and the team to make it consumable for all. And with the Covid crisis, seeing that come into play to assist with blood and vaccine use cases was – from a personal angle – particularly encouraging
Q8. What are some of your goals/targets that you want to achieve in this ongoing year?
(by @Mithila_Palkat)
Not just the coming year, but for many years. For us, after a lot of investment, 2021 is our year of scale. We have key product goals to increase the capabilities of the network as well as council recruitment goals to increase adoption. Ultimately, we will become more and more decentralized such that anyone can run a node and anyone can build on and benefit from Hedera. From the smallest consumer, through causes for good, to the largest corporates. From the tomato grower to the energy supplier.
Q9. What are you major goals to achieve in the next 3-4 years?
(by @sunhousehahaa)
As I said above- the scale is now key for us. We have a full product roadmap that will see Hedera increase capabilities around things like NFT's, CDBC's, stablecoins, interoperability with other networks, and support for community-led layer 2 solutions. We will also continue to develop deeper integration with existing enterprise applications and infrastructure. And once again, we will continue recruiting the highest calibre of council members to sit alongside the likes of Google, LG, Standard Bank, Nomura, Tata, Wipro – and most recently EDF energy.
Q10. Are their governing councils developing anything on it? Like Google, LG, Boeing who own hedera – are they using the Hashgraph in any form?
(by @rahulqq)
Our council members? Yes of course! Our governing council members are most definitely building on Hedera. From decentralized identity through tokenization of real-estate, stablecoins, and micropayments.
Here is a link to our council member homepage: https://hedera.com/council
Q11. What are the advantages of Hashgraph over blockchain?
Hi Diana – thanks for your question. Hashgraph is the next generation of DLT. First of all, Hashgraph is fast with finality. That means 000's a transaction per second with finality in 3 seconds. We do not have to wait for the next block confirmation. We do not rely on the centralization and cost of mining as we are proof of stake without a leader. The transaction cost is super low and we have fair timestamps and fair ordering of transactions that cannot be influenced. Not to mention the highest possible level of security. The list goes on!!! ?
Q12. As you know Covid-19 has a large impact on the crypto market, so how can your company maintain its project and also the team that is working hard during this pandemic?
Hedera has been a distributed, remote workforce company from day one, so from that perspective COVID didn't change the way we work that much. We have moved our council meetings to virtual sessions, and conduct them more frequently.
In addition, COVID has brought about unexpected applications being built on top of the Hedera network. Everywhere, which provides asset tracking and monitoring, is using Hedera at NHS facilities to monitor the cold storage equipment that is storing the COVID-19 and other vaccines. This is especially important for the approved COVID vaccines, which require exact degrees of cold storage at all times in order to maintain their efficacy. You can imagine how much more efficient communication between the pharmacy, and the distributor, and the pharmaceutical company would be when they have a single source of truth. When every minute counts, for the viability of the vaccine, that's important.
Another company, SAFE Health Systems, is working with the Mayo Clinic and a consortium of large tech companies to create a 'vaccine passport' that will enable you to verify vaccination status before, say, going to a concert or getting on a plane.
Q13. Collaborations and partnerships are some of the most important cornerstones to help improve adoption. Can you tell us about Hedera's current partners, plans for partnerships, and what everybody stands to gain from these partnerships?
Hi Kabir – yes you are right. Hedera is growing its partnership network at speed. We have new integrators, new development partnerships coming online all the time. We are encouraging partners to work together and my team is actively working to enable as many as possible.
Q14. I see that your codebase is "open-review". How can a developer suggest changes and improvements to the system? Is there any forum to discuss these changes?
Hi – Yes, the HIP program is designed for this. HIP stands for "Hedera Improvement Proposal". These improvement proposals can range from core protocol changes to the applications, frameworks, and protocols built on top of the Hedera public network and used by the community. The HIP author is responsible for building consensus within the community and documenting dissenting opinions, as well as tracking their HIP through the process outlined below. https://github.com/hashgraph/hedera-improvement-proposal
Q15. In the public ledger space, if $ALGO is Microsoft, $ETH is Linux then $HBAR is Apple, do you concur with this statement?
Hahaha – that's funnny!
Q16. How far away are we from the community SDKS and which all languages will be accessible?
We do have a number of SDKs, which can be found here: https://github.com/hashgraph And we continue to expand this reguarly.
Q17. I am an experienced developer and Ethical Hacker, do you have plans for Hackathon so as to check the security of your ecosystem periodically and also invite developers to build?
We recently had a hackathon in which 600 developers took part. There will be more hackathons in the future. We also recently engaged FP Complete, an IT engineering specialist, to perform an independent audit of the engineering work by Hedera's development team on the Hedera platform, including the new Hedera Token Service. The full completed audit reports can be found at https://www.hedera.com/fp-complete-hedera and https://www.hedera.com/fp-complete-hts.
Q18. Does the name Hedera ' have any meanings? What makes you select such a name? Also, can you explain how is your Tokenomics Distribution? How many tokens Will be minted? And How many tokens Will be locked by the team?
Hedera is the name for a kind of ivy. We wanted a name alliterative with Hashgraph, and felt like the growing, windy ivy was a good depiction. Yes, a detailed token economics whitepaper can be found here: https://hedera.com/papers
Q19. Could you tell us what are the reasons which Hedera can convince big players like IBM, Deutsch Telekom, Boeing to join Hedera as partners?
Major organizations are seeing the unique features of Hedera. They like the governance model and want to be part of shaping the future. They see the opportunity to build great use cases and drive all the committees. It's a great model for them!
Q20. Moving ahead to the next question in line can you tell us some applications already made or in the process on hashgraph?
As I mentioned, we have hundreds of projects, including many we don't even know about, because of the public ledger nature. Here are some more we do know of: https://hedera.com/users
Q21. As you are operating in a highly competitive sector of the market how do you plan to get ahead of your competitors?
Hedera was built from the ground up for speed, fairness, and low transaction fees. Yes, the market is competitive, but the foundations of the network will hold us in good stead moving forwards. We find that enterprise-grade applications, they require the speed and security that Hedera provides. This could be for a large, multinational conglomerate, or for a startup wanting to grow and provide fast transactions to a large base of customers.
As you think about the kinds of applications that can be built for a computer, vs. a calculator, that's where we really shine.
Q22. What is HBAR stand for?
HBAR is Hedera's currency. It is the coin users purchase in order to run applications on the network. So like BTC = Bitcoin and ETH = Ethereum, so HBAR = Hedera.
Q23. What do you think about the boom of the NFT + DeFi association that is causing so much interest in the world? How does Your Project take advantage of and exploit this reality?
The new Hedera Token Service (HTS) offers users the ability to issue and configure tokens on the Hedera platform, taking full advantage of Hedera Hashgraph's native performance, security, stability, and governance. Launched with over 60 partners last month, we're seeing a lot of interest in this already. HTS makes it simple to issue native, multi-signature tokens with scalable performance, native compliance features, native token swap capabilities, and predictable costs — all on a reliable network governed by a council made up of large, global, trusted organizations.
Disclaimer: Cryptocurrency is not a legal tender and is currently unregulated. Kindly ensure that you undertake sufficient risk assessment when trading cryptocurrencies as they are often subject to high price volatility. The information provided in this section doesn't represent any investment advice or WazirX's official position. WazirX reserves the right in its sole discretion to amend or change this blog post at any time and for any reasons without prior notice.