Namaste Tribe! We had an amazing AMA with Shiv Malik, Head of Growth at Streamr, in WazirX Telegram group as a part of Grand DATA Giveaway on Monday, 5th October 2020. Here's a quick summary of the session.
Hey Shiv Malik, could you please introduce yourself and Streamr.
It's good to be here! Especially since I'm supporting an Indian based exchange. I'm a NRI who spent a lot of my childhood holidays in India!
So I'm an author, co-founder of the intergenerational think tank and a former investigative journalist for the Guardian. Im now Head of Growth at Streamr and have been with the project since late 2017 (so three years now – whoop!) I got into crypto in the heady days of the great ICO boom in 2017 and worked for six months with the Golem project before joining Streamr.
Q1. Could you explain the main utilities and use-cases of your Streamr Protocol?
(by @ThakurCrypto)
So at the heart of the Streamr project is our attempt to build out a p2p pub/sub network for real-time data. A network like this enables applications and devices such as IoT sensors or connected cars or just regular software apps to share and trade their data. And will also greatly help dApps build out real-time messaging capabilities.
Why build this? Well, pub/sub is not provided in TCP/IP, the core protocol of the internet, meaning that developers of applications such as instant messengers, financial market data delivery, multiplayer games, or data-driven IoT applications have so far needed to resort to centralized message brokers such as Amazon Kinesis or run their own software and nodes (which is always a pain) with Apache Kafka – that's what we're trying to change!
So that's like bridging the gap, decentralized way
Yup. Exactly. If people are familiar with the BitTorrent network well it's a bit like that. Lots of people running the network all over the world. Except BitTorrent deals with static files. This is with realtime data – which is obviously the future!
BTW if you want a Smart city to run, this is the protocol/network to run it on. It's either us (decentralized) or letting Amazon run it all – which sounds like a terrible idea.
Q2. What are Data Unions? How do they work? Which ones can I use?
(by @Manishb28196643)
A Data Union is a brand new framework, fully launched today on the Streamr stack, that allows people to easily bundle and sell their real-time data and earn revenue.
The problem we were trying to solve was this – how do people actually control and sell their own data. It's really hard right? There aren't the tools around to allow people to do it. And of course, on its own, our data does not hold much value. But when you combine your real-time data with others, it aggregates into an attractive product for buyers to extract insights. This is crowdselling, and has the potential to generate unique data sets by incentivizing trade directly from the data producers.
What we've created (and launched today!!) is the tooling so that other developers can come along and build these data unions for consumers out there. The framework can be integrated into existing Android apps, say, or allows for entirely new business models such as Swash.
What's Swash? Swash is a browser plugin that lets you earn money as you browse the web, through monetizing your data – just as Google and Facebook already do today with your data.
Tracey – another one of these data unions is an Android App, we're currently building with the World Wide Fund for Nature for Philippino fisherfolk to track and trace their catch data.
Q3. How do you think can Streamr benefits a huge market like India and vice versa?
(by @thakkarsaket)
We're super excited to enter the Indian market because there is so much potential in the developer communities of Indian builders who might be interested in leveraging Streamr's Data Union technology. Very soon you'll hear about the launch of a major hackathon for Indian developers.
Also, just in general, there will be 410 million smartphone users in India by 2025 and we want these people to be able to have a say in what happens to their data and offer them new and exciting opportunities to monetize their information.
Q4. How will Streamr prevent false or malicious data being from being provided?
(by @MachanCrypto)
Swash and we both are currently working on some mechanisms on how we can prevent bots from joining Data Unions. Obviously, apps like Swash would be a great target for such things. Captchas really help. But the Swash team is also working with other bot-detection methods. But also imagine a Data Union that is provided by a piece of hardware like a fitbit. Well in that case they can use the specific device ID to emilinate bots.
And then also (and you'll hear about this soon too) we're likely to be working with some big enterprises on this so they can provide Data Unions to their users – who of course they already know in other ways. So this is far less of a problem than we originally thought it might be.
THE WAR AGAINST BOTS always rages on!
On a side note, do you think there are more bots in the world right now than humans?
Haha. Yes probably! I think I saw a stat on that – i.e. there are more "people" on the internet than there are humans in the world.
Q5. Can you tell us how Streamr engine works? Does it have anything unique when compared to others?
(by @BeastSanmao)
Yeah – so the engine is another part of the stack we have.
The user interface which best exploits the engine is Streamr Core – a real-time data toolkit.
It offers developers all the tools needed to create, process, visualize and sell real-time data. You can, for example, create a stream from your devices, filter it with our drag and drop canvas tool, visualize it on a dashboard, or create a product and sell it on the Streamr Marketplace. So it's pretty handy but not necessarily a product offering in its own right.
Developers using the DU (Data Union) framework often use Core and the toolset there to create automatic functions with crypto – like automating payments to smart contracts. Or to visualise data for data buyers. (I've done this myself and it's fairly easy once you get the hang of it).
Q6. Can anyone publish new data to data streams? And who has access to subscribe to these streams to power DApps, smart contracts, microservices, and intelligent data pipelines?
(by @mohit_10_)
So yes, anyone can publish new data to a data stream. One way of doing it passively is in a sense going through a Data Union. (Swash actually allows you to see the data you are publishing to the Swash data product – and also delete it if you don't want to send it). But as a developer, you can create your own data product on the Streamr marketplace. We've got some decent dev docs and youtube tutorials on all of that to follow.
In regards to access – that is controlled by the data publishers. And if you create products on the Marketplace, then buyers can buy them using our token DATA (or ETH or DAI). We also have a nice whitelisting feature for data publishers to the marketplace so they can ensure only regulated buyers can unlock the real-time streams of information. And since we are here, once the data is purchased by the buyer, will the buyer have the right to use it / modify it or that is something that depends on the product.
Is the delete function like "undo" or "data is missing/deleted"?
It's a "delay" module. So Swash allows you to delay the data you send by a few minutes. If you see it a don't want to send it then you can just delete it. There's no undo though.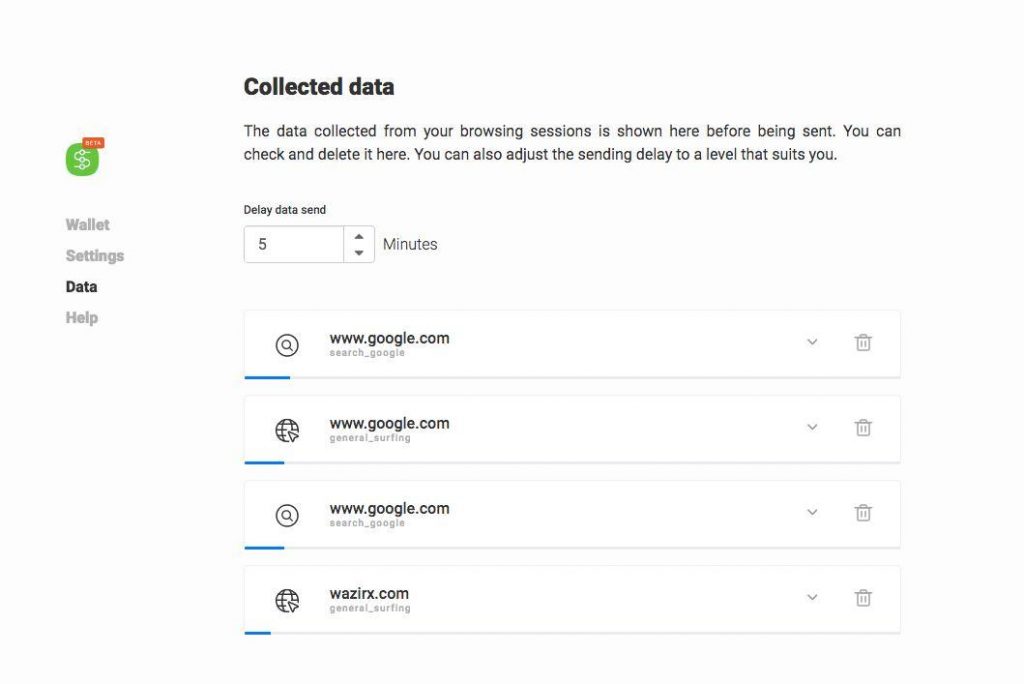 Q7. Can you list some great features of DATA that make it ahead of its competitors? What is the competitive advantage your platform has that you feel most confident about?
(by @airdropkaya)
DATA is used for payments on the Marketplace (such as for Data Union products for example) also for the broker nodes in the Network. The broker nodes will be paid in DATAcoin for providing bandwidth. We are currently working together with Blockscience on our tokenomics. We've just started the second phase in their consultancy process and will be soon able to share more on the Streamr Network's tokenomics.
But there's another thing here which we are expecting to grow. And that is DATA as part of Data Unions.
We're expecting hundreds of thousands of members in the next 18 months (with Swash alone). All these people will be paid in DATA. But the Swash app acts as a token sink because people don't withdraw and sell/exchange their tokens every day. In fact, it takes a while to be paid enough DATA to pay for the ETH gas fees to withdraw the tokens. So that effective token sink will create a lot of value for holders especially as the DU ecosystem grows.
Of course, Data Unions are also one of the VERY few ways where people get paid in crypto and don't need fiat to start with to "onboard". They just get paid for what they do every day anyway because it turns out, their data is valuable – they just never got paid for it before. That is seriously interesting because it means we could end up with potentially millions of people with crypto stored on their computers and phones – looking for a micropayments use case
The team is pretty excited about this because imagine now, unlocking media articles with DATA? That would be awesome and something we're already scouting out the possibilities for. I can't wait (finally) to unlock the WSJ or the NYT or the Washingpost or Forbes with a micropayment already stored on my computer instead of being forced to subscribe.
Q8. What is Streamr architecture? How do the Ethereum blockchain and the Streamr network and Streamr Core applications interact?
(by @philicrohit)
At the heart of Streamr is the Network. Ethereum is being used for identity management to sign into Core and to create data products such as Data Unions on the marketplace. We're also using Ethereum for payments via our ERC-20 token, DATA.
Ethereum smart contracts are also incredibly useful for payment distribution for Data Unions. But otherwise, the Network itself is independent of Ethereum – which is very necessary given that it needs to scale massively. For those who are more technically minded we had a great whitepaper our recently on the Network development.
https://medium.com/streamrblog/streamr-network-performance-and-scalability-whitepaper-adb461edd002
Q9. You want to build trust between data generators and data takers. How would you tackle the government in different countries? Wouldn't that be a problem?
(by @vikas5572)
So regulation is a really important aspect of all this, yes. So last week I was in Berlin chatting with EU regulators about the upcoming Data Services Act for next year. What we've found out is that they are going to support data intermediaries (Data Unions or Data Trusts) in a big way.
Why do this? Because they have realized that the big tech giants have huge data monopolies and that this is no longer something they can allow. They want to support Data Union type organizations as a way of breaking those data monopolies. The same in the US. Especially is Biden wins the election.
We're really close to Andrew Yang and his Data Dividend Project. So if Biden wins, Yang is likely to shape data policy in the US. And we'd expect it also to talk about the rights for real-time data transfer to data intermediaries like ourselves. People were also talking about Indian legislation at this Berlin meeting btw. I think how Data Unions work there is going to be interesting. But something from a regulatory point of view is still not clear.
However, most of the data buyers are multinational companies who want insights about their company and their competitors. Whether ordinary Indians will be "allowed" to join data unions is another question. But I can't imagine any country not allowing their citizenry to make money from their data – while people in other countries are. Can you?
Q10. Data is the new oil. How does Streamr leverage on this big industry and monetize the activities of users for maximum adoption? How do you solve the issues of security, trust, privacy, and latency?
(by @rohitk2k18)
As I've sort of said above with the Data Union framework we want to empower individual internet users to be able to monetize their data – just as the tech giants have been doing for over a decade now.
It's really a matter of education, once users have found out that there's an alternative to the current way of how their data is being handled we will see a surge in adoption. We've several PR and marketing campaigns lined up to spread the word about this new revolutionary way of data monetization. On the one hand, we want to reach developers – to build the needed tech, leveraging our infrastructure, on the other hand, we want consumers to get more aware of how the future of the data economy looks like and that they can play an active role in this.
I think Swash has done a really good job in balancing privacy and security issues and we hope to replicate those learnings and solutions with the upcoming data unions.
Q11. How do you plan to spread awareness about your project in different countries where English is not spoken well? Do you have local communities for them to let them better understand your project?
Most of our communities are European-based so this is one of the reasons we're reaching out more broadly including to India.
Q12. Most investors focus only on the token price in the short term, not on the real value of the project. Can you talk about the benefits for long-term investors?
Yeah for sure. I think the growth of both Data Unions and the Network offers a good long-range target for long term token holders. You'll soon be able to see the growth of the Network and can also monitor the growth of DUs like Swash yourself in the chrome store and on Streamr. This is a longer play than most crypto projects but it is worth remembering that even things like DeFi took many years before the value was realized by the community of builders and users.
Q13. Do you have any plans to attract non-crypto investors to DATA because it is the success of a project to get more investors who are still not in the crypto world?
We raised 30m in funding back in 2017. So we're good financially speaking to deliver on our whitepaper goals (and MORE!). Swash however is now on the hunt for VC funding and will no doubt have some news on that front soon. Of course, their success (and other DUs too) is our success as well.
Q14. Where does the project name come from? What does it mean for you and why did you choose that name for your project?
So it comes from Henri our CEO and the fact that people in real-time data talk about and use data streams! Hence… Streamr!
Q15. Can you list 1-3 killer features of DATA that make it ahead of its competitors? What is the competitive advantage your platform has that you feel most confident about?
So we're the only platform out there that currently offers developers, application owners, and hardware operators, the ability to monetize their data, hand in hand with their users. That is a killer use case because building out the payments, data porting, and bundling aspects of this takes a lot of time. We already deliver all of that so app owners etc only have to worry about data buyers to get this all going.
No one else yet offers this service so we're really proud of it and know that it is the best in class. Being regularly in touch with enterprises means we are also constantly improving our framework with their needs (along with independent developers) in mind.
Disclaimer: Cryptocurrency is not a legal tender and is currently unregulated. Kindly ensure that you undertake sufficient risk assessment when trading cryptocurrencies as they are often subject to high price volatility. The information provided in this section doesn't represent any investment advice or WazirX's official position. WazirX reserves the right in its sole discretion to amend or change this blog post at any time and for any reasons without prior notice.