It's been 13 years now, two large pizzas were bought, and the event went down in history.
Wondering WHY? Because a programmer named Laszlo Hanyecz ordered pizzas from a local vendor – Papa John's, and instead of paying in cash or using a credit card, he chose to pay in Bitcoin. Yes, he paid 10,000 BTCs for two large pizzas.
It may sound silly, but deep down, Laszlo knew that this transaction would be registered as the first-ever real-world crypto transaction and remain intact forever.
Do you know how much 10,000 BTC is in USD today? 🤑
10,000 BTC = 271.86 Million USD
In this article, we will dive deeper into Bitcoin Pizza Day and know the people involved in making this event worth remembering.
What is Bitcoin Pizza Day?
Bitcoin Pizza Day is an annual celebration in the crypto community, observed on May 22, that commemorates the story behind the term. The story revolves around Laszlo Hanyecz, an early Bitcoin miner and programmer from Florida who played a significant role in Bitcoin's development.
In the early days of Bitcoin, before the first halving of rewards in 2012, miners received 50 BTC for each new block they discovered. This meant that mining approximately 200 blocks could have yielded a reward of 10,000 BTC. However, mining was not highly competitive during this time, and Bitcoin had not gained significant traction just a year after its inception in 2010.
Laszlo Hanyecz had the idea to exchange his Bitcoin holdings for two large pizzas, marking a notable event in Bitcoin's history. In 2010, he posted an offer on the Bitcointalk forum, seeking to buy pizza in exchange for Bitcoin. His offer specified that he would send 10,000 BTC to anyone who would take the order, collect, and deliver two Papa John's pizzas. Four days later, someone (later on this!) accepted Laszlo's offer, thus making history by using Bitcoin as a medium of exchange for real-world goods.
In the following section, let's say HELLO to Laszlo Hanyecz.
Laszlo Hanyecz: The man behind the historic BTC transaction
The individual who unknowingly initiated Bitcoin Pizza Day has an intriguing background. Laszlo Hanyecz played a significant role in Bitcoin's software development, contributing to its progress in various ways. One notable contribution was coding a program that allowed enthusiasts to mine Bitcoin using their computer's graphics cards. Additionally, Hanyecz became the first developer to provide Bitcoin logic for Mac OS.
Following this remarkable accomplishment, Hanyecz promptly shared his findings with Satoshi Nakamoto and the broader Bitcoin community. Although he received acknowledgment for his contribution, Satoshi was already knowledgeable about GPU mining and its effectiveness in preventing 51% attacks, so Hanyecz's discovery served more as confirmation than a groundbreaking revelation.
Over the years, Hanyecz has continued to make similar purchases using Bitcoin. During that summer, he spent 100,000 BTC on pizza.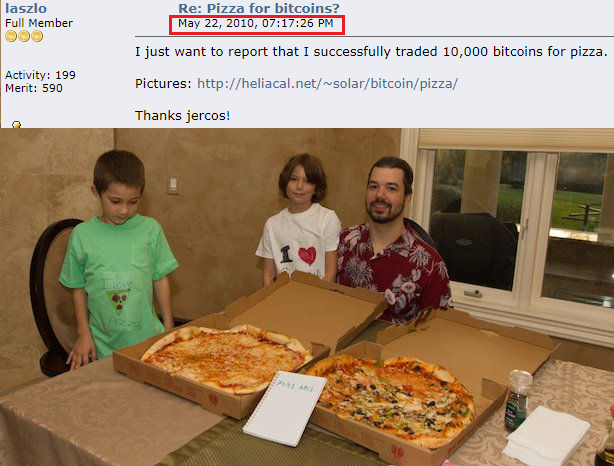 Were only Laszlo and Papa John's involved in this whole event? Or was there someone else? Check it out below!
Jeremy Surdivant: Another important person
It is worth noting that the BTC pizza transaction involved one more important person other than Hanyecz and Papa John's. And he was Jeremy Sturdivant, also known as Jercos, who played a crucial role in the original transaction. Sturdivant received the 10,000 BTC and used it to purchase the pizzas.
At the time of the transaction, Jeremy Sturdivant was only 19 years old. He honored the agreement by buying the pizzas and personally delivering them to Hanyecz's residence in Florida. Although Sturdivant had the opportunity to make a highly profitable deal, he did not become exceptionally wealthy from this encounter.
Similar to Hanyecz, Jeremy Sturdivant had no knowledge of the future value that BTC would attain. Reports suggest that he later spent the coins he received to cover expenses related to a business trip. In 2013, in an interview with the "Bitcoin Who's Who" publication, Jerco expressed his reflections on the amount of BTC he unknowingly possessed.
What happened with the Bitcoin Pizza guys?
On May 22, 2010, Laszlo Hanyecz, a resident of Florida, purchased two pizzas from Jeremy Sturdivant for a total of 10,000 BTC. At that time, the entire value of the Bitcoin pizza transaction amounted to $41. However, with the remarkable surge in Bitcoin's price over the years, this renowned pizza purchase has retrospectively become the most expensive in history.
While the individual who paid for the transaction has received considerable attention due to the events leading up to the celebrated Bitcoin Pizza Day, the recipient of those 10,000 BTC also missed out on a significant crypto fortune. Similar to Hanyecz, Sturdivant sold the Bitcoins far too early, utilizing the entire 10,000 BTC he received for the transaction on travel expenses.
Although many people regret missing out on opportunities for immense wealth, both men involved in the Bitcoin pizza transaction view it from a different perspective. Hanyecz considers himself a pioneer in the realm of Bitcoin, and Sturdivant expressed pride in playing a role in the growth and history of Bitcoin during an interview with the New York Post.
Bottomline
For years to come, the Bitcoin pizza story will remain a prominent highlight in the history of Bitcoin and the whole crypto community. Laszlo Hanyecz, a Bitcoin developer based in Florida, had mined 10,000 BTC as block rewards during the early stages of Bitcoin's existence. However, there was no established exchange for trading Bitcoin into traditional fiat currency at that time.
In an effort to find a practical use for his Bitcoin, Laszlo made an offer to purchase two large pizzas in exchange for 10,000 BTC. Surprisingly, he received a confirmation within a mere four days. This story of Laszlo's pizza transaction later became one of the early examples of Bitcoin adoption.
As Bitcoin Pizza Day 2023 approaches, there are various ways to make the most of this special day with the crypto community. So how are you planning to spend the "Bitcoin Pizza Day?" Tell us in the comments below!

Disclaimer: Cryptocurrency is not a legal tender and is currently unregulated. Kindly ensure that you undertake sufficient risk assessment when trading cryptocurrencies as they are often subject to high price volatility. The information provided in this section doesn't represent any investment advice or WazirX's official position. WazirX reserves the right in its sole discretion to amend or change this blog post at any time and for any reasons without prior notice.