Ever since Bitcoin was created, blockchain technology has come a long way. It's not just a basic technology anymore; it's shaking things up in some areas. One of those areas is online advertising. AdEx is a blockchain initiative that uses the possibilities of online advertising. It aims to fix the problems this industry faces, like privacy, transparency, and fraud. AdEx is all about finding solutions for the issues that online advertising faces while making things better for the user.
In this article, let's learn about AdEx and how you can buy ADX tokens with India's most trusted exchange in 2023.
What is AdEx (ADX)?
AdEx is an Ethereum-based smart contract, which is a decentralized blockchain environment hosted on Ethereum. To establish a decentralized, user-oriented environment for advertising free from fraud and the current lack of privacy, AdEx provides solutions to advertisers and publishers.
Users can create and manage their AdEx profiles, and advertisers can decide which ads to display. This enables ad publishers to provide more pertinent, user-focused advertisements and maximize the effectiveness of their marketing efforts. AdEx offers customers a distinctive experience because it allows for the customized creation of AdEx profiles, in contrast to well-known advertising platforms like Google Ads and Facebook.
Users can choose the amount of advertising space they want and how long it will run for, and they can purchase and sell adverts and ad space using DAI and fiat currencies. ADX is an ERC-20 token that the network uses to reward validators. As it can be incorporated with any kind of browser, web application, or website, AdEx is made broadly available to users.
What issues are solved by AdEx (ADX)?
AdEx aims to resolve critical issues within the advertising industry by directly confronting centralization and providing a decentralized alternative. It replaces the traditional centralized market operators, such as personnel and organizations, with network nodes. This substitution results in increased efficiency, reduced fees, and enhanced performance, ultimately leading to an improved user experience.
In addition to decentralization, AdEx offers other noteworthy benefits. For instance, it empowers businesses to negotiate advertising contracts tailored to their requirements. This flexibility allows users to fine-tune their advertising strategies to achieve optimal results.
The conventional advertising market is shrouded in opacity, making it challenging for businesses to assess the effectiveness of their advertising campaigns. This lack of transparency often leads to wasted time, effort, and resources, as companies are left to guess rather than access reliable market data to enhance their outcomes.
AdEx addresses this issue by leveraging blockchain technology, enabling instant consensus and enhancing transparency. Users can monitor the real-time effectiveness of their advertising campaigns through the user-friendly network interface. This data lets businesses make informed decisions and allocate their efforts more effectively in the future.
Centralization frequently results in price manipulation, as competition is typically the driving force behind competitive pricing in a market. In the advertising sector, a few dominant players, such as Google, control online traffic and have consistently raised the costs of their services in recent years. This price escalation has imposed significant financial burdens on businesses.
AdEx eliminates intermediaries to spare users from unnecessary fees, as the protocol was designed from the ground up to optimize advertising budgets. Its user-friendly interface simplifies tracking the performance of advertising campaigns and making necessary adjustments.
Key features of AdEx (ADX)
Scalability is one of the greatest benefits AdEx offers to the industry. The system completes this task using the OUTPACE Layer 2 protocol. This strategy makes use of payment channels to lessen mainnet congestion.
AdEx protects your privacy. The computer industry as a whole continues to struggle with data breaches. By preventing any end-user data from being uploaded to AdEx servers, AdEx eliminates these concerns. The developer employs encryption to ensure that your data is never combined with data from other sources.
Let's quickly see how you can buy ADX tokens in India in 2023.
How to Choose a Good Crypto Exchange in India?
You need to do thorough research when using a crypto exchange to invest or for crypto trading in India. You must research the legitimacy of the platform and the credibility of the team behind it before deciding on an exchange to invest in AdEx (ADX) crypto in India.
You should also ensure the platform provides the following before investing in an ADX token:
The exchange's website/app has a simple user interface and is easy to use.
The exchange supports AdEx (ADX) trading pairs.
The exchange employs state-of-the-art security measures and does not compromise when it comes to regularly upgrading it. Try to avoid exchanges that do not have a KYC protocol in place.
The exchange offers reasonable trading fees to buy crypto in India.
So, here's how you can buy ADX in India in 5 easy steps.
Buying ADX in India in 5 Easy Steps
Below are a few simple steps you can follow and buy the ADX tokens in India with WazirX, India's most trusted and widely used crypto exchange.
The best way to buy ADX tokens is by depositing INR in your WazirX wallet. Alternatively, you can also buy ADX using P2P trade; to get answers to all your queries related to the P2P trade, click here!
Step 1 – Sign-Up on the WazirX platform
To begin buying and selling ADX, you are required to create an account on the WazirX platform by signing up. Also, you can directly login if you have an account already on the platform.
For your reference, here's how you can open an account on WazirX.
Step 2 – Set up your account security by verifying your email address.
This step is about verifying your email address. After you sign up on the WazirX platform, you'll get a verification link on your registered email. By clicking on that link, you'll get two options to ensure the security of your account – the authenticator app and mobile SMS.
Note: The authenticator app is a more secure way to stay safe when compared to mobile SMS because there's a risk of delayed reception or SIM card hacking.
Step 3 – Complete the KYC process.
After choosing your country, you can proceed with completing the KYC process. Click here for a detailed overview.
Note: You must complete your KYC to be able to trade P2P or withdraw funds on the WazirX app.
Step 4 – Add funds to your WazirX wallet.
To add funds, simply go to your account on the WazirX app or web. Click on "Funds" and then on "Deposit INR."
You can deposit INR using any mode (NEFT/ RTGS/ IMPS).
You can also buy USDT through P2P to the WazirX wallet. The USDT will act as funds to help you buy your favorite Cryptos.
Step 5 – Finally, buy ADX on WazirX.
You can now easily purchase ADX tokens using INR Deposits. In the case of P2P trade, check the ADX to INR rate from here and ADX to USDT here.
After logging in to your WazirX account, you can choose INR from the "Exchange" tab. You can also check all the price charts, order book data, and an order input form on the right side of the screen.
Click "Buy" after entering the amount and checking the total INR amount to be paid.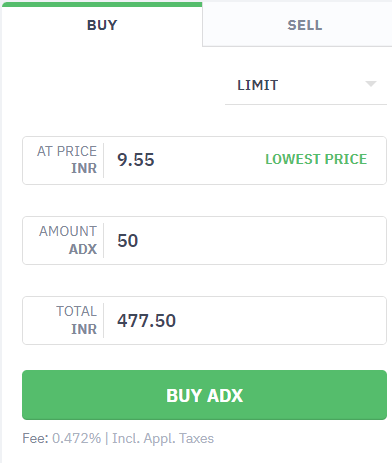 Your order will be placed according to the price you have input. And, in the case of P2P trade, a seller willing to sell at a price will be notified, and then you can exchange the tokens using P2P.
It might take a few minutes for the order to be completed, but as soon as it is executed, you will receive the ADX Coins you purchased in your WazirX wallet.
Happy Trading!
Disclaimer: Cryptocurrency is not a legal tender and is currently unregulated. Kindly ensure that you undertake sufficient risk assessment when trading cryptocurrencies as they are often subject to high price volatility. The information provided in this section doesn't represent any investment advice or WazirX's official position. WazirX reserves the right in its sole discretion to amend or change this blog post at any time and for any reasons without prior notice.