The G20 leaders have underscored the importance of the Common Reporting Standard and Crypto-Asset Reporting Framework, signaling a future ecosystem characterized by data transparency. This development has the potential to influence the sentiments of stakeholders globally.
In the near term, there is growing apprehension among market participants about the potential liquidation of assets held by FTX, which could trigger a sell-off in the coming weeks.
Meanwhile, the decentralized finance (DeFi) sector remains a hotspot for venture capital investment, with hundreds of millions poured in during the current year. This influx of capital highlights the increasing interest and commitment of investors in the DeFi space.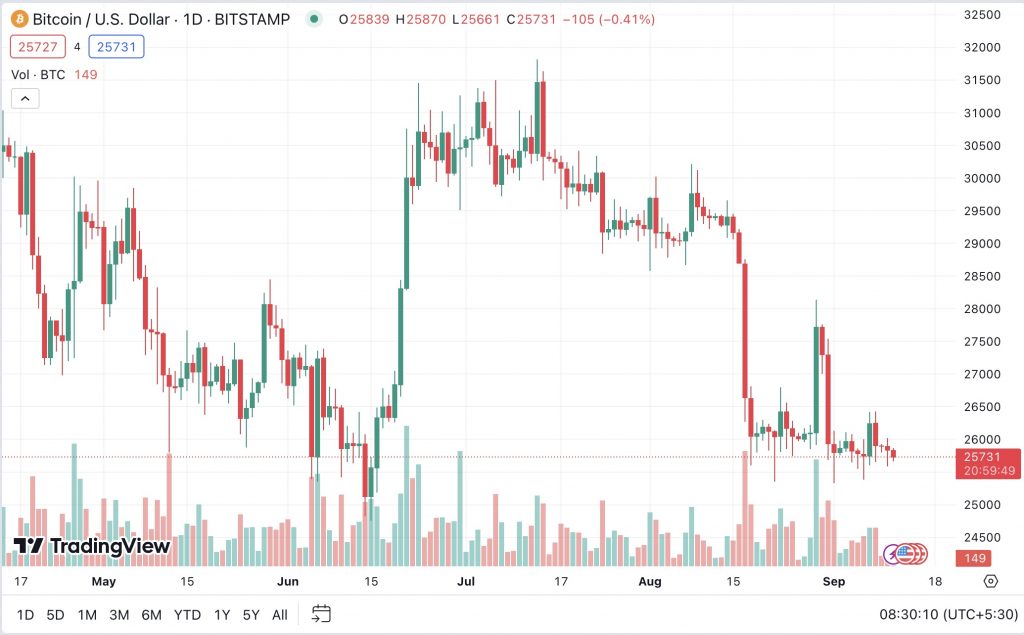 The Exponential Moving Average for 10-day EMA indicates "Sell" at 25945 and 200-day EMA indicates "Sell" at 27033. The Simple Moving Average for 10-day SMA indicates "Sell" at 25881 and 200-day SMA indicates "Sell" at 27361.
The Ichimoku Base Line, valued at 27045, continues to be neutral. The Hull Moving Average indicates "Sell" at 25849. The Volume Weighted Moving Average indicates "Sell" at 26376.
The Relative Strength Index (14) sits at 38, with a neutral outlook. The Stochastic %K (14, 3, 3) at 17 and the Average Directional Index (14) at 22 indicate a Neutral outlook.
The MACD Level (12, 26), at -500, indicates "Buy". The Stochastic RSI Fast (3, 3, 14, 14) is "Neutral" at 37 and William's Percentage indicates a "Neutral" sentiment at -86.
As of 10:00 AM, 11th September 2023, on WazirX, Bitcoin's current price is ₹22,49,968. There was a 0.61% increase in its price in the last 24 hours. In the past 7 days, Bitcoin is down by 0.88%.
Ethereum (ETH) is trading at ₹1,41,400, with a decrease of 0.25% in the last 24 hours. The 7-day ETH is down by 1.40%.
The top gainers on WazirX include Hifi Finance (HIFI), Tellor (TRB), Toko Token (TKO), and with price increases of 25.24%, 10.54%, and 7.23%, respectively.
However, the tokens that underperformed comprised Chromia (CHR), Venus (XVS), and Gifto (GFT), with a price decrease of 13.1%, 12.96%, and 11.72%, respectively.
Shiba Inu (SHIB) saw a price decrease of 1.67% and is now priced at ₹0.000647. Dogecoin (DOGE) saw a decrease of 1.27% and is now priced at ₹5.35
Disclaimer: Cryptocurrency is not a legal tender and is currently unregulated. Kindly ensure that you undertake sufficient risk assessment when trading cryptocurrencies as they are often subject to high price volatility. The information provided in this section doesn't represent any investment advice or WazirX's official position. WazirX reserves the right in its sole discretion to amend or change this blog post at any time and for any reasons without prior notice.