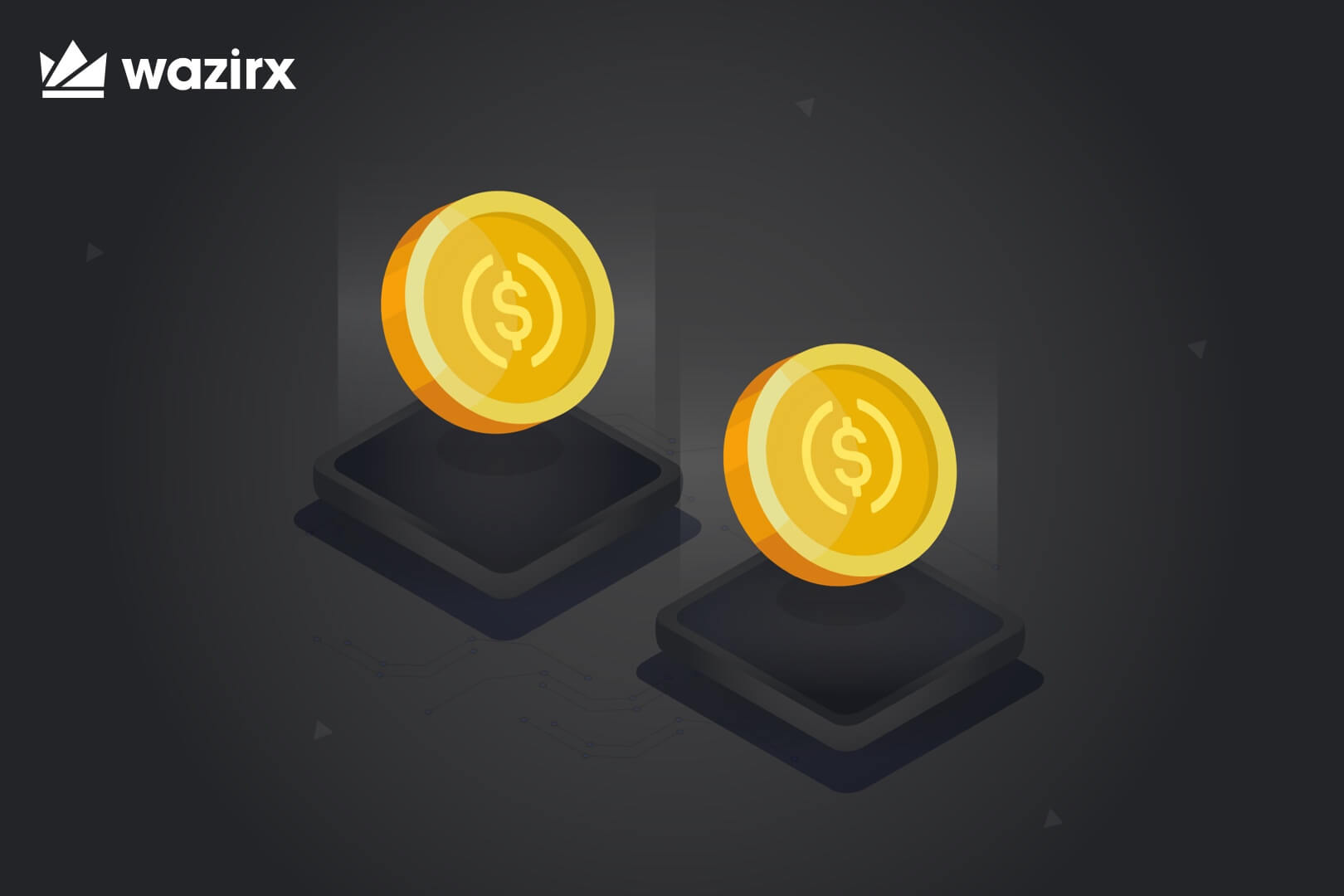 Stablecoins have been all the rage lately – sparking debates about crypto market manipulation to serious conversations about the feasibility of CBDCs (Central Bank Digital Currencies). There are already several of them swarming the market, and the concept is now indispensable to the crypto market, to be honest. The USD Coin, also known as USDC, was launched on September 26, 2018. The consequence of a collaboration between Circle and Coinbase, it is a stablecoin whose price is pegged to the US dollar. USDC is a fairly popular substitute to other cryptocurrencies like Tether (USDT) or TrueUSD (TUSD) that are also USD-backed. And for that reason, it is worthy of our attention. Let's dive in.
Anyone earning in USDC can transfer that USDC amount at a faster rate around the globe. This association of USDC with the USD makes it easy to move your monetary value anywhere in the world within minutes and brings much-needed solidity to cryptocurrencies. Also, it opens up new prospects for risk-hedging, trading, lending, and more. In this post, we explore the origin of USD Coin, its workings, performance, use cases, and potential future.
Who Runs USD Coins?
USD Coin is established by the Centre consortium through a partnership between Circle and Coinbase. The consortium sets technical, policy, and financial standards for stablecoins. The Circle was founded in 2013 by Jeremy Allaire and Sean Neville, and Goldman Sachs backs this crypto start-up.
Bitmain, a significant Bitcoin mining company that partnered with Coinbase and others on the Centre consortium has a substantial share in USDC investment. Many other organizations have invested in crypto together with individuals across the world. Its base has been growing tremendously since 2018. 
How Does USD Coin Work?
Simply put, USD Coin runs on Ethereum. The issuing and redeeming of USDC tokens are
guaranteed with ERC-20 smart contracts that are built in the Ethereum network. But that does not mean that the Centre is not involved, because it is. Printing of USD Coins isn't just done out of thin air. There's no USD Coin mining either.
Unlike Tether (USDT), the creators of the USD Coin provide comprehensive transparency and work with a variety of financial organizations to maintain total reserves of the corresponding fiat currency.
When US dollars are converted into USDC tokens, the process is a textbook example of tokenization, where you take a real-world asset (in this case, USD) and create a digital equivalent of it. Tokenizing of USD into USDC is a three-step process:
USD is sent to the token issuer's bank account by the user.
A USDC smart contract is then put to use to create an equivalent amount of USDC by the issuer.
While the relieved US dollars are kept in reserve, the newly minted USDC is distributed to the user.
Once the authorization of these tokens is complete, any person can transfer their USDC to ascribed institutions, where the institutions can mint them. It is how you earn USDC.
How to Use USD Coin
With a 1:1 representation of the USD Coin (USDC) and US dollar on the Ethereum blockchain.
If you wish to tokenize or redeem USD Coins with Circle, first start registering an account, verify with KYC, and link a legitimate bank account. The four core actions that the Circle USD platform allows users are:
Tokenize USD;
Redeem USDC;
Transferring USDC out to ERC20 compatible Ethereum addresses;
Deposit USDC from external Ethereum wallet addresses.
 In general, the use of stablecoins like USDC is to:
Not cashing out the short cryptocurrencies so that it will be easier to buy cryptocurrencies in the future;
Avoid traditional financial instruments and institutions;
Send money globally in an instant, securely, and at low cost;
Purchase items in various crypto dApps, platforms, and blockchain-based games.
Advantages of USDC
It is essential to understand that the value USD Coin holds is constant. Thus it can be used for paying employees or giving to charity.
Traders worldwide use this coin as a type of investment to earn USDC interest (annually). The interest comes from lending the USDC to investors, which the Centre regulates.
It reduces the time taken to carry out numerous transactions internationally. Therefore, it reduces the charges relatively.
Another advantage of USDC is that it is more reliable than other stablecoins because of the strong backing from its developers. Therefore, it has a growing prospect.
Other stablecoins – such as Tether, have been shrouded in controversy on their true value and supported holdings by their parent companies. USD Coin has had next to new such controversies in comparison.
What Makes USD Coins Different Compared to Other Stablecoins?
There are four kinds of stablecoins:
Fiat-backed stablecoins are the most popular kind of stablecoins. They derive their value from the reserved fiat they hold in bank accounts, investments, or other conventional assets. For example, TrueUSD, Tether, USD Coin.
Crypto-backed stablecoins are those whose value is backed by reserved crypto assets. They may either be crypto-backed or crypto-collateralized. A good example is Havven.
Algorithmic noncollateralized stablecoins rely on software-based economic models for maintaining their price stability. Kowala and Basis are examples that would fit here.
Hybrid Stablecoins leverage several of the above approaches to maintain their price stability. For example, Carbon.
USD Coin is a classic centralized, fiat-backed stablecoin in this context. It is primarily distinct in terms of its fee policies and organizational structure backing it up. There's no value to making a USD Coin price prediction since its value is pegged to the US dollar at all times. 1 USDC = 1 USD.
Further Reading:
Important uses of Crypto Stablecoins you should know
How to Buy Cryptocurrencies in India?
Disclaimer: Cryptocurrency is not a legal tender and is currently unregulated. Kindly ensure that you undertake sufficient risk assessment when trading cryptocurrencies as they are often subject to high price volatility. The information provided in this section doesn't represent any investment advice or WazirX's official position. WazirX reserves the right in its sole discretion to amend or change this blog post at any time and for any reasons without prior notice.