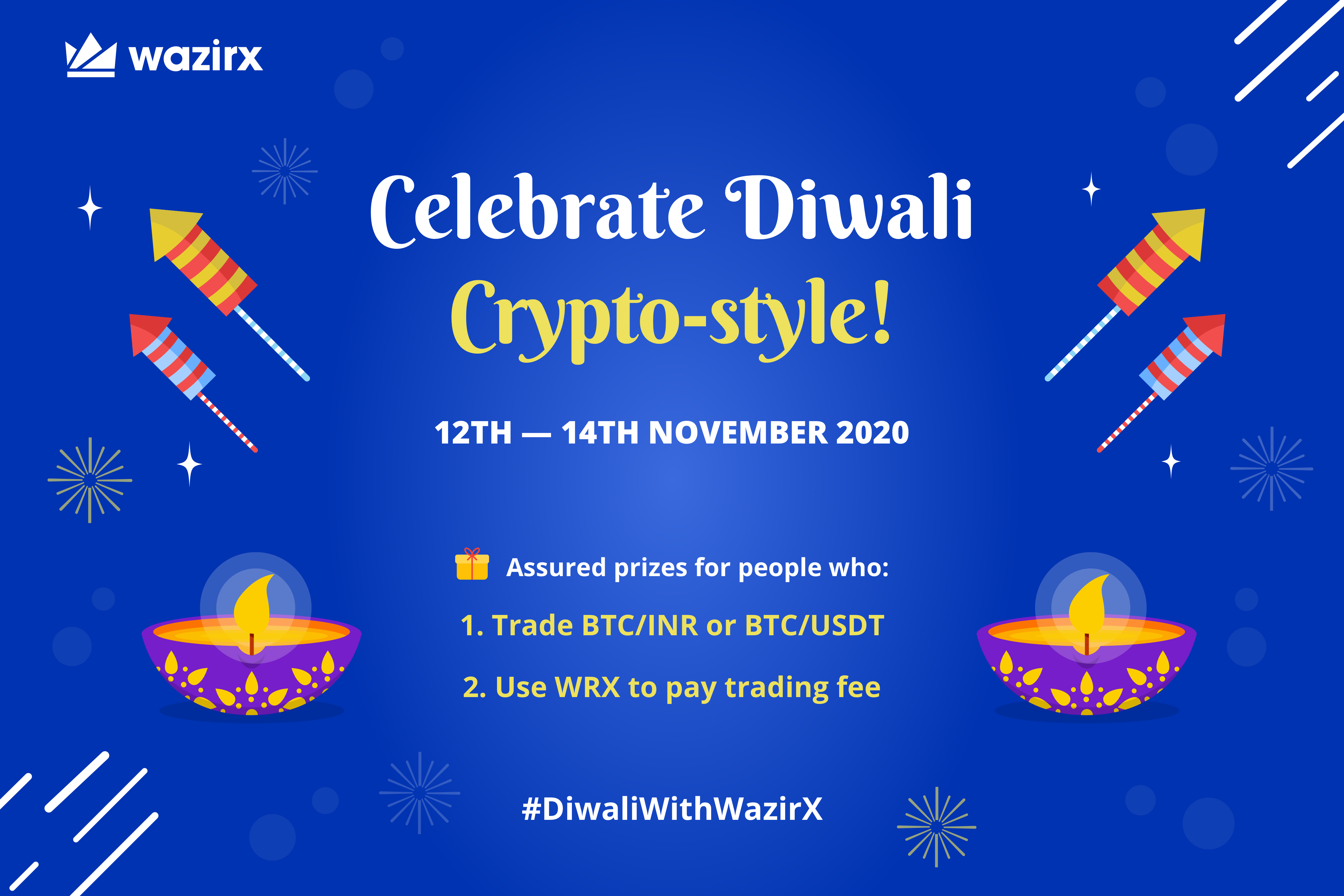 Namaste Tribe! Diwali – the festival of lights – is also about sharing love and joy with everyone! As our tribe, you've always supported us, and what can be better than celebrating Diwali 2020 with you? So get ready to celebrate Diwali crypto-style with WazirX from Thursday, 12th November 2020 to Saturday, 14th November 2020 and win assured prizes.
How to participate?
Trade BTC worth ₹1,000 or more in our INR or USDT market
Use WRX to pay trading fee
Perform the above activities between 12th November 2020 midnight and 14th November 11:59 PM IST to qualify
What is the offer period?
Thursday, 12th November 2020, 12 AM IST — Saturday, 14th November 2020, 11:59 PM IST
What is the prize?
WazirX will distribute WRX collected as trading fee from above eligible trades randomly between all eligible traders.
Prizes will be distributed in WRX by 23rd November 2020 to everyone who is eligible.
We will give away prizes from the WRX pool collected during the 3 days of BTC/INR and BTC/USDT trades.
Maximize your chance to win top assured prizes in this Diwali offer ?
We'll do a lucky draw, and the amount of WRX prize will reduce with every subsequent draw! Since the minimum qualifying trading volume is ₹1,000 worth BTC, we'll give 1 ticket to every trader who trades ₹1,000 worth BTC in our USDT or INR market. So, you'll get 1 ticket for every multiple of ₹1,000 worth BTC trade!
For example, let's assume there are three traders participating in the contest:
Trader A who trades ₹1,000 worth BTC and pays 2 WRX as trading fee will get 1 ticket
Trader B who trades ₹12,700 worth BTC and pays 25 WRX as trading fee will get 12 tickets
Trader C who trades ₹1,00,000 worth BTC and pays 200 WRX as trading fee will get 100 tickets
So based on the above, total 113 tickets will share prize pool of 227 WRX. The first draw will get the highest prize, the second draw will get the second highest prize and so on.
In a nutshell, the more you trade, the higher are your chances to come in the initial draws, and the earlier your ticket is drawn, the higher prizes you win!
So come on, put on your trading caps, and trade to win.
Happy #DiwaliWithWazirX!
Note: Prizes will be distributed by 23rd November 2020
Disclaimer: Cryptocurrency is not a legal tender and is currently unregulated. Kindly ensure that you undertake sufficient risk assessment when trading cryptocurrencies as they are often subject to high price volatility. The information provided in this section doesn't represent any investment advice or WazirX's official position. WazirX reserves the right in its sole discretion to amend or change this blog post at any time and for any reasons without prior notice.