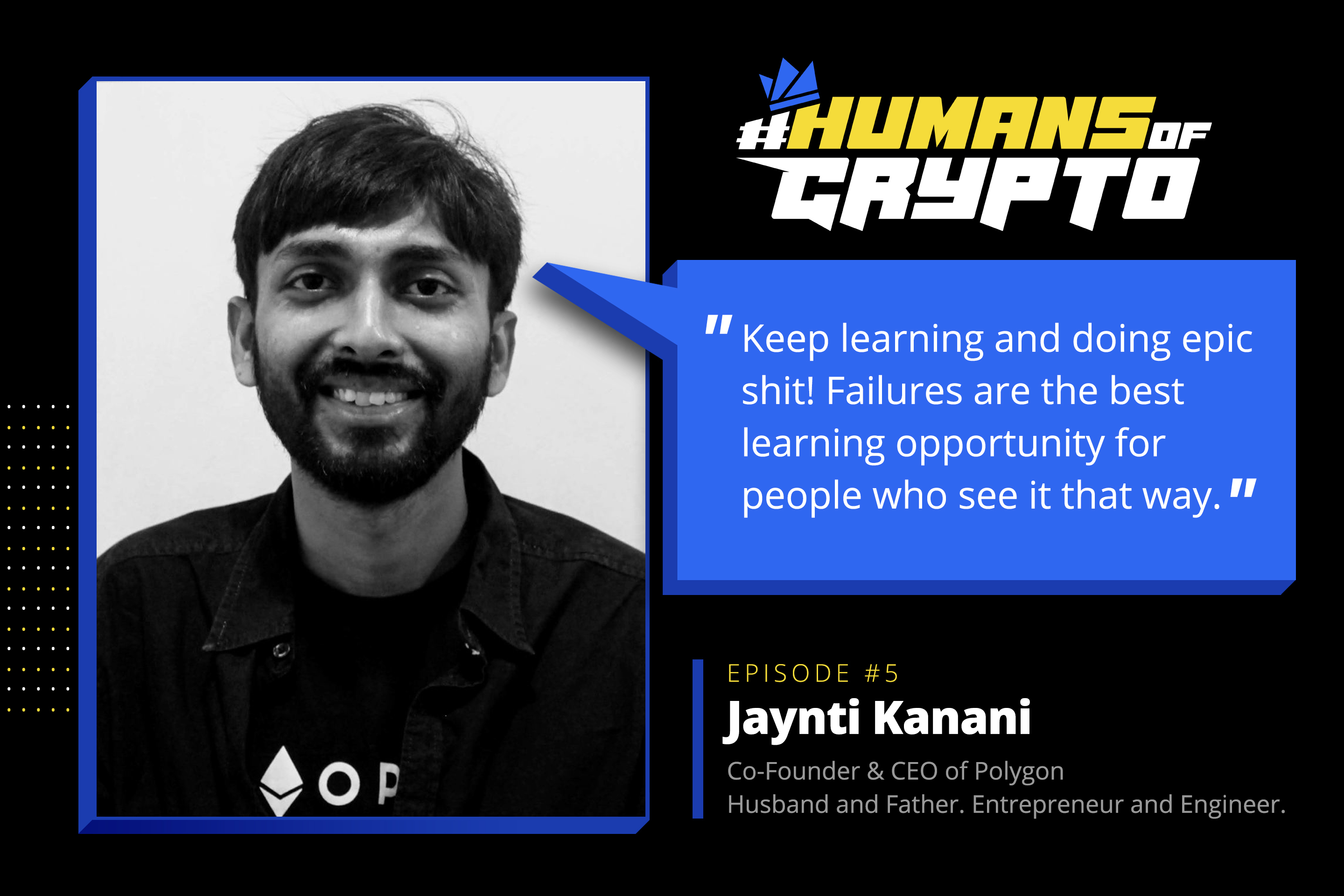 From diamond factory worker's son to becoming a founder of a $10 billion crypto venture. Today's story is about Jaynti Kanani, CEO of Polygon. Hailing from a small town on the outskirts of Ahmedabad in Gujarat, Kamani's family often struggling to pay for his school fees. Things got even rougher when his father fell ill and slowly started to lose his vision, which led to his early retirement from the factory. Leaving Kanini with no choice but to start working at an early age to meet all his financial needs to support his family and his education. Like every ordinary person, he focused on finishing his education as an engineer from Dharamsinh Desai University in Nadiad with an objective to secure a decent job that would provide for his family and pay off his debts.
He started off with a salary of INR 6,000 (80 US Dollar) per month, working for Persistent Systems in Pune. Additionally, he also took up several other freelancing opportunities to make an extra buck that could cover his basic needs. He never made a checklist to map his growth, he strived his best to pick up tech projects, with a purpose to solve problems in the technology space and aspired to work as a Product Manager in tech giants like Twitter and TransferWise. Interestingly, both these companies rejected Kanani's job application, leaving him more determined to fulfil his desire to build his own tech product. It is during this phase Kanani started following the startup journeys of various entrepreneurs and in midst of all this research, he was introduced to the world of crypto by his roommate, in the early years of 2015.
"I first heard of the word Bitcoin from my roommate in the year 2016, when he was researching on crypto and reading Satoshi Nakamoto's whitepaper on Bitcoin: A Peer-to-Peer Electronic Cash System. I started learning about this space and soon realized the potential of this transformative technology and the vast opportunity it presented for tech builders like myself to start up on their own and get a headstart to develop their own products in the crypto space. I started investing in Bitcoin and experimenting with my ideas on what I could do more to make a mark in the crypto space. As luck would have it the crypto market boomed in the year 2017, which changed everything for me. I had an idea to solve for Ethereum's increasing scalability issue that could help improve its overall efficiency level. The idea was pitched to by now business partners Sandeep Naiwal and Anurag Arjun together we found Matic in the year 2018."
With sufficient capital in hand, Kanani and his now three co-founders have built a made-in-India cryptocurrency protocol that has crossed a market capitalisation of $10 billion.
Today the Matic Network is making 5 million transactions a day, Ethereum does 1.7 million a day. The company recently rebranded itself to Polygon last year and is built to solve scalability and usability issues that exist in the Ethereum blockchain, allowing companies to build robust decentralised apps. In fact, Polygon's solution is currently being used by the government of Maharashtra in India to track COVID-19 cases in the state.
The app shot into the limelight a couple of weeks ago when it announced an investment by billionaire Mark Cuban, star of the TV show Shark Tank and is backed by angel investor Balaji Srinivasan. The team aims to provide faster and cheaper transactions on the Ethereum blockchain and is among the top 20 crypto-tokens globally. His other co-founder Sandeep Nailwal set up India's first COVID Crypto Relief Fund, which recently received a contribution of over 1 billion worth of Shiba Inu Coin from Ethereum creator Vitalik Buterin.
Through, Jaynti's crypto journey we learn about the true power of grit and passion for learning. He never allowed his humble means to define his future. His drive to build something of value in the tech space, courage to accept failures fast and learn from them has led him to his success as an entrepreneur.
His journey from a freelance worker to becoming a CEO of a billion-dollar company is truly inspirational for millions of people who aspire to create value using their skills to build a career as a tech entrepreneur in the crypto space.
Like him, crypto has become an indispensable part of the everyday lives of several individuals. What is your crypto success story? Tag us on Twitter and subscribe to our YouTube channel. Be sure to include the hashtag #HumansOfCrypto.
Disclaimer: Cryptocurrency is not a legal tender and is currently unregulated. Kindly ensure that you undertake sufficient risk assessment when trading cryptocurrencies as they are often subject to high price volatility. The information provided in this section doesn't represent any investment advice or WazirX's official position. WazirX reserves the right in its sole discretion to amend or change this blog post at any time and for any reasons without prior notice.