Floki (FLOKI) emerged as a Crypto spinoff of the famous Shiba Inu (SHIB) after a tweet by Elon Musk, who expressed his intention to name his Shiba Inu dog "Floki." The tweet sent waves in the Crypto community, leading to the creation of Floki and numerous other similar projects. As a result, the currency gained significant traction on Twitter, accumulating over 50,000 followers, who proudly call themselves "Floki Vikings." Despite its initial success, Floki is currently trading well below its all-time high, which occurred in November 2021. Nonetheless, its impact as a unique Crypto project continues to be felt.
In this blog, let's learn about this meme coin and how to buy it in India.
Let's get started!
Introduction to Floki (FLOKI)
Floki is a Crypto that began as a dog-based meme coin after Elon Musk tweeted about his intention to name his Shiba Inu dog "Floki." However, it is not just a meme coin; it has evolved into a comprehensive Web3 project encompassing Decentralized Finance (DeFi), Non-Fungible Tokens (NFTs), and the metaverse. With all this transformation, the project is now referred to as "The People's Crypto," The team behind this project has effectively turned a once-useless meme-coin into a versatile project.
FLOKI, the token associated with the project, is an incredible virtual asset that operates on both the Ethereum and Binance Smart Chain (BSC) blockchains. As an ERC-20 and BEP-20 compliant token, it offers multi-chain functionality. With seamless bridging between the two chains, FLOKI holders have the flexibility to use either blockchain to store and transact with their tokens, making it simple and convenient for users to access and use their FLOKI holdings.
Advantages of Floki
Floki is a multi-chain token that can be used on both the Ethereum and the Binance Smart Chain (BSC) platforms.
The Floki ecosystem has a number of established and forthcoming products that have the potential to add value to the token.
The project has collaborated with other notable industry projects.
The project claims to be in favor of charitable causes.
The utility of Floki
The Floki team is developing a utility for the FLOKI token within its own ecosystem. The Floki ecosystem comprises several initiatives that are still in development, including DeFi, NFTs, and the Metaverse. While Floki aims to use the token within its ecosystem, the Crypto is still not widely utilized on various DeFi platforms or NFT marketplaces.
Valhalla
With its own NFT game named Valhalla, Floki has entered the NFT gaming metaverse. Participants receive rewards for participating in the game and keep all FLOKI tokens they earn. FLOKI tokens are in-game money that can be used to buy assets.
FlokiFi
FlokiFi is the ecosystem's umbrella term for the planned range of FLOKI-powered DeFi products. The first product is "FlokiFi Locker," which claims to be the most advanced protocol for safeguarding digital assets in the industry. There have also been rumors of a new staking product, although the details have yet to be finalized.
FlokiPlaces NFT and Merchandise Marketplace
Floki aims to grow with a marketplace for NFTs and merchandise, capitalizing on the NFT trend. The FlokiPlaces marketplace intends to make it easier to purchase and sell NFTs and other digital items and position Floki as a payment option to Bitcoin, Dogecoin, and even the US dollar.
The Floki University Crypto Education Platform
Floki's metaverse university intends to educate a growing audience on Crypto while also raising awareness of the Floki ecosystem. Most of the curriculum will be free, except for some specialty courses that may need FLOKI tokens.
Let's see how you can buy Floki in India.
How to buy FLOKI Tokens in India?
Following a few simple steps, you can buy FLOKI tokens in India via WazirX, India's most trusted and widely used Crypto exchange.
Now, you can buy FLOKI tokens using P2P trade. Here are all your questions answered about P2P.
Step 1: Sign-Up on WazirX
To start trading the FLOKI token, you should first create your account by signing up on the WazirX platform. Or you can directly Log-in if you already have an account with WazirX.
Here's a guide explaining how to open an account on WazirX.
Step 2: Verify your email account and set up your account security.
The following step is to verify your email address. After signing up, you'll receive a verification link on the email address by which you've just created your account.
On clicking on the link, you'll have two options to assure the security of your account – the authenticator app and mobile SMS (as shown in the image below)
Note: The authenticator app is a more secure way to stay safe when compared to mobile SMS because there's a risk of delayed reception or SIM card hacking.
Step 3: Complete the KYC.
After selecting the appropriate country, complete the KYC process.
Note: Without completing your KYC, you will be unable to trade P2P or withdraw funds on the WazirX app.
Step 4: Add funds to your WazirX account through P2P.
After linking your bank account to your WazirX account, you can buy USDT through P2P to the WazirX wallet. The USDT will work as funds to buy other coins.
Step 5: Buy FLOKI on WazirX
You can purchase FLOKI tokens using P2P trade through WazirX. Check the FLOKI to USDT here.
After logging in to your WazirX account, you can select USDT from the "Exchange" tab. You can see all the price charts, order book data, and an order input form on the right side of the screen.
Click "Buy" after entering the amount and checking the total USDT amount to be paid.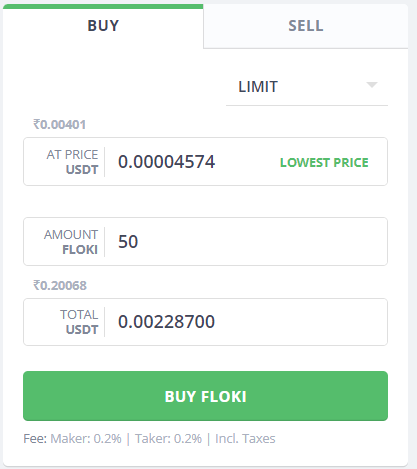 Your order will be placed according to the price you have input. A seller willing to sell at a price will be notified, and then you can exchange the tokens using P2P.
It might take a few minutes for the order to be completed, but as soon as it is executed, you will receive the FLOKI tokens you purchased in your WazirX Wallet.
Happy Trading!
Disclaimer: Cryptocurrency is not a legal tender and is currently unregulated. Kindly ensure that you undertake sufficient risk assessment when trading cryptocurrencies as they are often subject to high price volatility. The information provided in this section doesn't represent any investment advice or WazirX's official position. WazirX reserves the right in its sole discretion to amend or change this blog post at any time and for any reasons without prior notice.