The in-game currency of the Axie Infinity gaming metaverse is called Smooth Love Potion (SLP). Players can use it to breed Axies, which are collectible virtual pets. SLP tokens have seen an increased demand for them in recent years. Let's understand SLP's function in the Axie Infinity game and how to buy SLP in India.
What is the Smooth Love Potion (SLP)?
The in-game currency of the well-known blockchain-based gaming metaverse Axie Infinity is called Smooth Love Potion (SLP), and it is an ERC-20 token. Players amass special digital pets called Axies in this game, which are represented by non-fungible tokens (NFTs), which they can breed, trade, or use in combat with other players. Axie Infinity Shards (AXS), another ERC-20 token used in the game's multi-token economy, serves as the ecosystem's governance token in the Axie Infinity ecosystem.
In-game Axie breeding is facilitated by the usage of SLP cryptocurrency tokens. A notable restriction that gives this in-game currency more market access is that it can be exchanged on supported cryptocurrency exchanges in addition to being earned in the Axie Infinity metaverse. The decentralized exchange (DEX) Uniswap's creation of a liquidity pool for ETH-SLP brought SLP out of the Axie game metaverse and onto the cryptocurrency market, creating the external market for the token. The importance of in-game assets has been shown by SLP as Axie Infinity becomes one of the most well-known blockchain-based games, both within the metaverse and outside of it.
How to Buy SLP Tokens in India?
By following a few simple steps, you can buy SLP tokens in India via WazirX, India's most trusted and widely used cryptocurrency exchange.
Now, you can buy SLP tokens using P2P trade. Here are all your questions answered about P2P.
Step 1 – Sign-Up on WazirX
To start trading the SLP token, you should first create your account by signing up on the WazirX platform. Or you can directly Log-in if you already have an account with WazirX.
Here's a guide explaining how to open an account on WazirX.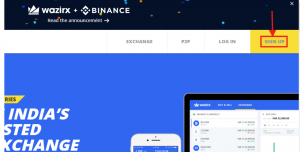 Step 2- Verify your email account and set up your account security.
The following step is to verify your email address. After signing up, you'll receive a verification link on your email address by which you've just created your account.
On clicking on the link, you'll have two options to assure the security of your account – the authenticator app and mobile SMS (as shown in the image below)
Note: The authenticator app is a more secure way to stay safe when compared to mobile SMS because there's a risk of delayed reception or SIM card hacking.
Step 3 – Complete the KYC.
After selecting the appropriate country, complete the KYC process.
Note: Without completing your KYC, you will be unable to trade P2P or withdraw funds on the WazirX app.
Step 4 – Add funds to your WazirX account through P2P.
After linking your bank account to your WazirX account, you can buy USDT through P2P to the WazirX wallet. The USDT will work as funds to buy other coins.
Step 5 – Buy SLP on WazirX
You can purchase SLP tokens using P2P trade through WazirX. Check the SLP to INR rate from here and SLP to USDT here.
After logging in to your WazirX account, you can select USDT from the "Exchange" tab. You can see all the price charts, order book data, and an order input form on the right side of the screen.
Click "Buy" after entering the amount and checking the total USDT amount to be paid.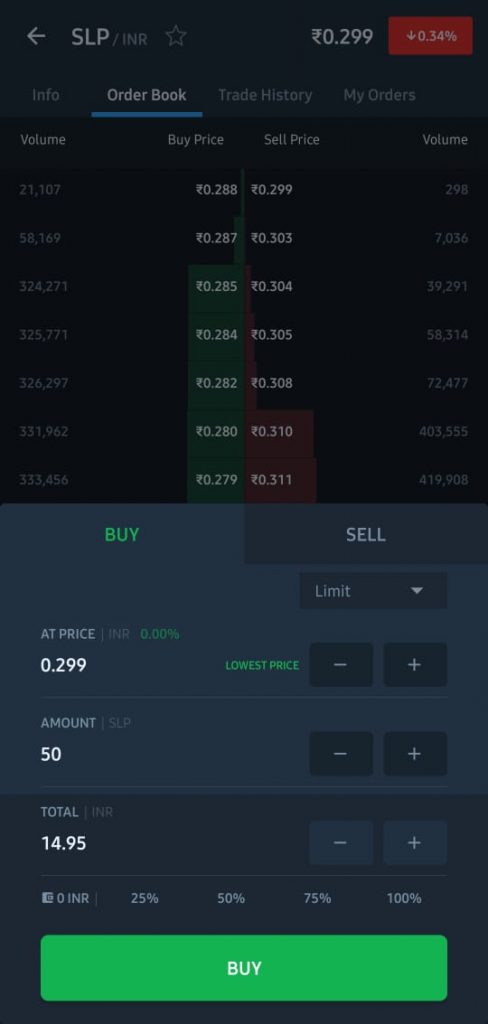 Your order will be placed according to the price you have input. A seller willing to sell at a price will be notified, and then you can exchange the tokens using P2P.
It might take a few minutes for the order to be completed, but as soon as it is executed, you will receive the SLP coins you purchased in your WazirX wallet.
Happy Trading!

Disclaimer: Cryptocurrency is not a legal tender and is currently unregulated. Kindly ensure that you undertake sufficient risk assessment when trading cryptocurrencies as they are often subject to high price volatility. The information provided in this section doesn't represent any investment advice or WazirX's official position. WazirX reserves the right in its sole discretion to amend or change this blog post at any time and for any reasons without prior notice.