This article is available in the following languages:
Tether (USDT) is a stablecoin whose tokens are backed by an equal quantity of US dollars in circulation, pegging its price to $1.00. Tether tokens, which were created by the crypto exchange BitFinex and traded under the USDT symbol, are the native tokens of the Tether network.
Essentially, stablecoins are a type of cryptocurrency that aims to provide price stability through collateralization or algorithmic systems that buy and sell the reference asset or its derivatives. They can be linked to a currency, such as the US dollar, or to the price of a commodity, such as gold. Stablecoins often mirror traditional fiat currencies maintained in a designated bank account, such as the dollar, euro, or Japanese yen. They can be utilized as a means of exchange and a form of storage of wealth instead of being used solely for speculative investments.
Due to the high amount of risk associated with crypto, many institutions avoid doing business with digital currency exchanges. This is where stablecoins enter the picture. By allowing cryptocurrency to function as a store of value rather than a high-risk investment, stablecoins strive to eliminate the intense volatility issues of the crypto sector. In a turbulent cryptocurrency market, where it would be difficult to convert back and forth between cash and a cryptocurrency like Bitcoin, stablecoins provide liquidity.
Tether is by far the most popular of the various stablecoins pegged to the US dollar. Cryptocurrency traders frequently use Tether as a substitute for the US dollar when purchasing cryptocurrencies. This effectively gives them an opportunity to seek refuge in a more stable asset during periods of high crypto market volatility. Tether's price is normally equal to $1 since it was created to be pegged to the dollar. Unlike other cryptocurrencies, which vary in value, Tether's price is usually constant.
It's worth noting, however, that despite their 1:1 ratio, the price of stablecoins may suffer minor fluctuations. Even still, the majority of the time, the variation in stablecoin prices is around 1 to 3 cents only. This is mostly due to fluctuations in liquidity and supply and demand, which are influenced by transaction volume, market volatility, and trading volume.
As of mid-April 2022, USDT is the third-largest cryptocurrency by market capitalization, worth more than $82.7 billion.
Is Tether a worthy investment?
Despite being surrounded by several controversies in the past, Tether remains a relatively stable cryptocurrency. Though it has faced many competitors over the years, Tether remains the most widely used stablecoin. It offers a number of advantages, the most prominent of which is that it helps investors to avoid the extreme volatility of other cryptocurrencies, as we've already seen. By converting the value to USDT, traders can limit their risk of being exposed to a sudden drop in the price of cryptocurrencies.
Stablecoins like Tether have also made it simple and quick to exchange any cryptocurrency for Tether, whereas turning a cryptocurrency into cash would take days and incur transaction costs. This not only provides liquidity to exchange platforms and no-cost exit strategies for investors but also increases the flexibility and stability of their portfolios. Tether is ideal for making crypto purchases easier since most people wish to avoid relying on Bitcoin or Ethereum owing to their volatility.
Tether has been able to maintain its value despite falling below $1 and rising over $1 in the past because it is tied to a matching fiat currency fund and is completely backed by Tether's reserves. All of these factors definitely make Tether a worthy investment.
How to buy USDT with INR in India?
If you're searching for how to buy USDT with INR in India, look no further than WazirX, India's most trusted and leading cryptocurrency exchange. With USDT to INR conversion rates, WazirX allows you to buy USDT in India in a few simple steps.
To buy USDT in India through WazirX, users need to register themselves on WazirX first. Once the KYC processes have been completed, users can start depositing funds and buy USDT with INR.
Here's a detailed guide on how to buy USDT in India on WazirX.
Step 1: Create your account
Sign Up on WazirX through the website or by downloading the app.
Enter your email address and set a password.
Go through the Terms of Service, click on the checkbox, and finally click on the Sign-Up button.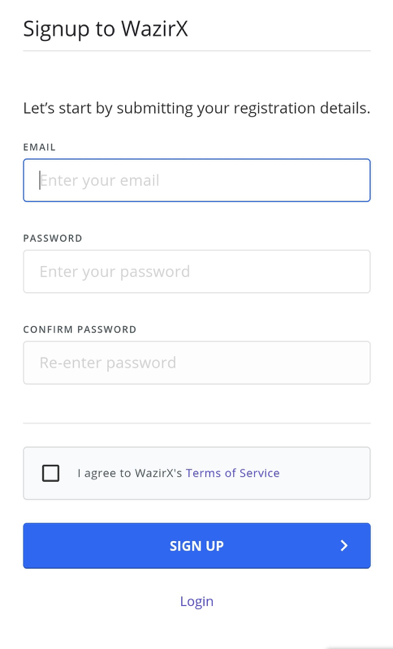 Step 2: Verify your email
You will then be sent a verification email to your registered email address. On verification, you will receive a message as shown below.
Step 3: Set up security measures
Next, you will be taken to the security settings page. For security purposes, it is recommended to enable 2-factor authentication (2FA) by downloading the Google Authenticator app and connecting it to your account.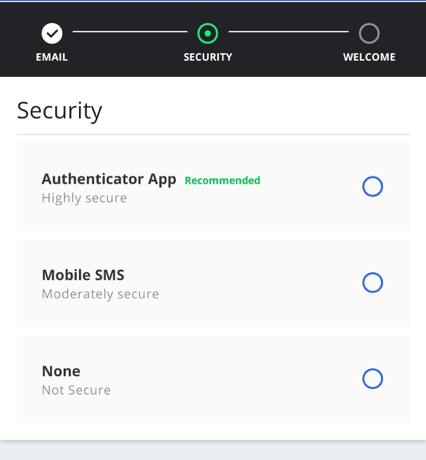 Step 4: KYC Verification
First, choose your country from the list provided to complete KYC verification. You can then verify your KYC and complete the process.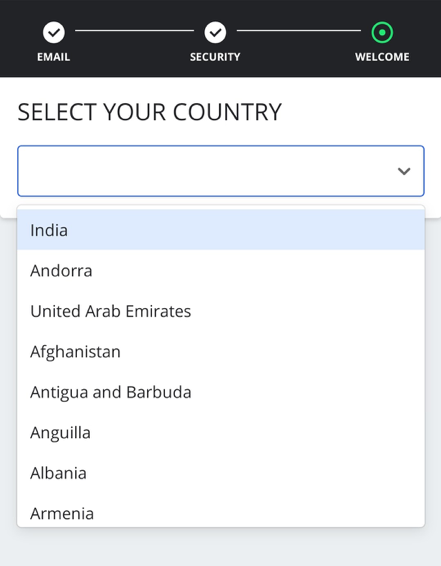 Step 5: Deposit your funds
INR funds can be deposited from your bank account to your WazirX account via UPI/IMPS/NEFT/RTGS. Simply enter your details, including bank name, account number, IFSC code, etc., and you are good to go.
Depositing Cryptocurrency
Cryptocurrencies can be transferred from your wallet or other wallets to your WazirX account. Get your deposit address from your WazirX wallet first. Then, share this address in the 'Send Address' part of your other wallet for transferring your cryptocurrency.
Step 6: Buy USDT with INR
Log on to the WazirX app or website to view the latest USDT/INR prices, and then click on the USDT/INR price ticker.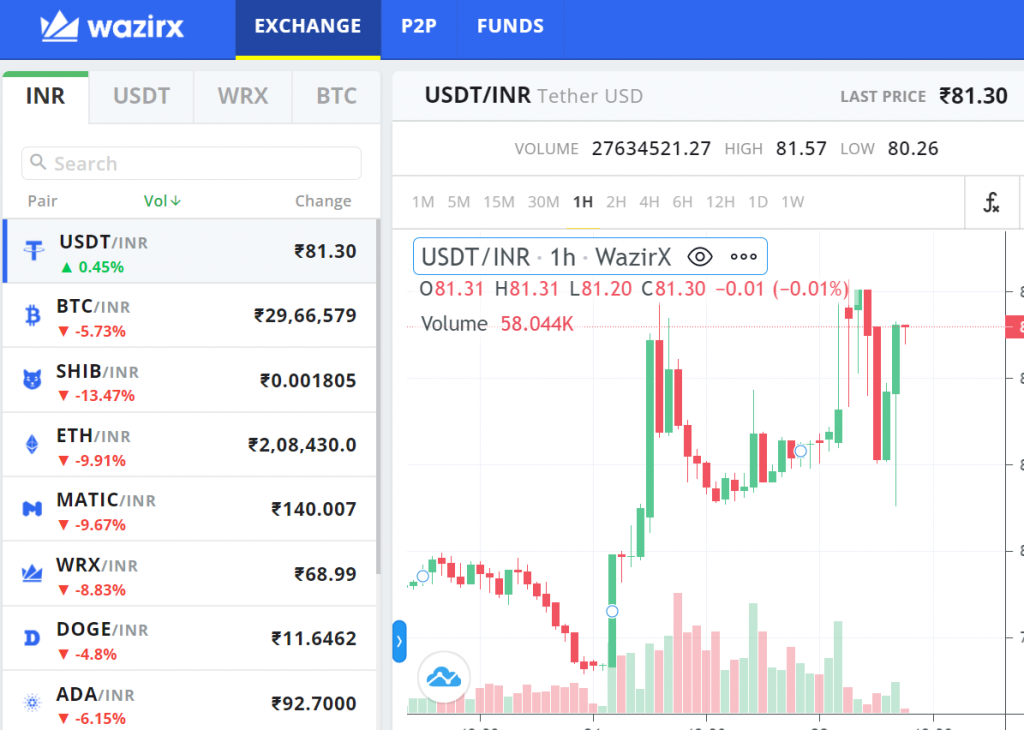 Scroll down, and you will see the BUY/SELL button. Next, enter the INR amount with which you want to buy USDT. Your INR balance deposited in your WazirX account must be greater than or equal to this amount.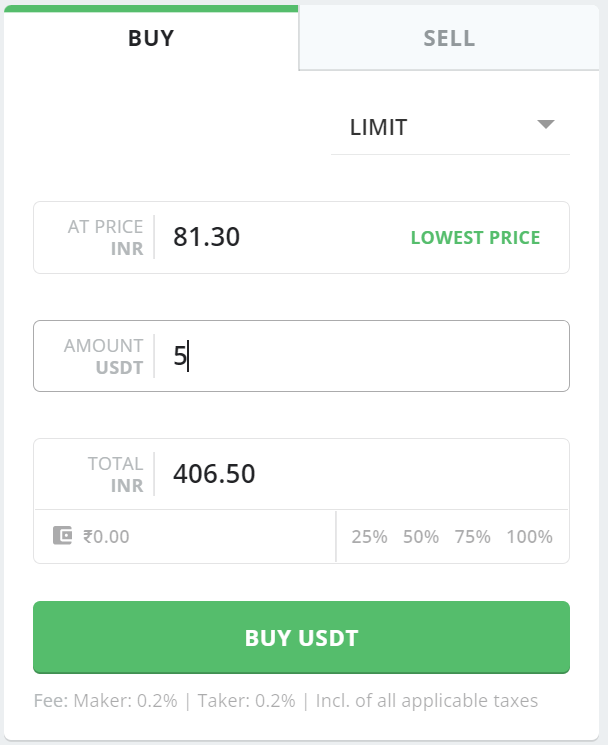 Click on BUY USDT. Once your order is executed, the USDT you bought will be added to your WazirX wallet.
So that's how you can buy USDT with INR in India in a few simple steps.
To learn more about WazirX, click here.

Disclaimer: Cryptocurrency is not a legal tender and is currently unregulated. Kindly ensure that you undertake sufficient risk assessment when trading cryptocurrencies as they are often subject to high price volatility. The information provided in this section doesn't represent any investment advice or WazirX's official position. WazirX reserves the right in its sole discretion to amend or change this blog post at any time and for any reasons without prior notice.