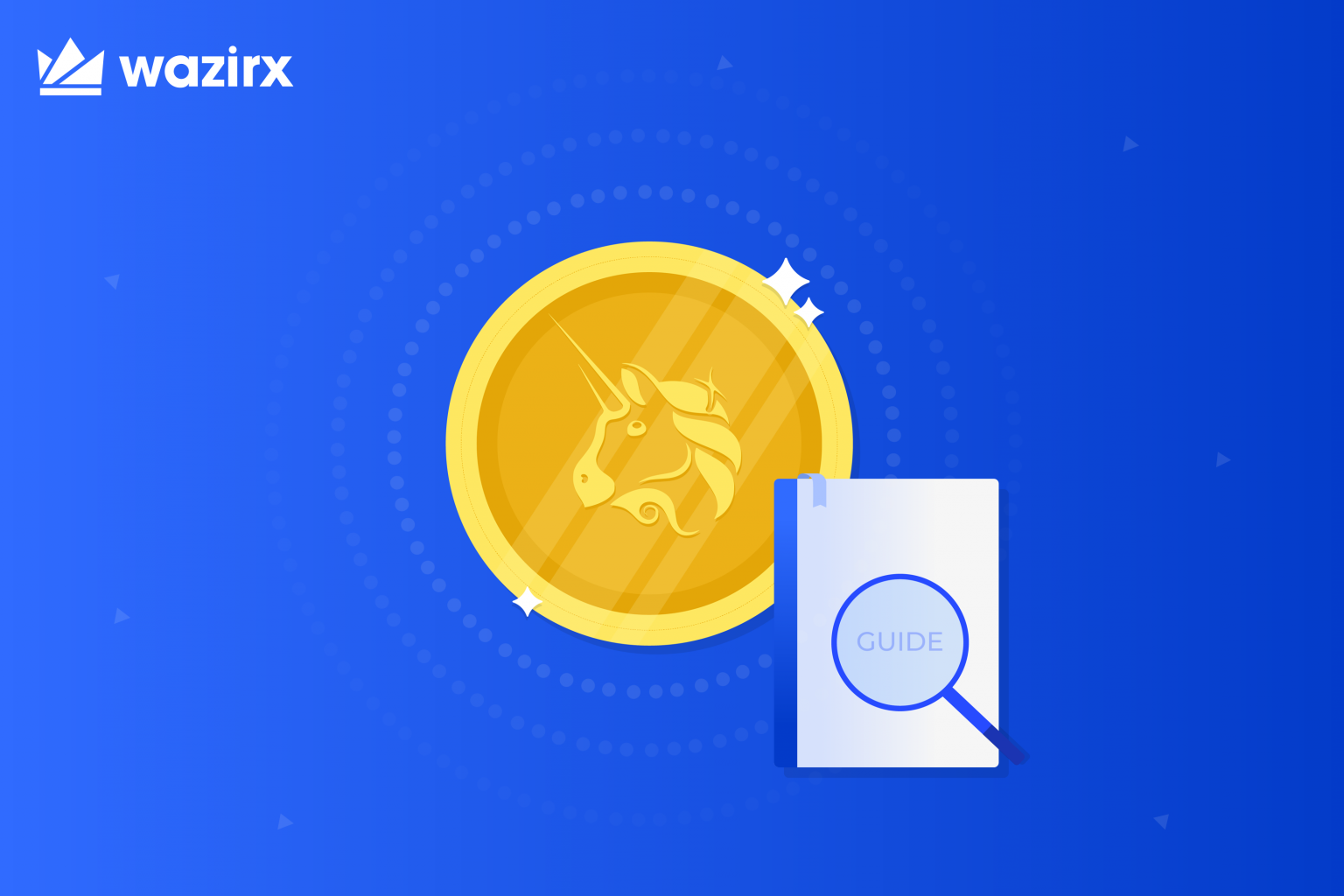 Uniswap is a leading decentralized crypto exchange running on the Ethereum blockchain. Uniswap is fully decentralized, which means that it isn't owned and operated by a single entity, and users can trade on it without any intermediary. It uses a new type of trading model called automated Market Maker. 
Every listed token has its own pool to which users can contribute, and a computer-run math algorithm determines the prices for each token. This methodology eliminates the need for a buyer or seller to wait for the other side to complete a transaction. Instead, they can execute any trade quickly at a known price as long as the pool has enough liquidity to support it. Uniswap customers are not required to register on the exchange but have to pay gas fees with Ethereum.
Individuals and bots, dubbed "liquidity providers," add a pair of tokens to a smart contract that other users can purchase and sell, providing liquidity to the exchange. Liquidity providers are compensated with a share of the trading fees for that trading pair. Each trade removes a given number of tokens from the pool in exchange for a certain number of the other token, adjusting the price. There are no listing costs, allowing many ERC-20 tokens to be accessed. Because Uniswap is open-source software, its code can be forked to generate new exchanges.
This article will help users learn how to buy Uniswap coins in India and all the details about the cryptocurrency before buying the uniswap coin cryptocurrency.
What is Uniswap (UNI)?
Uniswap is a well-known decentralized trading protocol that helps automate the trading of decentralized finance (DeFi) tokens. UNI, the governance token of the Uniswap platform, also allows users to vote on crucial protocol improvements and hence is one of the largest cryptocurrencies concerning market capitalization.
Uniswap, which launched in November 2018, was one of the first decentralized finance (or DeFi) services to acquire considerable momentum on Ethereum. Many other decentralized exchanges have since been launched, like Curve, SushiSwap, etc., but Uniswap has always been the most popular by a notable margin. The uniswap coin prediction in India can be used to forecast future costs and can enable users to make an informed decision. 
How does Uniswap (UNI) work?
The Automated Market Maker, a part of decentralized exchanges, was pioneered by Uniswap. Users send Ethereum tokens to Uniswap "liquidity pools," and algorithms set the market prices concerning the demand and supply.
Uniswap is powered by two smart contracts: the Exchange and the Factory. The factory smart contract introduces new tokens to the network, and the exchange contract handles all token swaps or trades.
Users can earn incentives while allowing peer-to-peer trading by supplying tokens to Uniswap liquidity pools. Users can contribute tokens to liquidity pools, trade tokens, or even develop and list their own (using Ethereum's ERC-20 token standard). Uniswap presently supports hundreds of tokens with many popular trade pairs, including stablecoins like USDC.
How to Buy UNI Coins in India?
If you are wondering how to buy Uniswap coin in India, then WazirX can be your best choice. You can buy Uniswap coin (UNI) in India via WazirX, India's most trusted cryptocurrency exchange, by following the few simple steps listed below:
#1 Sign Up on WazirX
To begin with, create an account on WazirX by clicking here.
#2 Fill in the Required Details
Put in your email address and choose a secure password.
#3 Email Verification and Account Security Setup
Next, verify the email address by clicking on the verification link you received in your inbox. Following that, you have two options to ensure the security of your account – the authenticator app and mobile SMS.
Remember that the authenticator app is more secure than mobile SMS because there is a risk of delayed reception or SIM card hacking.
#4 Choose Your Country and Complete KYC
After selecting your country, complete the KYC process. Without completing your KYC verification, you can not trade peer-to-peer or withdraw funds on the WazirX app.
To complete your KYC, you need to submit the following details:
Your full name as it appears on your Aadhaar or any other ID proof
Your birth date as stated on your Aadhaar or any other ID proof
Your address as it appears on your Aadhaar or any other ID proof
A scanned copy of the documents
A selfie of yours to finish the procedure
And you are done creating your account! Within 24 to 48 hours, the account is usually validated.
Buy Uniswap on WazirX via P2P
WazirX allows you to check the Uniswap coin price in India before you proceed to buy Uniswap crypto via WazirX. Check Uniswap coin price in INR on WazirX here. You can buy Uniswap using USDT or INR.
To buy USDT, you can use the WazirX P2P route. This is fast, secure, and free. Follow these simple steps to buy USDT and then your Uniswap crypto:
Log in to your WazirX account on the web/mobile app and select "P2P" from the "exchange" option.
Next, click on the 'Convert INR into USDT' option.
Add the INR price at which you want to purchase USDT. Next, add the number of USDT tokens you want to purchase and click on "BUY". Here, the minimum purchase should be 14.5 USDT.
Once you click on the buy button, WazirX will match you with sellers. However, if you wish to purchase the USDT from a specific seller, you can add the XID of that person and complete the transaction.
You need to select a preferred mode of payment next. UPI and IMPS modes are the two options available. Please note that IMPS linking is mandatory on the WazirX platform; however, UPI linking is optional.
Once you confirm and click on the message "YES, I WILL PAY', you will get 60 additional minutes to complete your payment. In case of non-payment, once confirmed, a minimum penalty of 10 USDT or 1.2% of trade will be levied. False confirmations can also cause your account to get locked.
Complete the payment as per the payment details on the screen (seller's bank/UPI details). Once the payment is complete, upload the payment proof and click on the checkbox "I HAVE PAID".
Once the seller confirms the receipt of payment, your order will be marked complete, and the USDT purchased will be reflected in your "funds".
Now you can use this newly acquired USDT balance to purchase UNI crypto on WazirX. Go to the "exchange" option on the web/mobile app and select UNI crypto from the list of the tokens available in the USDT market. All price charts, order book data, and an order input form are visible on the right side of the screen.
Fill out the buy order form and click on buy UNI. Wait for some time. It will only be a short while before your order is executed. Once it's done, you will receive the UNI coins you purchased in your WazirX wallet.
Learn how to buy crypto safely and securely via WazirX P2P:
Future of Uniswap
Uniswap is built on Ethereum, which charges gas fees as a part of blockchain fees. This makes it extremely expensive for smaller transactions. However, Ethereum has shifted to a proof of stake consensus that shall lead to efficient transactions and subsequently reduce the charges. Uniswap price prediction in INR by Wallet Investor states the UNI token to be around $28.35 by the end of 2022 and around $63.5 by 2025. Uniswap price prediction, on the whole, looks bullish and optimistic, given the upcoming decentralized web3 era of the internet.

Disclaimer: Cryptocurrency is not a legal tender and is currently unregulated. Kindly ensure that you undertake sufficient risk assessment when trading cryptocurrencies as they are often subject to high price volatility. The information provided in this section doesn't represent any investment advice or WazirX's official position. WazirX reserves the right in its sole discretion to amend or change this blog post at any time and for any reasons without prior notice.