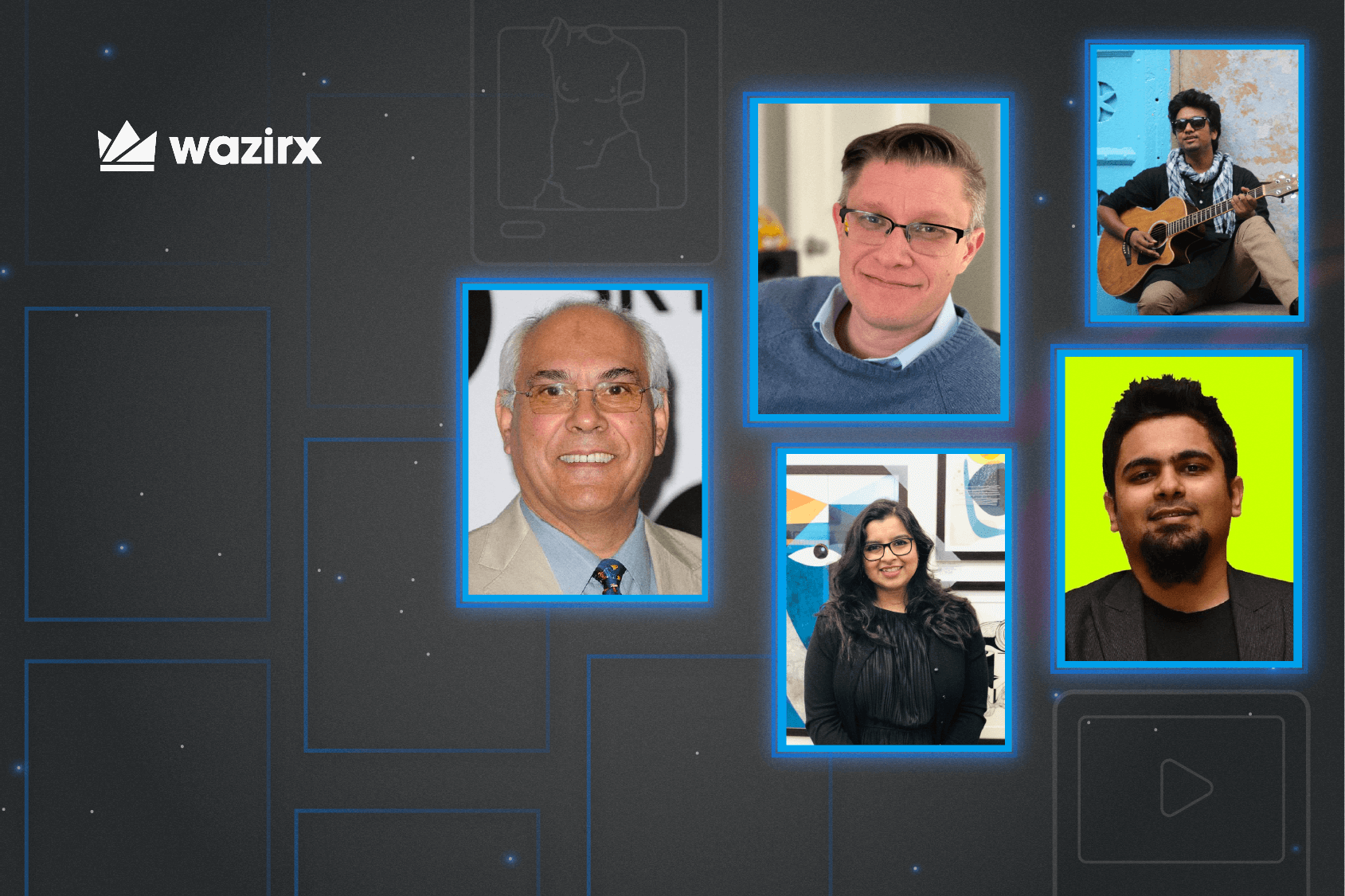 You might find painted wonders at display in art galleries, hear chartbusters at a concert or on a record, read ethereal verses in print, or giggle at rib-tickling animations on a screen. What if we say that NFT art is bringing together all these mediums in one single artwork? What if I say that you can actually own one of these digital marvels?
These blockchain-minted artworks, aka non-fungible tokens, have taken the art world by storm – and they've done this while radically reimagining and magically transforming works of art that transgress the boundaries of art conventions and classifications.
Technically, NFTs are (typically) ERC-721 tokens built over a blockchain that represent ownership rights to a digital artwork or a digital copy of the physical artwork. For any aesthete or connoisseur dappling in art, NFTs are the hottest commodity in 2021.
The concept isn't entirely new. NFTs have been around since 2012, but 2021 proved to be epiphanic for the digital world that was left open-mouthed when Beeple's artwork 'Everydays: The First 5000 Days' was sold for a whopping $69 million in March this year.
You might wonder – how can a digital piece of artwork hold so much value?
The marriage of technology and art has been greeted with open arms and led to the NFT explosion in March 2021, when more than 509,000 NFT artworks were sold for $85 million. The Indian crypto scene is no different. WazirX NFT marketplace reported the sale of 752 NFTs worth 109,512.56 WRX till August.
Right now, it's a mad, mad rush. Every collector or investor wants to soak themselves in the golden spring of digital art tokens!
Top NFT Artists Ruling the Digital Art Charts
After a spectacular run in 2021, it is time to look at the top artists – International and Indian – that have materialized the NFT 'hype' into a current reality and a future possibility of granting every artist their share of renown and acclaim.
#1 Beeple
Source: Nifty Gateway
With an Instagram following of 1.7 million, Beeple's name needs no introduction. As he is originally called – Mike Winkelmann – He is a CGI artist whose artwork's sale marked the fons et origo of the NFT revolution. Besides Everydays, the iconic NFT artwork, Crossroads and Ocean Front were two other popular digital pictures that fetched him $6.6 million and $6 million, respectively. Till March 2021, Beeple's 845 artworks had earned him a bounty of $113.5 million. His artwork 'Human One' was recently sold for $29 million at Christie's.
The star of NFT art, Beeple, indulges in a variety of digital artwork, short films, DJ loops, and VR/AR work. He has developed concert visuals for artists like Justin Bieber, Nicki Minaj, Eminem, and others. You can explore his works on his website.
#2 Trevor Jones
Source: Trevor Jones website
The Canada-born artist is known for incorporating state-of-the-art technology like AR (Augmented Reality), NFC tags, and animation in his artworks to enhance and alter the visual experience for his viewers. Interestingly, he has regenerated Picasso's palette and intertwined it with cryptocurrency motifs and iconography.
His 5,284 artworks have been sold for $18.5 million so far, with the artwork Genesis grabbing the most successful sale price at $604,967 in October 2020. The 4,157 pieces of his 'open edition Bitcoin Angel' were sold out for $777 each (total $3.2 million) in February 2021.
Trevor Jones has previously served as the Director of Art in Healthcare, where he used to deliver art workshops. His eclectic paintings encircle a broad range of themes. You can find all his masterpieces on this website.

#3 Vinay Kaushal
Source: WazirX NFT marketplace
His NFT art Moral Boxes Triptych 'Trapped,' a three-part series, consists of parallels drawn between society and greed through the exciting combination of dance and music. It features contemporary dancer Ria Bunglowala and music from Kaushal's critically acclaimed debut album 'Naked on a Train' and is one of the most talked-about NFTs on the WazirX platform.
Vinay Kaushal is a renowned musician and composer who has featured in magazines such as All About Jazz, The Rolling Stone Magazine, The Score Magazine, etc. He has composed music for various advertisements, films, and series featured on OTT platforms. Find more about Vinay Kaushal and his NFT artworks here.
#4 Abhishek Bhaskar
Source: WazirX NFT Platform
Abhishek Bhaskar has created the NFT artwork 'Metavoice' – the world's first-ever beatboxing generated digital art that uses human-produced sounds, i.e., Beatboxing, to generate a visual experience equivalent to that of a Metaverse.
Abhishek aims to bring to light India's rich heritage of culture and music via two genres of Indian music, specifically. The first drop would be concerned with Tapanguchi, renowned for its free-natured beats, and the second drop would explore Maharashtrian music genres like Lavni, Bhaleri, and Pavada.
Popular as Abhishek ABVERSE Bhaskar on the NFT scene, Abhishek is one of India's leading beatboxers, an award-winning architect, generative artist, and researcher. He has been the brand ambassador of Adidas Originals and JBL and has conducted numerous beatboxing workshops alongside the likes of Ranveer Singh, Virat Kohli, Chris Gayle, among others. Find his generative art pieces here.
#5 Ishita Banerjee
Source: WazirX NFT Platform
Ishita's rendition of the fourth avatar of Vishnu has been one of the most expensive and highly popular NFT artwork sold on the WazirX platform. It was sold for INR 2.66 lakhs (13,112 WRX). Her other digital abstracts include NFT artworks on Kali and Phoenix – two of her other most expensive NFTs sold for INR 2.49 lakhs and 2.42 lakhs, respectively.
Another of her works, titled 'In My Head,' was later sold for 23,313 WRX, making it another of her highest-sold works. Ishita's digital artworks are a mix of abstract art, music, and animation accompanied by her verse creations.
Ishita Banerjee is an Indian origin artist and creator based in Canada. She assimilates her life experiences to create vivid and bold abstracts, people, faces, and non-traditional portraiture in strong colours, motifs, and details. Find her surreal NFT artworks here.
NFT artworks are a rage in domestic circuits and abroad, bringing together artists and creators across media, race, caste, status, and domicile. The list of established and rising artists in the NFT arena is as infinite as the possibilities of digital art tokens yet to be explored. Thanks to the pandemic, Crypto art has blurred boundaries and brought to the fore both art and artists whose glory was fading in art galleries, known to a few.
WazirX, via its NFT marketplace, aims to bring forth another renaissance – the renaissance of NFT-powered art!
Disclaimer: Cryptocurrency is not a legal tender and is currently unregulated. Kindly ensure that you undertake sufficient risk assessment when trading cryptocurrencies as they are often subject to high price volatility. The information provided in this section doesn't represent any investment advice or WazirX's official position. WazirX reserves the right in its sole discretion to amend or change this blog post at any time and for any reasons without prior notice.