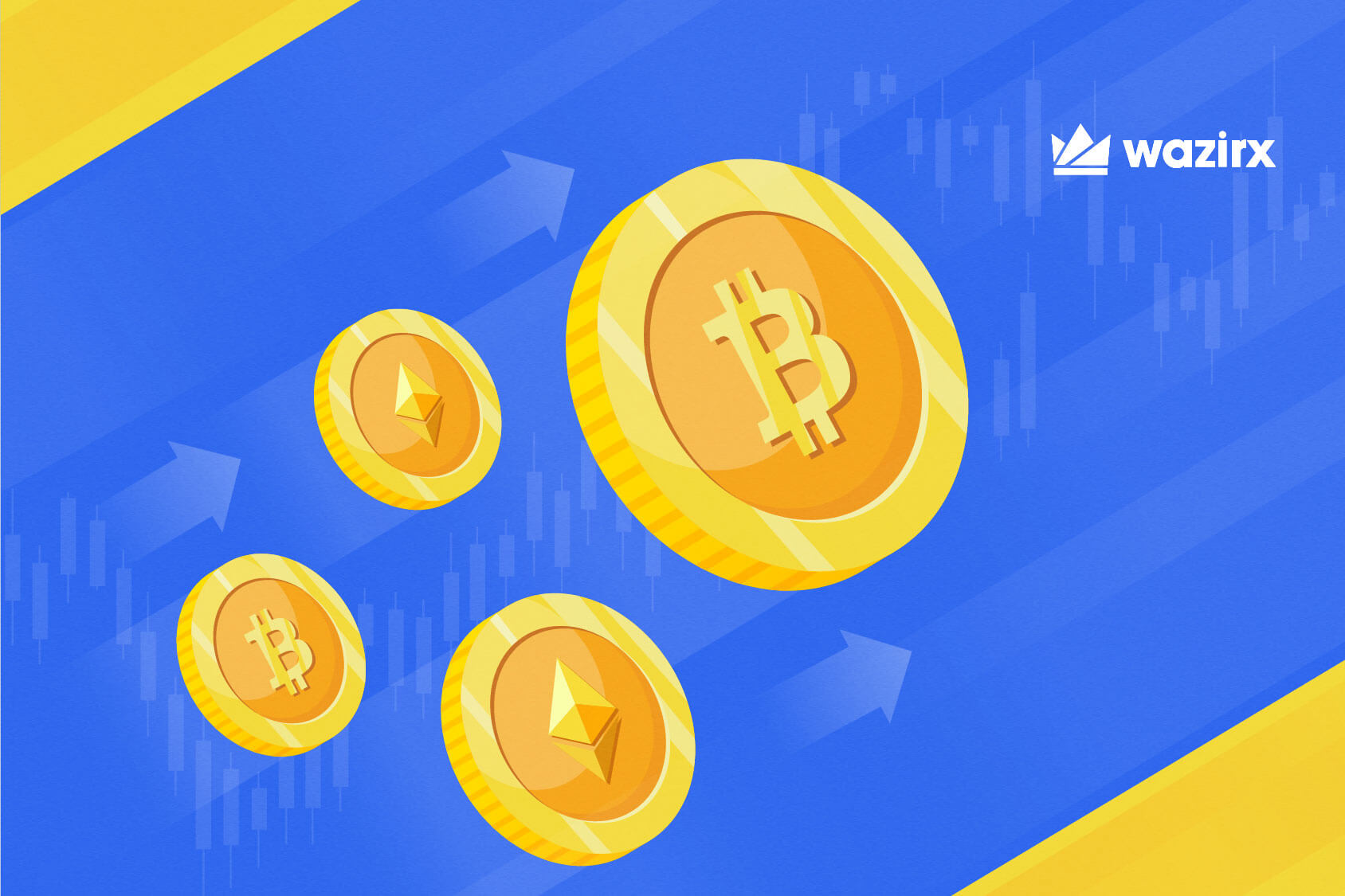 Note: This blog is written by an external blogger. The views and opinions expressed within this post belong solely to the author.
The Crypto market is moving forward and upward and is all set to explode in 2023. Imagine investing in a digital asset and watching its value skyrocket, potentially transforming you into a Crypto-millionaire in a few days. While it may sound too good to be real, history has shown us that such phenomena are not uncommon in the world of Crypto. Are you ready to seize the opportunity and potentially reap the benefits of this exciting market?
In this blog, let's check the best Cryptocurrency to buy in India in February 2023 that can explode this year.
Top Cryptocurrencies to buy in February 2023 in India
#1 Bitcoin (BTC)
Bitcoin was the first-ever Crypto that came into existence in 2008. Its founder Satoshi Nakamoto released a whitepaper stating the bitcoin network as a peer-to-peer network affecting payments without any financial intermediaries. Bitcoin is considered the most prominent Crypto. It is one of the most popular Cryptos when it comes to buying the best Crypto in India. Crypto has seen multiple meltdowns and jumps since its inception, but its high liquidity will benefit traders as long as it exists, regardless of market conditions. The price of one BTC as of 28 February 2023 was around $23,344.
#2 Ethereum (ETH)
The second-largest Crypto by market cap, Ethereum, is another favorite Crypto when it comes to buying the best Crypto in India. It was launched in 2013 as a smart contracts-compatible blockchain network that can be used for hosting decentralized applications and platforms. The DeFi craze in the summer of 2021 had over 80% of the decentralized applications being launched via the Ethereum network. Ethereum's smart contract capabilities have also been the infrastructure behind the NFT boom. Ethereum has shifted to the PoS consensus under its set of ETH 2.0 upgrades and has been a popular choice for traders who want to buy Cryptocurrency in India. One ETH is priced at $1,623 as of 28 February 2023.
#3 Polygon (MATIC)
MATIC is one of the most promising Cryptos of this year. Indeed, 2022 was not a great year for Cryptos, but when we look back at 2021, MATIC saw a significant jump in its price, from $0.01 on 1 January 2021 to a level of $2.9 in late 2021! Moreover, various Crypto experts have predicted a bullish view on MATIC for 2023 and beyond.
And this is what makes it a potential fastest-growing Crypto in India! The buzz around Polygon, MATIC's blockchain, grew after Ethereum's upgrade. The coin will subsequently grow when the bearish run weathers away. The price of one MATIC as of 28 February 2023 was around $1.233.
#4 Avalanche (AVAX)
Avalanche is a framework for Decentralized Applications (DApps) that supports open, programmable smart contracts. The platform is typically regarded as a layer-one blockchain for private blockchain networks. It is operatively comparable to Ethereum. But it has some eccentric qualities and critical features that make it a unique and valuable Crypto platform.
Avalanche aspires to overtake other Ethereum competitors as the leading blockchain for smart contracts. This is because it has a lot of advantages, like the capacity to handle up to 6500 transactions per second (tps) without compromising on scalability. In fact, its scalability is substantially better than that of older blockchains like Bitcoin and Ethereum. One AVAX is priced at $18.06 as of 28 February 2023.
#5 Cardano (ADA)
Cardano was launched in 2017 by Ethereum's co-founder Charles Hoskinson. Cardano, another Crypto from the list of top Crypto to buy in February 2023, has a roadmap of five stages to become a truly self-sustained decentralized ecosystem. The Cardano Network recently integrated smart contracts capabilities on its network and is one of the potential 'Ethereum Killers' on the scene. Given its robust vision and reliance on sound projects and partnerships, Cardano has the capability to stand the test of time and will be a favorite for whoever wants to buy Crypto in India. One ADA token is priced at $0.36 as of 28 February 2023.
#6 Dogecoin (DOGE)
Dogecoin (DOGE) is a very popular meme token that has made its way to the list of top Crypto to buy in February 2023. It was the first meme coin released in 2013. The Dogecoin network is a hard fork of Litecoin. The dog-themed token had declined until 2021. After Elon Musk posted a series of tweets in its favor, it skyrocketed in value and rose more than 20,000% in a single year. The likes of influencers, including Mark Cuban and Musk, continue speaking in its favor, and quite some time back, Wall Street-listed AMC entertainment started accepting payments in Dogecoin. One DOGE token is priced at $0.08 as of 28 February 2023.
#7 Floki Inu (FLOKI)
Floki Inu is one of the best meme coins you can buy in India in February 2023. Its name is inspired by Elon Musk's pet dog named, Floki. Looking at its rank in the Crypto market, Floki Inu stands at position #216 on CoinMarketCap in February of 2023
The official Floki website says that supporters of the Shiba Inu made this Crypto. Nonetheless, this coin gained significant profits in only a few months. You can thank another one of Musk's tweets, showcasing his puppy 'Floki,' for this increase.
Floki has many upcoming flagship projects, including an education platform called Floki Inuversity, NFT, a metaverse NFT gaming Valhalla, and Flokiplaces (merchandise marketplace).
#8 Stellar (XLM)
Stellar was founded by Jed McCaleb, who was earlier a developer of the Ripple protocol. It is an open blockchain network that connects financial institutions for large transactions and provides enterprise solutions. In addition, the system allows cross-border transactions between any currency. Stellar's currency, Lumens (XLM), is one of the most popular Cryptos in India. One XLM token is currently priced at $0.09.
Why should you choose WazirX to trade Crypto?
WazirX is India's most trusted Crypto exchange, which lets you buy, sell, and trade numerous Crypto-assets like Bitcoin, Ethereum, Ripple, Litecoin, etc. The platform is accessible via a website or an app on Google Play Store, Apple App Store, Windows, and Mac OS. WazirX is highly secure, has superfast KYC, lightning-speed transactions, simple and practical design, excellent customer service, and more such features.
If you are a new investor or a professional trader, WazirX has got you covered!

Disclaimer: Cryptocurrency is not a legal tender and is currently unregulated. Kindly ensure that you undertake sufficient risk assessment when trading cryptocurrencies as they are often subject to high price volatility. The information provided in this section doesn't represent any investment advice or WazirX's official position. WazirX reserves the right in its sole discretion to amend or change this blog post at any time and for any reasons without prior notice.